Software developers have tried to reinvent the paper notebook as a computer application for many years. Whether it is for work or school, note-taking apps allow for greater customizability than traditional word-processing programs. The problem is that these apps often do not work as advertised and end up being more trouble than they are worth.
Microsoft's OneNote was part of the Office software suite for a long time before finally becoming a free program in 2014. Evernote is another similar app that is available across various platforms. There are countless other examples of both free and paid note-taking apps. After testing several options, we've put together a list of the top seven reasons to avoid note-taking programs at all costs.
1. The Software Is Expensive
The first reason to avoid note-taking apps is that they are expensive. While Microsoft's OneNote is now free, other options like Evernote can cost upwards of $18 per month for personal use. Similarly, business programs can cost even more and charge based on the number of user accounts.
Evernote is popular since it integrates business workflows with note-taking and uses a similar subscription model. However, there are also programs that charge a one-time fee. Regardless, these costs do add up, and you are much better off using a free notes app or even a word-processing program.
2. There Are Syncing Problems
One of the major selling points of note-taking apps is that they conveniently save your data in the cloud. That is beneficial because it means you can access it across various devices such as mobile phones, tablets, and computers. On the surface, having your notes everywhere sounds great, but there are often problems.
Notably, note-taking apps often have glitches that prevent data from syncing properly. This can leave you without important data when you need it most. Similarly, some users report problems with content saving, leading to complete loss. Therefore, using programs that rely on proven cloud services like iCloud or OneDrive is better.
3. They Do Not Aid Memorization
Computers have largely replaced pen and paper in schools, but you are better off writing notes than typing them in a note-taking app. The reason is that typing notes does not help you recall what you've learned. This is an important thing to consider if you are in school. Studies show that handwriting notes helps learners retain knowledge better than typing.
There are a few reasons attributed to the higher level of memorization, but it largely hinges on the brain working harder to process handwriting. Although poor retention is not the fault of note-taking software specifically, you should skip the laptop or tablet and stick with a notebook.
4. They Can Be Difficult to Learn
Using a note-taking app requires you to learn how it works. These programs are often very different than other software you rely on. Some apps are straightforward, while others may have hidden settings that are difficult to change. Switching over to a note-taking app means you will need to take the time to learn how all of its features work before you can start using it.
In reality, the benefits gained from these apps are often not worth the hassle. For instance, OneNote lets users add a wide range of content beyond text. However, this feature is not needed for basic note-taking. Since no two programs are the same, your knowledge does not easily transfer. Worst of all, it is difficult to get technical support should you need assistance.
5. It May Be Hard to Share Notes With Others
Even if a note-taking app fits your needs, it may be difficult to share your notes with others. This may not be a major concern if you are the only one who looks at the notes. However, it becomes problematic when you have to collaborate with others. For instance, school and work projects often require people to work together. Since the file format is proprietary, you cannot easily send the contents from a note-taking app.
This means that if you send the file, the recipient cannot open it unless they have the same app. You could send PDF versions or screenshots, but the recipient would not be able to make changes. Students should be extra cautious if their teachers check notes since they may not be able to open the file. Finally, some apps do not provide access to a shareable file.
6. There Are Too Many Distractions
Another reason to avoid note-taking apps is distractions. You can personalize notes in all sorts of ways, which can easily take away from you actually paying attention to what is going on. For instance, you can design and draw in the OneNote app.
With all of these features, you may be more tempted to personalize your notes and not actually keep up with typing them. Let's face it — taking notes is not exactly fun, and it doesn't take much to get off-topic. Plus, using a computer already has plenty of potential to distract us.
7. There Are Privacy Concerns
Few people are concerned if a hacker gains access to their notes for school, but people and businesses alike are very concerned about personal and confidential information. Additionally, consider what type of information may be stored in note-taking apps. You could have a treasure trove for hackers, including things like your personal schedule or even financial data.
Most people don't realize that the information they put into these apps is often unencrypted. Meaning there is little to prevent a hacker from accessing the data when it is stored in the cloud. Therefore, you should always use encrypted applications, like Apple Notes, and add a password to protect important notes.
Note-Taking App Alternatives
If you've decided that a note-taking app is not the right choice, then consider some of these alternatives. There is no perfect solution for everyone, but a range of applications, such as a word processor or sticky notes, may fill the void. Sometimes, the best option is the simplest, and you can't get much simpler than a pen and a piece of paper.
Apple Notes
The first alternative is Apple Notes, which is a simple app that does not have the range of features that programs like OneNote include. This free app, found on all Apple devices, allows for basic note-taking, like creating grocery lists. Best of all, notes are encrypted and stored securely in the cloud. Additionally, you can add a password to specific notes or even share them with others.
Microsoft Word
Another option is to stick with a traditional word-processing program like Microsoft Word. This powerful tool is simple to use while still providing plenty of customizability. It is a paid program that can get expensive, but it is essential for both business and personal users. Most importantly, it is easy to share Word documents since so many people use the software.
Microsoft 365 Package
Microsoft 365 Personal (12-Month Subscription)
Create, organize, and do work remotely
Access Word, Excel, PowerPoint, and more
Create, edit, and share files and photos
Access to Outlook for emails
Built-in ransomware detection and recovery
Compatible with Macs, iPads, iPhones, and Android phones,
We earn a commission if you make a purchase, at no additional cost to you.
Notebook
Lastly, consider sticking to a notebook and a pen. You really can't go wrong with a paper notebook since there are a range of options to choose from, and you can even get one with multiple subjects. They are very cheap and do not have distractions like a computer. Of course, the tradeoff is not having digital notes, but you will likely retain information better.
Perfect for School or Work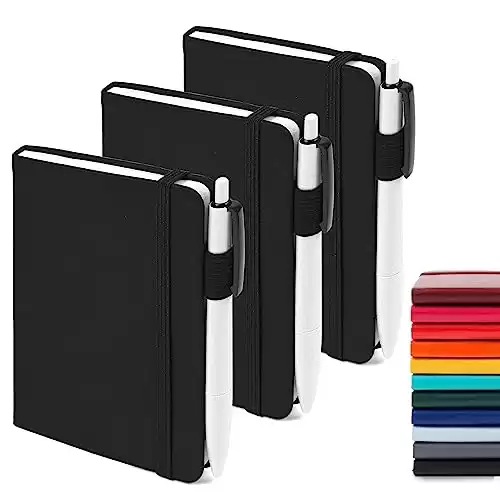 We earn a commission if you make a purchase, at no additional cost to you.
Wrapping Up
There are a lot of good reasons to avoid a note-taking app, which we have discussed in depth above. However, there are a couple of instances where a note-taking app may be beneficial. Carefully consider the reasons for using an app and weigh the pros and cons. If you do decide that a note-taking app is right for you, check out our top five picks. If you decide against a note-taking app, check out one of our alternatives below.
Alternatives to Note-Taking Apps
Apple Notes
Microsoft Word
Pen and Paper
Create, organize, and do work remotely
Access Word, Excel, PowerPoint, and more
Create, edit, and share files and photos
Access to Outlook for emails
Built-in ransomware detection and recovery
Compatible with Macs, iPads, iPhones, and Android phones,

Buy on Amazon

We earn a commission if you make a purchase, at no additional cost to you.

10/02/2023 10:29 pm GMT

3 college-ruled notebooks with 3 black retractable pens
112 pages each (56 sheets)
3.5 x 5.5 inches
Sturdy faux leather covers with inner pockets and elastic closures
Includes bookmark ribbons and pen holder

Buy Now

We earn a commission if you make a purchase, at no additional cost to you.

10/02/2023 10:29 pm GMT
The image featured at the top of this post is ©fizkes/Shutterstock.com.