The Nintendo Switch has long proven itself to be an incredible gaming console, punching well above its performance limitations to become the third best-selling console of all time (and counting!). To help boost sales even further, Nintendo announced the release of a portable-only version of its current console, the Nintendo Switch Lite, in July 2019. 
With a smaller 5.5-inch display, the Lite includes the same internals and power structure as the larger Nintendo Switch, while also being able to support the same game lineup. However, the Switch Lite is limited to handheld mode only, meaning that it cannot be docked and played on a TV screen — a feature that helped popularize its larger sibling. 
Knowing the Switch Lite has some limitations over the larger Switch, let's take a look at 8 solid reasons you might want to avoid a purchase today.
Nintendo Switch Lite Background
Easiest Handheld to Hold
Nintendo Switch Lite – Blue
Optimized for personal, handheld play
Small and light Nintendo Switch system
Includes Nintendo Switch Lite system and Nintendo Switch AC adapter
Blue
We earn a commission if you make a purchase, at no additional cost to you.
Riding the wave of the Nintendo Switch's popularity, Nintendo's decision to release a smaller version of its popular console was a peculiar one. The current Nintendo Switch, both the original and OLED models, offer plenty of portability while also utilizing a dock to connect to a television screen.
Still, Nintendo saw an opportunity to produce a console that was priced under $200 and aimed at casual gamers. Playing almost the entirety of the Nintendo Switch library, the Switch Lite offers gyroscopic sensors, Bluetooth, Wi-Fi, and NFC compatibility.
While Nintendo did succeed at pricing the Switch Lite at $199, even at the reduced cost, there are still a number of reasons to choose the larger Switch model. 
#1: No Television Connection
Perhaps the biggest thing that helped give the Nintendo Switch its immediate popularity was the ability to quickly shift from handheld to docked mode and back again. Without the ability to dock to a television at all, the Nintendo Switch Lite is limited to being in handheld mode only. This means you'll likely find it much more difficult to play any co-op games in person on such a small screen.
This is a big deal if you are a fan of games like Mario Kart 8: Deluxe where the ability to play on the same screen and race friends or family can lead to hours and hours of fun. So, whether you like it or not, you are stuck to playing the entirety of your Nintendo Switch library in handheld mode, forever.
#2: No Removable Joy-Cons
Linking back to the idea of no TV connection, the lack of removable Joy-Cons is another easy reason to avoid the Nintendo Switch Lite. Having the removable Joy-Cons makes it so easy to play co-op on the Nintendo Switch, it's one of the first things the company showed off in its first TV commercials and live appearances of the console. In fact, it's safe to say that removable Joy-Cons are likely one of the biggest reasons why the Nintendo Switch has sold as many consoles as it has.
Not having this option on the Nintendo Switch Lite — while understandable due to the desire to lower the price — really removes a lot of the excitement and opportunity that comes with the larger Nintendo Switch console.
By excluding removable Joy-Cons, all of the social opportunities that have helped make the larger Switch such a family-friendly experience are gone overnight. 
#3: No HD Rumble
Even though HD Rumble isn't everyone's favorite Nintendo Switch feature, it doesn't exist on the Nintendo Switch Lite, which is a real missed opportunity. Whether it's the feel of hitting the golf ball in Golf Story or drifting in Mario Kart 8 Deluxe, there are so many opportunities to utilize HD Rumble that it has become far more than just an add-on feature with the larger Nintendo Switch.
The lack of this feature is also completely opposed to other consoles like the PlayStation 5 where controller rumble is a staple of every game in its lineup.
There is quite literally a list of hundreds of games where playing without HD Rumble makes it incredibly difficult to complete different levels or missions. What this means is that while the Nintendo Switch Lite can play almost the entirety of the Nintendo Switch library, the Switch Lite is going to miss out on some important aspects of games that will help you complete them.
#4: Poor Online Support
One of the biggest pitfalls of the Nintendo Switch in general, not just the Nintendo Switch Lite, is its poor online functionality. When compared to the likes of Xbox Game Pass and PlayStation Plus, the Nintendo Switch Lite really suffers from a lack of games and online offers.
While you can play dozens of older Nintendo console titles, some of which are really great, that's about all you can do. However, if you are not into retro gaming classics on the NES, SNES, Sega Genesis, Nintendo 64, Game Boy, or Game Boy Advance, you are pretty much out of luck with online support.
Yes, Nintendo does enable online support for games like Rocket League, Fortnite, and Mario Kart 8 Deluxe, that's about the only reason to purchase one of their subscriptions. Patience with Nintendo's poor online support gets even harder when you factor in their poor cloud storage offering or when you need to install a smartphone app on your iPhone or Android device to chat with friends while playing.
#5: Underpowered Hardware
One of the easiest criticisms of the Nintendo Switch Lite is its underpowered hardware. As the Switch Lite moves into its fourth year of life, the hardware has long started to show its age. When compared to the latest ninth-generation video game consoles like the Xbox Series X and PlayStation 5, the Nintendo Switch Lite looks incredibly underpowered.
Even though Nintendo has never been about having the most powerful consoles (Nintendo Wii anyone?), the console is clearly in need of an updated processor. Powered by NVIDIA's Tegra X1 SoC, this processor is based on NVIDIA's second-gen Maxwell architecture, which had already been out in the market before finding a place inside the Nintendo Switch and Switch Lite in 2017. 
Needless to say, the Switch Lite still runs the games it has available reasonably well for the most part, though games with more demanding graphics or frames per second can stutter from time to time. As Switch Lite owners beg for more AAA titles, there is only so much the Switch Lite hardware can offer.
#6: Very Limited Third-Party App Selection
While nobody is going to look at the Nintendo Switch Lite and confuse it with an entertainment console like the Xbox Series X and PlayStation, it's still very lacking in the third-party app arena. Even with the knowledge that the Nintendo Switch Lite is primarily a game console, there is every reason to believe that Nintendo could at least offer more than just a small number of third-party apps for buyers of its consoles.
Instead, you get apps like Hulu, YouTube, Piano, Pokemon TV, Coloring Book, Colors Live, Game Builder Garage, Twitch, RPG Maker MV, Korg Gadget, InkyPen, Fuze4, and that's about it. The challenging part is that most casual Nintendo Switch Lite gamers are going to have a hard time identifying what many of these apps do beyond the likes of YouTube, Hulu, and Twitch.
When you compare this app selection to the huge console streaming library from Microsoft and PlayStation, the Nintendo Switch Lite is really disappointing in comparison.
#7: Smaller Screen
While the Nintendo Switch OLED has finally taken Switch consoles up to 7 inches of screen real estate, the Switch Lite's 5.5 inches is challenging for many people. When compared to the 6.2 inches of the original Nintendo Switch console, one of the biggest complaints about the Switch Lite is that the smaller screen can lead to on-screen text being too small to comfortably read throughout many games.
This is made even more difficult by the notion the Nintendo Switch Lite is only 720p resolution, instead of the 1080p many users were hoping to see.
What's more, the smaller screen goes back to the limitations of trying to play co-op on the Nintendo Switch Lite. Even though you can connect controllers via Bluetooth, it's hardly a good experience to play a 2-player co-op on the Switch Lite with only a 5.5-inch display.
#8: So-So Battery Life
While the excitement of a portable console that can play all of Nintendo's exclusive games sounds exciting, the Switch Lite is let down by poor battery life.
Nintendo promises that the Switch Lite battery can last anywhere between 3 to 7 hours, depending on multiple factors like the game, screen brightness, or the number of charge cycles. Unfortunately, for many Switch Lite owners, the 7 hours of battery life seems like a number that is almost impossible to reach, even under the most optimal conditions. 
Alternatives to the Nintendo Switch Lite
#1 Best Overall: Nintendo Switch OLED
#1 Best Overall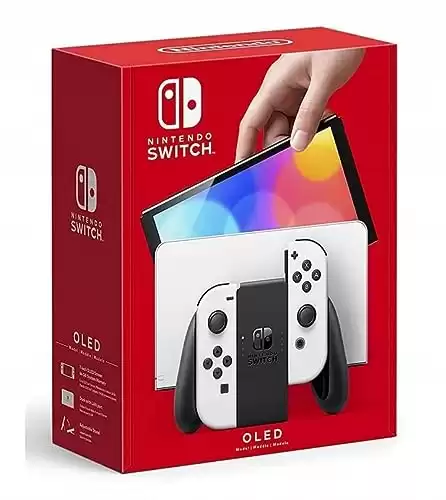 We earn a commission if you make a purchase, at no additional cost to you.
If you want to take advantage of Nintendo's outstanding exclusive games but know the Switch Lite isn't for you, the Nintendo Switch OLED is the next best thing.
Not only does the Nintendo Switch OLED upgrade the screen size to 7 inches, but it also adds OLED screen quality, which greatly enhances the blacks, reds, and other colors on the screen. The screen on the Nintendo Switch OLED is a night and day difference with vivid colors and crisp contrast over the Nintendo Switch Lite.
Better yet, the Nintendo Switch OLED doubles internal storage to 64GB, adds an adjustable stand for placing on a table, and can easily dock with a television courtesy of the included dock. Not to mention the Switch OLED is still perfectly sized for use as both a handheld and docked console, or change to tabletop mode with detachable Joy-Cons.
Best for PC Games: Steam Deck
While the Steam Deck might not be a direct comparison to the Nintendo Switch as one is a console and one plays PC games, portability is still the name of the game here.
Available directly through the Steam store, the $399 starting price of the Steam Deck is fantastic given that you play more than 10,000 downloadable titles from the Steam store right now. The entry-level Steam Deck also offers 64GB of internal storage and upgrading the storage is relatively easy. Steam even provides a working guide to help you add a larger hard drive to download more games so as not to void your warranty.
While the Nintendo Switch Lite only offers a 5.5-inch 720p display, the Steam Deck offers a 7-inch 800p display, so text is easier to read and you have more screen real estate overall. Plus, you can purchase one of the two higher-tier Steam Deck offerings to bump up your storage to 256 or 512GB and make use of a 60Hz refresh rate across all 3 Steam Deck models.
Reasons to Avoid a Nintendo Switch Lite Summary
1. Unfortunately, the Nintendo Switch Lite does not connect to a television to use a larger screen.
2. There are no removable Joy-Cons on the Switch Lite, which makes it difficult to play with a second person.
3. The Switch Lite lacks HD rumble, which is a helpful feature for vibrating when you are hit by an opponent or hitting a golf ball in a sports game.
4. Nintendo is notorious for its poor online support, including needing a smartphone app to chat with friends.
5. The Nintendo Switch Lite hardware is very underpowered and uses an almost 8-year-old processor for games.
6. While many consoles double as entertainment experiences, the Switch Lite only offers a dozen or so third-party apps.
7. The smaller 5.5-inch screen on the Switch Lite can make it very difficult to read on-screen text in games.
8. The Nintendo Switch Lite promises up to 7 hours of battery life, but most users only get half that at best.
The image featured at the top of this post is ©Matt Robertson Photo/Shutterstock.com.