Key Points
Gaming laptops often have poor battery life, lasting only up to 7 hours on a single charge compared to non-gaming laptops like the MacBook Air M1 with 18 hours
Gaming laptops tend to be bulkier and heavier, making them less portable than non-gaming laptops
Noise from cooling fans can be an annoyance in gaming laptops, often compared to a jumbo jet taking off
Gaming laptops can quickly become outdated due to limited upgrade options and fast-paced technology advancements
Alternatives to gaming laptops include the Apple MacBook Air, Microsoft Surface Pro 9, and Dell XPS 13, which offer great performance and features at a lower cost
If you are on the verge of buying a new computer, your first move is likely to look at all of the different options on the market today. For better or worse, there are almost too many different models of laptops available, all of which claim to be better than the others. Gaming laptops, in particular, have long been a computer where the best is super subjective, and that makes choosing a model incredibly difficult.
On the other hand, if you want the most powerful laptop around, a gaming laptop generally fits the bill with upgraded RAM, more storage, and a more powerful processor. The question is, do you really need to spend the additional money on a gaming laptop with many less expensive but still great options available?
Let's take a look at 7 reasons why you should avoid making a gaming laptop your next computer purchase.
What is a Gaming Laptop?
Defining a gaming laptop as a computer that just plays games simplifies the definition of what a gaming laptop really is. To be fair, every computer can be a gaming laptop if your definition of gaming is playing Minesweeper, Solitaire, or other easy-to-run titles.
To really be considered a gaming laptop, a computer should have enough power to run high-end AAA games with fast processing power, lots of RAM, and overall high-performing hardware that benchmarks better than a non-gaming computer.
To summarize, a gaming laptop is essentially a computer designed specifically for gaming with specialized hardware and software helping to boost performance.
Reasons Why You Should Avoid a New Gaming Laptop
Battery Life
In today's remote work-friendly world, battery life might not take on as much importance as in the days when you might have traveled more. However, battery life is still a critical aspect of any laptop purchase, and gaming laptops tend to be the lowest-performing group of laptop models. This really shouldn't come as much of a surprise as gaming laptops demand more power and performance, and by doing so, increase the power drain on the components of a laptop.
Whereas a non-gaming laptop like the Apple MacBook Air M1 might have upwards of 18 hours on a single charge, you would be lucky to find a gaming laptop that lasts up to 7 hours on a single charge. None of this is to say you can't stay plugged in all of the time and ignore battery life concerns, but the point of a laptop is to have the ability to be mobile, and this is why battery life is a particularly strong reason to avoid a new gaming laptop.
Not as Portable
While this reason may not be universally true, gaming laptops tend to be bulkier and heavier than non-gaming laptops. Once again, this goes back to all of the extras needed in order to make a gaming laptop powerful enough to play the latest AAA titles. Even if you buy a large 17-inch gaming laptop, it still offers less internal space than a gaming desktop, so you have a finite amount of room with which to add the right components. It's true that gaming laptops have come a long way, but even so, they remain the heaviest of all laptop options and therefore are less portable than non-gaming laptops.
It's much easier to pick up an Ultrabook or a MacBook Air and throw it in a bag for going back and forth to an office than it is to a gaming laptop. Adding to the bulk is likely a larger charging brick as gaming laptops require more power and therefore need higher power consumption, which just adds to the overall weight concern.
Gaming Laptops are Noisy
When you look at a laptop like the Microsoft Surface Pro or Apple MacBook Air, rarely does it come up that they are noisy computers. Instead, with gaming laptops, noise becomes an integral part of any review and, as a buyer, you have to determine how much fan noise is tolerable.
Because of the components you need to make a gaming laptop powerful enough to handle the latest games, cooling these components down is critical. So, the fans are important, but that doesn't mitigate any concerns over them being an annoyance.
There is a reason why many people make jokes about gaming laptops feeling like a jumbo jet is about to take off. This is often what these computers sound like when you are deep in a AAA or even a AA game. As soon as your system starts to get a little overwhelmed, a fan will come on in full force and it can be distracting, especially if you are playing online with other people.
Quickly Outdated
It shouldn't come as any surprise that a computer can be outdated quickly as technology moves fast. However, for a gaming laptop, which only enables a small number of upgrade opportunities, it can be outdated much faster than a comparable gaming desktop.
For the most part, with a gaming laptop, you can only upgrade the RAM or the hard drive. Beyond those two things, you have definite limitations on how many upgrades you can install and as you see newer graphics cards come out, you know that you cannot take advantage.
On the other hand, a gaming desktop can easily be upgraded because they are purpose-built to allow for upgrades throughout its lifespan. At best, your gaming computer might find itself outdated in a couple of years. At worst, you might find yourself outdated sooner than that depending on when you purchased this new gaming machine.
More Expensive
Compared to non-gaming laptops, a gaming laptop can be considerably more expensive. This is especially true because of the additional hardware requirements necessary in order to run the latest games. When you start adding in more RAM, larger storage, and a graphics card, costs can quickly add up. If you are on a budget, the pros of choosing a laptop built for gaming, especially if you don't plan on gaming regularly, is likely not worth the increased cost.
For the most part, a solid mid-range gaming laptop can run between $1,000 and $1,500, and that's only going to get you just above-average performance with AAA titles. When you consider that comparably performing non-gaming laptops can be found for under $1,000 and offer more than enough power for everyday tasks like browsing, PowerPoint, or even some video editing, you recognize just how expensive a gaming laptop can get.
Build a Gaming Desktop
If you want to stretch your budget and make it go as far as possible, you will have much more luck in building your own gaming PC. Even if it might give you a little bit of pause to build your own computer, there are so many available tutorials online, you can rest comfortably that you can do so without having any prior experience. Realistically, you can build your own gaming laptop for less than you could a gaming PC and still come out with better performance.
Not to mention that by building your own, you are also leaving the door wide open for upgrades down the road. You can add more cooling options to help your computer run quieter, which in turn means it will last longer, which again adds to the overall idea of being more cost-effective.
Buy a Steam Deck Instead
Instead of going down the gaming laptop road, you can save a lot of money by picking up a Steam Deck. For as little as $399, you can pick up the base model Steam Deck and have access to thousands of games, AAA and otherwise, right from the Steam store.
By saving all of this money, you may even be able to pick up a non-gaming laptop plus a Steam Deck and still come out ahead financially over a gaming laptop. Depending on your needs, a Steam Deck feels like it can be both a replacement for a gaming laptop and a home video game console.
Best of all, the Steam Deck includes a Valve-skinned Linux-based desktop operating system with Firefox preinstalled. As soon as you are in desktop mode, you can add a mouse and keyboard to your Steam Deck either through Bluetooth or a dock and use the Deck as a dedicated computer. You can browse the web, access your email, or work on Microsoft's cloud-based websites for PowerPoint and Word to be productive when you are not gaming.
Best Alternatives to a Gaming Laptop
Apple MacBook Air
Best Battery Life
Apple 2020 MacBook Air Laptop (M1 Chip)
Can handle professional photo and video editing
Long-lasting battery for routine work (18 hours)
Powerful M1 chip with an 8-core CPU for faster performance and 8GB of RAM
Stunning 13.3-inch Retina display with sharp visuals and vibrant colors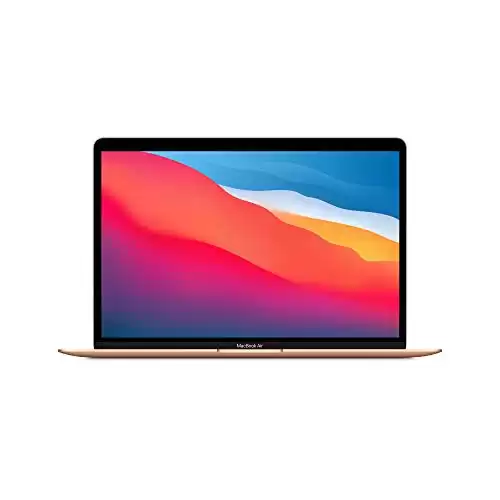 We earn a commission if you make a purchase, at no additional cost to you.
For as little as $999, you can pick up Apple's MacBook Air with the M1 chip (from 2020) and save hundreds over a gaming laptop.
With an all-day battery life of up to 18 hours on a single charge, you can power through your workday and have enough battery life left over to binge-watch your favorite Netflix show in the evening. Available with a 13.3-inch display, the M1 chip offers up to 3.5x faster performance than previous Intel-based MacBook Air models.
Supported by 8GB of RAM, macOS feels like it runs everything without ever losing its step so software opens quickly and the keyboard and trackpad are arguably best in class. Add in support for thousands of applications directly from the Mac App Store and there is a lot to like about the MacBook Air for the price.
Surface Pro 9
Microsoft Surface Pro 9 - i5 Model
12th Gen Intel® Core™ i5-1245U processor
Memory options: 8GB, 16GB, 32GB (LPDDR5 RAM)
Storage: Removable SSD options: 128GB, 256GB, 512GB, 1TB
13-inch PixelSense™ Flow Display with a resolution of 2880 X 1920 (267 PPI)
Battery life: Up to 15.5 hours of typical device usage
Intel® Iris® Xe graphics
We earn a commission if you make a purchase, at no additional cost to you.
Just as the MacBook Air is optimized to run on macOS, so too is the Surface Pro 9 for Windows 11.
Designed by Microsoft, the Surface Pro 9 comes equipped with the latest 12th-generation Intel Core i5 processor, which adds speedy performance to any task you want to perform. The 13.5-inch multi-touch display offers an eye-popping 2,880 x 1,920p resolution plus support for Dolby Vision, which means colors are crisp and vibrant.
Better yet, the colors on the screen will automatically adjust their temperature depending on how much light you have available. Weighing under two pounds, the Surface Pro 9 still manages more than 15 hours of battery life. With a detachable keyboard, the Surface can even double as a tablet when you want to end the day catching up on some of your favorite Netflix releases.
Dell XPS 13
Great Build Quality
Dell XPS 13
11th Generation Intel Core i7 processor

Wi-Fi 6

Thin and lightweight
13.4-inch 3.5K display
We earn a commission if you make a purchase, at no additional cost to you.
Often considered one of the best laptops on the market, the Dell XPS 13 strikes a fantastic balance between power and portability.
While the included Intel Iris Xe graphics won't play the latest games, the 11th generation Intel Core i7 processor paired with 16GB of RAM has more than enough horsepower to do just about everything else. You will definitely want to do more on the Dell XPS 13 as the 13.4-inch 3.5K screen is arguably one of the best screens available on a non-gaming laptop.
With 512GB of storage space, there is also plenty of room for all of the applications and even some light gaming. All-day battery life promises to keep you going all day when you can enjoy a 17% larger trackpad than previous Dell XPS 13 models. Best of all, the Dell XPS 13 just feels solid and sturdy in the hand courtesy of its aluminum frame.
Wrapping Up
As great as gaming laptops can be, they are not always the best purchase for everyone. Depending on your needs, choosing a non-gaming laptop will not only save you money, but also save you from worrying about spending too much, or having to deal with fan noise all day, every day. There are so many great non-gaming laptops on the market today like the Dell XPS 13 or the MacBook Air that you should never feel like you have a gaming laptop FOMO.
Summary Table
| Reason | Description |
| --- | --- |
| Battery Life | Gaming laptops have shorter battery life due to higher power consumption. |
| Not as Portable | They tend to be bulkier and heavier than non-gaming laptops. |
| Gaming Laptops are Noisy | High-performance components require cooling, resulting in noisy fans. |
| Quickly Outdated | They have limited upgrade options and can become outdated faster than gaming desktops. |
| More Expensive | Gaming laptops are generally more expensive due to additional hardware requirements. |
| Build a Gaming Desktop | Building a gaming desktop can be more cost-effective and allows for future upgrades. |
| Buy a Steam Deck Instead | A Steam Deck can be a more affordable alternative for gaming and basic computing tasks. |
The image featured at the top of this post is ©WESTOCK PRODUCTIONS/Shutterstock.com.