Whether you want to log your jogs, have trouble sleeping, or want to keep tabs on your vitals, a fitness tracker can make life easy. There are many reasons to avoid a new fitness tracker, however. While useful, they aren't the best choice for everyone, and many new fitness trackers share more similarities than differences.
Reasons to Avoid a New Fitness Tracker
Fitness trackers have become incredibly popular since the rise of the smartphone. Thanks to GPS and Wi-Fi technology, you no longer have to remain tethered to a mobile device. While we're big fans of these devices, there are several reasons they may not be the best choice for your needs. The most common may be the most obvious, but you might be surprised by some of the other negatives.
Smartwatches
Do you own a relatively new smartwatch? If so, there's a strong chance it can already handle some of the tasks a fitness tracker can. Apple and Samsung have had health monitoring features on their watches for years, and they aren't the only ones.
The new Pixel Watch can track your sleep or activity throughout the day. There are also watches from Garmin and other manufacturers with built-in fitness tracking features. This ties into pricing considering a new fitness tracker can be just as much if not more expensive than a good smartwatch.
One of the best fitness trackers on the market is the Fitbit Sense 2. It's an incredible device for keeping track of certain metrics. It's also comparable to the Galaxy Watch 4 considering both can deal the heart rates, SpO2 readings, sleep tracking, and more. Samsung's wearable is only $170 compared to the Sense 2 at $250.
A dedicated fitness tracker can provide more detailed information for specific activities or dive deeper into metrics. Newer flagship smartwatches from Google, Samsung, and Apple perform the same tasks, and with more accuracy in some cases. Owning a smartwatch is the top reason to avoid a new fitness tracker.
It's No Substitute for a Doctor
One advantage of a fitness tracker is its ability to perform a quick check on your health. Companies have been able to integrate various sensors into their devices that can measure blood oxygen levels and blood pressure.
Being able to pull up and log data for a vital statistic is a huge perk, but a fitness tracker is no substitute for a doctor. Many people use fitness trackers during activities or as a way to keep a log of their exercise routines or sleep schedules. That's their intended usage, which means they shouldn't keep anyone from going to the doctor.
If you have a pre-existing health condition, fitness trackers can help you monitor it. There are a variety of factors they can't account for, however. This is why they can't replace a trip to your physician. It's always a good idea to show data from fitness trackers to your doctor – just don't rely on it or use it as a replacement.
Privacy Concerns
If you despise spam mail and keep a low profile on social media, you'll want to consider privacy concerns as a reason to avoid a new fitness tracker today. They are designed specifically to log data but in a completely different way than a browser.
If you plan to use your fitness tracker to keep tabs on your location during a hike or jog, it could provide details on where you go. The type of data stored by each fitness tracker manufacturer varies. You also have to take third-party health and fitness apps into account, and each of these companies has its own data collection practices.
It's happened before with Fitbit and is something to be aware of when considering a fitness tracker. This is also why you only choose wearables from reputable brands, compared to budget-friendly devices with similar features at a discount.
Over-Reliance on Data
Another issue with data and fitness trackers happens when the users rely too much on the data. It's a problem that happens more often than you'd think and can lead to unhealthy habits. That's when the data is accurate, which isn't always the case.
Heart-rate sensors have come a long way, and it's one of the easier metrics for companies to get a handle on. We've also seen more manufacturers utilize blood-oxygen and temperature sensors, which get more accurate with every generation. Accuracy is a key selling point with some companies, but an area others shy away from.
Setting goals is important, but what happens when you focus on the data more than your activities? You may stop enjoying daily walks when you're only measuring steps or counting calories. Too much focus on numbers can suck the fun out of fitness, especially if the data is not accurate.
Refurbished Fitness Trackers
The last major reason to avoid a new fitness tracker is the fact you can buy a refurbished one. When you drive a new car off the lot, it loses value quickly. The same is true for fitness trackers, which you can find at a deep discount online.
Have your eye set on the latest Fitbit or a new Garmin smartwatch? You could find them for half-off or more if you're willing to buy a refurbished model. The only potential downside is styles or color combinations, although you can address that with a new band.
It's important to note there's a difference between "used" and refurbished with many online retailers. Used items on eBay or Amazon are often cheaper than tech that's been factory certified or refurbished. You can also buy refurbished fitness trackers direct from some manufacturers instead of going through third-party sellers.
Alternatives to Fitness Trackers
Fitness trackers are an excellent option for some users, but an acquired taste for others. If you're interested in a more versatile wearable or just want a more affordable one, consider these alternatives.
Best Smartwatches for Apple Users
Apple has been at the forefront of fitness tracking since the Apple Watch debuted. While they don't make a dedicated tracker, they don't need to thanks to newer models of the Apple Watch. Their most accurate fitness tracker to date is the Apple Watch Series 8.
This wearable can do it all and is designed to work specifically with iPhones. While it largely resembles the past few versions of the company's smartwatch, the Watch 8 does bring new things to the table. Car crash detection and body temperature are new additions, and it's faster than the previous models with better battery life as well.
Best Everyday Use for Apple Users
Apple Watch Series 8 [GPS 41mm] Smart Watch
Advanced new features including Crash and Fall Detection.
Track your health with an ECG, heart rate monitor, and SpO2 sensor.
Sweatproof and resistant to dust with IP6X certification.
Up to 18 hours of battery life or 36 hours via low power mode.
We earn a commission if you make a purchase, at no additional cost to you.
Alternatively, if you want to track basic health statistics and stay in the Apple eco-system, the Watch SE 2 is another reason to avoid a new fitness tracker. The new Apple Watch SE doesn't have a temperature or SpO2 sensor. The watch does take advantage of the company's 2nd gen heart rate sensor, fitness tracking capabilities, and new S8 processor, however.
Best for Tweens and Teens
Apple Watch SE (2nd Gen)
Crash Detection,

Fall Detection, and Emergency SOS

Water-resistant up to 50 meters
3 months of Apple Fitness+ included
Increased performance through Apple's S8 processor (

20% faster)
We earn a commission if you make a purchase, at no additional cost to you.
Best Smartwatches for Android Users
Android users have more options to choose from than Apple aficionados, but fitness fans that prefer Android to iOS should consider a wearable from Samsung. Their best smartwatch is currently the Galaxy Watch 5 or Galaxy Watch 5 Pro depending on your needs.
The Galaxy Watch 5 is one of the best smartwatches Samsung has produced. It also has a variety of health and fitness features built in. That's due in part to the company's new BioActive sensor array which combines an ECG and Optical Heart Rate monitor with a Bioelectrical Impedance Analysis sensor. This watch comes in two sizes and three colors with a reasonable price tag.
Best Android Alternative
Samsung Galaxy Watch 5 40mm Smartwatch
New BioActive Sensor with increased accuracy and a BMI meter.

Advanced sleep tracker analyzes sleep stages whenever you sleep.

Upgraded specifications with 16GB of storage and 1.5GM of memory.
Automatically tracks more than 90 popular activities and exercise.
We earn a commission if you make a purchase, at no additional cost to you.
Consumers interested in Samsung's technology, but looking for something larger will appreciate the Galaxy Watch 5 Pro. It's an upgraded version of the base model that's 45mm with titanium housing. It's better suited for outdoor usage and has a much larger battery as well. This heath-tracking watch is in the premium class, and comparable to the Apple Watch Series 8
BEST WOMEN'S SMARTWATCH FOR ANDROID
Samsung Galaxy Watch 5 Pro
An advanced tracker that monitors sleep and wellness throughout the day.

Tracks your daily workout activities from running and hiking to swimming.
Amazing battery life for prolonged use outdoors.
Built to last with a titanium case and Sapphire Crystal glass.
Compatible with all Apple devices
Easily customizable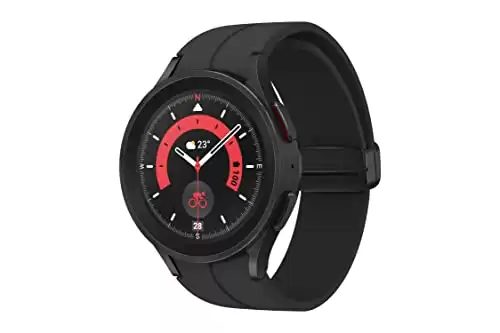 We earn a commission if you make a purchase, at no additional cost to you.
Best Refurbished Fitness Trackers
While we feel a good smartwatch is better than most fitness trackers, they tend to be more expensive. If you don't mind going refurbished, here are a few options that should be at the top of everyone's shopping list.
Fitbit was acquired by Google in 2021. While their tech is now found in the new Pixel Watch, they have dozens of affordable fitness trackers. These dedicated devices provide a lot of bang for your buck, and one of the best values in the refurbished class is the Fitbit Versa 2.
This wearable has Alexa built-in along with standard health tracking features. That includes a SpO2 meter, heart rate monitoring, and many exercise modes. It has better battery life than a smartwatch at 5-6 days and pairs with both Android and iOS smartphones.
The Best Value
Fitbit Versa 2 Health & Fitness Smartwatch (Renewed)
Powered by Alexa, create alarms and go hands-free using your voice.

Larger, always-on display with important metrics and statistics.
Music playback through the Spotify, Pandora and Deezer apps.
Custom apps, and pre-loaded routines for a variety of exercises.
We earn a commission if you make a purchase, at no additional cost to you.
This wearable is billed as a smartwatch but is a nice hybrid between the Galaxy Watch and Fitbit. The Garmin Vivoactive 3 provides a bit more style than the Versa 2 but with a similar price point. It can measure your heart rate and track activity through GPS outdoors but is also preloaded with more than a dozen sports apps out of the box.
The Garmin Vivoactive 3 can track your heart rate by the second and send out alerts as needed. It can also monitor your sleep and has a battery that puts other watches to shame. With GPS mode on, you'll get 13 hours but the wearable provides up to 7 days of power during standard usage.
The Wrap-Up
Purchasing a new fitness tracker is something to take seriously given the cost and the fact many smartwatches have the same array of sensors. If you're still interested in a brand-new fitness tracker, wearables from Fitbit and Garmin are excellent choices as long as you keep data and your overall health in mind.
The image featured at the top of this post is ©iStock.com/Drazen Zigic.