Key Points
The GMC Hummer EV falls short in many ways, from limited range and off-roading capabilities to poor towing performance.
The high price tag of the Hummer EV, starting at $105,000, is not justified by its underwhelming features.
Obtaining a GMC Hummer EV is difficult due to high demand and limited availability, and servicing the vehicle can be challenging.
The GMC Hummer EV has a negative environmental impact due to its large size, rapid consumable wear, and extensive manufacturing process.
The GMC Hummer EV is one of the most sought-after electric vehicles on the market. Coming in both SUV and Pickup models with a wide range of color choices, you'd think that a Hummer couldn't disappoint, especially given the legacy left behind by their gas-powered ancestors.
Unfortunately, in many ways, the GMC Hummer EVs haven't been living up to the hype. From being an off-roading vehicle that can't be trusted off-road to an electric vehicle that does the environment no favors, there's a lot left to be desired from the GMC Hummer EV.
While the electric vehicle industry has a long way to go, an EV can be a good investment. With that said, you still want to make sure the electric vehicle you choose is reliable for your needs and actually lives up to the basic expectations of an electric vehicle.
But if you're considering a Hummer EV, you might be in for an unpleasant surprise.
Hummer EV Specs
| | |
| --- | --- |
| Performance | |
| Motor Configuration | 3-Motor Performance Torque Vectoring e4WD Single-Motor Front and Dual-Motor Rear Electric Drive Units |
| Power Output | 830 hp to 1000 hp |
| Torque | 11,500 lb-ft |
| 0-60 mph | Approximately 3.5 Seconds |
| Range | Up to 300+ Miles |
| Charging | |
| Onboard AC Charging Module | 19.2 kW/80A |
| DC Fast Charging | 800V DC Fast Charging-Capable (up to 300 kW) |
| Safety and Technology | |
| Automatic Emergency Braking | Enhanced |
| Front Pedestrian Braking | Yes |
| Rear Pedestrian Alert | Yes |
| Lane Keep Assist With Lane Departure Warning | Yes |
| Interior | |
| Seats | Premium Leather-Alternative Perforated Front Bucket Seats |
| Seat Adjustment | 12-Way Power Front Seats Including 4-Way Lumbar |
| Climate Control | Tri-Zone Automatic |
| Exterior | |
| Wheels | 22″ Premium Finish With 35″ All-Terrain Tires |
| LED Headlamps | Yes |
| Power Swing Gate | Yes |
| Recovery Hooks | Front and Rear, Articulating D-Ring, Frame-Mounted, Black |
Reason # 1: Limited Range and Capabilities
To start off, the range of the Hummer EV isn't necessarily bad. But when you feel like going on any kind of offroad adventure, your range will take a nose dive.
Although the GMC Hummer EV is allegedly an off-roading vehicle, it's unable to live up to this expectation very well. It does have a maximum range of about 314 miles on a single charge. For an electric vehicle, this range is impressive.
However, many off-roading locations are quite remote. As you might expect, the more power you use on particularly tough obstacles, the less mileage you have to work with.
In fact, the range of an electric vehicle off-roading can be reduced by up to 50 percent just from the extra power consumption. On top of that, the GMC Hummer EV is not all that impressive when it comes to towing.
Just like the power consumption from tough obstacles, hooking up a trailer to it can also reduce the maximum range by 50 percent. Unless you're towing really short distances, it'll take you twice the amount of time to get where you're going.
Reason # 2: High Price Tag with Little Reward
Given that gas-powered Hummers always used to be expensive vehicles, we're not surprised to find out the new Hummer EV is pricey.
The starting price is six figures, around $105,000 for the bare-bones version of the vehicle. These vehicles are in such high demand with such low production numbers. So, it is no surprise that some third-party sellers are trying to ask for up to $200,000.
For reference, you can buy at least two Ford F-150 Lightnings, a comparably better electric pickup, for the price of one GMC Hummer EV. Hummers are stunning vehicles. But given that several talking points of the GMC Hummer EV aren't living up to the hype, the price point on these doesn't seem worth it to us.
Reason # 3: Lack of Availability and Accessibility
Given the popularity of GMC Hummers, there is significant demand for the electric version of this monster vehicle. Getting your hands on either model of a GMC Hummer EV is proving to be extremely difficult.
Add to this the fact production is struggling to keep up. The current expected wait time is about one year. Their reservations are currently full, with little indication they'll reopen them anytime soon.
Besides the high price tag and the complete inability to even obtain a GMC Hummer EV any time soon, even if you did get your hands on one, it will be difficult to service it. There are more service centers capable of helping you with a GMC Hummer EV than many other electric vehicles.
But still not the network required for an electric vehicle with so many known issues. From frequent interior button malfunctions to known issues with the protection system for the batteries, you're likely to need this vehicle serviced a lot more than average.
Keep this in mind if you live somewhere rural. You may be doing more driving back and forth to a service center than you ever thought would be necessary.
Reason # 4: Negative Environmental Impact
It seems ironic, given that one of the primary reasons someone chooses to purchase an electric vehicle is for the positive environmental impact. Unfortunately, the GMC Hummer EV is actually pretty terrible for our already struggling planet.
For starters, this vehicle weighs nearly as much as three city cars combined. So, it goes through tires, brakes, and any other easily damaged parts at a much faster rate than a typical car.
Not only is the GMC Hummer EV itself substantially larger than a normal car. But going through these consumables at such a rapid rate is almost as bad as just having a traditional gas-powered vehicle.
With that said, the most negative environmental impact the GMC Hummer EV has is actually from the manufacturing process. It goes without saying that such a massive vehicle is, of course, going to have an equally sized production.
The factories alone to manufacture these vehicles are massive. However, think about how much it's costing us to ship these extra large batteries and the amount of steel required to build them.
Most electric vehicles still produce some emissions during the manufacturing process but can make up for it down the line. The GMC Hummer EV will eat away at the environment from the beginning, and never be able to catch up with a positive impact.
This is made worse by the fact that most electricity is still produced by coal power plants. So, the exorbitant amount of juice this EV needs to move will likely be doing more harm than good.
Reason # 5: Size and Maneuverability
The Hummer EV weighs over 9,000 pounds. Couple that with its massive dimensions of over 18 feet long, and you are looking at a truly massive vehicle. That's even bigger than the GMC Yukon – the company's largest SUV besides the Hummer.
On that note, the GMC Hummer EV's size is certainly a problem for the average driver in the city. While there have been some positive comments regarding the GMC Hummer EV's turnability thanks to a clever suspension, the comments still make it clear that the turns and maneuverability are good for a vehicle this size, not in general.
They do advertise the GMC Hummer EV as an off-roading vehicle. So, GMC isn't necessarily saying that this vehicle is city friendly. However, it's good to keep in mind depending on where you live. You might not be able to parallel park this puppy on your city streets as easily as a Nissan Leaf.
Reasons to Avoid a GMC Hummer EV: In Review
If you're looking for an electric vehicle that can go with you anywhere, from the city to a camping trip in the wilderness, you're better off finding a car that can do it all.
Given that the GMC Hummer EV still struggles with many aspects of off-roading, to begin with, it's not even a one-trick pony.
Why You Should Avoid a GMC Hummer EV
Limited Range and Capabilities
High Price Tag
Lack of Availability
Negative Environmental Impact
Size and Maneuverability
Alternative Electric Vehicles to the Hummer EV
The GMC Hummer EV is a desirable vehicle for some, but given all its negative attributes, we could argue that there are far better options out there.
From being an off-roading vehicle that can't be relied on to significant environmental impacts, the GMC Hummer EV leaves a lot to be desired in the electric vehicle world.
Here are a few recommended alternatives to the GMC Hummer EV models.
Rivian R1S
If you're not quite sold on the Hummer EV, the Rivian R1S makes a great alternative choice. Plus, you can still pick between an SUV or a pickup option.
One of the most significant advantages of the Rivian R1S over the Hummer EV is its range. The R1S, with its 180 kWh battery and four functioning electric motors, is able to travel more than 400 miles on a single charge. This is impressive compared to the Hummer EV's roughly 300 miles of range.
The Rivian R1S also offers more seating capacity with its standard 3-row seating, a feature that the Hummer EV lacks. This makes the R1S a more practical choice for larger families or those who frequently need to transport more passengers.
In terms of performance, the Rivian R1S is quicker off the line, able to accelerate from 0 to 60 MPH in just three seconds, while the Hummer EV takes 3.5 seconds. Both of these are wild numbers for such massive EVs. But if you have the need for speed, the Rivian is a better choice.
The R1S also has superior towing capabilities, with a maximum towing capacity of 7700 pounds compared to the Hummer EV's 7500 pounds.
Ford F-150 Lightning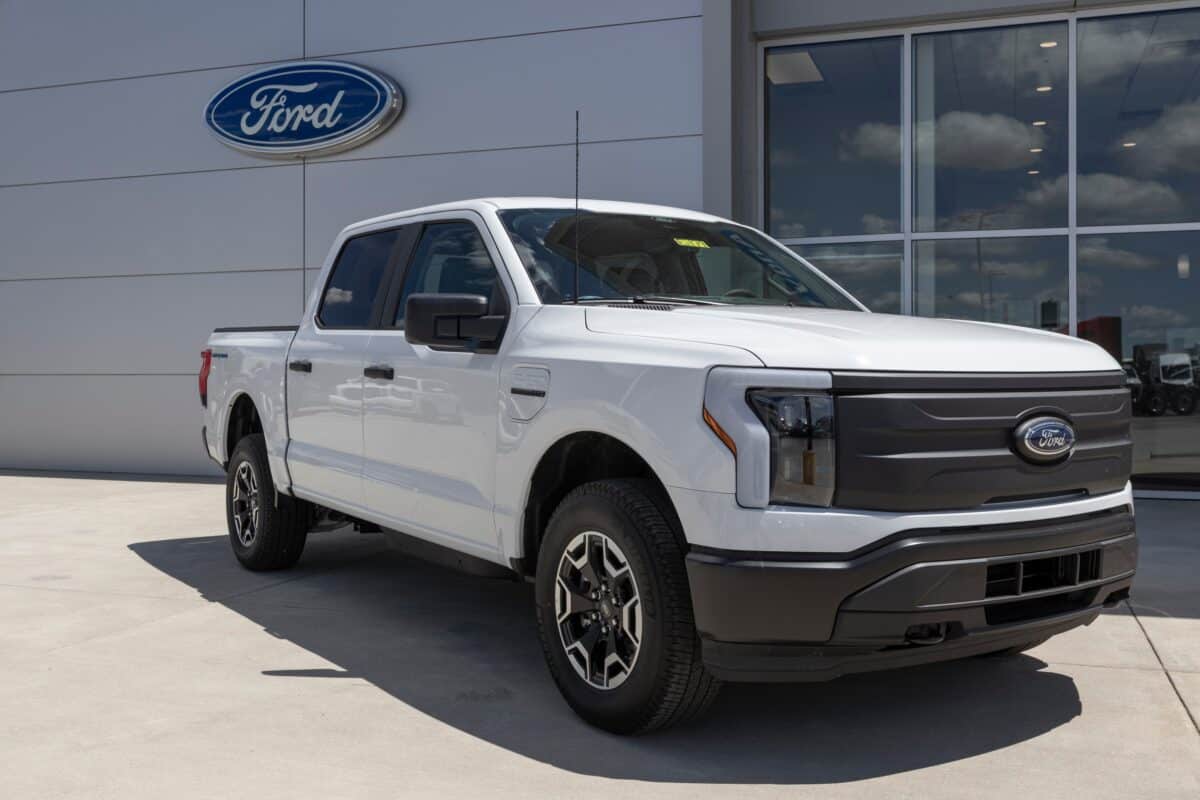 We've mentioned this one before, and we're going to do it again. The Ford F-150 Lightning is arguably the best electric pickup on the market right now.
From a Wi-Fi hotspot to LED zone lighting on the outside of the truck, Ford did not hold back on the reliability of the vehicle or its perks. The performance is sure not to disappoint with its towing capabilities and impressive range while doing so.
If you're looking for an electric truck that you can rely on, Ford has a solution. The best part is that the starting price for the Ford F-150 Lightning is $39,974, a fraction of the cost of the GMC Hummer EV models.
2023 Subaru Solterra
The Subaru Solterra is certainly a great alternative to the GMC Hummer EV SUV model. This would be a much better option for someone looking to drive in both urban and rural settings, but it's worth noting that the expected range of this vehicle is still a little low.
While it's capable of rough terrain, it's not one you want to stray too far from civilization with. With that said, this electric vehicle has much more environmentally friendly capabilities and is truly able to take you wherever you need to go, with no hassle.
With a starting price of $46,220, it's nearly half the cost of the GMC Hummer EV despite incredible additional features.
Ford Mustang Mache-E
Yes, you can get a Mustang in electric form, and it's a force to be reckoned with. As one of the top electric SUVs on the market since its launch, the Ford Mustang Mach-E is a great option for anyone looking for a sleek, reliable electric vehicle.
With an expected range of 312 miles and excessive cargo space, this car is ready for a road trip. Ford offers several versions of the Ford Mustang Mach-E, from $44,795-$66,795, which means even the most expensive model of this SUV is about fifteen grand cheaper than the base model of the GMC Hummer EV SUV.
Summary Table
| Reason | Explanation |
| --- | --- |
| #1: Limited Range and Capabilities | The Hummer EV's range significantly decreases when off-roading or towing, making it less reliable for these activities. |
| #2: High Price Tag With Little Reward | The starting price of the Hummer EV is around $105,000, which is high considering its limitations and issues. |
| #3: Lack of Availability and Accessibility | Due to high demand and low production numbers, obtaining a Hummer EV is difficult and the wait time is about a year. Additionally, servicing the vehicle can be challenging due to frequent malfunctions and a limited service network. |
| #4: Negative Environmental Impact | The Hummer EV has a large environmental footprint due to its size, rapid consumption of parts, and the emissions produced during its manufacturing process. |
| #5: Size and Maneuverability | The Hummer EV's large size and weight make it difficult to maneuver, especially in city environments. |
The image featured at the top of this post is ©Mike Mareen/Shutterstock.com.