The 14-inch MacBook Pro is considered the cream of the crop for creatives and Apple fans. However, just like with any other technology, the MacBook Pro isn't without its drawbacks.
Are you considering buying one? We'll break down the top 5 reasons to pass on purchasing a 14-inch MacBook Pro and offer some great alternatives. Let's get started!
Some Background on the 14-Inch MacBook Pro
Apple's first laptops were the PowerBook and iBook, which eventually became the backbone of MacBooks. MacBooks took the lead in 2006 and came in two current versions:
In 2020, Apple moved away from Intel-based processors, creating its Apple-branded silicon. Apple's M1 Pro and M1 Max SoCs (systems-on-chips) offer high efficiency with decreased latency. These chips become performance beasts by integrating the CPU and GPU and letting them pull from the unified memory.
| Apple Laptop Version | Processor Chip |
| --- | --- |
| Apple MacBook Air 13 2020 | M1 |
| Apple MacBook Air 13 2022 | M2 |
| Apple MacBook Air 15 2023 | M2 |
| Apple MacBook Pro 13 2022 | M2 |
| Apple MacBook Pro 14 2022 | M2 Pro/Max |
| Apple MacBook Pro 16 2022 | M2 Pro/Max |
While only the top reason may prove to be a serious deterrent for many people, the other reasons are annoyances we wish we weren't dealing with. Let's talk about it below!
High Price
If you're looking for a quality product at a reasonable price, you might want to skip a 14-inch MacBook Pro. Of course, it performs well and comes in a sleek design, but you won't find an affordable price with this laptop.
Depending on the amount of CPU, GPU, unified memory, and SSD storage you want, the prices range from around $2,000 all the way up to $6,300. Sure, for that top price, you get the absolute best M2 Max chip, 8TB SSD storage, and 96GB of RAM, but that price is incredibly hefty. You'll certainly pay a higher price for the MacBook Pro than you will for (nearly) comparable laptops.
If you're on a limited upgrade budget, you might want to look at the alternatives we suggest below.
Not the Perfect Gaming Solution
MacBooks aren't the best gaming laptops since many games don't run on macOS. If you can't play the games you love, what's the point?
Games often rely on other apps to help them run smoothly. DirectX 12, for example, makes visuals run properly, but Apple doesn't support DirectX. It has a similar app, Metal API, but that means you've got to run a compatibility layer app.
CrossOver supports DirectX 12, so you can technically play games on a Mac, but it takes more of your system's resources than simply running the game on your operating system. We're not saying they can't be used for gaming — just that they aren't the ideal setup.
The 16-inch MacBook Pro gets better reviews if you want a gaming system, so it might be a suitable alternative to the 14-inch MacBook Pro.
The Apple Notch
Love it or hate it, the Apple notch is part of the 14-inch MacBook Pro, and that's because the laptop has such a thin bezel. The notch allows Apple to fit in items like the ambient light sensors, speaker, front-facing camera, dot projector for Face ID technology, and microphone. Some people don't notice the notch, but others say that it disrupts the display.
No USB-A Ports
While Apple brought back the ports with the 14-inch MacBook Pro, there still are no USB-A ports. We get it; USB-C is the future and we're good with that. But we still have plenty of devices that connect via USB-A ports, and it would be nice not to carry an adaptor everywhere we go.
Only One Color
Okay, this one isn't a deal breaker for most power users, but the 14-inch MacBook Pro comes in Space Gray (and sometimes in Silver, if you can find that option.) But that's it — just the one color — and while there's nothing wrong with Space Gray, it's just not that exciting.
For the amount of money you're spending on these laptops, it might be nice to have some of the color options of the MacBook Air. Gold Starlight and Blue-Black Midnight options on the Air would prove a nice personalization touch on the Pros.
Alternatives to 14-Inch MacBook Pros
Here are some excellent alternatives if you want to skip a new 14-inch MacBook Pro.
Gaming Laptops
#1 Best Overall
Razer Blade 14 Gaming Laptop
NVIDIA GeForce RTX 3080 GPU for outstanding graphics
165Hz QHD display
Vapor chamber cooling for strong thermal performance
Customizable RGB individual key lighting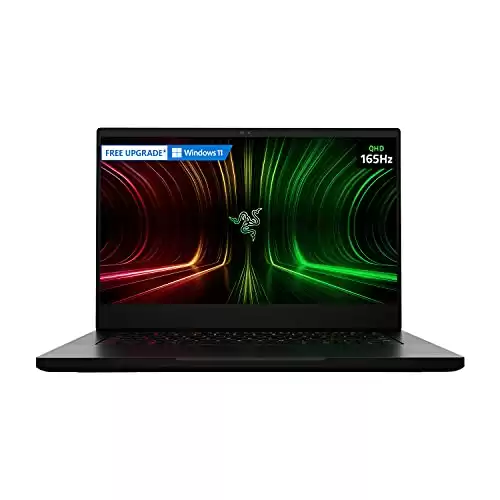 We earn a commission if you make a purchase, at no additional cost to you.
If you're a heavy-duty gamer, a dedicated gaming laptop is probably a better alternative for you than the MacBook.
Razer looks and feels similar to a MacBook Pro, and many users like it for that reason. The Razer Blade 14 is about the same size and weight as the 14-inch MacBook Pro as well, but the Razer delivers a ton of gaming power, which the Apple doesn't quite match.
It has a good battery life, and even though it's a gamer's choice, the Razer also lets you get your work done.
Lenovo Laptops
Best Overall
Lenovo Yoga 9i
Intel Core i7-1185G7

14" UHD (3840 x 2160)

720p camera

Realtek ALC3306 codec
We earn a commission if you make a purchase, at no additional cost to you.
Lenovo makes powerful, innovative laptops that perform very well. After all, Lenovo is a leading consumer electronics manufacturer, and they know what their consumer base wants.
The company's 14-inch Yoga 9i has Intel processors, giving it a gigantic multicore performance jump. In addition, it is perfect for video conferences with an OLED display and a top-notch audio system — or use it to stream movies. Who are we to judge?
It even comes with an active pen that feels natural, like an ink pen, so you can jot down notes or sketch a drawing for a client.
HP Laptops
Great Alternative to a MacBook
HP Pavilion 14-inch HD Laptop
14-inch HD screen
Intel Core i5-1135G7
Intel Iris Xe graphics
Long battery life
Webcam
HDMI
Wi-Fi and Bluetooth
Windows 11
16GB RAM
1TB SSD
We earn a commission if you make a purchase, at no additional cost to you.
HP is the way to go if you want an affordable and ultraportable laptop with a high-resolution five-megapixel webcam and a beautiful OLED screen. Pavilions are HP's powerhouse.
What consumers love most about HP Pavilions is the ability to customize it to their needs and wants. You are only limited by the amount of performance versus battery life. But if you're primarily stationary at a desk, then the sky is the limit when it comes to performance processors.
Another thing about choosing an HP laptop and skipping a 14-inch MacBook Pro is the recycled materials in the Plus laptops. You'll find recycled aluminum in the laptop's lid, bottom, and keyboard deck. Plus, the keycaps come from recycled plastics. Saving some waste makes HP an attractive alternative to Apple.
Wrapping Up
While Apple makes excellent products, you might still appreciate our reasons to skip a 14-inch MacBook Pro. We've shown you there are some suitable alternatives to meeting your needs while saving you money.
Be sure to evaluate your primary needs and stay within your budget when making a choice!
Reasons to Skip a 14-Inch MacBook Pro Summary
1. MacBook Pros, especially with the necessary storage, are quite expensive for most of us.
2. Gamers find more choices in Windows-based laptops.
3. If you hate Apple's notch, then skip this MacBook.
4. The ports are back, which is excellent, but there are no USB-A ports, so you'll need an adaptor.
5. Space gray is the only available color.
The image featured at the top of this post is ©canadianPhotographer56/Shutterstock.com.