Rare video games have gained a lot of popularity in recent years. Even people who aren't gamers take notice of the eye-popping prices that some games go for. But what actually makes a game rare? Is it because of value or the number of copies sold?
Another question is whether or not games that never saw public releases count as being rare. Most games are considered rare because of low production numbers, for one reason or another. However, many games had low production rates but never make it to a five-digit level of rare.
The games on this list are rare because of both low production numbers along and troubled developers. Another major part of being considered rare is having a unique backstory about what led to the game's demise.
#5: Stadium Events NES
Stadium Events is the rarest game on the NES console, even more than the well-known championship cartridges. The game was released by Bandai, which is interesting since most of the games on the list were made by small developers.
There is nothing remarkable about the game itself, and it is essentially a retro version of Wii Sports. However, copies of Stadium Events have sold for over $30,000.
The game is also the only one on the list to have seen a widespread retail release. Since it came out during the NES era, it is a little newer, and there is much more information available about its release compared to other rare titles. What made the game rare was that Bandai recalled it after its nationwide release.
Stadium Events used the Family Fun Fitness Pad, which was the predecessor to the Nintendo Power Pad. Nintendo ended up purchasing the rights to the pad and the game from Bandai, then rebranded them. Stadium Events became World Class Track Meet.
Although the Nintendo Power Pad had great success, the original Family Fun Fitness Pad wasn't around long enough. Because you needed to have the fitness pad in order to play Stadium Events, few people purchased the game.
It is also unknown how many games were made, but the minimum run for NES games at the time was 10,000. Some experts believe that much fewer were made. In addition, there are rumors that many copies were destroyed once Nintendo purchased the rights.
#4: Red Sea Crossing
Red Sea Crossing is the stuff legends are made of, since it comes from the Atari 2600 era. It is considered a rare video game because it was only available from a religious magazine in the 1980s, known as Christianity Today. For the longest time, little to nothing was known about it, but a sale back in 2012 brought a ton of attention. A copy of the game turned up on an auction website.
The owner of the game at the time found it at a garage sale and insisted that no one knew about the game. Of course, someone had to know it existed because someone had to have made it. Some of the gaming enthusiasts at Atari Age ended up finding the guy who originally worked on it, but he could offer very little detail about the old title.
However, some other users on the site ended up finding a copy of the original ad in the religious magazine. The game originally sold for $34.95, and its current value is essentially whatever someone is willing to pay for it. There are two copies known to exist today, both of which are in the hands of private collectors.
One copy of the game sold on eBay for $14,000, and another copy sold on GameGavel for $10,400. Both copies were sold in 2012, so there is no telling what they are worth today. Also, no one really knows how many copies were sold or still exist today. As for the gameplay, you play as Moses, who must navigate the Red Sea while dodging obstacles.
#3: Air Raid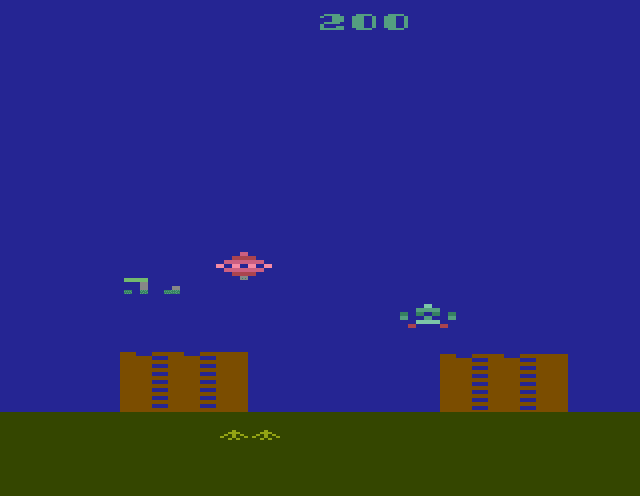 Air Raid is another Atari 2600 game with a unique blue T-handle cartridge. It was developed by Men-A-Vision and is apparently the only game developed by them. Numerous people have tried to find out the origins of this game, and many believe it can be traced back to a toy store owner in Los Angeles.
Unfortunately, no one has been able to confirm any details about the game's creation or its developer. Even stranger is the fact that the packaging mentions more games in the works. It is believed that only 25 copies were made, and not all of them even received retail packaging.
This is also where some of the mystery lies, as it was thought that the game never sold at retail. However, some of the copies found have stickers on them from retailers, including a sale sticker. So it is obvious that some did make it to store shelves.
Nonetheless, Air Raid is an extremely rare video game, with only a few copies known to exist. The most recent sale was in 2021 on by Goodwill on eBay, which sold for $10,000. However, other copies have sold for over $30,000.
The gameplay entailed flying over a city and shooting upward toward planes dropping bombs. Air Raid is essentially a clone of Space Jockey, and it's rather lackluster. What makes the game worse is that it was poorly engineered, which is probably why it never saw mass production or a nationwide release.
#2: Birthday Mania
Birthday Mania is an extremely rare video game for the Atari 2600. Every cartridge is one of a kind because they were individually personalized for the purchaser. To buy the game, you would mail in a short form with some information about the person it was going to.
This was a common gimmick for VHS tapes which would crudely add names, voices, or even pictures, but it wasn't common in the gaming industry. In the game, you have to blow out candles with a limited amount of air.
The concept, featured on the cover, really doesn't play a big part in the game. Instead, Birthday Mania is essentially a shooting game that uses paddle controllers. The candles race toward the character's face at the bottom and, unfortunately, there is no cake involved.
Birthday Mania's gameplay is pretty terrible by all accounts, but that is not what really makes the game a collectible. In reality, it is popular because of its rarity, since many consider it one of the first indie games. The game was actually made by a developer who taught himself how to program Atari games.
It is estimated that between 10-15 Birthday Mania games were actually released. Out of those, only one has been found and confirmed as authentic, with another one only rumored to fit the criteria.
The rarity is likely due to its lack of a commercial release which required it to be special ordered. Unfortunately, the game is so rare that there is no sales data to base its value on, but considering what similar games sold for, it is likely worth over $15,000.
#1: Championship Cartridges
Last we have the most well-known of the rare video games. The two main ones that everyone knows about are the gray and gold Nintendo World Championship cartridges.
Nintendo World Championship
These were used as part of Nintendo's marketing tactic, which involved hosting gaming competitions across the country. The cartridge holds limited versions of Super Mario Bros, Rad Race, and Tetris.
Nintendo chose the winner based on the highest score after six minutes of gameplay. After the contest, Nintendo held a giveaway in Nintendo Power magazine, and the winners received a gold World Championship cartridge.
They made only 26 gold cartridges to give away. The gray cartridges were given to the 90 winners of the World Championship preliminaries.
We earn a commission if you make a purchase, at no additional cost to you.
The first World Championship took place in 1990, and Nintendo held another competition the following year. This one was known as Nintendo Campus Challenge 1991 and took place on college campuses.
The cartridges were heavily modified, unlike their predecessors. These cartridges were supposed to be destroyed, but at least one is still known to exist in a private collection.
Finally, there is Nintendo PowerFest 1994, which took place during the SNES era. The cartridge consisted of a mix of SNES titles which gamers would play for six minutes each. The cartridge is also heavily modified and bears little resemblance to a SNES cartridge.
Only two PowerFest 1994 cartridges are known to exist since they, too, were set to be destroyed. Interestingly, the two known cartridges use different systems.
Sega
Blockbuster World Championship II - (Sega Genesis) - Reproduction Video Game Cartridge w/ Clamshell Case
These repros play identical to the original game but use all new parts, so you're guaranteed many, many years of enjoyment without it breaking down. Original games are generally 'well used' and may or...
New batteries for game saves (where applicable) mean you're not going to lose your saved game anytime soon.
They look almost identical to the original games, so you can proudly display them in your collection.
Cost much less than the original games
We earn a commission if you make a purchase, at no additional cost to you.
Nintendo wasn't the only company in the 1990s to host gaming tournaments. The Blockbuster World Championship II used specialty Sega Genesis cartridges that contained versions of NBA Jam: Tournament Edition and Judge Dredd. These cartridges were used for qualifying rounds which took place at local stores.
Unlike the Nintendo World Championship cartridges which were given away, these Sega cartridges were supposed to get destroyed. At least one cartridge was kept, but other store employees likely held on to them instead of turning them in. There have been sales at online auctions with the cartridge going for between $5,000-$10,000.