QNED and Neo QLED technologies have become buzzwords in the past years. While both technologies are quite different, with varying pros and cons, many people remain confused about which one they should go for. If you're one of them, you must understand the fundamentals of both technologies to make the right choice.
Let's start with the basics. QNED refers to "Quantum Nano Emitting Diodes," and Neo QLED is the upgraded version of QLED that stands for "Quantum Dot LED." The QNED technology uses Nanorod LEDs, which work similarly to OLED and are self-emissive. On the other hand, Neo QLEDs, especially those of Samsung, use Mini LEDs in addition to Quantum Dots. Both technologies give a crisp picture with perfect brightness.
So, now the question is, what is the difference between QNED and Neo QLED, and which is the right choice for me? Let's break down everything you need to know.
QNED vs Neo QLED: Side-by-Side Comparison
| | QNED | Neo QLED |
| --- | --- | --- |
| Best for | Watching TV shows and sports and gaming | Watching TV shows and playing games in sunny rooms |
| Initial Release | 2021 | 2021 |
| Type | LED | Mini LED |
| Panels | In-Plane Switching (IPS) | Vertical Alignment (VA) |
| Resolution | 4K and 8K | 4K and 8K |
| Manufacturers | LG and Samsung | Samsung |
| Variable Refresh Rate | 120Hz | 120Hz |
| Price Range | $999.99-$3,599.99 | $1,484.10-$4,949.90 |
QNED vs. Neo QLED: What's the Difference?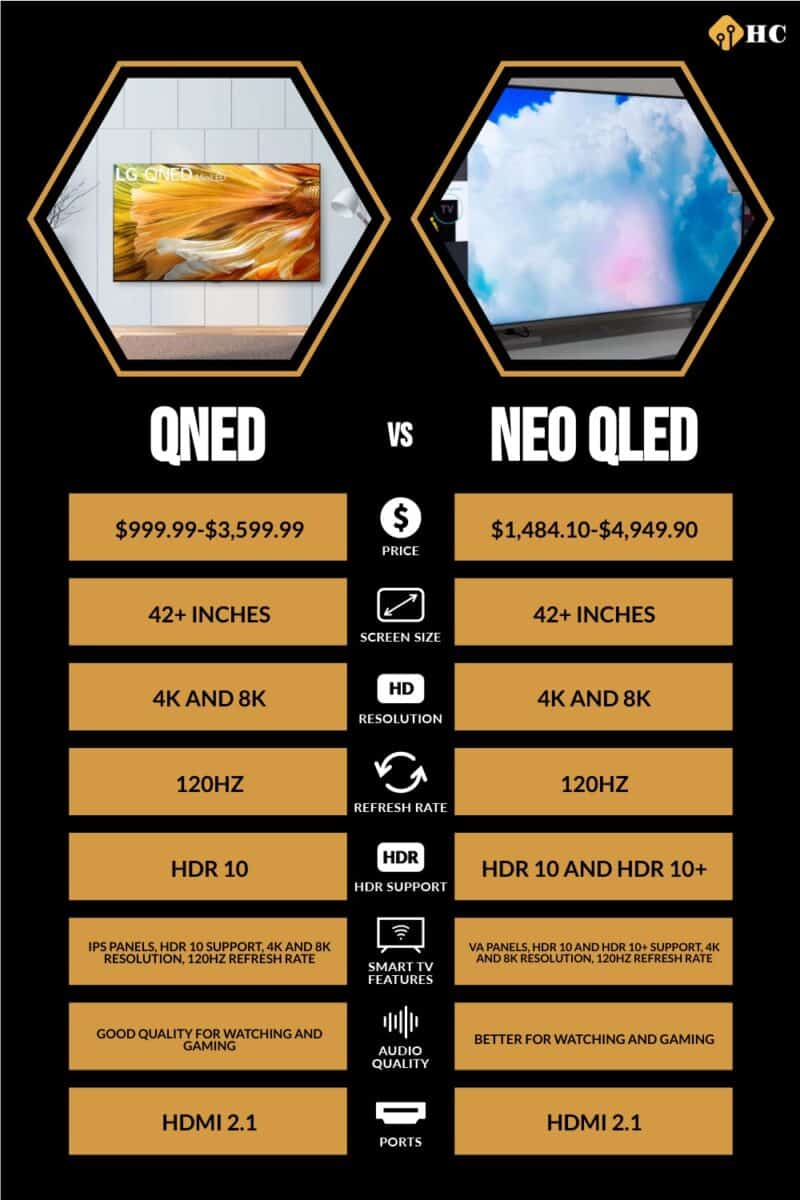 Both technologies were released in 2021 and became popular for all the right reasons. LG manufactured the first QNED, and Samsung solely owns Neo QLED. However, you'll find QNED models by Samsung as well.
The significant difference between these models is their panels. Samsung has upgraded its classic QLED technology with "mini LEDs," giving rise to Neo QLED. This means this new technology is definitely better than QLED. But what about QNED?
Let's take a quick look at some differences between QNED and Neo QLED.
Panel Type
The panel types used in both technologies are quite different. While LG QNED TV uses IPS panels, the Samsung Neo QLED TV incorporates VA panels.
IPS, or In-Plane Switching, panels are popular for their color consistency, low ghosting issues, and ideal viewing angles. Comparatively, VA panels offer high contrast, good viewing angles, and increased ghosting.
One thing to notice is that IPS panels have been found to bleed light, making them more expensive in the long run. However, that's not always the case. Instead, the quality of your panel depends on the model you choose.
Both panels have now become quite advanced. So, you will be in for a treat with either TV type.
Brightness
Brightness is one of the most critical factors in a TV screen display. It ensures visibility from different angles and a balanced color consistency. With thousands of mini LEDs, the Samsung Neo QLED has an apparent upper hand over QNED.
It offers immense brightness in various surroundings, making it a better option for this department. For instance, a QLED's Real Scene Peak Brightness is 1,088 cd/m2, while the QNED is just 529 cd/m2. But, since Neo QLED is a better version of QLED, we can expect even higher brightness with this display.
HDR
QNED and Neo QLED both support HDR 10, enough to have bright and clear streaming and gaming experiences. However, again, Samsung's Neo QLED takes the lead here since it supports HDR 10+ as well. This means it will offer you higher peak HDR brightness than its counterpart.
Reflections
A screen with lots of reflections can spoil your gaming or movie experience. Samsung Neo QLED has a glossy screen that prevents reflections from different angles. Not only that, but this display finish also offers reasonable anti-glare protection, which ensures little to no reflections.
On the other hand, QNED's screen finish isn't as anti-reflection as one would want. It can display noticeable reflections in some environments. That's why Samsung Neo QLED is a better choice than QNED as far as reflective screen finish.
Black Uniformity
Black uniformity refers to the black color consistency your TV screen displays. With poor black uniformity, a TV will display a few areas brighter than the others, meaning there will be no color consistency on your screen.
When considering QNED and Neo QLED, the black uniformity on Neo QLED is better than QNED. If you're testing both TVs, ensure you're in a dark room because black uniformity is evident in darkness.
Local Dimming
Depending on dimming zones, local dimming adjusts your TV screen's backlight brightness and color contrast. Both screens have a local dimming feature, but Neo QLED has an improved local dimming feature compared to QNED.
QNED TVs only give a little bloom near objects visible even from a great distance. This is particularly the case with white objects. But if that's not the problem for you, LG QNED can be a viable option.
Colors
There is not much difference in the colors of QNED and Neo QLED. Both TV displays show almost the same color gamut coverage. This means you will enjoy bright and crisp picture quality whether you choose QNED or Neo QLED.
But if you go deeper, the color volume of the Samsung Neo QLED is better than LG QNED. By that, we mean you will find more vivid colors on Neo QLED than QNED.
Blooming and Backlight Bleeding
Another essential feature that distinguishes QLED from Neo QLED is the booming and backlight bleeding issue. Backlight bleeding is when the screen panel fails to block the backlight evenly. This is more visible around the edges of the screen. You are likely to notice backlight bleeding when the screen displays something in black color.
Blooming is similar to backlight bleeding. It is the faint glow that appears around many on-screen objects, which is most noticeable close to subtitles.
Unfortunately, most QNED displays suffer from this problem. As a result, they offer uneven light distribution that spoils the fun of using an 8K screen. On the other hand, the Neo QLED screen doesn't have the blooming and backlight bleeding issue, all thanks to its functional mini LEDs.
QNED vs. Neo QLED: The Complete History
LG released QNED in 2021, which refers to "Quantum dot-equipped NanoCell Emitting Diode" TVs. The technology combines LG's NanoCell screens and quantum dots, ensuring a rich color display and high brightness. LG uses this technology in all of its 100Hz LED TVs.
QNED is a transmissive display technology. Recently, LG has combined this technology with mini-LED backlights to make the screens self-emissive. You will find a range of LG QNED TVs with different specifications and screen sizes, with prices varying from model to model.
Samsung also released its first Neo QLED TV in 2021. The company said this model is the upgraded version of its mini-LED displays from 2018. This is why Neo QLED focuses on the TV's backlight to offer you vivid colors, high contrast, and better brightness, just like its predecessor.
So, QLED means an LED TV with quantum dots. According to Samsung, quantum dots refer to microscopic nanocrystals that emit green and red lights and react to blue light based on their size.
When manufacturing LEDs, quantum dots are used as film coverage for the entire screen space inside a TV. They are also applied in the tubes that run through the screen's perimeters, but only if the TV screen is edge-lit.
Over the years, Samsung has made this technology better and better. As a result, Neo QLED TVs create rich, saturated, and vivid colored pictures relying on red and green lights. The quality is better than the screens with the backlighting technology and no quantum dots.
While Samsung popularized the Neo QLED TVs, it also made QNED TVs like LG. However, they don't get much popularity. LG got a bit lucky as its QNED TVs became instantly accepted for their quality.
Currently, you can find QLED TVs in many brands, including TCL and Hisense. However, Samsung's Neo QLEDs and LGs QNEDs are always the top choices.
QNED vs. Neo QLED: 5 Must-Know Facts
QNED and Neo QLED are both some of the best TV displays out there. They offer clear pictures, an improved viewing experience, and minimal reflections. Here are 5 must-know facts about QNED and Neo QLED:
QNED and Neo QLEDs feature Mini LED backlight technology that ensures better brightness, color contrast, and HD display than conventional screens with LED backlights.
Both technologies offer a better viewing experience than traditional LCD TVs with fewer reflections. However, Neo QLED is relatively better than QNED in this regard.
You can turn off and on the LED backlights in QNED individually to achieve the perfect dimming zone, brightness, and color.
Both QNED and Neo QLED come in 4K and 8K HDR displays for an immersive streaming and gaming experience.
LG QNEDs are relatively cheaper than Samsung's Neo QLEDs.
QNED vs. Neo QLED: Which One is Better? Which One Should You Use?
You may have guessed by now — Samsung's Neo QLED is a better choice than LG QNED regarding brightness, HDR, backlight bleeding, and colors. The Neo QLED is equipped with advanced mini LED lights that offer impressive brightness.
Neo QLEDs also has better black uniformity than QNED, meaning you'll have improved color consistency throughout the screen. That doesn't mean LG QNED is a bad option. It also offers a fantastic streaming experience, but Neo QLED takes the lead.
If money is your concern, you can rely on LG QNED as it is affordable with modern features. Otherwise, go for Samsung Neo QLED without thinking twice because this TV display gives a fantastic viewing experience even in the darkest rooms. You can also opt for an OLED TV instead of QNED, as they have better image quality.
So, simply put, choose a screen display that works with your budget and offers you all the features you need. Both QNED and Neo QLED are the best in the market!
Recent Technology Updates for the QNED and Neo QLED
Since February 2023, there have been technological advances for the QNED and Neo QLED, including:
Mini LED backlight: Both QNED and Neo QLED TVs use MiniLED backlights which provide more precise control of the backlight. This helps screens display deeper blacks and brighter whites.
Quantum dots: With Quantum dots, both the QNED and Neo QLED TVs have wider ranges of colors than traditional TVs.
Improved contrast ratio: Since the contrast ratio for QNED and Neo QLED TVs have been improved, we can see sharper and more realistic pictures.
Wider viewing angles: Viewing angles of QNED and Neo QLED TVs have been improved which means that the picture quality will not decrease as much when you are not sitting directly in front of a TV.
Faster response time: With improved response time, the QNED and Neo QLED TVs can display fast-moving images without blurring.
HDR support: QNED and Neo QLED TVs have more support for HDR and HDR content.
Possible Technology Advances for the QNED and Neo QLED
While planned technology advancements have not been announced for the QNED and Neo QLED, it is likely that you may see some or all of the following in the next six to 18 months:
Improved mini LED backlights: While they are in the early stages of development, we can expect to see Mini LED backlights improved with better brightness and power efficiency.
Neural network processing: We can expect to see neutral network processing that could be added to improve the image quality of QNED and Neo QLED TVs.
Wider viewing angles: We can see new technologies developed to improve the viewing angles of QNED and Neo QLED TVs.
Lower prices: Although QNED and Neo QLED TVs are still expensive, we can anticipate seeing prices come down, making QNED and Neo QLED TVs more affordable to more people.
More features: Additional new features that we can see include 8K resolution support, variable refresh rate, and auto low latency mode.
The image featured at the top of this post is ©Mr.Mikla/Shutterstock.com.