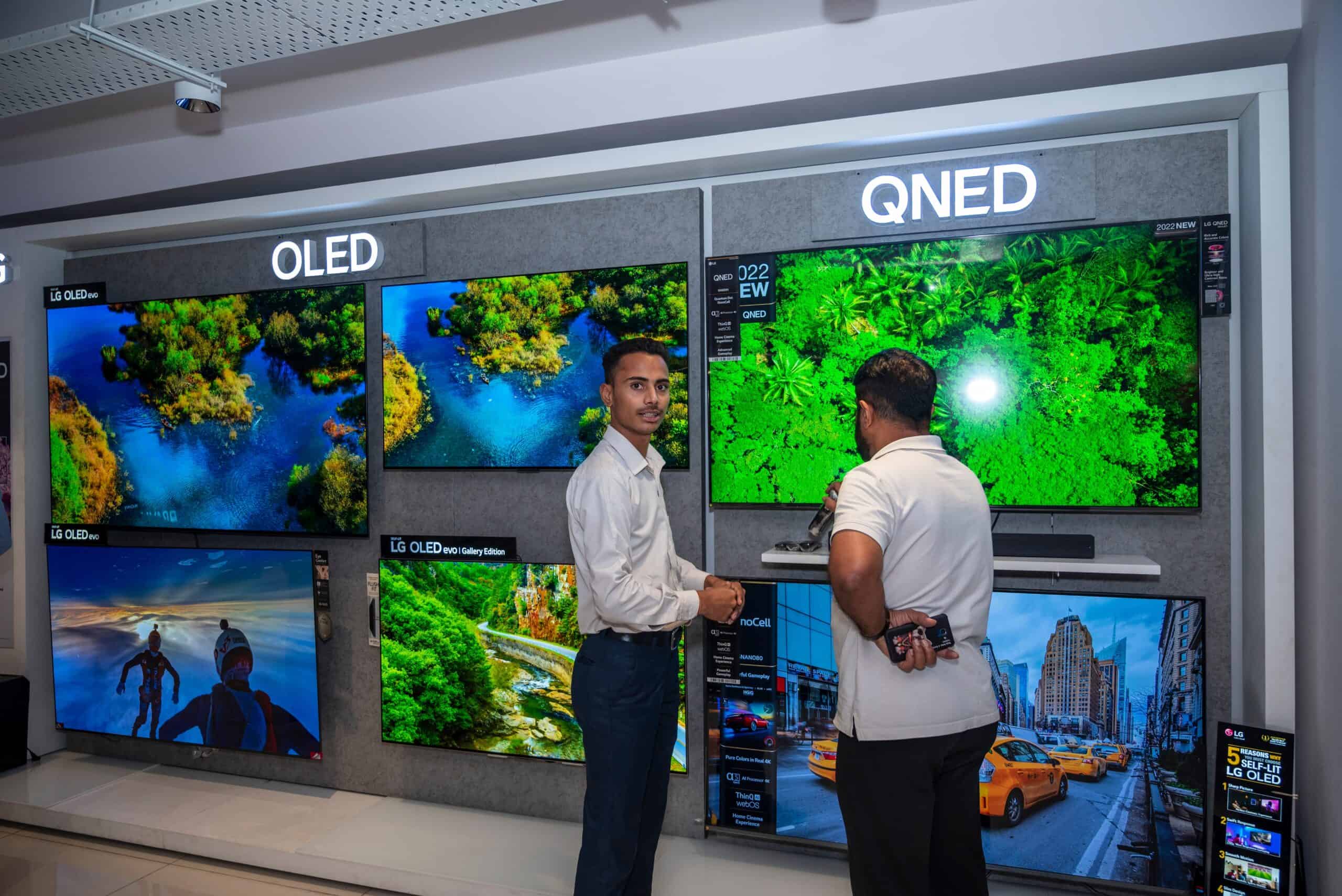 The quest to find the perfect television seems to be a never-ending, ever-changing mission. Every time you might feel like you've finally got a grasp on what's considered the best of the best at any given moment, the next latest and greatest technology comes along and shakes things up.
Take QNED vs LED, for instance. Which of these two technologies is the best TV type today? What sets these two TV types apart, and is one any better than the other? Let's consider their key differences and other facts below in an effort to come up with an answer.
QNED vs LED: Side-by-Side Comparison
| | QNED | LED |
| --- | --- | --- |
| Backlight | Mini light-emitting diodes (Mini LEDs) | Light-emitting diodes (LEDs) |
| Type(s) | Full array | Edge-lit, direct-lit, full array |
| Brand(s) | LG | LG, Philips, Panasonic, Samsung, Vizio, and Toshiba |
| Panel | NanoCell quantum dot liquid crystal display (NanoCell QD LCD) | Liquid crystal display (LCD) |
| First Released | 2021 | 2005 |
QNED vs LED: What's the Difference?
With these above specs placed side by side, it's a little easier to see what exactly differentiates QNED vs LED TVs. However, there's still much left unknown. For instance, what do these backlight types mean? And what's the significance of these differing panel types? Let's break down several of these key differences below.
Backlight Type
Best Smart Features
LG QNED80 Series 50-Inch Class QNED Mini-LED Smart TV
Adapts and adjusts picture and sound quality
Delivers lifelike viewing experience with rich color, depth
Smooth on-screen motion with a 120hz refresh rate
Enjoy richer and more accurate colors at wider viewing angles
Low-latency, zero-screen tearing for smooth gameplay
We earn a commission if you make a purchase, at no additional cost to you.
Firstly, there's an inherent difference in backlight type between QNED and LED. QNED relies on a full array of mini LEDs for its backlight type. This means that the entire back panel of the television is covered in tens of thousands of mini LEDs.
LED, on the other hand, is a lot broader. An LED TV can range from edge-lit (with rows of LEDs along the border of the back panel) to direct-lit (with several rows of LEDs across the back panel) to full array (with the entire back panel covered in LEDs.) In short, QNED has just one backlight type whereas LED has several various qualities.
Brand
Secondly, there's a difference in branding between QNED and LED. QNED is a proprietary invention from LG. That means you're only going to find QNED TVs from LG and LG alone.
LED, by comparison, is not limited to one specific brand or manufacturer. It's the most popular TV technology around today, with a vast majority of TVs on the market falling under the LED umbrella.
As such, practically every popular TV brand on the market today has LED TVs with their name on them. QNED is exclusive, whereas LED is decidedly less so.
Panel Type
Thirdly, let's examine panel types. QNED and LED use similar, but nevertheless distinct panel types. QNED relies on a NanoCell liquid crystal display equipped with quantum dot technology (i.e. NanoCell QD LCD).
This means that the television incorporates nanoparticles into its panel to improve color filtration and filter out any unwanted impurities in the picture.
This is in addition to the quantum dot technology, which produces a much wider color gamut via a semi-conductive layer of nanocrystals. LED, on the other hand, only relies on the liquid crystal display.
Release History
Best Overall
We earn a commission if you make a purchase, at no additional cost to you.
Lastly, there's a difference in release histories between QNED and LED. QNED is something of a novel technology, first teased in December 2020 and officially unveiled at CES 2021. It's an original invention from LG, meant to drastically improve upon the basic framework of an LED LCD TV.
Comparatively, LED TVs first originated way back in 2005. Think about it: when QNED TV technology was being teased, LED TV technology was celebrating its 15th anniversary. This drastic difference in release histories speaks volumes to the level of technological advancement in each.
5 Must-Know Facts About TV Types
While mini LED technology is used in several different TV types across numerous brands today, LG was actually the first to use the tech in its QNED TVs.
Though QNED TVs are quite impressive in their own right, they ultimately fall short of the impressive technological advancement that is OLED. Short for organic light-emitting diodes, OLED TVs use electroluminescent LEDs that do not require a backlight.
Any LCD TV with an LED backlight is going to fall short of the picture quality of an OLED TV because of the backlight. Even mini LEDs are incapable of achieving the brighter brights and darker darks of an OLED TV.
OLED is not to be confused with QLED, which is Samsung's name for their line of quantum-dot-equipped LED LCD TVs.
Looking beyond all of those little abbreviations used in marketing — QLED, QNED, ULED, and so on — there are truly only two TV types being made today: LCD and OLED. All of these extra letters and branding have to do with the backlight or added layers, but looking beyond all this, the TV is either going to be an LCD or an OLED.
The History of QNED
The name "QNED" is not the clearest or most concise name in the world. This is especially true when compared to all the other TV types and panels out there. QLED, OLED, QNED, LED LCD… it's all just a bit too confusing, especially for the average consumer simply searching for a good TV to take home.
Thankfully, once you know the history of QNED, things look a lot less confusing. QNED was first teased by LG just days before New Year's Eve 2020. At the time, LG called their upcoming QNED TV the best of their premium LCD lineup. (Effectively spawning the QNED vs LED debate.)
Beyond this, LG referred to their upcoming QNED TV as an enormous jump forward in liquid crystal display television technology of the time. This claim proved accurate for three reasons: Quantum dot, NanoCell, and mini LEDs.
Quantum dot technology relies on a semi-conductive layer of nanocrystals to produce a much wider color gamut than your average LED LCD TV. NanoCell technology takes it a step further, using a layer of nanoparticles over the TV's panel to boost color filtration capabilities and block any picture impurities.
In addition to the layers of quantum dot and NanoCell technology, QNED was also the very first LCD TV to utilize mini LEDs. You see, your traditional LED LCD TV relies on average-sized light-emitting diodes.
Mini LEDs, however, shrink those average LEDs to a mere fraction of their typical size. In other words, LG's QNED TVs boast 30,000 mini LEDs, each a part of more than 2,500 unique dimming zones for ten times the contrast ratio of your average LED LCD TV. These QNED TVs arrived in stores in July of 2021, complete with both 4K and 8K variants.
How LED Originated
Before there was QNED vs LED, there was simply LED. The TV technology display standard has been around since Sony officially launched it in 2005, and in the close to 20 years since then, light-emitting diodes have been the go-to for TV backlight types.
However, there's still much that isn't said about how LED originated. (The same goes for what LED TVs actually entail.) First and foremost, it's worth clearing one thing up: what we call LED TVs are actually just LED-backlit LCD TVs. In other words, almost every LED TV is truly an LCD TV with an LED backlight.
Here's what that means: in the past, LCD (or liquid crystal display) TVs relied on cold cathode fluorescents for their backlight. Commonly abbreviated as CCFL, this technology — a part of the same family as neon lamps — was inside the overwhelming majority of televisions as recently as 2010.
At the time, more than 90% of the televisions available for purchase in 2010 were CCFL LCDs. But, as LED technology grew in popularity and became more affordable throughout the 2010s, it quickly took precedence over CCFL.
Today, the vast majority of LCD TVs rely on LEDs over CCFL. LEDs have numerous advantages over the CCFLs of the past, including a much wider range of colors, a far more impressive contrast ratio, a lower level of energy consumption, a more reliable lifespan, a much lighter weight, cooler temperature, and even a thinner build.
They also support local dimming, which allows for certain areas of the panel to dim or brighten as needed in order to better support high-dynamic range (HDR) and ultra-high-definition (UHD) picture quality standards.
QNED vs LED: Pros and Cons
| Pros of QNED | Cons of QNED |
| --- | --- |
| The very first mini LED TV | Technology is limited to LG |
| NanoCell technology | Pales in comparison to OLED technology |
| Quantum dot layer | Not capable of displaying true blacks |
| Exceptional local dimming | Technology is still quite new, which means bugs |
| Pros of LED | Cons of LED |
| --- | --- |
| More energy efficient than CCFLs of the past | Edge-lit backlights look shadowy |
| Almost every major TV brand has LED TVs to choose from | Direct-lit types pale in comparison to full-array models |
| Superior color gamut compared to CCFL TVs | Not as high quality as an OLED TV |
| Lighter and thinner than a CCFL TV | Pales in comparison to mini LEDs |
QNED vs LED: Which One Is Better?
So, after all this, we can say with a great deal of confidence that a QNED TV is much better than a standard LED TV. However, we also know by now that the argument is a lot more nuanced than this.
After all, a QNED TV is still technically an LED TV (albeit a mini LED TV). But alas, if you had to make a choice between a standard LED LCD TV and one of LG's QNED LCD TVs, the best choice would have to be the latter instead of the former.
QNED TVs and their quantum dot and NanoCell technologies make key improvements over the basic LED picture quality, and the same goes for the mini LEDs.