Even as the gaming world focuses on the PlayStation 5, there are more than 3,200 games available around the world for the PlayStation 4. It's going to take a long time for the PS5 to catch up so it's well worth adding a PS4 to your gaming library. In fact, given all of the incredible exclusives available for the PlayStation 4, it's not a matter of if you should pick one up, but how quickly you can.
Of course, before you pick up a PlayStation 4, you have to decide between the PS4 vs. PS4 Pro. Which should you choose?
Let's take a look at these two consoles so you can best determine which one is right for you!
PS4 Pro vs. PS4 Slim: A Side-by-Side Comparison
| | PS4 Slim | PS4 Pro |
| --- | --- | --- |
| CPU | 1.6GHz 8-core AMD custom Jaguar CPU | 2.1GHz 8-core AMD custom Jaguar CPU |
| GPU | Integrated AMD graphics with 1.84 teraflops of performance | Integrated AMD Polaris graphics with 4.2 teraflops of performance |
| RAM | 8GB DDR5 | 8BG DDR5 plus 1GB DDR3 |
| Storage | 1TB hard drive | 1 or 2TB hard drive |
| Optical Drive | Blu-ray and DVD | Blu-ray and DVD |
| Ports | HDMI, 2 USB 3.2, AUX, analog AV out | HDMI, 3 USB 3.2, Gigabit Ethernet, 1x PS Camera, S/PDIF, AUX |
| 4K? | Yes (only for video) | Yes |
| Weight | 4.6 pounds | 7.2 pounds |
| Networking | Gigabit Ethernet, 802.1 B/G/N/AC, 2.4 + 5GHz, Bluetooth 4.0 | Gigabit Ethernet, 802.1 A/B/G/N/AC, 2.4 + 5GHz, Wi-Fi, Bluetooth 4.0 |
| PlayStation Plus | Compatible with PlayStation Plus pending membership plan | Compatible with PlayStation Plus pending membership plan |
| Colors | Black | Black or White |
| Release Date | September 15, 2016 | November 10, 2016 |
| Current Price | $299 | $399 |
PS4 Pro vs. PS4 Slim: What's the Difference?
Processing Power
Perhaps the most notable difference between the two consoles is processing power and it's an important one, to say the least.
On the PS4 Slim, the processor is an AMD Jaguar 8-core, which also happens to be the same exact processor on the PS4 Pro.
However, things get interesting when you look at speed, as the PS4 Slim has a lower clock speed of 1.6GHz while the PS4 Pro offers a higher clock speed of 2.1GHz. Sony says that this leads to a 30% CPU performance boost and that will be quite noticeable during games, including speeding up load times.
Along with the CPU, the GPU, or the graphics, on the PS4 Slim is an integrated AMD graphics card with 1.84 teraflops of performance. The PS4 Pro offers a significant increase with 4.14 teraflops of performance or what Sony considers a 100% increase in overall performance on its AMD graphics card. Sony also claims the increased performance was driven by the desire to add 4K output functionality for the Pro over the Slim's 1080p Full HD output.
Power Consumption
While processing power is undoubtedly front and center in any PS4 Slim versus PS4 Pro debate, one thing that likely is not is power consumption. Unsurprisingly, the PS4 Slim uses less power as it maxes out at 165W, which is good news for parents' electric bills. On the other hand, the PS4 Pro uses significantly more energy at 310W so you can expect a small difference in overall monthly energy costs if you are frequently gaming.
Size
The overall design of the PlayStation 4 through the years hasn't changed all that much as it's still a pretty bland black box. The PS4 Slim offers a dimension of 10.43 x 11.34 x 1.54 inches against the PS4 Pro's 11.61 x 12.87 x 2.17 inches. Additionally, the PS4 Slim weighs less at 4.6 pounds against the PS4 Pro's 7.2 pounds, so there's a noticeable size difference between the two consoles. While it's not enough to be a huge determining factor, if you have limited space in an entertainment center or desk, it's worth noting that the PS4 Pro is noticeably larger.
Storage
Here's one area that you don't have to consider when buying either console as both the PS4 Slim and PS4 Pro offer the same 1TB of storage. Older models of the PS4 Slim had started out at 500GB to keep costs down, but over the past few years, Sony has opted to only offer 1TB so storage is not going to play a big factor in choosing the right PS4 console for you.
Game Library
The most important part of any PlayStation hardware is gaming (as opposed to streaming movies), and in this case, the differences are negligible at best.
All 3,200 games mentioned above are playable on both the PS4 Slim and PS4 Pro. That's true of games like Horizon Forbidden West, God of War, Spider-Man, Uncharted 5, and more. What is different is that the loading time on the PS4 Pro is noticeably faster thanks to the stronger GPU, so if you value extra speed, it's a definite factor to consider.
Virtual Reality
While PlayStation virtual reality (VR) has yet to explosively take off, there are still numerous games worth playing. The good news is that both the PS4 Slim and PS4 Pro are compatible with the PS VR headset. There may be a few visual differences between the PS4 Pro over the PS4 Slim in some games but the overall difference should be limited. The biggest difference will be that with the additional USB 3.1 port on the PS4 Pro, it has extra space to charge PS VR controllers.
Connectivity
Another difference between the two consoles that often goes under the radar is connectivity. The PS4 Slim offers a somewhat similar set of connectivity options with a few major caveats. One HDMI port is available along with two USB 3.1 ports but no optical audio output. The PS4 Pro adds one HDMI, three USB 3.1 ports, and optical audio output, but the HDMI port on the Pro is of the 2.0 variety against the Slim's 1.4 which is a critical difference as far as 4K output.
Separately, the inclusion of the extra USB 3.1 port becomes handy due to the ability to charge PlayStation VR hardware and the dual Move Controllers, both of which need a dedicated USB port to charge. Overall, the Pro takes the win as far as connectivity options, though the Slim offers enough ports and support for the majority of gamers.
4K Performance
This very well may be the most important aspect of any comparison of the PS4 Pro and the PS4 Slim. The PS4 Slim is pretty much held to its Full HD 1080p output, which again, is good enough for the majority of gamers. Those looking for increased resolution of the 4K variety need to look at the PS4 Pro but there are some important considerations.
To play 4K games from the PS4 Pro, you must have an entire 4K setup at your disposal. That means the console needs to be connected to a 4K television or monitor, using a high-speed HDMI cable that can carry a 4K signal, and configure the video output settings on the console so that the resolution is set to "Automatic" so it chooses the best resolution possible, in this case, 4K.
Price
Even with the release of the PlayStation 5, the price of both the PlayStation 4 Slim and PlayStation 4 Pro have remained pretty constant over the last few years. At $299, the PS4 Slim remains a strong console option for those who want to quickly dive into the library of exclusives Sony has acquired over the years. At $399, it's a little harder to recommend the PS4 Pro considering you're at the same price as the PS5 digital version and only $100 more offers the disc version of the PS5 and its vastly increased performance.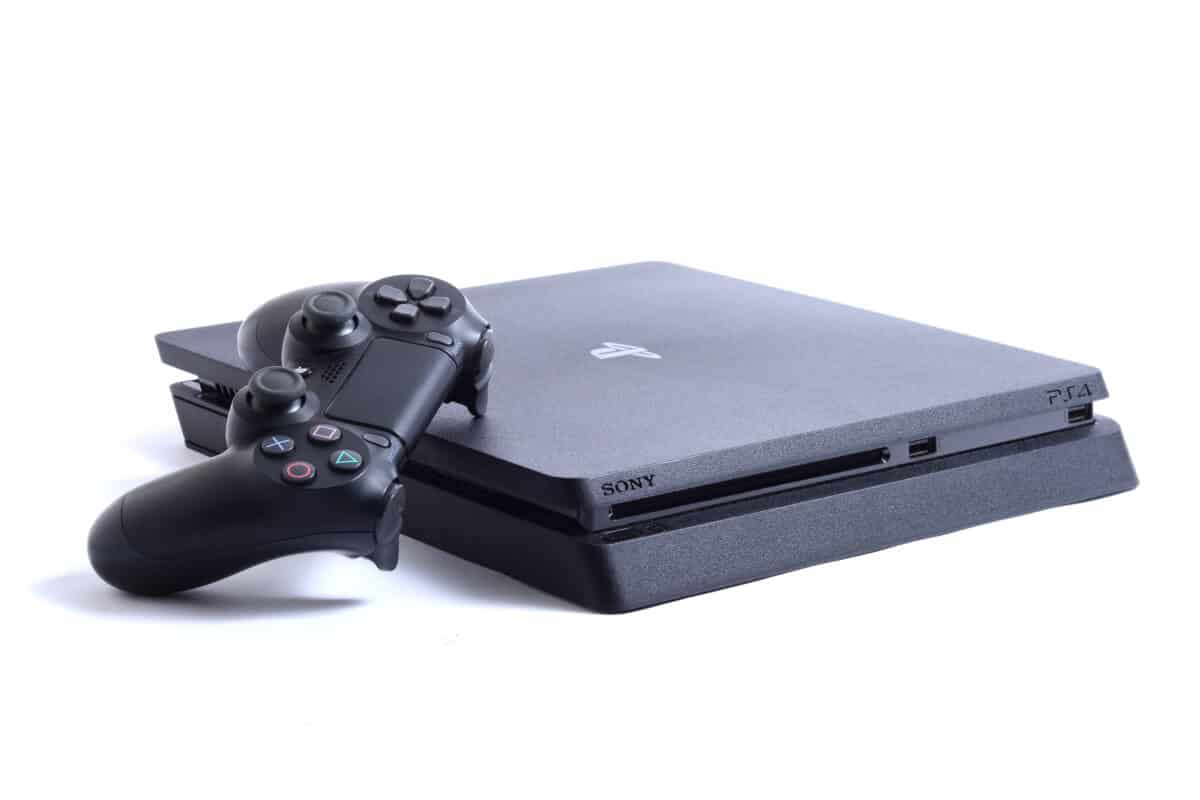 PS4 vs. PS4 Pro: 5 Must-Know Facts
Both the PlayStation 4 Slim and PS4 Pro can take advantage of Sony's massive library of 3,200 games as there are no games that play on one console without the other.
The PlayStation 4 Pro offers 100% better GPU performance over the PS4 Slim which results in faster loading times and better overall graphics.
With one additional USB 3.1 port and optical audio output, the PS4 Pro offers more connectivity options which is a big consideration over the long term.
At $299, the PS4 Slim is one hundred dollars less than the $399 PS4 Pro and there are not as many deals on either console since the release of the PS5.
At $399, the PS4 Pro is only $100 less than the PS5 which makes it a more difficult-to-recommend option considering how much more you get with the newer console.
Where to Buy
You can find both the PS4 Pro and PS4 Slim from Sony, at major retailers, or from Amazon or eBay.
Sony PlayStation 4 Pro 1TB Console - Black (PS4 Pro)
PlayStation 4 Pro - the super charged PS4 - take play to the next level with PS4 Pro: See every detail explode into life with 4K gaming and entertainment, experience faster, smoother frame rates and...
4K gaming and entertainment - games and movies shine with amazing 4K clarity
graphics become sharper and more realistic, skin tones become warmer and more lifelike, while textures and environments burst into life like never before
High dynamic range - With an HDR enabled TV, compatible PS4 games display an intensely vibrant range of colours, closer to the full spectrum that the human eye can see
Enhanced games - PS4 Pro games burst into life with intensely sharp graphics, stunningly vibrant colours, textures and environments and smoother, more stable performance
We earn a commission if you make a purchase, at no additional cost to you.
PS4 Slim vs. PS4 Pro: Which One is Better?
If you are someone who is a casual gamer and just wants to take advantage of Sony's game lineup, there is no question that at $299, the PS4 Slim remains a really standout way to get into the Sony universe of games. However, the extra $100 for the PS4 Pro gets you enough of a performance improvement around load times, 4K output, and PlayStation VR charging that it's hard to recommend the PS4 Slim if you have the extra budget available for the Pro.
If you already have a 4K TV in your home and want to game at the highest of PS4 levels, the Pro is also a no-brainer decision. Should budget be a bigger consideration, the PS4 Slim remains an excellent console on its own, just overshadowed by the more impressive performance of the PS4 Pro.
The image featured at the top of this post is ©Irina Zharkova31/Shutterstock.com.