Electric pickups like the newly unveiled Ram Revolution EV have been making the flashiest headlines lately, but Tesla's sedans and crossovers remain the backbone of the world's top-selling EV lineup. Among these, the Tesla Model S drivers a sporty "performance sedan" experience, combining speed, handling, and comfort.
Meanwhile, Porsche is known as a leading sports car maker but has been relatively slow in entering the electric car market. The company plans to continue making gasoline models for the foreseeable future, but it also introduced the all-electric Taycan in 2019.
Taycan's sales peaked in 2021 at 15% of Porsche vehicles sold worldwide. Porsche electric vehicles amounted to 11.2% of the automaker's sales in 2022, InsideEVs reports. The German company sold 16% fewer EVs in 2022 than the previous year, too. Its production suffered from supply chain problems and a lack of vital components.
Regardless, Tesla owners buy Porsche Taycans more often than anyone, except for existing Porsche owners, CNBC reports. There's clearly an overlap in interest between Tesla Model S enthusiasts and Porsche Taycan drivers. Here's how the two vehicles stack up against each other.
Tesla Model S vs. Porsche Taycan: Side-By-Side Comparison
| | Porsche Taycan | Tesla Model S |
| --- | --- | --- |
| Price | $86,700 to $190,000 | $94,990 to $114,990 |
| Range | 208 miles to 246 miles | 396 miles to 405 miles |
| Seating | 4 | 5 |
| Recharging Speed (Level 3) | 60 miles in 4.5 minutes | 200 miles in 15 minutes |
| 0-60 Time | 5.1 seconds to 2.6 seconds | 3.1 seconds to 1.99 seconds |
| Top Speed | 161 mph | 200 mph |
| Horsepower | 402 to 750 horsepower | 670 to 1,020 horsepower |
| Standard Cargo Space | 15.8 cubic feet | 25 cubic feet |
| Maximum Cargo Space | 42.8 cubic feet | 61.4 cubic feet |
Porsche Taycan vs Tesla Model S: What's the Difference?
The Tesla Model S and the Porsche Taycan are, in many ways, very similar EVs. They are large, high-performance sedans capable of accelerating as fast as, or faster than, many ICE race cars.
As EVs, both take advantage of the powerful, nearly silent torque developed by electric motors. As might be expected from such high-end vehicles, they also offer comfort and luxury to their occupants.
With many of their performance stats nearly on par, making the purchase decision is likely to come down to other factors. Some potential buyers may choose based on brand loyalty, while others may make their decision based on price. In fact, it's the price that differentiates the two EV sport sedan models the most. Here are the details of their similarities and differences.
Range
Range stands as one of the biggest factors that buyers look at when it comes to buying EVs, and the Tesla Model S wins here. The base trim Model S has a 405-mile range on a single charge by EPA estimates.
The Model S Plaid's range is a little shorter at 396 miles per the EPA. But, in any case, the Model S clearly hovers around 400 miles, ranking it among the longest-range EVs today.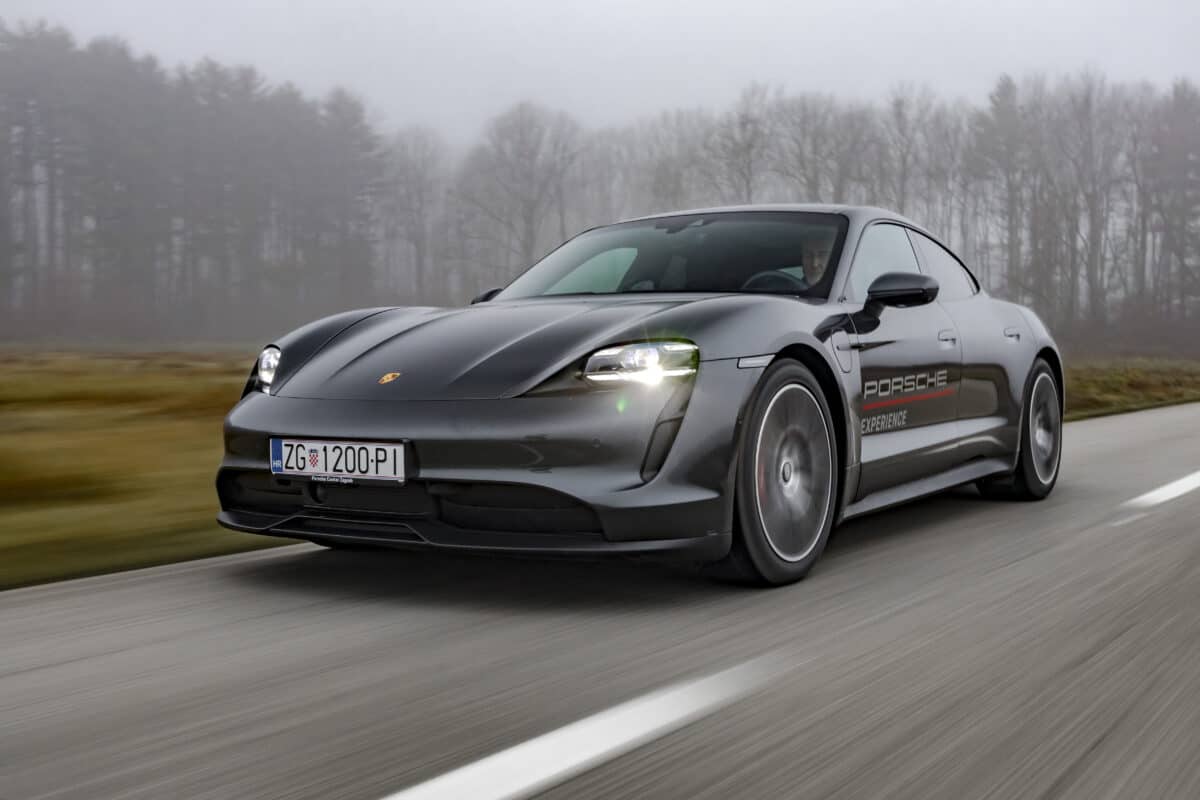 The Porsche Taycan comes in 10 different trims for the model year 2023, most with a different range. Two of the trims, the base Taycan and the Taycan 4S, also have both a Performance Battery and a Performance Battery Plus variant.
This effectively raises the number of individual variants to a dozen. The shortest-range Porsche EV, the base Taycan, drives 208 miles on a charge. Most EV sedans deliver ranges of 222 miles to 233 miles. The longest-range 2023 Taycan GTS sedan travels 246 EPA-estimated miles per charge.
The shortest-range Tesla Model S drives 150 miles farther than the longest-range Porsche Taycan. Meanwhile, the basic Model S gets almost twice the range of the base Taycan.
Testing by non-EPA third parties, such as AutoBlog, reveals longer Taycan ranges. The practical range for the Taycan might be 270 to 300 miles depending on trim, but the Model S is still solidly superior.
Recharging
Both the Tesla Model S and the Porsche Taycan contain a high-capacity electrical architecture for very fast recharging. With a Level 3 DC fast charger available, the Taycan adds 60 miles of range in 4.5 minutes.
The Model S gains 200 miles of range in 15 minutes. Worked out on a per-minute basis, the two rival sedans recharge at exactly the same rate. Both manufacturer-supplied figures show the EVs recharging at 13.33 miles per minute under ideal conditions.
The Tesla Model S and Porsche Taycan are neck-and-neck when it comes to recharging speed. Where Tesla has an edge, though, is in its network of fast chargers. The Tesla Supercharger Network consists of more than 40,000 chargers globally as of early February 2023.
It continues the aggressive expansion of its network, too. Elon Musk's company added 395 Supercharger stations in the fourth quarter (Q4) of 2022 alone. These house an average of nine stalls apiece, or 3,536 individual charging stalls in all.
Porsche's network, meanwhile, is much smaller. Many dealerships offer Porsche Turbo Charging, but their numbers are limited. Porsche's North American partner Electrify America operated 670 stations with 2,700 charger stalls by the start of 2022. It plans to expand this to 1,700 stations with 9,500 stalls by December 31st, 2025, but the advantage here clearly goes to Tesla.
Performance
Anyone buying an EV sport sedan clearly wants a vehicle that moves like greased lightning and provides heart-pounding, high-speed fun. Automotive engineers built both the Porsche Taycan and the Tesla Model S for just such a role.
Putting the electrified pedal to the metal blasts the base dual-motor Model S trim from 0 to 60 mph in 3.1 seconds. The tri-motor Model S Plaid achieves sixty in 1.99 seconds from a standstill. The two models reach maximum speeds of 149 mph and 200 mph, respectively.
On the side of the Porsche Taycan, the slowest trim, the plain Taycan, takes 5.1 seconds to go from 0-60 mph and tops out at 143 mph. The fastest trim, the Taycan Turbo S, has a 2.6-second zero to 60 mph time and 161 mph top speed.
Nominally, the Tesla Model S accelerates faster and has a better top speed than the Porsche Taycan. However, the picture is very different when practical driving is considered.
The Model S only reaches peak acceleration and speed when the battery is completely charged and has been preheated for three-quarters of an hour. Reaching high speeds is also something of a chore, requiring attention. Handling is good, but relatively slow and clunky compared to the Taycan.
The Porsche Taycan is slightly slower on paper but offers smooth, aggressive acceleration without as much nursing as the Model S, according to testers. The car steers with a high level of crispness and responsiveness, with excellent handling at speed and strong, responsive, precise braking.
Multiple review sources identify the Porsche as a better option than the Model S, especially as an enjoyable, high-performance sports car. However, Tesla's regenerative braking and one-pedal driving may make it a slightly better short-range city car.
Interior Features and Comfort
The Porsche Taycan and the Model S have significantly different interior approaches. The Taycan's designers made it with a highly luxurious cockpit, including genuine leather seats and superior fit, finish, and build quality.
Its dash includes a huge, curved touchscreen with digital instrument clusters. In place of leather and top-notch quality, the Tesla Model S serves up premium synthetic seats, a minimalist interior, and a poorer fit and finish. The Porsche boasts more technological bells and whistles, including standard Apple CarPlay and Android Auto, absent on the Tesla.
The Model S beats the Taycan in sheer roominess, however. Occupants enjoy plentiful headroom and legroom, and the rear seat in particular is more comfortable than the Porsche's. Passengers enter and leave the Model S's rear seat more easily, as well.
The Porsche sport sedan seats four people while its Tesla rival seats five. Standard cargo space is 15.8 cubic feet in the Taycan and 25 cubic feet in the Model S. Owners can cram a maximum cargo of 42.8 cubic feet into the Taycan, and 61.4 cubic feet into the Model S.
Style is highly subjective, but the Taycan is more likely to tick the boxes for a sports car owner. The vehicle offers Porsche looks and its exterior paint colors include eye-catching hues such as intense metallic greens. The Tesla Model S looks more like a standard EV sedan, and it generally features less spectacular color options.
Price
Both Tesla and Porsche price their performance sedans at the upper end, and neither qualifies for a tax break under the new Inflation Reduction Act rules. Starting MSRPs for the Model S range from $94,990 for the Model S to $114,990 for the Model S Plaid.
The base Porsche Taycan offers a slightly more thrifty entry at $86,700 starting MSRP. But the range-topping Taycan Turbo S Cross Turismo starts at a whopping $190,000, and most Taycan models cost more than the Model S Plaid.
Tesla Model S vs. Porsche Taycan: 6 Must-Know Facts
The Tesla Model S Plaid is the champion for 0-60 time and top speed.
The Tesla Model S offers roughly 400 miles of range.
The Porsche Taycan's trims manage 200 to 250 miles of range in most cases according to the EPA.
EPA range estimates for the Porsche Taycan might be 50 to 100 miles short, several testers claim.
The least expensive Taycan costs less than the low-end Model S.
The range-topping Taycan model has a base MSRP of $75,000 higher than its Tesla counterpart.
Porsche Taycan vs Tesla Model S: Which One Is Better?
Both the Porsche Taycan and the Tesla Model S are excellent high-end EV performance sedans. Which one you choose depends both on your budget and on what you expect to get out of your premium EV.
Porsche's engineers successfully built an EV with a Porsche feel and look in the form of the Taycan. While technically slightly slower than the Model S, the Taycan offers effortless acceleration and sharp, aggressive, highly enjoyable handling according to reviewers.
Porsche also designed the EV with excellent interior quality. It used premium materials throughout, put together with superior attention to fit and detail. The vehicle also includes many high-tech conveniences.
On the downside, it lacks cargo space, its rear seats are cramped, and its upper-level trim price tag is much higher than its competitor's. Its range is also 100 miles shorter, even if EPA estimates are too conservative.
Tesla's Model S has been steadily updated since its 2012 debut, but its decade-old architecture still shows through at times. Its powerful acceleration and 200 mph top speed (at least on the Plaid) are impressive, but somewhat clunky to achieve and only at full power when the battery is fully charged.
The Model S is a powerful sedan with very good handling, but falls slightly short of Porsche's benchmark. However, it has a roomy interior, plenty of cargo space, and offers one-pedal driving for efficient urban cruising. Above all, it's much cheaper than the Porsche while offering nearly equal performance and a considerably longer range.
The image featured at the top of this post is ©skirgaila photography/Shutterstock.com.