Key Points
The Poqet PC was a remarkable computer produced by Poqet Computers Corporation in 1989.

What made the Poqet PC stand out from other computers in the 19 century was its size. It was very small and was the first mini-notebook designed for

IBM PCs

.

Texax instruments engineer John Fairbanks started Poqet Computer Company in 1987.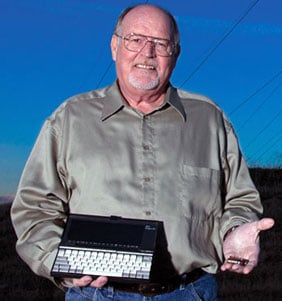 In 1987, the Texas Instruments' engineer John Fairbanks (EE '71 '71'71 from Missouri University of Science and Technology) started Poqet Computer Co. He called upon his TI coworker Stav Prodromou (later appointed the president of Poqet, and Fairbanks became his vice) and Robb Wilmot (former chairman of ICL, the most prominent British computer company) to help in creating the Poqet pc. Their work began in a spare room of a colleague's house in Sunnyvale, California.
The engineering team included John Fairbanks, Leroy Harper, Ian Cullimore, and Shinpei Ichikcawa. Fairbanks and his partners created the remarkable TI-30 calculator in the 1970s. Therefore, they wanted to expound on their previous invention and build an efficient and portable sub-notebook. Together with the industrial partner Fujitsu Ltd, they announced in October 1989 the release of the Poqet PC (see Poqet PC Users Guide).
Quick Facts
Original price

1995 USD
The Poqet PC stormed the market and was highly acknowledged. It was dubbed "A one-pound technological marvel" and "The most exciting advancement in personal computing of the year." In 1989, the year of its introduction, Byte Magazine gave the Poqet PC the "Award of Distinction," and PC Magazine gave the Poqet PC the "Award for Technical Excellence" in the "portables" category.
Poqet PC Overview
Release date and price
Poqet PC was launched in March 1990, with a market price of 1995 USD. At first, Fujitsu Co. provided financing support and owned 38% of Poqet Computer, but they later bought the company. Soon after owning the business, Fujitsu Co. released the Poqet PC Plus, which has 2MB RAM and a rechargeable battery, among other improvements. Later Fujitsu moved off in other directions, marking the end of Poqet PC.
Different Models
The Poqet PC Plus was the last release produced among the three variants. It was far much better than the previous two in the Poqet PC family:
Poqet PC Prime

– This was the first release but didn't last, as there was a need to increase its internal storage.

Poqet PC Classic

– It was released with 640KB RAM, which increased from 512 KB, and had power management features.

Poqet PC Plus

– It had a rechargeable battery pack which was a significant boost to its power consumption problem. It also supported the Type II cards as opposed to the first two releases.
Features
Aggressive Power Management
This was a power control feature to enable the Poqet PC batteries to last long despite their consumption. It was powered by two standard AA-size batteries, which can feed the machine for 100 working hours. However, by using an aggressive power management feature, which includes "sleeping" (stopping the CPU) between keystrokes and other actions, slowing down, and reducing the voltage whenever possible, the batteries were able to power the computer for a long duration. Depending on usage, its power could last for several weeks or a couple of months.
It was a special feature that shortened the long booting process and led the user directly to the last activity on the Poqet PC. Therefore, it improved the Poqet PC starting speed and, most importantly, saved on power consumption.
Rechargeable Battery Pack
This feature was introduced on the Poqet PC Plus and significantly improved its power storage. Unlike the Poqet Pc Classic and Poqet PC Prime, which solely depended on the two batteries, the Poqet PC Plus could hold an extra charge.
Specifications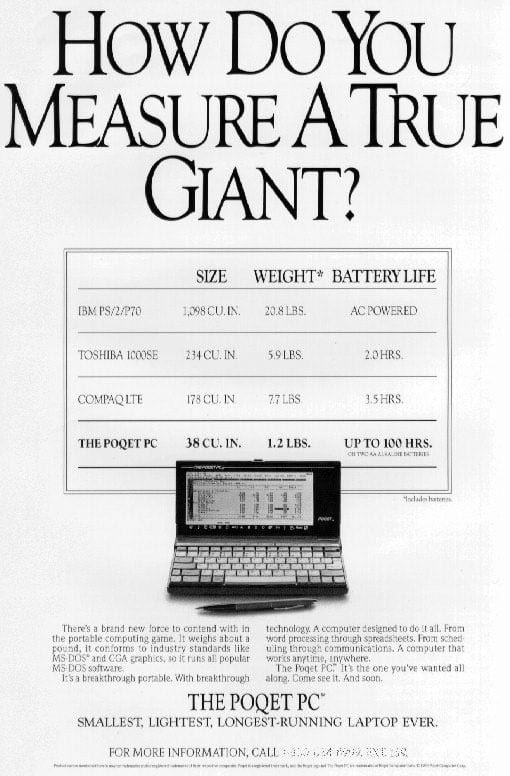 | | |
| --- | --- |
| Size | 220 mm x 110mm x 25mm |
| Weight | 1.2 Ib |
| Screen type/size | Monochrome LCD/ 640×200 pixels graphics |
| Video output | N/A |
| Audio output | N/A |
| Card slot type | PCMCIA:2 X Type I memory |
| Internal battery type | AA-size batteries |
| Operating system | MS-DOS 3.3, PoqetLink, PoqetTools |
| memory | 640 KB RAM |
| Storage | Drive A: 512 KB PCMCIA, Drive B: 512 KB PCMCIA, Drive C: Internal 768 KB ROM drive, Drive D: 22 KB VRAM drive. |
| Battery life | 50-100 hours |
| Charging time | N/A |
Poqet PC Review
We tested the Poqet Pc to check if it was a powerful mini-computer so we could share our experience. First, talking about the size, we had no trouble carrying the ultraportable computer for our fieldwork. It could fit on a small bag pack and was not prone to breaking; therefore, it gave us an easy time moving around our research area.
The calendar appointment scheduler was another commendable built-in software that made our work more efficient. Since our work involved moving from place to place and getting data from different community members, we needed a tool to remind us of upcoming events. The calendar appointment scheduler also helped us never to miss any survey on our worklist.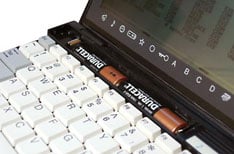 However, we had a minor challenge with the Poqet PC's power consumption. We need a computer that would take us longer than two days without a recharge because we could be out of the camp for many days. The Poqet PC could only last about 10-20 hrs when we had lots of data entry activities. Also, its storage was small. Despite the external storage, it still gave us an extra task to change the floppy disc after three to four entries.
Poqet PC Pros and Cons
Pros:
Easily portable

Well-designed keyboard

It's durable

Relatively cheap

Backlit display

Fast processor
Cons:
Small storage space

Poor power consumption

It uses unique 26-pin serial port

The PCMCIA: Type II slot is non-compatible with many flash disks and modems.
Poqet PC: Was It a Good Buy?
It was an excellent buy for people who required lightweight, portable computers. It was one of the best ultraportable computers with a perfect processor. Users could comfortably move around with this powerful PC without stressing about where to place it.
Therefore, they could work while traveling or away from the comfort of their home. They could place it on their lap because it's very light and small in size. They could also schedule all of their activities, hence, know when and how to manage each without a miss.
That being said, it wasn't a good purchase for users who didn't have a reliable power source, or who had many tasks. First, it used lots of energy, so the battery needed to be charged or changed after only a few hours. So, if they had heavy workloads, chances are the subnotebook shut down before they completed their tasks.
Also, its memory was not reliable for users who had lots of files to store. Although it had a Drive E, which allowed the usage of an external disc, storage space was still a challenge for users who had lots of data. It required them to change disks frequently, which was a big inconvenience.
NEXT UP…