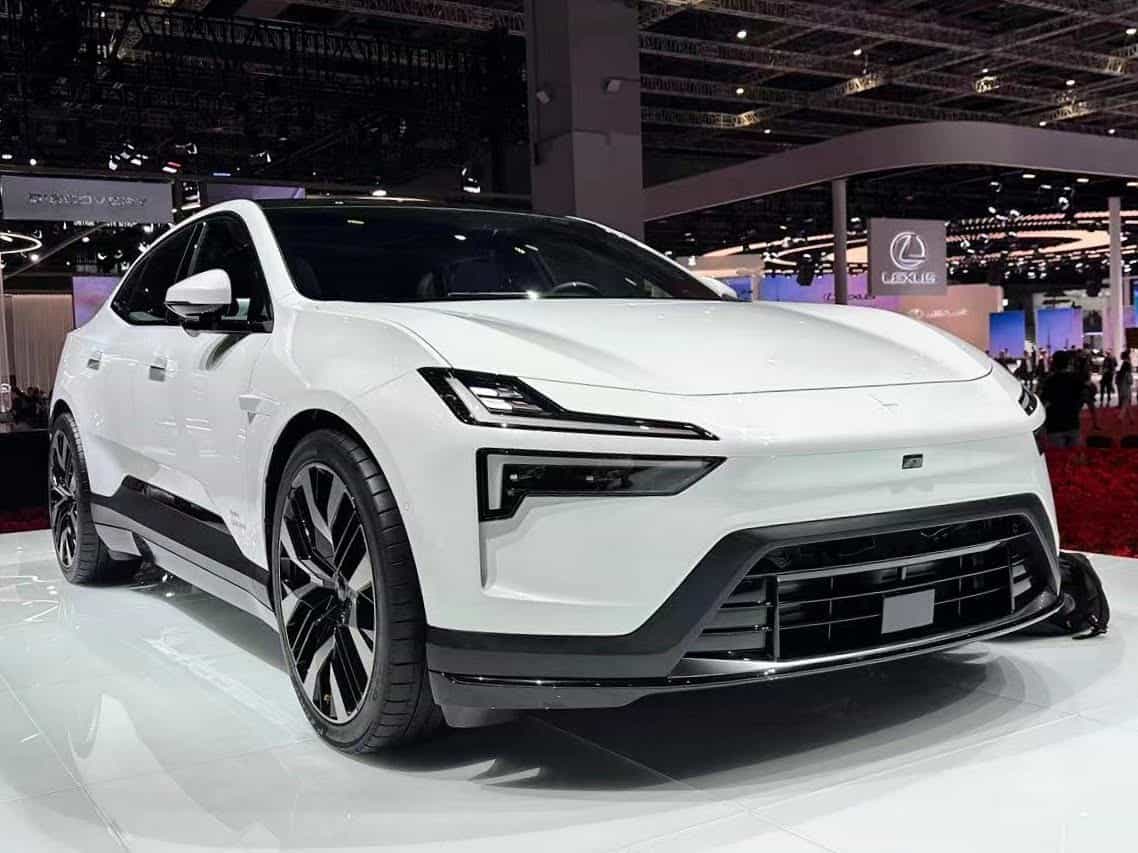 Whether you want to buy your first electric vehicle or upgrade to a new model, you have a myriad of EVs to pick. Should you opt for a tried-and-tested car like Tesla or invest in a new brand? This comparison of the Polestar 4 vs. Tesla Model 3 head-to-head can help you decide.
Polestar 4 vs. Tesla Model 3: Side-by-Side Comparison
| | Polestar 4 | Tesla Model 3 Performance |
| --- | --- | --- |
| Year of release | 2024 | 2023 |
| Vehicle type | Electric | Electric |
| Class | SUV | Sedan |
| Power | 544hp | 506hp |
| Top speed | 124mph | 162mph |
| Range | Up to 372 miles per charge (est.) | Up to 315 miles per charge |
| Acceleration (0 to 60mps) | 3.8 seconds (est.) | 3.1 seconds |
| Drive | Dual-motor AWD, Single-motor RWD | Dual-motor AWD |
| Number of seats | 5 | 5 |
| Self-driving capabilities | Semi-autonomous | Full self-driving |
| Cargo capacity | 17.7 cu. ft. | 19.8 cu. ft. |
| Wheels | 20" to 22" | 20" |
| Manufacturer | Volvo | Tesla |
| Starting price | $60,000 (est.) | $53,240 |
Polestar 4 vs. Tesla Model 3: What's the Difference?
Tesla is the epitome of electric vehicles. A pioneer, Elon Musk's brand has made EVs available to the masses since 2008. In 2017, the automaker introduced the Model 3, a compact sedan designed to become the perfect family town car. While not as fancy as the Model S, Tesla's Model 3 is one of the first cars that changed the rules of the EV game with its impressive range and strong performance.
However, the relatively affordable price tag isn't that cheap anymore. Despite yearly improvements and upgrades, the 2023 Model 3 isn't that radically different from the 2017 model. These are some reasons folks seem to think twice before choosing this car, especially when new players up the game with innovative features that Tesla doesn't have.
Let's take Polestar, for example. Emerged as Volvo's racing division, the company is today a rising star in the EV world. The new standalone brand – co-owned by Volvo and Geely – unveiled its Polestar 1 at the Shanghai Auto Show in October 2017. Since its debut, the automaker knew how to make waves and turn its car into a must-have. Six years later, in 2023, the brand unveiled its innovative Polestar 4 at the same auto show.
At first glance, Polestar's new brainchild manages to steal the spotlight with its appealing SUV coupé profile. Gone are the days when you had to choose between a sporty adventure vehicle and a stylish city car. This new electric vehicle brings the best of both worlds and more. The only thing is that you have to wait to get your hands on one, as we won't see it on the market until 2024. In the meantime, here's how Tesla Model 3 and Polestar 4 compare.
Performance
Recently introduced Polestar 4 is available in several trims, but the automaker hasn't yet released many details about their specs. We know that the entry-level model has a single 272-horsepower drivetrain. This motor drives the rear wheels, which could be a plus or a con, depending on where you live and your expectations from a car. Performance goes up on the all-wheel drive and 544hp Polestar 4. This model can hit 60mph in 3.8 seconds, making it perfect for hot-shoe drivers.
However, Tesla Model 3 might win you over if you truly like speed. Like Polestar 4, it comes in various trims, including a Performance model. This variant crams 506 horses under its hood and can go from zero to 60 miles per hour in just 3.1 seconds. Tesla Model 3 also brags with a higher top speed of up to 162 miles per hour. In contrast, the Polestar 4 will unlikely exceed 124 miles per hour – not because it doesn't have the power, but because Volvo and Geely vehicles usually come with limited top speeds to increase safety.
Despite the lower top speed, the extra power boost in the Polestar 4 is a welcome addition in most situations. For instance, it can push you to take over other vehicles in all safety, and you won't have to worry about driving on rugged terrains. Both cars feature a low center of gravity, but we don't know how the Polestar 4 handles yet. Meanwhile, you can expect accurate steering, stability, and crisp direction changes from the Model 3.
Range and Charge Time
EVs are constantly evolving, and new releases feature longer and longer driving ranges. The same applies to the Polestar 4 and Tesla Model 3, although we know little about the former. This fact is unsurprising, considering that Polestar still has to release this vehicle. What we do know is that it'll come with a 102kWh battery. According to rumors, we can expect a driving range of up to 372 miles per charge, much more than the Model 3.
Tesla Model 3 Long Range has a range of only 315 miles. That's enough to take you from New York to Virginia Beach. Considering that it takes only 15 minutes to charge the battery to 80 percent at a Tesla Supercharge station, you don't have to worry about running out of power.
Polestar didn't disclose the charge time for its 4 model yet. However, considering the charge time for the previous model, we expect the battery to go from 10 to 80 percent in 20 minutes or less. Charging either of the two cars at home will be a slow affair for both vehicles.
According to Tesla, charging their cars at a 120-volt home outlet provides approximately two to four miles per hour of charge. Polestar's vehicles usually require over 48 hours to charge the battery from a home outlet fully. While Tesla partly solves this issue with the Wall Charger, Polestar doesn't offer a similar solution.
Design
Differences between SUVs and sedans are often ruggedly marked, but that's not the case between the Polestar 4 and Tesla Model 3. While the former is a compact SUV, the hybrid SUV-coupé design smooths its lines and adds a touch of elegance. Behind the stylish allure, however, hides the vehicle's adventurous spirit.
Like most SUVs, the Polestar 4 offers a rather generous ground clearance – 6.5 inches – that lets you tackle rough terrains with all peace of mind. Tesla Model 3 might be elegant, but the 5.5 ground clearance limits the kinds of terrains you can drive onto. At least you can pick the Model 3 in an all-wheel drive variant that increases the fun.
A unique feature of Polestar 4 is the lack of a rear window. You still get a full glass roof so rear passengers won't feel suffocated.
User Interface
Both the Polestar 4 and the Tesla Model 3 are two futuristic EVs. Their minimalist interiors draw attention to the infotainment consoles, and neither car disappoints. In Volvo fashion, Polestar equips its vehicle with a 15.1-inch touch display. The interface is Google-based and super-intuitive to use. Its steering wheel has some control, and the central console presents a clean, mostly bare design.
As you'd expect from an Android-based system, the Polestar 4 is compatible with Android Auto and Apple CarPlay. Besides, you can access popular streaming services and control non-vital driving data from the display.
However, Polestar's modern infotainment is no match for Tesla's. The Model 3 features the same infotainment center seen on all Tesla vehicles. The large, 15-inch touchscreen display lets you control all car functions. Like Polestar 4, the Model 3 features some controls on the steering wheel but has no other buttons.
A nice touch is that you can use the screen for much more than streaming music or controlling car functions. You can download and play games, watch your favorite streaming services (Netflix included), and more. All these functions are not available on the Polestar 4.
Safety
Modern cars have many safety functions, and Polestar 4 and Tesla Model 3 are no different. Both vehicles pack multiple sensors and cameras developed to keep you and other traffic participants safe. Lane-keep and lane departure assistance, pedestrian detection, and blind spot monitoring feature in both EVs.
Some essential differences exist between the two. For its part, the Polestar 4 ditches the central rearview mirror and the back window. Instead of it, you can find cameras that project images of rear traffic onto the rearview mirror. This design helps reduce blind spots – something Polestar successfully manages to do.
Tesla Model 3's design is traditional in this aspect, but you can opt for full self-driving capabilities. With the auto-pilot enabled, you can sit back and relax while the vehicle does all the driving independently. Self-driving cars are also legal to ride without a driver in some states, or if a driver is present, they may not be required to hold a license.
Comfort
The Polestar 4 and Tesla Model 3 have minimalist interiors, which should enhance cabin space and make the vehicles more comfortable. However, the differences in design affect comfort. Polestar 4 might be an SUV coupé, but it is an SUV nonetheless. Passengers get plenty of head and leg room, both at the front and at the back.
The lack of a rear window also allowed the automaker to push the rear seats backward, providing more space. At the same time, the entire glass roof provides plenty of light. The seats are also comfortable, while the ambient lights and eco-friendly upholstery make for a pleasant ride.
Tesla uses eco-friendly materials, too, and features a full glass roof that enhances the riding experience for all passengers. However, the Model 3 is a sedan, and the roof at the back of the car is lower. This design reduces headroom for the rear occupants, making the ride less comfortable for adults sitting in the rear seats. Yet, the vehicle is perfect for families of four or five.
Price
Beyond specs and features, price is an essential factor to consider when buying a new car. The Model 3 is part of Tesla's entry-level range, reflected in costs. However, even if it is one of the brand's cheapest vehicles, prices vary widely from trim to trim.
The primary rear-wheel drive with a standard battery has a starting price of $40,240. This price can go up to $53,240 for Model 3 Performance, with a middle-ground found in the Model 3 Long Range. However, paid add-ons can drive these costs up. A simple change of color from standard white can set you back another $1,000 to $2,000, while full self-driving capabilities add a whopping $15,000.
Polestar hasn't revealed the MRSPs for any Polestar 4 trims, but the estimated starting price is $60,000. We can only assume the top-tier trim with all the bells, and whistles will cost slightly more.
Polestar 4 vs. Tesla Model 3: 5 Must-Known Facts
Polestar 4 is a newly announced electric SUV. It joins the brand's lineup as one of the first SUV coupés.
Tesla Model 3 is the brand's entry-level sedan and launched in 2017. The newest version brings improved performance and drive range.
The Polestar 4 and Tesla Model 3 impress with their driving ranges and power. However, Polestar 4's top speed can be disappointing.
Recharging both cars at a fast charging station shouldn't take more than 20 minutes. However, Polestar hasn't yet revealed the actual charge time for the 4 model. Tesla Model 3 requires about 15 minutes to go from 10 to 80 percent battery.
Polestar 4 is more expensive and doesn't come with full self-driving capabilities. However, it will likely be a smooth ride worthy of the price.
Polestar 4 vs. Tesla Model 3: Which One Is Better? Which One Should You Drive?
Tesla Model 3 has been around for longer, but it could still be the better choice than Polestar. Even the most expensive trim is cheaper than the Polestar 4, meaning that you can use the extra budget for add-ons, such as bespoke paintwork or a self-driving module. Remember that it might not be the most comfortable choice for adults sitting at the rear.
Polestar 4 is a flashy addition to the EV world. The airy interior, attention to detail, and performance can easily attract the masses. Safety upgrades, such as the smaller blind spot courtesy of the rear cameras and more room for the rear passengers, are other great selling points. If you don't mind waiting until next year, this elegant-sporty car can be the right choice for the city and adventures alike.