Key Points
Although Electric vehicles were first created in the 1800s, they were never manufactured by mainstream vehicle manufacturers.
Tesla is the first company to manufacture and bring electric vehicles into the mainstream market.
Many companies have now entered the EV market and Polestar is one of them.
Tesla's dominance has recently been challenged as more automakers start to introduce affordable electric car options. One of the market's newer electric vehicles (EVs) is the Polestar 2. Launched in 2021 as Volvo's spin-off of an all-new electric sedan, the Polestar 2 offers a respectable range and good power. However, while new competitors may emerge, the Tesla Model 3 continues to pave the way for small electric sedans with cutting-edge tech features, impressive performance, and incredible range. Let's see how they stack up against each other in this Polestar 2 vs Tesla Model 3 post.
As far as similarities go, both cars are luxurious and guarantee a comfortable ride while offering an upscale interior and easy-to-use tech features. However, these vehicles differ in some ways. The Tesla's rear seating position is better suited to providing a more luxurious ride, whereas the all-wheel-drive Polestar has less weight over its front wheels and thus improves handling significantly compared with traditional cars with 2WD systems (like most conventional sports sedans). Both cars are important benchmarks in the electric vehicle industry; what's up for debate here is which car offers the best bang for your buck.
Polestar 2 vs Tesla Model 3: Side-by-Side Comparison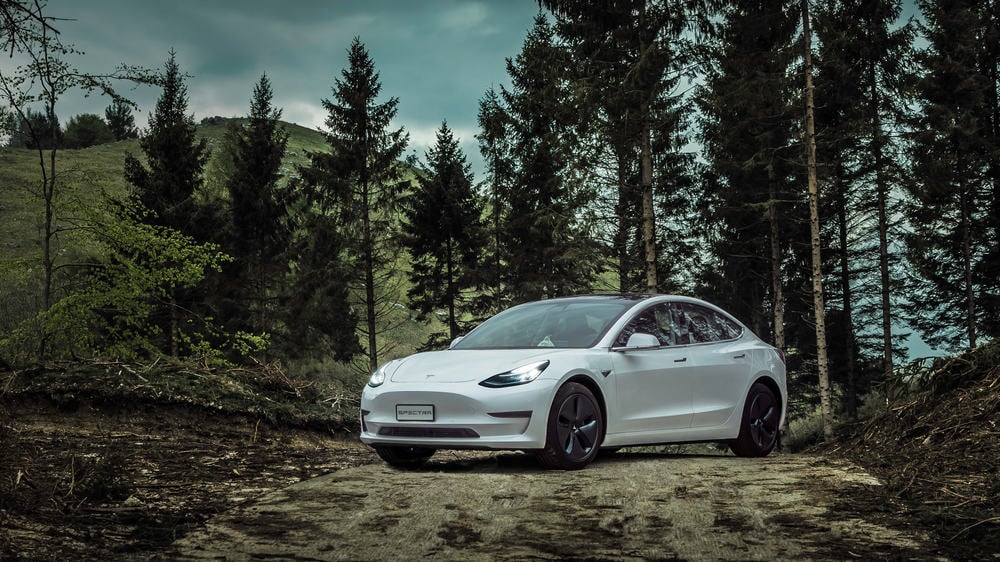 | | Polestar 2 | Tesla Model 3 |
| --- | --- | --- |
| Date of Release | 2021 | 2017 |
| Manufacturer | Volvo Car Group | Tesla, Inc. |
| Range | 249 miles | 272 miles |
| Top speed | 100 mph (161 km/h) | 140 mph (225 km/h) |
| 0-60 | 4.4 seconds | 3.1 seconds |
| Charging speed | Fast charge time (in average) = 105 kW / 31 minutes up to 80% | Fast charge time (in average) = 163 kW / 24 min up to 80 % |
| MSRP | $45,900 | $46,490 |
| Cargo space | Can hold 405L | Holds 425L |
| Horsepower | 231 hp | 283 hp |
| Torque | 243 lb-ft | 302 lb-ft |
| Cargo capacity | 14.3 cu. ft. | 22.9 cu. ft. |
| Number of seats | 5 seats | 5 seats |
Polestar 2 vs Tesla Model 3: What's the Difference?
The Polestar 2 and Tesla Model 3 are two of the most popular electric vehicles on the market today. Both are sleek, futuristic, and quick to accelerate. So, what's the difference between them? Let's find out.
Performance
The Polestar 2 is available in three different versions, similar to the Model 3, including Standard Range (FWD single motor), Long Range (FWD single motor), and Long Range (AWD dual motor). The Polestar 2's single motor is reported to have a 0-100 km/h time of 7.4 seconds and a top speed of 160 km/h. On the other hand, the dual-motor variant has a 0-100 km/h time of 4.7 seconds and a top speed of 160 km/h.
In addition to other goodies like gold seatbelts and Brembo brakes, Polestar offers an $8000 Performance pack that adds Ohlin's Dual Flow Valve dampers with 22 suspension settings, something the Model 3 does not have. This package does not improve the car's acceleration or top speed.
Not bad for Polestar, but in terms of pure numbers, Tesla is superior.
| | 0-100km/h | Top speed |
| --- | --- | --- |
| Tesla Model 3 Standard Range Plus (RWD) | 5.6s | 225 km/h |
| Tesla Model 3 Long Range (AWD) | 4.4s | 233 km/h |
| Tesla Model 3 Performance (AWD) | 3.3s | 261 km/h |
Cargo Space
The Polestar 2 and Model 3 look very similar in size from the outside. The Model 3 can accommodate 425 L of goods in the rear, compared to 405 L for the Polestar 2. However, the Polestar 2's liftback design might make storage more adaptable. A frunk is present in both, but the Model 3's is larger.
Design
The two sedans' design teams used completely different strategies. The Polestar 2 makes the powerful Volvo DNA apparent with just one glance. Particularly the headlights and traditional vertical "grille," along with the squared-off snout, feel familiar. In contrast, the Model 3 features the rounded front and rear designs that Tesla prefers, and the cat-like headlamps are the center of attention rather than a grille. Tesla used high-tech hidden handles that exactly fit in the door instead of the traditional door handles found on the Polestar. Both electric vehicles feature a sizable glass roof.
The interior of the Tesla 3 is essentially button-free and centered on a 15-inch touchscreen display in landscape orientation, demonstrating the maxim "less is more." Vegan fabrics are standard throughout the Polestar's luxurious interior, although ventilated vegan leather is also an option. The inclusion of Android OS along with Google services, like Google Assistant, Google Maps, and the Google Play Store, is a major benefit for Polestar 2. Both automobiles are keyless, thanks to an iPhone app.
Range and Power
The Polestar 2 is Volvo's first electric car, and it boasts an incredible range of 482 km WLTP on a fully charged 78-kWh lithium-ion battery. It goes farther than the Model 3 with the regular battery but is nowhere near the Long Range Tesla Model 3, which has a 580 km WLTP range. Tesla appears to be more powerful than the competition. The Polestar 2 can go from 0 to 100 km/h in under five seconds and generates 400 horsepower from its dual electric motors.
The dual-motor Tesla Model 3 can generate 450 horsepower and hit 100 km/h in an astounding 3.3 seconds. The Model 3 has a charging rate of 250 kW, while the Polestar 2 has a charge rate of 150 kW. Accordingly, charging your Tesla Model 3 at home or on the go is typically faster, depending on the connection and plug. However, quick charging allows you to charge the Polestar 2 from 10% to 80% in 30 minutes.
Interior Styling
Polestar 2 has a more luxurious interior than Tesla Model 3, but both cars have high-quality interiors. The Tesla Model 3 has an excellent touchscreen and navigation system, while Polestar 2 has a more traditional dashboard layout.
Pricing
The price of the single-motor FWD Polestar 2 is $45,900 (plus delivery fees), while the cost of the matching RWD Model 3 is $46,490 (plus delivery). Although the figures appear identical, Tesla no longer qualifies for a $7500 tax credit in the United States, but Polestar does. The Polestar 2's price and federal tax credit will entice many purchasers in the category because the Tesla Model 3 is no longer as inexpensive as it was due to price increases. However, the Tesla option will cost less because of its superior efficiency.
Polestar 2 vs Tesla Model 3: Five Must-Know Facts
Tesla's Model 3 is one of their best-selling vehicles, but the Polestar 2 is now a fierce competitor. Because so many firms have jumped on the all-electric vehicle bandwagon, buyers seeking a reasonably priced EV have more options than ever. Despite having substantial differences, the Tesla Model 3 and the Polestar 2 are among the top choices in their respective segments.
The Model 3 has a roomier interior, even if the Polestar 2 appears to be the larger car of the two from the outside. The Model 3 has increased legroom in the front and back and additional headroom and shoulder room in the back. The Model 3 provides 1.3 extra inches of space in the back, which is the biggest difference.
Both vehicles have good build quality for EVs in this class, but the Polestar has a slight advantage due to its superior fit and finish. Additionally, it boasts a large list of features included as standard equipment, such as heated power front seats, touch-free entry, LED headlights and taillights, and dual-zone automatic air conditioning.
The Polestar 2 is the more enjoyable vehicle to drive and will be slightly less expensive to purchase after tax credits, but the Tesla Model 3 is far superior in terms of efficiency, running costs, and overall practicality.
The Polestar 2 evolved into a full-fledged competitor to the Tesla Model 3, which dominated the mid-range electric vehicle market until recently. The Polestar 2 has not only become a Tesla killer but also competes with traditional premium sedans, thanks to its robust design, 482 km range, Google infotainment system, and competitive pricing.
Pros and Cons of Polestar 2
| Pros | Cons |
| --- | --- |
| Sleek and comfortable interior | Lacks standard safety tech |
| Elegant and intuitive technology | Base Tesla Model 3 is faster and cheaper |
| Easy-to-use Android infotainment suite | Not the most comfortable ride |
| The new single-motor model improves the range | Model 3 Long Range has a much better range |
| Clean, modern design | Single motor is a bit tardy off the mark |
Pros and Cons of Tesla Model 3
| Pros | Cons |
| --- | --- |
| Excellent engine set | Does not support Android Auto or Apple CarPlay |
| Rapid acceleration | Small rear seats |
| High-end and modern cabin design | Over-reliance on the touch screen, instead of buttons |
| Long driving range | Some components feel overengineered |
| Autopilot | Some components feel overengineered |
| Lots of storage space for a luxury sedan | |
| Sleek minimalist design | |
| 250kW supercharging | |
Polestar 2 vs Tesla Model 3: Which one is better?
The Polestar 2 vs Tesla Model 3 are great EVs. They both have their pros and cons, but which one is better? The Polestar 2 has a high-quality interior and is slightly cheaper, while the Tesla Model 3 has an incredible range, impressive performance, and cutting-edge tech features. Ultimately, it depends on what you're looking for in an electric car. If you want a comfortable ride, an upscale interior, and easy-to-use tech features, go with the Polestar. But if you care about quality and performance, choose the Tesla Model 3. However, whichever you choose, they'll be high-quality cars that should satisfy your needs.
Next Up…
The image featured at the top of this post is ©Aleksei Potov/Shutterstock.com.