Key Points:
The Polestar 2 Volvo's all-electric successor to the hybrid Polestar 1. It is gaining traction in the USA and Europe, its incompatibility with the Tesla supercharger has slowed its adoption in the US.
The Polestar 2 takes around eight hours to achieve a full charge with a standard charger, 65 minutes with a rapid 50 kW charger, and just 35 minutes with a 100 kW charger.
The Polestar 2 offers a quality cabin, excellent construction, and a superior sound system. Overall, the remains a decently strong contender against the Model 3 from Tesla.
Emblazoned with the name of Volvo's former racing team, the Polestar 2 is Volvo Car Group's flagship EV, a luxury 5-door liftback sedan that debuted in 2019. The car is an all-electric successor to the hybrid Polestar 1. On the roads in limited numbers compared to the industry's leader Tesla, the Polestar 2 is nevertheless gaining traction in Europe and the USA. Its current incompatibility with the type of Tesla superchargers currently available in America has probably delayed its wider adoption here.
Overall, the Polestar is a modestly luxurious executive-style EV for a relatively moderate price. Its modern conveniences and features improve the driving experience, passenger comfort, and safety. When it comes to pros and cons, the Polestar 2's biggest downside is that it doesn't stand out from the competition with any unique capabilities or outstanding performance metrics. Competent, well-made, and somewhat generic, this Scandinavian-engineered EV offers solid service by the standards expected by most EV drivers.
Polestar 2: Specs
Accommodating five people, the Polestar has a roomy interior capable of seating three tall adults comfortably in the back seat. Its liftback body style is similar to a hatchback but with a shallowly sloped rear roof unlike the closer to vertical hatchback pattern. In terms of physical dimensions, the Polestar measures 181.3 inches long with a 107.7-inch wheelbase. It is 73.2 inches wide and 58.3 inches high.
The Polestar 2 is configured in two current trims. One, the Long Range Single Motor, is front-wheel drive (FWD) only. This model focuses on the range and a comfortable driving experience for commuting and daily driving. For those seeking a slightly more sporty feel oriented toward performance, the Long Range Dual Motor with all-wheel drive (AWD) sacrifices a little range for enhanced torque, acceleration, and handling.
The Polestar 2 takes around eight hours to achieve a full charge with a standard charger. When hooked up to a rapid charger, the charging time is cut to 65 minutes with a 50 kW charger and to just 35 minutes with a 100 kW charger. Charging is slowed by both unusually hot and cold weather since the EV has to cool or heat the battery in response.
Its infotainment system is one of the Polestar 2's strong points. Using eight speakers, the car's audio "specialized bass drivers and high-frequency tweeters" deliver high-fidelity sound with minimal distortion.
Other Polestar 2 features include:
14.3 cubic feet of trunk space, 38.7 cubic feet with rear seats folded down.
1.2 cubic feet of front cargo space.
Basic warranty for four years or 50,000 miles.
Battery and electric motor warranty for eight years or 100,000 miles.
Optional "Plus Pack" including panoramic roof and other bonus features.
Polestar 2: Range and Performance
The range of the two existing Polestar 2 trims comes in under 275 miles, putting it in the middle of the EV pack for the current range. The base Long Range Single Motor FWD trim can reach 270 miles on a single charge. The souped-up Dual Motor AWD model falls 10 miles short of this, driving a maximum of 260 miles on a full charge.
Horsepower differs sharply between the models, with the single motor generating 231 horses and the dual-motor setup cranking out 408 horsepower. Zero to sixty times are also significantly different, with the single motor needing seven seconds to accelerate 0-60 and the dual motor doing the same in 4.5 seconds. This is still longer than the Tesla Cybertruck's theoretical 2.9 seconds 0-60 time or that of other high-performance EVs.
Single motor FWD: Range 270 miles, 231 horsepower, 0-60 in seven seconds.
Dual motor AWD: Range 260 miles, 408 horsepower, 0-60 in 4.5 seconds.
Polestar 2 vs Tesla Model 3
The Tesla Model 3 is a very similar EV to the Polestar 2 and is therefore its direct competitor. The Tesla Model 3 provides equal or considerably greater range, with even the base model outdistancing the Polestar 2's FWD trim by two miles. Higher-end Model 3 trims reach 358 miles, nearly 90 miles farther than the Polestar's best distance. Additionally, in the USA, Tesla Model 3s can use Tesla superchargers for fast charging, while Polestar 2s cannot as of mid-2022. This infrastructure advantage is absent in Europe.
Reviews and consumer reports indicate that Tesla handles more crisply and responsively, while data indicates it's faster. Acceleration is superior in the Model 3, with its stodgiest trim blasting to 60 mph from a standstill in 5.8 seconds versus the Polestar 2 FWD's seven seconds. The sportiest Model 3, launching from 0-60 in 3.1 seconds, is 1.4 seconds or almost a third better at acceleration than the dual-motor AWD Polestar.
The Polestar 2 still offers a quality cabin, excellent construction, and a superior sound system. Overall, the Polestar 2 remains a decently strong contender against the Model 3, while the Model 3 has an edge in several crucial areas. The Polestar 2 is a very good EV but the Tesla Model 3 is arguably somewhat better.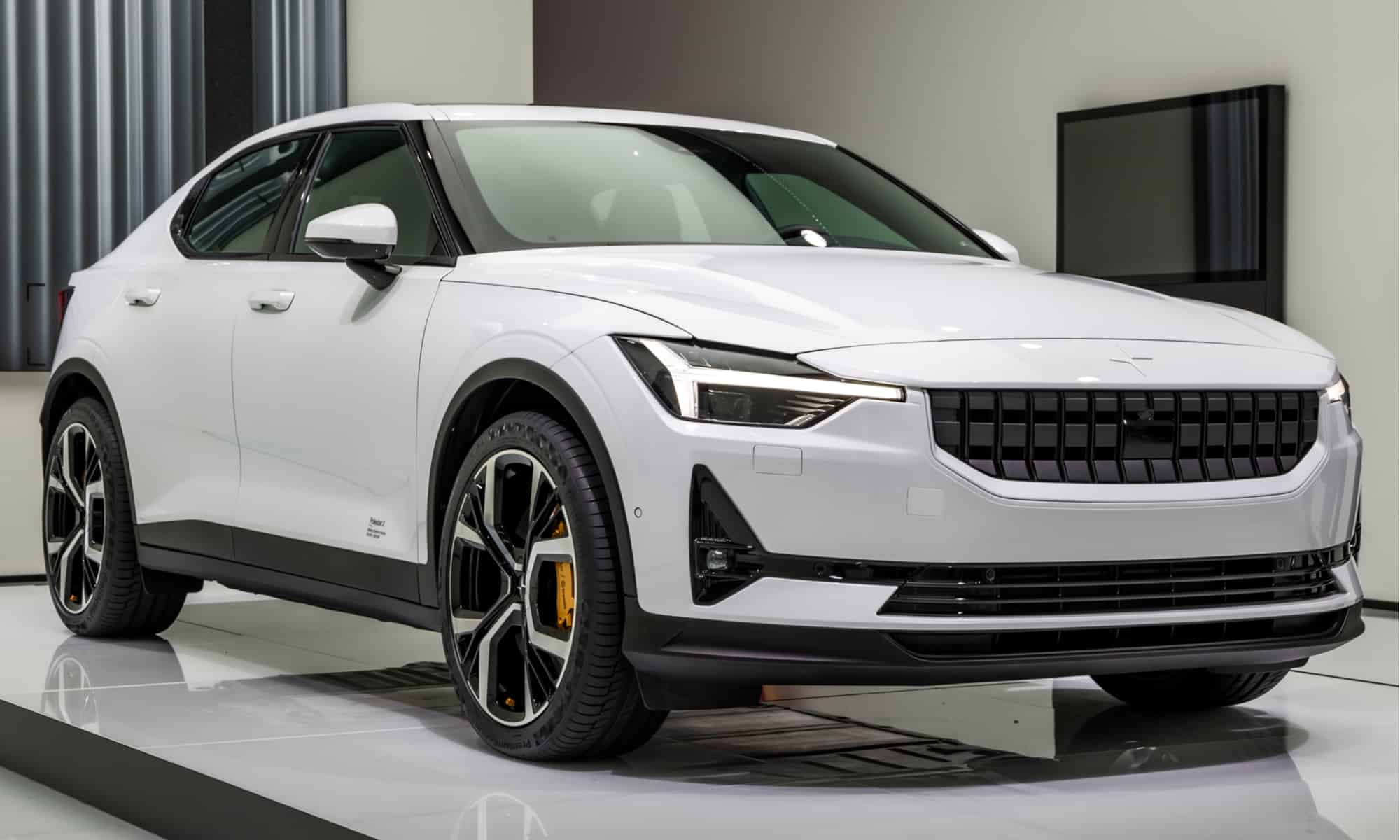 Polestar 2: Safety and Driver Assistance
Safety is a top priority in the Polestar 2's design, as might be expected from an EV associated with Volvo. The EV comes standard with a suite of driver-assist systems, including run-off road mitigation, automated lane-keeping, a speed limiter, collision warnings, bicyclist and pedestrian sensors, the rather controversial driver attention monitoring, and road sign sensors. The optional "Pilot Pack," which costs $3,400, adds more safety functions. These include adaptive cruise control, blind-spot monitoring, LED front fog lights with cornering function, and pilot assist. The Pilot Pack additionally adds four more parking sensors to the standard eight and replaces the standard rear-facing only camera with a 360° camera view.
Automated systems in the Polestar 2 respond actively to an actual collision. The battery pack, which is also sheltered inside an aluminum and steel frame, is disconnected from the electrical system as soon as an accident happens to help prevent damage, shorts, or fires. The Polestar will also automatically notify the nearest emergency services about the accident with its e-Call feature.
The Polestar 2 doesn't have US NHTSA safety ratings available as of mid-2022. The European New Car Assessment Programme, or Euro NCAP, rated the 2021 Polestar 2 in several key areas along with giving it a five out of five-star rating overall:
Adult occupant safety, 93%
Child occupant safety, 89%
Vulnerable road users (pedestrian) safety, 80%
Safety assist (systems designed to help the driver maintain safety), 83%
In the written report accompanying the rating, Euro NCAP said most of the safety features in the car have at least a "good" level of effectiveness.
The Polestar 2 BST Edition 270
Harkening back to its white-knuckle racetrack origins, Polestar plans to release a hard-charging, feature-laden, performance-tuned special edition EV, the Polestar BST Edition 270. Just 270 of these special edition electric cars will be constructed in total. Slated for release in the USA, Canada, Europe, and China, the BST Edition will likely see deliveries start in the last quarter of 2022, according to company statements.
Power is a distinguishing feature of the Polestar 2 BST, Polestar's press release asserts. An amped-up 78 kWh battery paired with twin electric motors should be capable of developing 476 horsepower and 501.5 ft-lbs of torque (or 680 Nm).
Added to 21-inch wheels, upgraded springs with 20% greater stiffness, adjustable dampers, one inch less ride height (meaning a lower center of gravity for improved cornering), and other modifications, this potent motor setup should offer "a superior dynamic experience behind the wheel," in Polestar's own words.
The car is also fancied up with special aesthetic details, with optional stripes or a "Battleship Gray" paint job costing up to $5,000 additional. The BST Edition 270's base price, without including the $1,400 destination charge, is currently $75,500.
Up Next…
The image featured at the top of this post is ©VanderWolf Images/Shutterstock.com.