In the ever-evolving world of smartphones, two prominent contenders stand out — the Pixel 6 Pro and the iPhone 13 Pro. These flagship devices from Google and Apple offer cutting-edge features and top-of-the-line performance. Regarding design, both smartphones boast sleek and premium aesthetics that are bound to catch the eye of tech enthusiasts.
The Pixel 6 Pro stands out with its Android operating system, providing users with a more open ecosystem and seamless integration with Google services. Its larger 6.7-inch OLED display with a high refresh rate offers a visually stunning experience with smoother scrolling and animations.  In contrast, Apple equipped the iPhone 13 Pro with iOS, renowned for its enhanced user interface and close connection with the Apple ecosystem. The iPhone 13 Pro's slightly smaller 6.1-inch OLED display still produces vivid images with superb color accuracy. Further, Apple's emphasis on integrating hardware and software leads to a powerful camera system with cutting-edge image processing capabilities to record beautiful photos and videos.
Personal interests and priorities shape the choice between the Pixel 6 Pro and iPhone 13 Pro. This analysis delves into their fundamental features, such as design, performance, and differences in photographic capabilities. Then, you can make an informed decision on which phone you prefer.
Pixel 6 Pro vs. iPhone 13 Pro: Side-by-Side Comparison
| Specification | Pixel 6 Pro | iPhone 13 Pro |
| --- | --- | --- |
| Operating System | Android | iOS |
| Display | 6.7-inch OLED  | 6.1-inch OLED |
| Camera | Advanced computational photography | High-quality hardware and software |
| Processor | Google Tensor chip | Apple A15 Bionic chip |
| Biometric Authentication | Under-display fingerprint scanner, facial recognition | Face ID (facial recognition) |
| Connectivity | 5G support | 5G support |
| Ecosystem | Google services, comprehensive app access | Apple ecosystem, seamless integration |
Our Pick
Google Pixel 6 Pro
1080 x 2340 pixel display
Google Tensor processor
Ultrawide lenses, 4x optical zoom, and a main sensor that captures 150% more light
Motion Mode and Portrait Mode
We earn a commission if you make a purchase, at no additional cost to you.
Pixel 6 Pro vs. iPhone 13 Pro: What's the Difference?
The Pixel 6 Pro and the iPhone 13 Pro are premium smartphones with cutting-edge technology and top-notch features. Even though both smartphones are made to offer superb mobile experiences, there are important distinctions between them. So it's critical to understand the distinct specs and capabilities of the Pixel 6 Pro and iPhone 13 Pro to help you make an informed decision in selecting the most suitable smartphone for your specific needs.
In this setting, we will meticulously scrutinize these factors to equip you with the necessary knowledge to make a sound decision.
Design
Display
Performance
Camera
Software
Battery life
Charging
Pricing
Storage options
Ecosystem Integration
Connectivity
Audio Quality
Let's explore each specification in detail.
Design
The Pixel 6 Pro features a sleek, modern design with a metal frame and matte glass back, providing a premium feel. On the other hand, the iPhone 13 Pro showcases Apple's signature premium design, characterized by a stainless steel frame and a glass back. The design choice largely depends on personal preference, as both devices offer excellent build quality.
Display
The Pixel 6 Pro vs. iPhone 13 Pro debate reveals that both phone models offer impressive displays that enhance the user experience. The Pixel 6 Pro boasts a 6.7-inch curved OLED display with a QHD+ resolution. It delivers vibrant colors, deep blacks, and excellent contrast, making it a treat for multimedia consumption and gaming. In contrast, the iPhone 13 Pro features a 6.1-inch Super Retina XDR display. It also offers remarkable color accuracy, high brightness levels, and HDR support, resulting in stunning visuals.
Performance
The prowess of the Pixel 6 Pro and the iPhone 13 Pro has certainly captured our attention. Under the Pixel 6 Pro's hood, we find the uniquely designed Google Tensor SoC, a little silicon maestro that orchestrates a rapid and proficient performance for everyday tasks and those demanding applications that make lesser smartphones quake in their silicone boots.
Multitasking on this device is as smooth as a greased lightning, courtesy of its supercharged CPU, GPU, and AI capabilities. Google has also finely honed the machine learning elements. Indeed, the Pixel 6 Pro and iPhone 13 Pro genuinely show us the future of intelligent devices, where every task is a symphony of efficiency and every application runs as smoothly as a stand-up comedian's punchline.
In contrast, the iPhone 13 Pro sports Apple's A15 Bionic chip, which is renowned for its superior performance and efficiency. The iPhone 13 Pro offers outstanding performance, slick visuals, and effective management of resource-intensive tasks. Both smartphones offer a flawless user experience, but the decision depends on personal preferences or familiarity with the operating system.
Camera
Users may take beautiful pictures and videos thanks to the fantastic Pixel 6 Pro and iPhone 13 Pro cameras. So this comparison between the Pixel 6 Pro and iPhone 13 Pro will reveal much about these two models' camera functionalities and features. Ideally, the Pixel 6 Pro showcases a high-performance camera system developed with Google's exceptional computational photography capabilities. There are three lenses on this camera system: a 48-megapixel telephoto lens, a 12-megapixel ultra-wide-angle sensor, and a 50-megapixel primary sensor. This arrangement makes possible impressive low-light photography, improved zoom powers, and computational photography features like Night Sight and HDR+.
The iPhone 13 Pro is your pocket-sized photography companion with its cutting-edge triple-camera system. Housing three equally adept 12-megapixel lenses — wide, ultra-wide, and telephoto — it's poised to capture moments with extraordinary clarity and depth. But what elevates this experience even further is the harmonious interplay between its robust CPU, GPU, and Neural Engine. This powerful trio drives the iPhone's sophisticated computational photography features, like Deep Fusion and Night mode, revolutionizing how your images look and feel, especially in challenging light conditions. The iPhone 13 Pro offers you more than just a snapshot; it delivers a masterpiece. The iPhone 13 Pro's camera system also supports ProRAW and ProRes video recording for professional-level photography and videography.
Software
The Pixel 6 Pro vs. iPhone 13 Pro analysis confirms that both phones have different operating systems with unique features and ecosystems. The Pixel 6 Pro hums with the power of Android 12, which bestows upon it an interface that's as intuitive as it is flexible. Android 12 is a tour de force of modern mobile software, marrying a new material design language with enhanced privacy features and finely-tuned performance optimization. It smoothly threads Google's vast suite of services and applications throughout its operation, forming an intricately woven tapestry of user experience that makes the Pixel 6 Pro a joy to use.
The iPhone 13 Pro, on the other hand, runs iOS 15, the most recent version of Apple's mobile operating system. Focus mode, revamped notifications, improved FaceTime capabilities, and expanded privacy controls are just a few of the new features in iOS 15. The App Store, iCloud, and iMessage are tightly integrated into the Apple ecosystem.
It comes down to personal opinion and knowledge of each environment when deciding between Android 12 and iOS 15. Both operating systems offer a stable base for users to use their individual app libraries and services.
Battery Life
Consumers depend on their smartphones for extended amounts of time each day, so battery life is crucial when purchasing a smartphone.
A sizable battery on the Pixel 6 Pro allows for all-day use. It has adaptive battery technology, automatically prioritizes commonly used apps, and regulates power consumption depending on usage patterns. The Pixel 6 Pro's solid battery life may easily survive a day of moderate to heavy activity thanks to its effective software optimizations.
The iPhone 13 Pro's enhanced hardware and software integration also contributes to its remarkable battery life. Further, power management features in iOS 15 and the A15 Bionic processor guarantee effective energy use. Before recharging, the device can comfortably manage a full day of everyday use.
Although the battery performance of both smartphones is strong, battery life may vary based on user preferences and settings.
Charging
Efficient charging alternatives are vital for customers who prioritize convenience and require a quick smartphone recharge.
The 30W USB-C power adapter of the Pixel 6 Pro enables quick charging, substantially boosting the battery over a short duration. Further, the Pixel 6 Pro permits cordless recharging of devices, providing a wireless solution for powering up your gadgets.
The iPhone 13 Pro also supports fast charging. However, consumers are required to buy a separate 20W USB-C power adapter. Thanks to quick charging, users can reclaim much of their battery life immediately. The iPhone 13 Pro is compatible with wireless charging, enabling customers to charge their smartphones without cords, just like the Pixel 6 Pro.
Pricing
Price is critical for many customers when comparing the Pixel 6 Pro and iPhone 13 Pro. The Pixel 6 Pro is reasonably priced and provides a premium flagship experience at a cost that is comparatively lower than that of other brand smartphones. Depending on the area and storage setup, the precise cost could change.
The iPhone 13 Pro, on the other hand, is positioned as a high-end flagship handset and commands a premium price commensurate with its cutting-edge capabilities and the value of Apple's brand. The cost of the iPhone 13 Pro may change based on the storage option, the carrier, and any applicable discounts.
Storage Options
The Pixel 6 Pro and iPhone 13 Pro provide various storage options to meet consumers' demands. Two storage options are available for the Pixel 6 Pro: 128GB and 256GB. These choices provide enough room for storing applications, pictures, movies, and other data types. More storage options are available on the iPhone 13 Pro, including 128GB, 256GB, 512GB, and a massive 1TB option. Users may save several programs, pictures, movies, and other things thanks to the increased storage capacity. Choosing a storage size will depend on personal needs, such as how much media and data you plan to save on your smartphone.
Ecosystem Integration
The Pixel 6 Pro and iPhone 13 Pro are integrated into their ecosystems, providing consumers with various advantages.
Google's ecosystem is smoothly integrated with the Pixel 6 Pro, giving users access to its applications and services. It offers close interaction with Google Photos, Google Assistant, and other Google services, enabling users to use Google's wide range of features and products.
The Apple ecosystem, which consists of iCloud, iMessage, FaceTime, and the App Store, is intimately integrated with the iPhone 13 Pro. This connection allows Apple devices to work together seamlessly, enabling functions like AirDrop, Continuity, and device handoff.
The choice between the two ecosystems is influenced by personal preferences, current device ownership, and the specific services and features that an individual prioritizes.
Connectivity 
For those looking to stay plugged into the digital world, the array of connectivity options the Pixel 6 Pro and iPhone 13 Pro offers won't disappoint. The Pixel 6 Pro stands out with its 5G network compatibility, promising users lightning-fast speeds and reduced seamless browsing and streaming latency. It also comes equipped with Wi-Fi 6 support, ensuring reliable and speedy wireless internet access, whether catching up on work emails or binge-watching your favorite shows.
The iPhone 13 Pro also supports a 5G connection, enabling customers to use the newest network advantages. Wi-Fi 6 is further included for quick and dependable wireless access. Both devices provide customers with the most recent connectivity options. This feature ensures they can stay connected in various situations and benefit from the newest network technology.
Audio Quality 
The immersive audio experience of the Pixel 6 Pro and iPhone 13 Pro is notable for its quality. Stereo speakers on the Pixel 6 Pro deliver crisp and well-balanced sound output. Compatible headphones or speakers enable high-resolution audio playback, providing better audio quality. Stereo speakers are also included in the iPhone 13 Pro, which produces impressive audio. Apple's spatial audio technology significantly improves the audio quality by simulating surround sound when paired with compatible headphones. Both smartphones provide customers with an immersive multimedia experience thanks to their exceptional audio quality.
Reliable Performance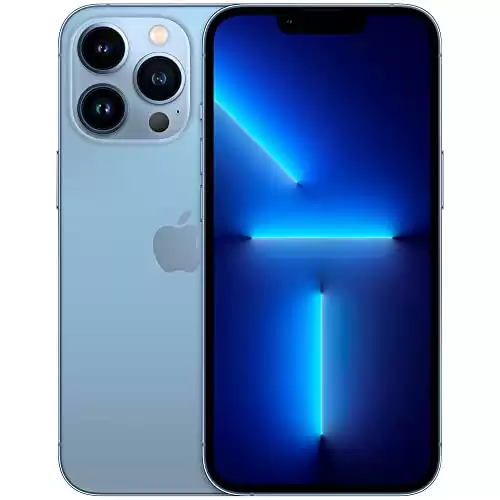 We earn a commission if you make a purchase, at no additional cost to you.
Pixel 6 Pro vs. iPhone 13 Pro: Must-Know Facts
Pixel 6 Pro runs on Android, while iPhone 13 Pro uses iOS.
Pixel 6 Pro features a 6.7-inch QHD+ LTPO OLED display, and iPhone 13 Pro has a 6.1-inch Super Retina XDR display with ProMotion technology.
Pixel 6 Pro boasts a 50MP primary wide-angle lens, 12MP ultra-wide lens, and 48MP telephoto lens.
 iPhone 13 Pro has a triple-camera system with three 12MP lenses.
Google's Tensor SoC powers the Pixel 6 Pro, and the iPhone 13 Pro uses Apple's A15 Bionic chip.
Both models offer all-day battery life and fast charging, with Pixel 6 Pro also supporting wireless charging.
Pixel 6 Pro vs. iPhone 13 Pro: Which One Is Better? Which One Should You Use?
Choosing between the Pixel 6 Pro and iPhone 13 Pro depends on your preferences and requirements. Both smartphones pack an incredible punch when it comes to features and performance. However, they shine uniquely and cater to distinct user experiences.
For those who fancy a flexible operating system that effortlessly ties into Google's universe and love having an array of apps from the Google Play Store at their fingertips, the Pixel 6 Pro is your dream. Its top-tier camera capabilities could make it your perfect partner for capturing life's special moments.
On the other hand, if you prefer a user-friendly interface, tight integration with Apple's ecosystem, access to a curated selection of apps on the App Store, and a well-optimized camera system, the iPhone 13 Pro may be more suitable for your needs.
Consider factors such as display preferences (size, resolution, and refresh rate), software ecosystem, camera capabilities, performance, battery life, and overall user experience when making your decision. Try out both devices in person or thoroughly research their features to determine which aligns better with your preferences and priorities. Ultimately, there is no definitive answer as to which smartphone is better, as it largely depends on your preferences, operating system familiarity, and specific use cases.
1080 x 2340 pixel display
Google Tensor processor
Ultrawide lenses, 4x optical zoom, and a main sensor that captures 150% more light
Motion Mode and Portrait Mode

Buy Now on Amazon

We earn a commission if you make a purchase, at no additional cost to you.

05/26/2023 10:59 pm GMT

A15 Bionic chip
6.1 inch Super Retina XDR display
Cinematic mode in [email protected] fps
Dolby Vision HDR video recording up to [email protected] fps
6X optical zoom range
Up to 22 hours of video playback
IP68 rating for water resistance at 6 meters deep for up to 30 minutes

Buy Now on Amazon

We earn a commission if you make a purchase, at no additional cost to you.

05/26/2023 11:00 pm GMT