As more and more streaming services enter the market, it's becoming increasingly difficult to determine which ones are right for you. You likely don't need to subscribe to them all (or maybe you want to) but as many people look at Netflix, Disney+, and Prime Video as the staples of streaming video, they are certainly not the only options worth considering.
Peacock and Hulu are both great streaming options that offer strong lineups across television, movies, and more. Do you need them both? That's a tough question to answer so let's take a look at the features, price, and catalog of all of these dueling streaming services and see which one you should subscribe to today.
Peacock vs. Hulu: A Side-by-Side Comparison
| | Peacock Free | Peacock Premium | Peacock Plus | Hulu Ad-Supported | Hulu Ad-Free |
| --- | --- | --- | --- | --- | --- |
| Price | Free | $5.99/month | $11.99/month | $7.99/month or $79.99 yearly | $14.99/month |
| Ads? | Yes | Yes | No | Yes | No |
| Ad Time | 5 minutes per hour | 5 minutes per hour | 5 minutes per hour | 10 minutes per hour | Only on very few select programs |
| Content | 10,000 hours | 80,000 hours | 80,000 hours | 40,000+ episodes and 2500+ movies | 40,000+ episodes and 2500+ movies |
| Additional Content | Classic shows, news, and movies | Premium movies, News+, classic shows, movies, late-night TV | Premium movies, News+, classic shows, movies, late-night TV | Classic shows and movies, 100+ original Hulu originals from 2013 to present | Classic shows and movies, 100+ original Hulu originals from 2013 to present |
| Next Day Access | Limited | NBC and Bravo | NBC and Bravo | Fox, Bravo, NBC, FX, FXX | Fox, Bravo, NBC, FX, FXX |
Peacock vs. Hulu: What's the Difference?
Price
Comparing Peacock and Hulu would be hard to do without considering price as one of the biggest factors.
Peacock, for its part, offers three different tiers including Free, Premium, and Plus. Peacock's free tier is far more generous than most streaming services' free tiers, especially considering its most direct competitors, Disney+, Netflix, and Hulu, don't even offer a free tier. You can watch over 10,000 hours of content for free, without handing over a credit card, which is a big win for Peacock. However, when you bump up to Peacock's $5.99 Premium Plan, it adds more than 80,000 hours of movies and TV shows including NBC and Bravo, sports, and more.
The same can be said for the $11.99 Peacock Plus plan with this plan adding additional value by making thousands of titles downloadable for offline viewing and no ads. Where Peacock's value, regardless of Plus or Premium, has increased exponentially over the last few years is with sports. For example, Peacock has been able to broadly leverage parent company NBC's Olympics coverage and drive millions of streams by broadcasting multiple events live through the Peacock app. To top it off, Xfinity subscribers receive the Premium plan, a $5.99 value, free, which gave Peacock an instant boost of subscribers right from day one.
Hulu, for its part, has long been a player in the streaming space and its two plans haven't changed much over the years. Its $7.99 monthly plan ($79.99 yearly) provides you access to its full library of ad-supported content with more than 40,000+ TV episodes and 2,500+ movies available. Its no ads plan at $14.99 a month doesn't provide any additional content but does remove ads from just about every show and movie with very limited exceptions. Of course, you can also bundle Hulu with Disney+ and ESPN+ starting at $12.99 a month with ads. Hulu does offer a seven-day trial of its full catalog but after the trial expires, you must subscribe to continue to watch.
Content
Where things really start to differentiate between Peacock and Hulu is content. While Hulu might have a headstart with originals, Peacock has done well with its originals in half the time as Hulu. Peacock has made headlines by releasing refreshed original programming of shows like Bel Air (think Fresh Prince) and Saved by the Bell. They've also taken popular characters from movie trilogies like Pitch Perfect and developed shows like Bumper in Berlin. These are just a few of the original names on top of its library of slightly older (as in not recently in theaters) movies, but where Peacock really sets itself apart from Hulu is with sports.
Along with Peacock's future coverage of the 2024, 2026, 2028, and 2032 Olympics, Peacock has created a foothold in the world soccer market, including the popular Premier League by live-streaming hundreds of games per year. Add to that live NFL football games throughout the season as well as coverage of track & field events, horse racing, and cycling, and there's a giant library of content for sports fans. Peacock also adds a nice bonus by providing subscribers the ability to stream their local NBC affiliate which is a nice bonus for keeping up with local news and current programming.
Hulu has really created some excellent originals including Welcome to Chippendales, Fleishman is in Trouble, The Dropout, The Orville, and more, along with popular movies like Prey. Like Peacock, Hulu has a deep staple of full TV seasons that helps add up to thousands and thousands of hours of entertainment and that includes the next-day airing of many TV shows from NBC, Fox, FX, and FXX. Hulu's "old" movie collection isn't as deep as Peacock's, but you'll find plenty of classics like the original Home Alone, The Mummy, Die Hard, and more.
Simultaneous Streams
For families, the number of simultaneous streams and profiles is important as you don't want any recommended content to get intertwined with other family members. For its part, Peacock allows up to three simultaneous streams of content at the same time and up to six separate user profiles. That's pretty generous considering Netflix only allows two simultaneous streams and costs twice as much.
Hulu only allows for two simultaneous streams at once but multiple user profiles. The only way to add more simultaneous streams with Hulu is to jump up to their Live TV offering which offers a separately purchased "unlimited screens add-on."
Devices
The good news is that both Peacock and Hulu are both very well supported across a multitude of platforms and devices.
There's a host of apps available for Peacock including Android, Android TV, Apple iOS (and iPadOS), Apple TV, LG Smart TVs, and apps available across both eighth and ninth-generation video game consoles like the PlayStation 4, PlayStation 5, Xbox One X, and Xbox One S. All of this availability is on top of Peacock's placement all over Xfinity cable boxes thanks to Xfinity's role as a Peacock parent company. That means instant access to Peacock's entire library of content for all Comcast customers.
Hulu also offers a huge library of support devices including Android phones and tablets, Android TV, Apple TV, Fire Tablets, iPhone and iPad devices, LG TV, Roku apps, Samsung TV, Xbox, PlayStation VIZIO Smartcast TVs, and more. Like Peacock, you should be hard-pressed to find a device where you cannot access Hulu's streaming library.
Live TV
Live TV is rarely a consideration when signing up for a streaming service, but in the case of Peacock versus Hulu, it's actually well worth considering. As previously mentioned, Peacock does offer live coverage from your local NBC affiliate so you can see local news, current programming, and more. Outside of live sports coverage, Peacock doesn't offer much else in the way of live television.
Similarly, Hulu doesn't offer much in the way of live television either, at least in regard to its "normal" streaming plans. Where things get interesting is with Hulu + Live TV which bumps the cost up $69.99 monthly but gives you all of the on-demand streaming content (with ads) plus 85 live channels including NBC, ABC, CBS, Bravo, Fox, Animal Planet, Cartoon Network, Disney Channel, Fox, FX, FXX, MTV, TLC, SyFy, TBS, and more. Adding Hulu + Live TV also means access to live sports including games across the NCAA, NBA, NFL, and the NHL, but with Hulu + Live TV, a better comparison is against Xfinity directly rather than Peacock.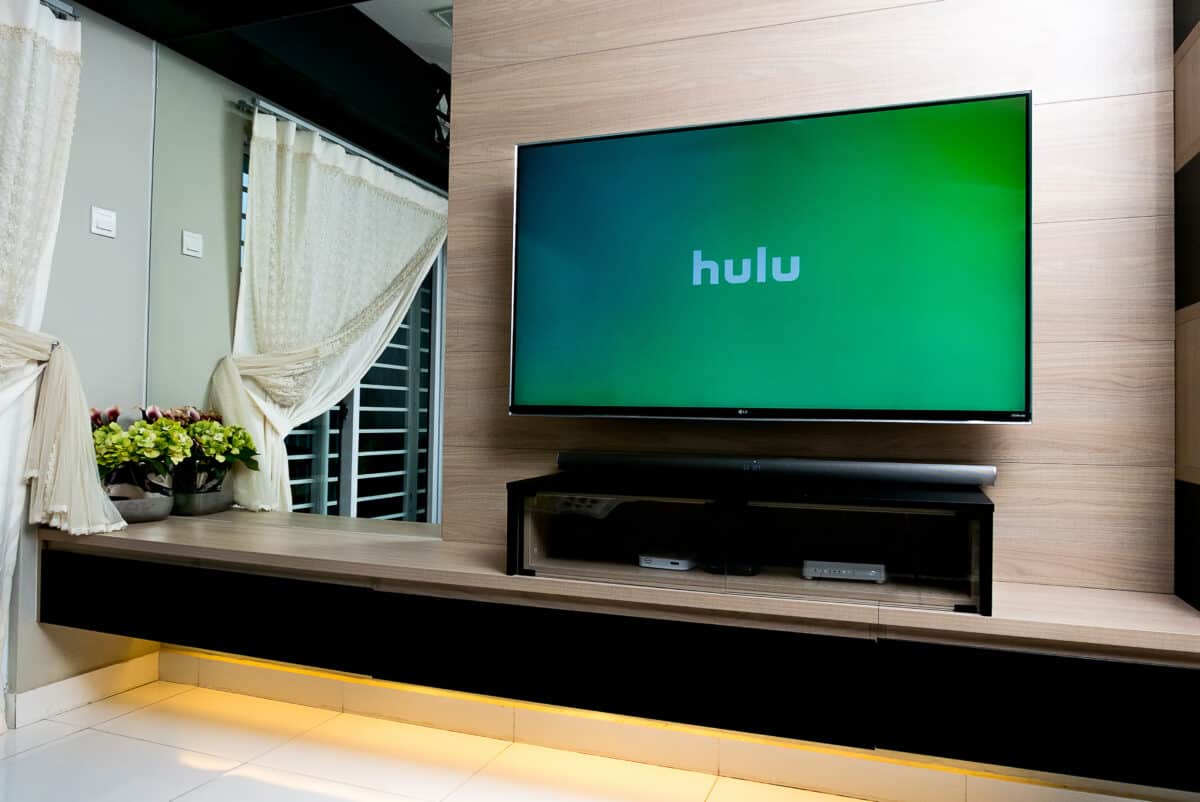 Peacock vs. Hulu: 6 Must-Know Facts
Peacock offers nearly double the amount of content hours available to watch at 80,000 hours spread across movies and TV shows against Hulu's 40,000 hours.
While Hulu only offers a limited seven-day trial, Peacock offers a free tier that has a smaller allotment of content (around 10,000 hours).
Xfinity customers receive the $5.99 Premium tier of Peacock free while Hulu has no such cable partnership.
Hulu is part of various bundles with Disney+ and ESPN+, which significantly adds to the amount of available content.
Hulu offers a Live TV service starting at $69.99 a month with more than 85 live channels while Peacock is only available for on-demand streaming.
Peacock's ad-free plan is only $11.99 a month while Hulu is asking $14.99 a month with ads and still runs some ads on exclusive content.
Peacock vs. Hulu: Which One is Better?
This is a really tough one as both of these services have positives and negatives. Peacock immediately stands out thanks to its free tier, partnership with parent company Xfinity and a deep library of NBC (and USA Network) based titles. Hulu's content library expands beyond NBC but still only offers half of the available content hours.
Peacock also stands out with its live sports streaming on its Premium and Plus plans including Olympics, Premier League soccer, horse racing, and more. Hulu has some excellent originals but ultimately, even if Peacock is limited to NBC-based content, it's a stronger overall content library and less expensive than Hulu making it the better choice.
The image featured at the top of this post is ©Iryna Dincer/Shutterstock.com.