Key Points:
The Toughbook is an obvious choice if you're using your laptop to conduct business in the field. It's a great option if you're a government worker or part of law enforcement.
The first Toughbook was launched in 1994 with the Matsushita Electric logo embedded in its BIOS. Panasonic was several models into the new series before branding them with the official Toughbook logo.
The latest Toughbooks have come a long way from the earliest models. Currently, two popular versions of the Toughbook are available: the CF-54, released in 2015, and the FZ-55, released in 2019.
Panasonic Toughbook is the world's most ruggedly designed laptop. Designed for businesses looking for a hardy laptop to use in the field, the Toughbook offers unique rugged features. The laptop has evolved to become the choice laptop for law enforcement, EMT staff, construction, and field workers. All of this comes at a high price tag, and the Toughbook is rarely seen in the consumer market due to its cost. But is the Toughbook worth it?
Let's delve into the illustrious history of the Toughbook and explore all the features in the early models to the unparalleled performance in the latest models. If you're trying to decide if a Panasonic Toughbook is the right move for your business, you'll soon find out that this laptop offers much more than meets the eye.
Panasonic Toughbook: Best Deal Today
Shopping around for a Panasonic Toughbook can be a tough experience. With so many different models, often only identifiable by a series of letters and numbers, deciphering the differences can be a monumental task. We've taken the guesswork out of finding the perfect Toughbook by compiling the best deals for you here:
Panasonic Toughbook: History
Founded in 1918, Panasonic started off as Matsushita Electric. The company originally produced lamps and lamp sockets for a wide range of devices. The Panasonic we are familiar with today didn't start taking shape until the advent of the television. In 1961, Panasonic began producing TVs and, before too long, had built a solid reputation for consumer electronics.
The company is known for manufacturing all sorts of electronic devices. Panasonic has a piece of almost every part of the electronics market, from radios to cameras, phones, and speakers. However, the company did not start producing its famed Toughbook series until the 1990s.
The first Toughbook was launched in 1994 and still had the Matsushita Electric logo embedded in its BIOS. Panasonic was already several models into the new series before branding the laptops with the official Toughbook logo.
Initially, Panasonic manufactured the Toughbook in its existing factories. But before long, demand had increased to the point that a dedicated manufacturing facility was becoming necessary. Panasonic built a dedicated plant to manufacture the Toughbook series in 1995. Located in Kobe, Japan, this factory is where all Toughbooks are manufactured to this day.
The Kobe factory is also where every Toughbook model undergoes a series of extensive stress tests. From extreme temperatures, freezing and thawing, and vibration, each Toughbook is put through its paces to ensure its durability. Additionally, Toughbooks are tested against dust, moisture, and drops.
Throughout its history, the Toughbook has received numerous awards from magazines and publications. Panasonic Toughbook has been praised as the "ultimate mobility solution" and "editor's choice" by prestigious publications like the IT Pro magazine, PC Pro magazine, and many more. Additionally, Panasonic has been awarded countless government contracts, making the laptop a staple in government and military use.
Panasonic Toughbook: Different Versions
The Panasonic Toughbook has evolved through numerous iterations over the years. The earliest models pale in comparison to the latest editions. With each generation, Panasonic packed more performance and features into its laptops.
Let's see how the Toughbook has evolved from the earliest to the latest models.
CF-41 – 1994
The Toughbook CF-41 lacked many of the standard features present on newer Toughbooks, but it was still revolutionary at the time. One of the earliest laptops to offer a built-in CD-ROM drive, the CF-41 allowed users to access much more data than a similar system with a floppy drive.
Despite lacking some of the more advanced features present on newer Toughbooks, the CF-41 was still designed to be highly durable. While most laptops of the time offered no rugged option at all, the CF-41 came on the scene with incredibly strong magnesium allow case. This made the laptop much sturdier than other laptops.
Loaded with Windows 95, the CF-41 offered cutting-edge operating system compatibility. Users could also install their choice of MS-DOS instead. With a built-in trackball, users could easily navigate similarly to a trackpad. However, these early models did not offer touchscreens, Bluetooth, or any of the standard features we take for granted today.
CF-25 – 1996
Released in 1996, the CF-25 was the first "fully-rugged" Toughbook. Able to withstand falls from 70 centimeters, it is also resistant to dust and humidity. This pioneering model laid the foundation for future generations with its innovative design.
A leading energy company, British Gas, purchased this model for its mechanics and service technicians. Other industrial companies followed suit, solidifying Toughbook's reputation as a serious business laptop. This activity would strengthen Toughbook's reputation as a reliable laptop for rugged business requirements. Soon, valuable government contracts would start pouring in.
CF-27 – 1999
The Toughbook CF-27 was the first model to introduce a revolutionary touchscreen. This feature has become a staple on every Toughbook since. Additionally, this model offered new features like wide-area wireless for communication regardless of weather conditions.
Another rugged feature introduced in this model is the hard drive cage. Made of gel and foam, this cage differs from regular laptops in that it offers superior resistance to drops and vibrations while also keeping the drive cool. All Toughbooks that followed would include a similar hard drive protection system.
CF-M34 – 1999
Featuring a Pentium III processor and an 8.4-inch display, the Toughbook CF-M34 was the most potent model yet. Besides offering powerful computational abilities, this model was also the first rugged mobile computer to offer Bluetooth.
Weighing in at around four pounds, the CF-M43 was the most portable Toughbook yet. Even today, four pounds is relatively lightweight for the average laptop. Coupled with four-hour battery life, this model also allowed extensive mobile use, unlike any previous generation.
CF-07 – 2001
Designed for mobile use, the CF-07 was the first ever rugged tablet. Highly unique at the time of launch, this model featured the latest Bluetooth and wireless capabilities.
Weighing about two pounds, the CF-07 featured a pressure-sensitive touchscreen display and a built-in 5MB hard disk. With a Pentium III processor, this model offered relatively below-average performance when compared to a laptop. However, the increased portability made up for it in situations requiring a smaller device.
CF-28 – 2002
By 2002, the massively popular CF-27 needed an update. Panasonic responded to the demand by releasing the highly polished CF-28. This model was the first of its kind to be certified to the IP54 standard. Developed by the European Committee for Electrical Technical Standardisation, the IP rating tests a device's level of dust, liquid, and drop protection of a device.
The CF-28 was particularly innovative thanks to its transflective LCD screen, a technology capable of adapting to changing ambient light levels by using a transflective optic layer over the display. This type of adaptive brightness wouldn't be seen on consumer devices for quite some time.
CF-18 – 2003
Panasonic released yet another milestone system in 2003, with the convertible CF-18. One of the earliest laptops to feature a pivotal touchscreen, the CF-18 transforms from a laptop to a tablet. Additionally, the CF-18 provides a stylus for more precise touch input.
The magnesium case of the CF-18 is designed to provide superior shock protection and durability compared to standard laptop cases. Much like the CF-27, the CF-18 offered shock-proof hard drive enclosures capable of withstanding drops of up to 90 centimeters.
CF-30 – 2007
As the 2000s progressed, Panasonic continued to evolve the Toughbook. The CF-30 features a 1,000-nit "concealed mode" screen. As a result, the display can be viewed in any lighting condition, including direct sunlight.
The CF-30 also offered improved resistance to extreme temperatures. If the system detects a low temperature, it can warm the hard drive before booting to avoid damage. Additionally, Panasonic designed the laptop to be easily operable with gloves on. As a result, the buttons are very large and perfect for handling in a cold, snowy environment.
CF-31 – 2010
The Toughbook CF-31 was a best seller for Panasonic and is still widely used in many industries today. The new laptop offered an IP65 resistance level, making it the most durable Toughbook to date. A few key areas were upgraded on the CF-31, making it a competitive system, even by modern standards.
An improved display offers 1200 nits of brightness and 1024 by 768 resolution. While the resolution is nothing impressive today, the 13.1-inch adaptive brightness touchscreen is focused on durability and practicality.
CF-AX2 – 2012
Ultrabook class laptops were very popular at this time. Slender, lightweight laptops with powerful processors were all the rage. Panasonic offered the CF-AX2 as the world's first rugged ultrabook. The CF-AX2 was one of the earliest laptops to utilize a flip-over design, allowing it to convert into a tablet.
Weighing under three pounds, the CF-AX2 was able to cram in all the vital features Toughbook owners have come to expect. You get an Intel Core i5 or i7 processor, a solid-state drive, and 8GB of DDR3L RAM. All of these features were packaged neatly alongside the bright multi-point touchscreen display.
CF-20 – 2016
With the release of Windows 10 in 2015, Panasonic reacted with its first rugged detachable laptop. Combining the best of laptops and tablets, the CF-20 offers the most impressive durability. With a MIL-STD-810G certification, this model is able to withstand intense vibration, sand, moisture, extreme altitude, and freezing.
The Toughbook CF-20 is built with a fanless design, allowing it to offer even better protection. With Intel Core i5 and i7 processors, the CF-20 is highly capable. Additionally, you can install 8GB or 16GB of DDR3 RAM.
Panasonic Toughbook Current Generation: Specifications
The earliest Toughbooks laid the foundation for what was to become the most rugged computer series in the world. Compared to competing systems like the Lenovo ThinkPad and the Dell Latitude, the Toughbook offers substantially heavier build quality and more rugged construction.
The latest Toughbooks have come a long way from the earliest models. Currently, two popular versions of the Toughbook are available: the CF-54, released in 2015, and the FZ-55, released in 2019. Have a look at the specs below to see how they compare:
| | CF-54 | FZ-55 |
| --- | --- | --- |
| Processor | 5th Gen. Intel Core i5 and i7 | 11th Gen. Intel Core i5 and i7 |
| Display size | 14-inch | 14-inch |
| Brightness | 1000-nit | 1000-nit |
| Resolution | 1920 by 1080 | 1920 by 1080 |
| Wireless | WiFi, Bluetooth, 4G, GPS | WiFi, Bluetooth, 4G, GPS |
| Maximum RAM | Up to 32GB DDR3 | Up to 64GB DDR4 |
Panasonic Toughbook: Review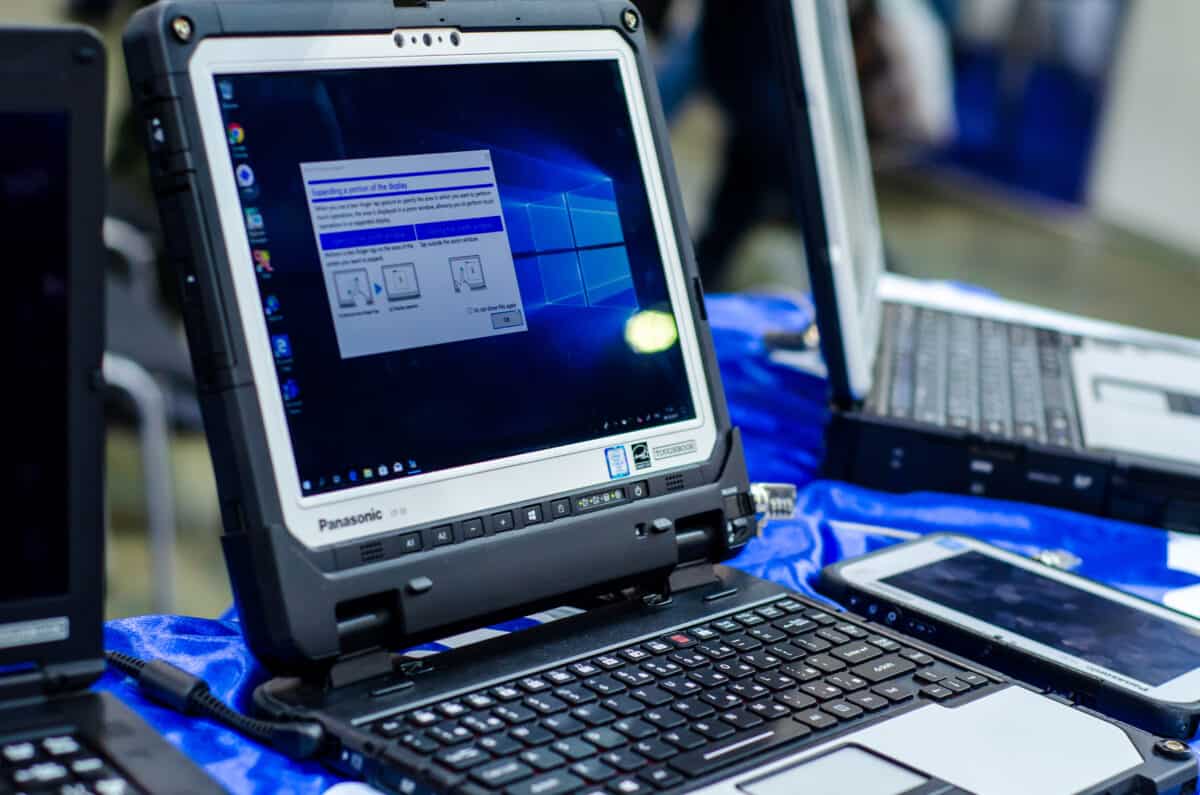 Perhaps no other laptop manufacturer provides as rugged a laptop as the Panasonic Toughbook. While competing laptops, such as the Getac, come close to the rugged capabilities, the Toughbook reigns supreme. No other system offers the level of resistance to the elements as the Toughbook.
However, you'll notice that Toughbooks don't focus on performance as much as other laptops. Instead, the focus is on durability first and foremost. No other laptop offers the range of rugged options that the Toughbook does. Because of this, they are favored by field personnel for use in harsh environments.
As you might expect, Toughbooks must make some sacrifices to offer such a level of durability. This comes in the form of a bulkier and heavier case. That's not to say that all Toughbooks are heavy, as you can find tablet and convertible models weighing less than three pounds.
Another common complaint is the price. While casual users might balk at the high price tag, the Toughbook maintains a dedicated clientele. Government contracts account for most of Panasonic's Toughbook sales, making them very common in offices and police cars. Additionally, Toughbooks are the laptop of choice for construction workers and surveyors.
Panasonic Toughbook 55, FZ-55 MK2, 14.0" HD, Intel Core i5-1145G7 (up to 4.4GHz) vPro, 16GB, 512GB OPAL NVMe SSD, Intel Wi-Fi 6, BT, Infrared Webcam, TPM 2.0, Emissive Backlit Keyboard, Windows 1...
Intel Core i5-1145G7 (up to 4.4GHz) vPro, 14.0'' HD 1366 x 768
16GB DDR4, 512GB OPAL NVMe SSD
Intel Wi-Fi 6 AX201, Bluetooth v5.1
USB-C Thunderbolt, USB-A x2, MicroSDXC UHS-I, HDMI 2.0, Ethernet 1Gbps RJ-45, Audio In/Out 3.5mm, Dual SIM (Nano-SIM 4FF x1, eSIM x1)
O/S: Windows 10 Pro 64-bit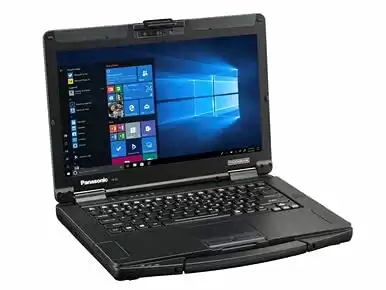 We earn a commission if you make a purchase, at no additional cost to you.
Panasonic Toughbook: Pros and Cons
Pros:
Highly durable
Modular design
Highly upgradeable
Good battery life
Cons:
Panasonic Toughbook: Is it a buy?
Buy it if…
You need a sturdy laptop for use in harsh environments. The Toughbook is an obvious choice if you're using your laptop to conduct business in the field. If you're a government worker or law enforcement, you're probably already used to seeing the Toughbook everywhere. This speaks volumes about its durability and build quality.
Additionally, the modular design and high-performance features guarantee that your Toughbook will keep working long after other laptop brands would have quit. This is evidenced by many older Toughbooks still in use worldwide, despite advancing age.
Don't buy it if…
You need an inexpensive laptop for college or school. While the durability is excellent for use without worrying about damage, the price and bulkiness of the system negate any benefits.
Additionally, carrying a Toughbook around a college campus or school would get exhausting quickly due to its weight. The combination of high cost and bulky weight makes the Toughbook better suited to resource-intensive applications in harsh environments where reliability is of the utmost importance.
However, an older Toughbook may be a good option for those on a budget if you are happy to settle for lower specs and limited features.
Up Next…
The image featured at the top of this post is ©Cineberg/Shutterstock.com.