West Virginia is one of the most affordable states in the US. The cost of living in West Virginia is estimated at 10 – 20% below the national average. However, considering the rising cost of electricity across the country, you may be wondering whether owning an EV in West Virginia is worth it.
Here's all you need to know regarding the state's charging infrastructure, expected charging costs, and available incentives for EV owners.
West Virginia Charging Infrastructure
Although West Virginia has a decent EV charging infrastructure, it could do better. The state has a few charging stations fitted with EV ports, located strategically to accommodate interstate travelers. However, the West Virginia Department of Transportation (WVDOT), in liaison with the National Electric Vehicle Infrastructure (NEVI), has set up a comprehensive plan to ensure more people access EV charging stations.
For example, West Virginia is set to receive $47.5 million to implement a two-phased plan for establishing charging stations across the state. The first phase plans to join the Mountain State to the national EV charging grid.
Therefore, it has a robust blueprint to erect EV charging stations every 50 miles in the nation's Alternative Fuel Corridors. With construction set to start in mid-2023, this public charging system will sufficiently serve EV owners traveling across the state.
On the other hand, the second phase aims to establish a community-based charging system and increase the locals' access to EV charging. The plans are tailored to ensure rural and urban areas have access to public charging stations.
However, priority will be given to rural areas with very limited access. Once these plans are effected, West Virginia will undoubtedly become one of the most EV-friendly states in the country.
How Many Charging Stations Does West Virginia Have?
It is undeniable that West Virginia has robust and impressive plans to improve its charging infrastructure. However, the number of charging stations in West Virginia is underwhelming compared to other states.
According to data published by the US Department of Energy, West Virginia currently has 115 EV charging stations and 349 charging ports. In contrast, Maryland, which is just above half the size of West Virginia by area, has 1,316 stations and 3,693 ports.
Types of Charging Stations
It is advisable to familiarize yourself with several charging stations in West Virginia before purchasing an EV. There are different types of EV chargers, and some may be incompatible with your car.
Free Stations
With the rising cost of living culminating in skyrocketing power bills, free charging stations are the perfect place to boost your EV charge. The stations are usually located in public spaces like libraries, parking areas, supermarkets, and grocery stores. In most cases, shopping stores and malls allow EV owners to charge their vehicles in their installed stations for free.
While using free stations sounds like a good idea with immense financial benefits, it has a downside. The charging stations, in most cases, do not invest in quality high-end chargers.
Instead, you are provided with a level-1 charger which gives you five miles per hour of charge. This might not suffice if you have a fully electric vehicle, as you may have to wait hours to get sufficient charge to get back on the road.
The free charging stations are great for people with hybrid cars, or if you want a little energy boost for your automobile.
Level 2 Charging Stations
Level 2 charging stations are the most preferred option among EV owners. Unlike the level 1 chargers that give your EV 5 miles on every hour of charge, level 2 stations provide at least 25 miles per hour of charge. This increased charging capacity is attributable to the stations' 240-volt outlets.
Level 2 stations are hardly found in free public spaces due to the level of power they provide. Most are installed in private offices and buildings, with limited access to people working or living on the premises.
However, you should install a level 2 home charging station on your premises for your convenience. This way, you can access your EV charging system and always get the power you need to move around. As such, charging your vehicle overnight is enough to refill the battery to full capacity.
Level 2 charging stations are often the go-to option for people with fully electric SUVs and other models with EV batteries that thrive on longer charging times. Similarly, it would be the best accessible option if you have a long commute.
Fast Charging Station
Fast charging stations are just as the name suggests; they charge your EV within the shortest time possible. The stations use level 3 chargers, also known as DC Fast chargers, which produce about 480 to 500 volts. The high voltage can charge a standard EV, such as the Tesla Model 3, to full capacity in just 30 minutes.
These high-voltage stations are primarily public charging stations where you can charge your EV at a fee. They are convenient for EV owners on the go, as they can get enough charge to continue their journey.
However, before using the stations, you should check with your automobile manufacturer whether the vehicle supports fast charging. If not, a level 2 charging station is best suited for your car.
Where Are the Charging Stations Located?
It is no surprise that a bulk of charging stations in West Virginia are located in urban centers and cities. Most stations are in Charlton, boasting 51 public charging stations, with three free and 12 fast charging stations.
With this infrastructure, the Charleston area has the most robust EV charging system in the Mountain State. However, most of the fast charging system is Tesla Superchargers, which may not accommodate other EVs.
EV charging stations are also available in other areas of the state, in cities such as Huntington-Ashland, Beckley, and Morgantown, which are relatively EV-friendly areas. Nonetheless, rural areas have limited access to charging stations.
Cost of Owning an EV in West Virginia
Accounting for charging costs is integral to understanding the cost of owning an EV in West Virginia. Let's explore the cost of operating different EVs in West Virginia to help you select the best-fit option.
Tesla Model Y
The Tesla Model Y is currently the most popular EV available on the market. The exquisite sedan is powered by a 75kWh lithium-ion battery, which gives it a range of 303 miles when fully charged. It takes about 30 minutes to fully charge the vehicle when connected to a DC fast charger. But how much does it cost?
It costs around $59,990 to acquire a brand new Tesla Model Y. West Virginia charging stations will then charge you $0.20 per kWh to charge your EV. As such, fully charging your Tesla Model Y will cost $15.
Ford Mustang Mach-E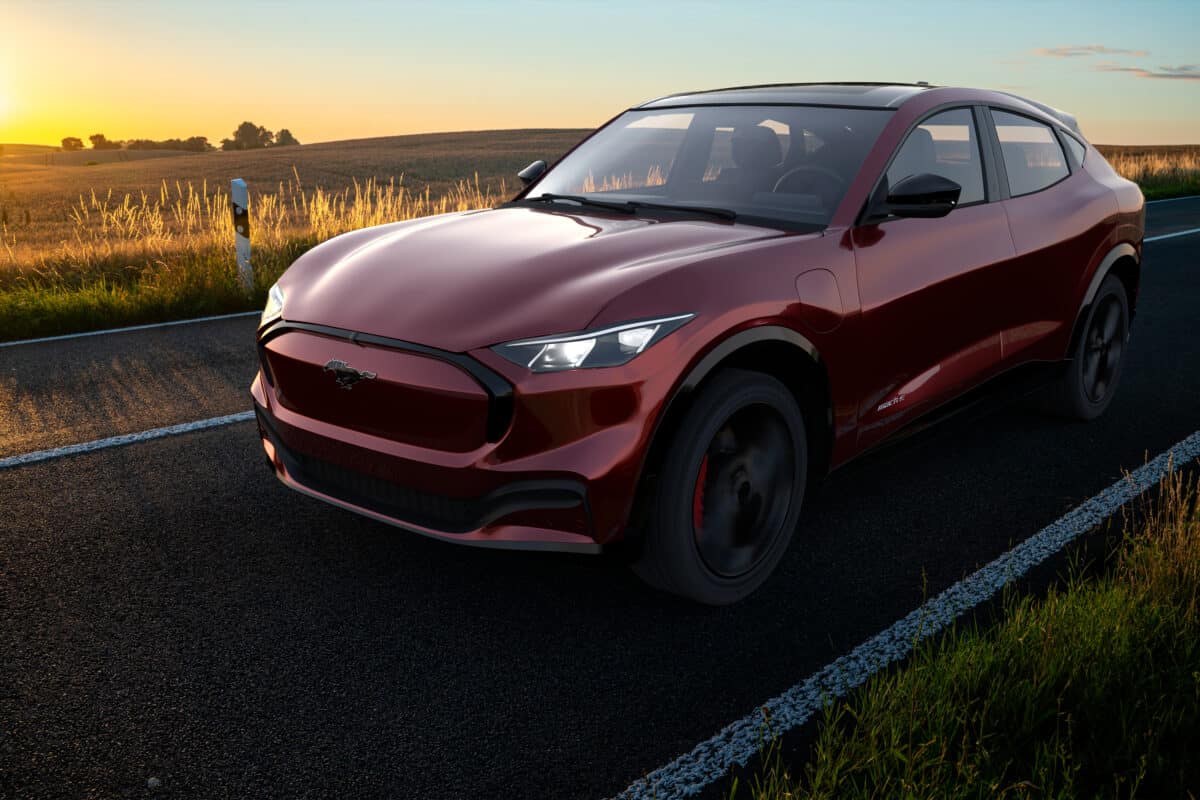 A relatively new EV in the market, the Ford Mustang is a sleek 5-door coupe SUV quickly gaining popularity. The vehicle has a state-of-the-art electric motor and 68kWh battery that combine to give it a power output of 269hp and an electric range of 211 miles. It takes about 15 minutes to charge the vehicle on a standard supercharger.
With a remarkable all-wheel drive feature to get you through the hilly terrain associated with West Virginia, the Ford Mustang Mach-E costs around $45,995. Once acquired, considering the state's charging rates, it will cost you $14 to charge the vehicle to a full charge.
Chevy Bolt
Over the years, Chevrolet has released various formidable vehicles, and the Chevy Bolt is no exception. The 2017-released EV operates on a standard lithium-ion battery which produces 66kWh. Additionally, it has a relatively powerful motor that produces 200hp.
The Chevrolet-produced EV is relatively cheap, as it goes for $25,600. It is equally cheap to maintain, as charging it to full capacity in West Virginia will cost you $13 at a fast charging station.
Kia EV6
There are few crossover SUV electric vehicles better than the Kia EV6. It is the first electric vehicle produced by the company; it was introduced to the market in March 2021. The EV operates on a permanent magnet synchronous reluctance motor with a power output of 577hp.
This formidable power is backed by a 77.4 kWh nickel–cobalt–manganese lithium battery that gives the vehicle a range of 317 miles. As such, the cost of charging and maintaining the vehicle in West Virginia is relatively high compared to other EVs. It costs around $16 to fully charge the Kia EV6.
West Virginia Electric Vehicles Incentives
Like most states, West Virginia has electric vehicle incentives to encourage the use of eco-friendly automobiles. However, the incentives are limited to school buses, where the state offers counties with electric school buses a 10% reimbursement to cater for the vehicles' maintenance and accompanying costs.
Owning an EV in West Virginia: Wrap Up
While owning an EV is increasingly popular due to the low cost of maintenance and gas savings, it may not be the best idea in West Virginia. The state has limited charging stations, making powering your vehicle quite a hassle. However, the situation is set to improve with the state's two-phased initiative to establish more charging stations across the Mountain State.
Breaking EV News
June 8, 2023 — Owners of Ford and General Motors (GM) EVs will be able to use adaptors to charge at 12,000 Tesla Superchargers starting in 2024. And in 2025, both brands will feature Tesla's North American Charging Standard connector on their EVs.
In a statement, Mary Barra, CEO of GM, said, "This collaboration is a key part of our strategy and an important next step in quickly expanding access to fast chargers for our customers. Not only will it help make the transition to electric vehicles more seamless for our customers, but it could help move the industry toward a single North American charging standard."
The image featured at the top of this post is ©Sean Pavone/Shutterstock.com.