According to a recent study, the global revenue for electric vehicles will grow by about 17.02% to reach an estimated market volume of $858 billion by 2027. Virginia is among the many US states with progressive goals bidding to transition their fleets to EVs. This state boasts comprehensive policies, initiatives, and incentives that make owning an Electric Vehicle in Virginia a cost-effective alternative.
Data from the US Department of energy shows that Virginia is home to 30,700 electric vehicles, about 0.4% of all vehicles registered in the state. Although the EV industry is still in its early stages of growth, 0.4% is enough data to show that Virginia is on the right track. Other states like North Dakota, South Dakota, Montana, and Wyoming have less than 2,000 EVs.
To better understand what makes Virginia an attractive state for EV owners, we need to take a comprehensive look at the factors affecting EV ownership. For instance, are charging stations available and easily accessible? If so, what type of chargers will I find in Virginia, and what are the associated charging costs? Will the state or private sector grant you any incentives to own the EV? This article will answer all your questions about EV ownership in Virginia. Read on for more information.
Charging Infrastructure for Electric Vehicles In Virginia
Before you buy an EV in any state, one of the first things you need to find out is the state of the charging infrastructure. By September 2021, Virginia had about 1,139 public charging stations, accounting for 3,301 ports distributed across all charging speeds. Over the next five years, from 2023, the State of Virginia will receive $106 million from the federal government to install between 19 and 26 more public EV charging stations, each with at least 150 kilowatts of DCFC chargers. 
With this funding, Virginia intends to comply with the NEVI program recommendation of building charging stations at least every 50 miles along interstate highways. The NEVI program also recommends installing charging stations after every mile of fuel corridors designated by the federal government. 
Besides public charging stations, Virginia has thousands of private EV chargers. Some are owned by private companies, while most are at-home chargers. At-home chargers are those you buy and install in your garage, while those owned by private companies are available in malls, gas stations, and stay-in hotels. 
Cities and Towns with the Most Charging Stations in Virginia 
The city with the most charging stations, per data from PlugShare, is Virginia Beach, with 551 stations. A close second is Richmond city, with 418 stations. Charlottesville, Roanoke, Lynchburg, Blacksburg, Staunton, and Harrisonburg follow with 123, 95, 68, 68, 68, and 67 stations, respectively. Martinsville and Big Stone Gap have the least number of stations, each with 6 and 2, respectively.
Types of EV Chargers Available in Virginia 
Your vehicle manufacturer will advise you on the type of (Electric Vehicle Supply Equipment) EVSE to use. However, three main types are available: Level 1, 2, and DCFC or Direct Current Fast Chargers. Below is a detailed explanation of the three.
Level 1 Chargers
If you have an at-home EV charger, it's probably an L1. These are the slowest of the three and only require you to plug your vehicle into an ordinary 120-volt outlet. However, you'll need a dedicated circuit for it to be effective. L1 chargers are ideal for overnight charging because they take about 8 to 20 hours to fully charge an EV, depending on the size of the battery. 
Moreover, they are standard for all electric vehicles, and you don't have to install additional equipment for them to work. All you need to do is plug your vehicle into a dedicated outlet, and your car will begin charging. For most people living in Virginia, Level 1 chargers are efficient enough but require you to schedule your charging plans accordingly. 
Level 2 Chargers 
Level 2 chargers use 240 volts instead of 120 volts in L1 chargers. These are the most common chargers available in Virginia; you'll find them at malls, hotels, and gas stations. You can also install Level 2 chargers at home if you have the funds and are within the 240 volts grid line. It will cost you between $500 to $2,000 to do so, depending on the type of installation and available incentives. 
Most commercial electric vehicles use L2 EV chargers, and it's a sweet spot for most users because it typically takes about 3 to 6 hours to charge a battery fully. Living in Virginia Beach gives you access to 62 L2 stations. Richmond has 96, while Charlottesville has 24 stations. 
DCFC/Level 3 Chargers 
Tesla refers to their version of DCFC chargers as the Tesla Supercharger. These chargers require dedicated equipment and use 480 volts of direct current. Installing such chargers is quite expensive and often requires government involvement. Luckily for Virginia, the government is backing the installation of these stations with more than $100 million in funding. 
DC fast chargers are the most efficient of all. It only takes 30 minutes for a battery to be between 50 to 80% charged. Unfortunately, not all EVs support DCFC. To be sure, it's best to consult your EV manufacturer.
Planning a trip with a DCFC-supported EV is feasible because you don't have to prepare extensively for charging. Unfortunately, these chargers aren't as readily available as L2 or L1. For instance, Virginia Beach has only 2 Level 3 chargers, and Richmond has 32 stations.
Where to Find Public EV Charging Stations in Virginia 
L2 chargers are the most available and easiest to access. In addition, most of them are free to use. DCFCs aren't as common, but finding one isn't impossible with a bit of dedication. L1 chargers are primarily for home and workplace use, so you won't easily find a public one unless you ask around. 
The US Department of Energy has an Alternative Fuel Data Center with a Fueling Station Locator that gives you access to a map with all the available public EV charging stations in the US. You can use this database and map to find a nearby charging station. Alternatively, you can install directory apps available on Android and iOS devices. The two most common include PlugShare, which we've briefly mentioned in some sections above, and ChargeHub, an aggregator of all EV charging stations in Canada and the US. Both provide maps you can use to find EV charging stations.
Cost of Owning an Electric Vehicle in Virginia 
Owning an EV in Virginia doesn't have to be costly. While the initial cost of buying the vehicle may be high, their use of electricity makes long-term use of the car a relatively cheap affair. Coupled with state and private entities, it's even more affordable.
Some factors influencing the cost of owning an EV include charging costs, insurance, and general maintenance. The good thing with EVs is that they don't demand regular maintenance like gasoline cars. Unfortunately, when they require maintenance, it is often in the form of specialized care, which is expensive. 
Insurance premiums are also higher. That's because replacement parts are usually expensive if you have an accident or the car gets damaged. While the insurance premium will vary depending on your EV type, Forbes found that the annual average is about $2,228—a gasoline-powered car costs between $865 to $1,118.
In addition to the mandated state vehicle registration, Virginia EV owners must pay an additional $116.49, which they refer to as an annual highway fee. Other states also have a similar fee, so it's not strange. The average EV charging cost in Virginia is about $0.146 per KWh. That's about 8.75% cheaper than the national average charge.
The following section discusses some popular EVs, and the associated costs of owning one, including the cost of charging. 
Tesla Model Y
Tesla Model Y is the world's best-selling EV. It makes sense that most people would want to own this car because of its economic efficiency and safety features. Buying the 2023 Model Y Long Range will cost you $52,990, and its Performance variant is about $56,990. The cost can increase depending on additional custom features like larger wheels and a third row of seats.
The 2023 Model Y has a range of 330 miles and can accelerate from 0-60mph in 3.5 seconds. It uses Dual Motor All Wheel Drive, which justifies the pickup speed and has a top speed of 155mph. The battery and drive unit warranty period is eight years or 120,000 miles (whichever occurs fast).
Given an average cost of $0.146, charging a Tesla Model Y will cost you about $13.05 when using an L1 charger, $12.25 when using an L2 charger, and $11.29 for an L3 charger. Insurance premiums for a Model Y average $2,878 per year, but you can pay more or less depending on your deductibles, type of insurance, credit score, and driving record.
Rivian R1S
Leading the pack in the electric SUV space is Rivian with its R1S variant, an ALL-Wheel drivetrain with a towing capacity of up to 7,700 lbs. Owning a Rivian R1S will cost you approximately $78,000, excluding applicable additional fees. That's over $20,000 more than the Tesla Model Y. 
Rivian R1S boasts an estimated range of 321 miles when packed with a quad-core drive system and 260+ miles when using a dual motor. Bigger batteries can give you up to 400 miles of range. Charging a Rivian R1S in Virginia will cost you about $17.66 per charge. Rivian, through its Rivian Adventure Network, is trying to install over 3,500 DCFCs and over 10,000 L2 chargers across the US. The project reached the East Coast in 2022. Rivian's DCFC chargers will give you up to 140 miles after 20 minutes of charging. 
Insurance agencies have varying premium charges. For instance, insuring your Rivian R1S with Geico will cost you $2,371, while Progressive will demand $2,874. However, other factors like your credit score and driving record will also have an impact.
Chevrolet Bolt EV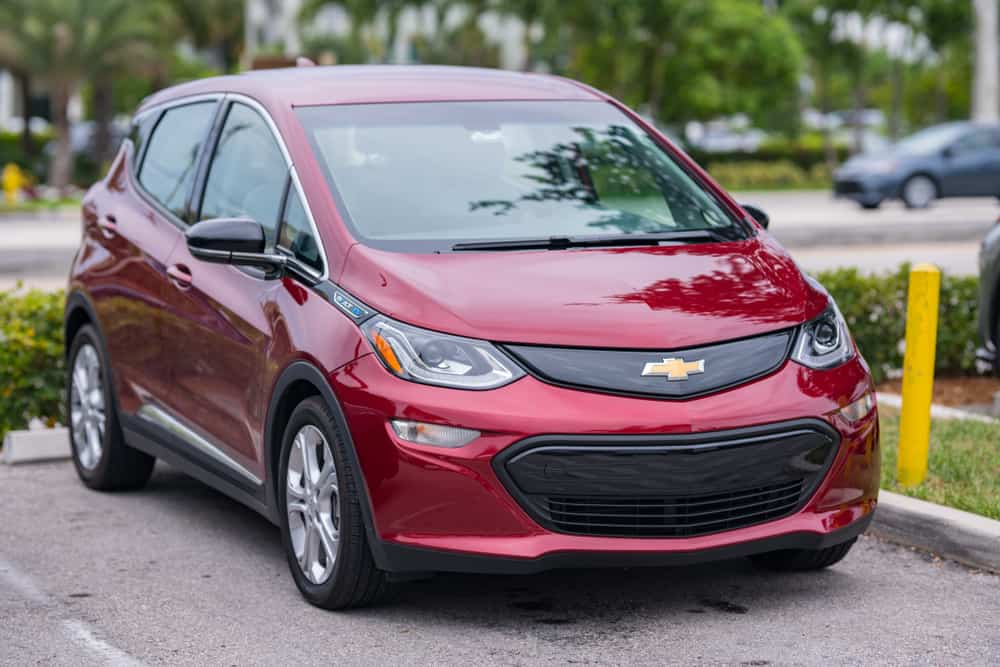 One of the most affordable EVs on the market is the Chevrolet Bolt EV. This car features a 66KWh battery that guarantees up to 259 miles of range on a single charge. It isn't a luxury or performance car, but a range of 259 miles for an initial cost of $27,495 is definitely something you'd want to check out. 
Charging the little Chevy will cost you between $7 to $10, depending on the charger you use. Public chargers may be more expensive than home or work chargers.
Incentives for Owning an Electric Vehicle in Virginia
You qualify for up to $7,500 federal tax credit if you purchase an EV in the US. Besides federal tax exemptions, Virginia's state government and private entities also offer several incentives to encourage people to own electric vehicles. 
As of January 2022, any Commonwealth citizen that buys a new EV qualifies for a rebate of $2,500. An additionally enhanced rebate of $2,000 also applies. The same applies to those who purchase a used EV for a cash price not exceeding $25,000. This rebate applies to the payment of the vehicle, and the department shall reimburse the dealer for each applicable sale.
Besides the Emissions Testing exemption, Virginia has no other incentives for owning an electric vehicle. 
Private Incentives for Owning an EV in Virginia
Below are several incentives offered by private companies and organizations in Virginia. 
Dominion Energy: This company offers a $125 rebate to those who purchase a Level 2 EV charging station. For eligibility, users must enroll in the company's energy response program. On your registration anniversary, you'll also receive a $40 payment. 
Rappahannock Electric Cooperative (REC): A $7 bill credit applies to the organization's residential customers who enroll in its time-of-use charging pilot program. However, the credit is only available to the first 200 members that register.
Danville Utilities: The company's residential customers that install a Level 2 electric charging vehicle are eligible for a $200 rebate. Users must also enroll at a time-of-use rate. 
Virginia has fewer incentives for owning an EV than other states. However, the few available coupled with federal tax credits should encourage you to buy an EV. 
Closing Thoughts
Owning an electric vehicle in Virginia is an excellent way to save on costs associated with ever-rising fuel prices. While the initial cost of owning an EV is high, you save a lot in a long run. Although Virginia has fewer incentives, the state has the required infrastructure for your EV. Moreover, the government is funding a $100 million project to increase the number of DCFC charging stations. Coupled with the over 1,000 L1 and L2 public chargers, you should be able to juice up your vehicle without spending much.