South Dakota lags far behind in electric vehicle adoption and is making progress, but slowly. Even though South Dakota isn't one of the best states for electric cars, it has a lot of potential. So what is it like to own an EV in South Dakota?
Although South Dakota is still in the process of building a decent electric vehicle infrastructure, it offers great incentives that are even better than some other states. With slow but steady progress, it's not a bad idea to own an electric car in South Dakota. In this article, you'll learn all about the costs and other helpful information.
South Dakota Charging Infrastructure
South Dakota is a pretty big state, covering 77,123 square miles. Before you think the charging infrastructure is weak, consider the area you need to cover. That's why South Dakota has a good charging infrastructure. The structure is good enough to charge an electric car already, and while there could still be a lot of improvements and additions, it's very decent.
It's also worth noting that South Dakota participates in the NEVI program, a federal program that aims to build more charging stations to connect the state. Building faster charging stations will make owning an EV in South Dakota easier.
How Many Charging Stations Are in South Dakota?
There are only 45 public charging stations in South Dakota, and while that seems like very little given the area of the state, it may be just enough. However, that shouldn't deter you, as South Dakota is working to install more charging stations and improve its charging infrastructure.
There are also many private charging stations you can find locally that can be very useful if you can use them.
Types of Charging Stations in South Dakota
Although there are only about 45 charging stations in South Dakota. There are many Level 1 and Level 2 charging stations, and even Level 3 charging stations (DCFC), but South Dakota is working to add more of the fastest charging types.
Level 1
Level 1 is one of the most common charging stations in South Dakota. Although it's one of the slowest charging stations, it can deliver 1.3 kW to 2.4 kW through a standard outlet. That means you can even use it at home to charge your electric vehicle if it's equipped with the proper charger.
However, you have to keep in mind that it takes about 48 to 72 hours to reach a range of 100 miles. Therefore, it's ideal if you're not in a hurry or would rather charge at home. Interestingly, South Dakota also has its own names for charging stations. For example, Level 1 is also known as the watering can, as it refers to the slower speed.
Level 2
The Level 2 charging station is the medium type, also known as a garden hose in South Dakota because it can do 3 kW to 19 kW and has only a lightly upgraded outlet (dryer outlet). You'll also find these types of charging stations at public stations, and they can charge 100 miles of range in 10 hours. Even though you might not want to wait 10 hours at a public charging station, you can still charge for a few hours while you go shopping at the mall, for example.
Level 3 (DCFC)
Level 3, also known as DCFC and also referred to as a fire hose in South Dakota, is the fastest charging type. This type of charger can generate 50 kW to 350 kW with a special outlet that you can't install at home. However, it's definitely worth the drive to a DCFC charger in South Dakota because you can charge 100 miles of range in just about 30 minutes. Ideally, you should always rely on Level 3 charging stations so you can use your electric car effortlessly.
Where Are the Charging Stations Located?
Two of the hottest charging stations in South Dakota are located in and around Rapid City and Brandon. That's where you'll find the most charging stations. The state is well connected, though, because no matter where you're, you'll always find a charging station nearby. The only place you might not find charging stations nearby is Mobridge. Overall, there are enough charging stations so you can travel all over the state without worrying about where to charge your car.
Cost of Owning an EV in South Dakota
Although there are just over 1,400 electric vehicles in South Dakota, the Chevrolet Bolt is by far the most popular, followed by the Nissan Leaf and Tesla Model 3, and the Mini Cooper SE.
Chevrolet Bolt
The Chevrolet Bolt is the most popular electric vehicle in South Dakota because it combines fuel economy and practicality while making the world a greener place. The Chevrolet Bolt has one of the lowest starting prices of $26,500 and is a roomy mini car with very decent driving characteristics. With a 66-kWh battery, the Bolt can travel 259 miles on a full charge.
Charging time depends on the charging station you use. If you want to charge the Bolt at home, it'll cost you about $8.58 to fully charge the Bolt at home, based on an electricity price of $0.13/kWh. At public charging stations, you typically pay $1 for the first three hours and $2 for each additional hour after that. Therefore, charging at public stations usually costs $5.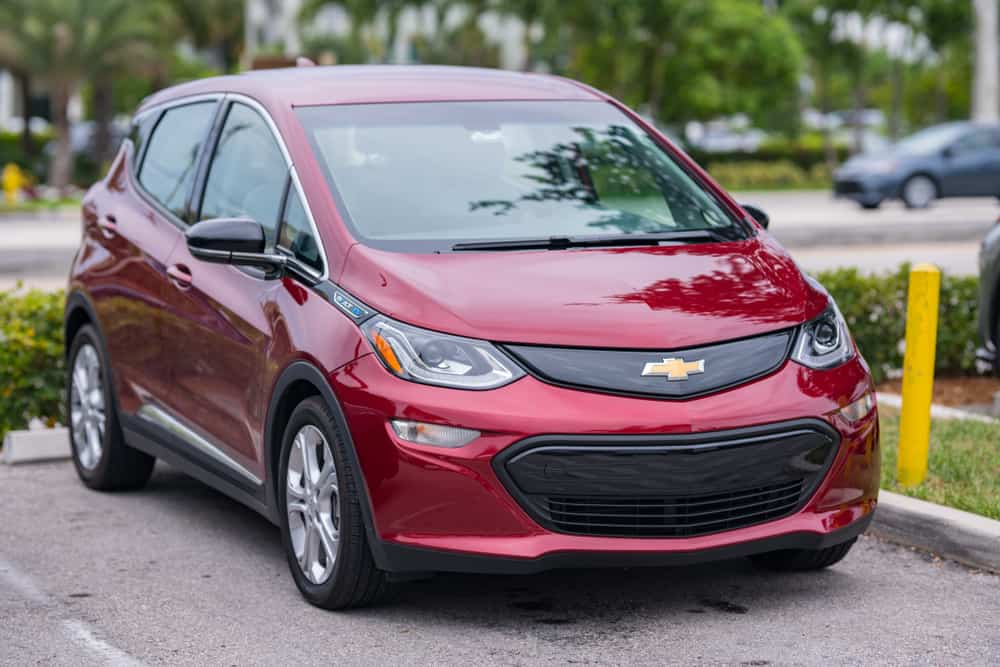 Nissan Leaf
The Nissan Leaf is the second least expensive electric vehicle, which is why its popularity is growing in South Dakota. Its base price is $27,800, and if you get a long-range model, you'll have to pay up to $35,800, which is still a decent price. The standard model comes with a 40-kWh battery, which means a full charge will cost you about $5.20 if you charge at home or at a Level 1 charging station. Charging at Level 2 and Level 3 public charging stations will cost you about $2 to $3, thanks to South Dakota's affordable charging station pricing structure.
It's also worth mentioning that a full charge will give you about 149 miles of range, which isn't exactly the longest range on the market. However, if that's not enough for you, it's worth buying a Leaf long-range model, which has a range of up to 239 miles.
Mini Cooper SE
The Mini Cooper SE is a very good-looking electric vehicle with a base price starting at just over $30,000. The Cooper SE is equipped with a 32.6 kWh battery that has a range of 114 miles on a full charge. Charging the Mini Cooper SE in South Dakota will cost you about $4.2 for a full charge, making it one of the most affordable electric cars in South Dakota. However, charging this EV at public gas stations will cost you between $1-$3 due to special rates for charging in South Dakota.
Thanks to the great incentives, the Mini Cooper SE is definitely worth the price. It's a great deal and has the potential to be one of the top 3 electric vehicles that can make a positive difference in South Dakota. You can learn more about the incentives below.
South Dakota Electric Vehicle Incentives
South Dakota is really trying to make a change and help people switch to electric vehicles. By 2040, South Dakota wants 60% of the vehicles on the road to be electric. South Dakota isn't only building a good charging infrastructure, but the state is also offering great incentives for buying new and used electric vehicles.
Through the Clean Vehicle Credit (30D), you can receive up to $7,500 toward the purchase of a new electric vehicle. However, if you want to buy a used electric vehicle, you can receive $4,000. South Dakota has also allocated about $68.5 million for low- and moderate-income families to switch to electric vehicles.
There's also a great pricing structure for charging stations, where you can charge your electric vehicle for three hours for just $1. After that, each additional hour costs $2. On average, it costs up to $5 to charge an electric vehicle at public charging stations.
Owning an EV in South Dakota
Owning an electric car in South Dakota is a great move because it has some of the highest incentives for making the switch to an electric car and starting the transition. With affordable charging rates and plans to improve charging infrastructure, you'll have no problem driving an EV on a day-to-day basis, either.
The annual fee to own an EV in South Dakota is only $50 — but that's nothing compared to the savings you'll realize by switching from gasoline vehicles. If you're considering buying an EV, don't wait any longer, because in South Dakota, the conditions for owning an EV are already good enough and they're getting even better.
The image featured at the top of this post is ©Jacob Boomsma/Shutterstock.com.