Nebraska is a huge state, but only 0.2% of its vehicles are electric. The state participates in a NEVI program and is working to fund the expansion of electric vehicle infrastructure. So what is it like to own an EV in Nebraska? Keep reading to learn about charging stations, the most popular EVs, charging rates, incentives, and more.
Nebraska Charging Infrastructure
One of the critical aspects of owning an EV is the charging infrastructure. You don't just need a few charging stations, but charging stations that allow you to charge quickly wherever you are in Nebraska. Public electric vehicle charging stations are spread throughout the state. Nebraska is looking to build more charging stations, especially along the I-80 route. In addition, Nebraska has some free charging stations, which are handy for those transitioning to EV use.
How Many Charging Stations are in Nebraska?
There are 139 charging stations in Nebraska, 8 or 9 of which are free to use. The best way to find charging stations in Nebraska is to use one of the charging station finders or use the built-in system in your car to get to the charging stations.
The number of charging stations could definitely increase, and Nebraska is slowly working on it. However, chances are you'll always find a charging station near you, and with the low percentage of EVs in Nebraska, there is almost no wait time at charging stations.
Types of Charging Stations in Nebraska
In Nebraska, you'll find different types of charging stations, so you can charge your electric car quickly, even if you're driving across the state. Here are the common types:
Level 1 and Level 2
Both are among the slowest and medium charging types. Although they take some time to charge your electric vehicle fully, they are very reliable. These two types are also among the most widely used, and it's worth noting that you can install both charging types in your home.
While you'll usually get a range of 4 miles per hour with the level 1 charger, you should opt for the level 2 charger if your battery isn't dead yet, as it can give you up to 32 miles of range in an hour.
Level 3 (DCFC)
Level 3 is one of the fastest charging types, also known as the DCFC charger. With this fast charging type, you can charge an average of 80% of your EV's range in 30 minutes. Keep in mind that the charging time also depends on the battery type and the capacity of your car.
If possible, you should always look for DCFC chargers in Nebraska, as they'll give you the most range with the shortest wait time.
Tesla Chargers
Tesla chargers are popular in Nebraska, both Destination Chargers and Superchargers. If you own a Tesla, you'll benefit from fast charging and the least waiting time.
Unfortunately, there are no Tesla charging stations for non-Tesla electric vehicles, so you can only use these charging stations if you own a Tesla.
Where are the Charging Stations Located?
Most charging stations are in Lincoln, which is a good start. There are just enough charging stations along the interstates. Nebraska isn't there yet, but the number of charging stations is definitely increasing, especially around I-80.
So, if you live in Lincoln, you don't have to worry about charging stations, but if you live anywhere else in Nebraska, we recommend you check out the availability of charging stations and see how practical it's for your lifestyle. But even if you're driving through another Nebraska state, you'll be able to drive with ease, but you'll need to plan your route carefully. This especially applies to those wanting to own an EV in Nebraska and travel longer.
Cost of Owning an EV in Nebraska
At the time of this writing, over 2,600 electric vehicles ply Nebraska roads, representing only 0.2% of the vehicles in the state. Only a few of the most popular electric vehicles, including the Tesla Model 3, Chevy Bolt E, and Hyundai Ioniq 5, are found here. Below you'll learn how much each vehicle will cost you, including charging costs for each model.
Tesla Model 3
With several Tesla charging stations in Nebraska, the Tesla Model 3 is one of Nebraska's most popular electric vehicles. It's an electric vehicle that combines sophistication, long-range, a good battery, and an affordable price.
The base model of the Tesla Model 3 starts at $42,990 and comes with a 60-kWh battery pack. That'll get you an estimated 272 miles of range on a single charge. At an electricity price of $0.10/kWh, charging the Tesla Model 3 at home will cost you about $6 for a full charge.
If you use public access charging stations, it'll cost you $1.50 per hour to charge. However, if you don't drive the car away immediately after charging, you'll pay $3 per hour for every hour your vehicle is at the charging station.
Chevrolet Bolt E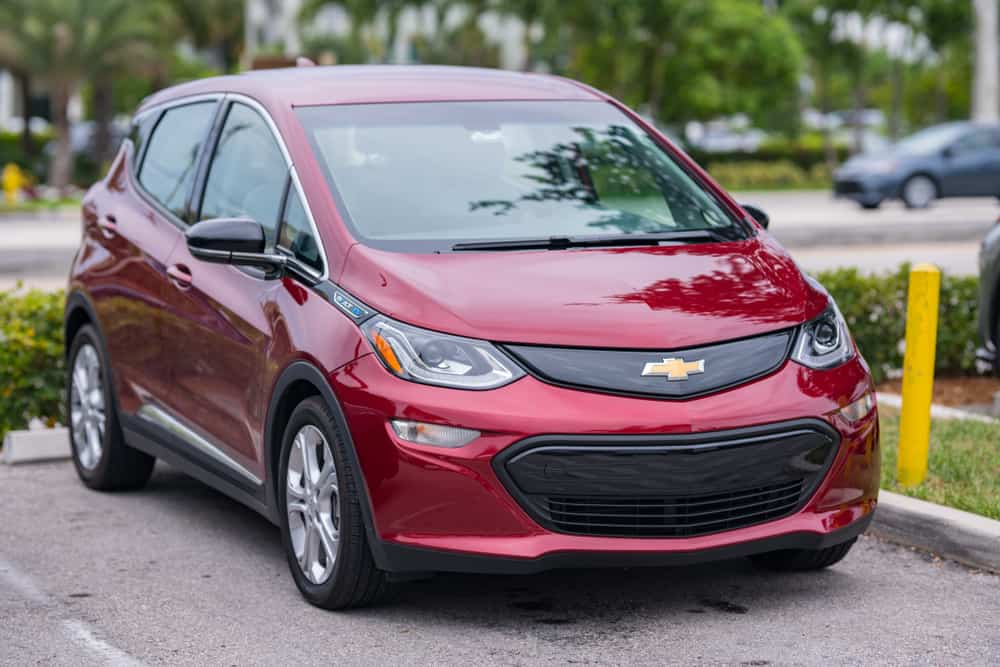 Bolt E is one of the most affordable electric vehicles in the United States, with a starting price of $27,495 for the base model. The base model is equipped with a 66-kWh battery and can get an estimated range of 259 miles on a full charge. If you charge the Bolt E at home, a full charge will cost you about $6.60. Charging at public charging stations will cost you $1.50 per hour. It's also worth mentioning that the Bolt E comes with an 8-year warranty on the battery. So it's definitely a good buy if you're looking for an affordable and convenient electric vehicle for Nebraska.
Hyundai Ioniq 5
Ioniq 5, with a starting price of $42,785, is a pretty affordable electric car for what it has to offer. It has a smaller body with 4 doors and a premium design, which is great considering the price.
This electric car has a 72.6 kWh battery that charges quickly and gives you 220 miles of range on a full charge. That's a standard range, and it's worth noting that the Ioniq 5 comes in two other versions, SE AWD and SE RWD, which can get a range of 266 and 303 miles on a full charge, respectively.
Charging the Ioniq 5 EV with the standard range will cost you $7.26 for a full charge if you charge it at home. However, charging at a public gas station costs $1.50/hour, so you might have to spend $3 for a full charge.
Nebraska Electric Vehicle Incentives
Nebraska is expanding charging infrastructure and supporting the shift to electric vehicles by offering a $4,000 rebate on the purchase of a new electric vehicle. There is even a $500 rebate for installing a Level 2 charger in a private home.
However, Nebraska hasn't indicated whether the incentives apply to used vehicle purchases and leasing. Also, Nebraska has an energy tax you can claim on your residence to save money, which is useful if you want to install a Level 2 charger at home. And the good news is that you won't have to pay any taxes when you buy a new all-electric vehicle in the state of Nebraska.
Owning an EV in Nebraska
If you own an electric car in Nebraska, you still feel like you're at the beginning of the process. But given the great incentives, good charging infrastructure, development of new charging stations, and fairly low cost of electricity in Nebraska, we encourage you to jump on the bandwagon and buy an electric car.
One thing is for sure: you'll never encounter crowded charging stations, which is a plus. You won't regret going all-electric, especially since the charging infrastructure is currently being improved.