Are you considering owning an electric vehicle (EV) in Michigan? Not only are you joining the green revolution, but you can also benefit from improved fuel economy and lower cost of ownership. EV owners receive as much as $7,500 in federal and state tax incentives depending on the vehicle type.
However, it's crucial to understand that while EVs are more efficient than gas-powered vehicles, the infrastructure and cost of ownership are still in development. Therefore, if you live in Michigan and want to go electric, you need to understand what it takes to own the vehicle.
For instance, are the charging stations available in your area? What is the cost of charging your EV? Does the state have any incentives that make owning an EV more attractive?
2019 Data from the US Department of Energy indicates that Michigan is home to 17,500 electric vehicles, about 0.2% of the total registered vehicles in the state. That's enough data to show that while the EV industry is still in its early stages of growth, Michigan is well on its way to becoming one of the leading states for EV ownership.
So, what does it take to own an EV in Michigan? The following sections will discuss EV ownership aspects, including charging infrastructure, charging costs, ownership costs, and state incentives, among other things.
Electric Vehicle (EV) Charging Infrastructure in Michigan
A home charger is the most convenient way to power your electric or hybrid vehicle. However, you might need to rely on public charging facilities when traveling. Michigan has an extensive network of charging stations with around 5,061 charging outlets, most of which are level 2 (240 volts) chargers.
More fast chargers (level 3) are also emerging with the help of automakers like Tesla and Rivian. These DC fast chargers promise to charge your car in minutes, and you'll likely find them in major metropolitan areas like Detroit and Grand Rapids.
According to PlugShare, Detroit is the city with the most EV charging stations in the state, with a total of 1,237 outlets. The second city on the list is Traverse City, then Grand Rapids, with 736 and 717 outlets, respectively. Hillsdale, Alpena, Sturgis, and Ionia aren't as charging-station rich, but you'll still find some outlets that you can use.
Types of EV Chargers Available in Michigan
While you'll find several chargers in Michigan, not all are suitable for EV owners. Below is a breakdown of the different EV chargers currently available in Michigan.
Level 1: If you can access a regular 120-volt outlet at home, you can use this charger for your EV. It's the most affordable option, but the charging speed is slow. Charging your vehicle overnight can add 30 to 50 miles of range.
Level 2: Most public charging stations in Michigan are 240-volt level 2 chargers. These chargers can add 30 miles of range in an hour, making them ideal for travelers. You'll likely find these chargers in parking lots, shopping malls, and other public places.
DC Fast Chargers: Also known as level 3 chargers, these are the most powerful chargers available. Tesla Superchargers and, more recently, Rivian's Amazon charging network are examples of DC fast chargers. DCFCs charge by the minute and can add 100 miles of range in 20 minutes.
Unfortunately, DCFCs are still hard to find in Michigan, but will soon be more widespread because the state is offering funds of up to $70,000 for installations.
Cost of Charging an EV in Michigan
The cost of charging your electric vehicle varies by utility. That's why it's important to know how much the charging facility will cost before using it. Also, the cost of charging will depend on the type of charger you use.
For instance, if you plug your EV into a level 2 charger in Detroit, you'll pay between $0.31 cents per kWh to $0.66 cents per kWh, depending on the charging station. Some EV owners find it more affordable to install a home charger and charge their vehicles overnight.
DCFCs typically charge by the minute, so you will have to pay for the time you spend charging your vehicle at the station. Tesla is a company that charges by the minute between $0.18 cents per kWh and $0.27 cents per kWh.
Overall, the average cost of charging in Michigan is about $0.18 per kWh. It doesn't make the cut for the top 10 most expensive states to charge an EV, which is great news for EV owners in Michigan.
Cost of EV Ownership in Michigan
Owning an EV is a cost-effective alternative to a gasoline-powered vehicle. You will save money on fuel, and depending on your utility provider, the cost of charging can be very affordable. Your car's battery size will also affect your monthly energy bill.
In addition to the cost of charging, you'll also need to consider other expenses like maintenance and insurance. Generally, premiums for EVs are higher because the initial cost is higher than for a gasoline-powered car. Spares like battery packs can also be quite expensive.
According to Forbes, the annual average premium for an EV was $2,280, while a gasoline-powered car's premium costs between $865 to $1,118.
Given that EVs don't require regular maintenance like gasoline-powered cars, the cost of owning one is still lower than that of a conventional vehicle. To better understand how we came to that conclusion, we based our calculations on a few popular EVs.
1. Nissan Leaf
Nissan Leaf is a popular EV with a maximum range of 212 miles. You can choose the one with a 40kWh or 62 kWh battery pack. Given the annual average electricity rate of $0.18 per kWh in Michigan, charging the 40kWh battery pack would cost around $7.20, and the 60kWh battery pack would cost about $11.16.
Nissan Leaf isn't a luxury car, so the premiums are low. An average annual premium for a Nissan Leaf is about $1,383. Since it doesn't require regular maintenance like a gasoline-powered car, the total cost of ownership is still lower than that of a conventional vehicle.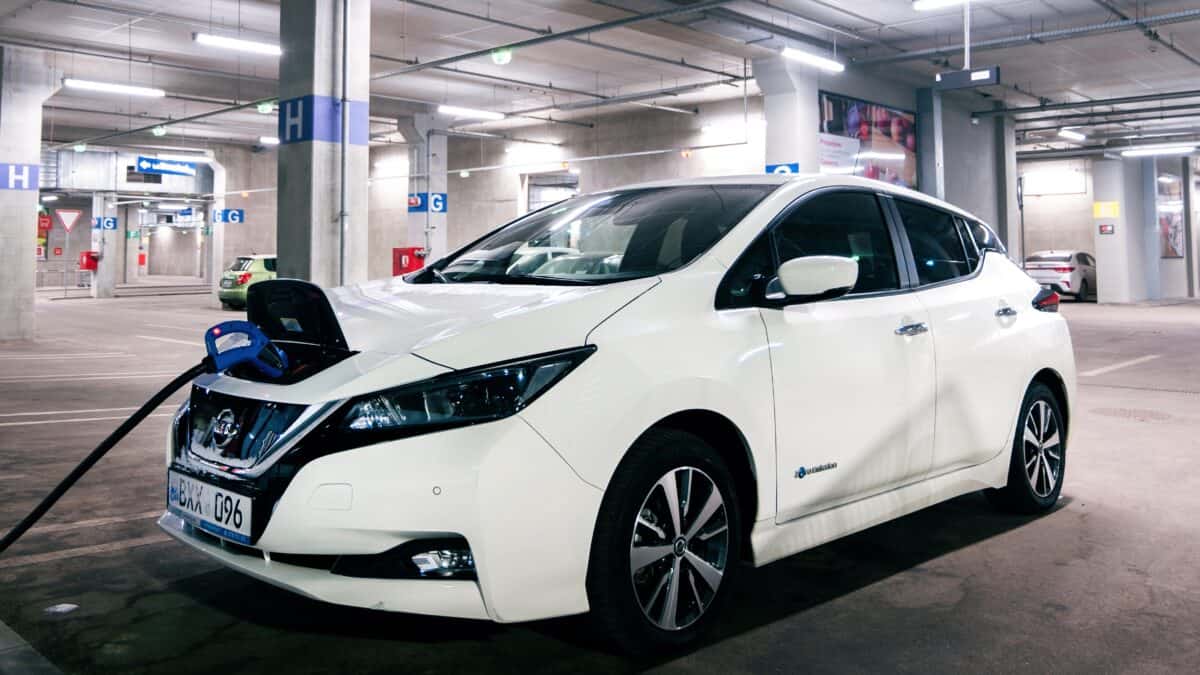 2. Tesla Model S (Plaid)
Tesla Model S is a popular premium EV with a maximum range of 396 miles. With a top speed of 200 miles per hour, it's certainly a fast and powerful car. The Model S (Plaid) features a 95kWh battery pack, costing about $17.98 to charge in Michigan.
Tesla Model S (Plaid) is a luxury car, so the premiums are high. A Tesla Model S (Plaid) average annual premium is about $2,402. However, because you don't have to worry about regular maintenance and fuel, the total ownership cost is still lower than conventional luxury cars.
3. Ford Mustang Mach E (GT)
The Ford Mustang Mach-E is a popular mid-size SUV with an estimated range of 270 miles. The battery pack is 91kWh. Given the average electricity rate in Michigan, charging the battery would cost around $16.38. The annual premium for a Ford Mustang Mach-E is about $1,683.
If we factor in the cost of charging, maintenance, and insurance, owning EVs in Michigan can be more cost-effective than owning a gasoline-powered car. Even though premiums are higher for EVs, you will still save a lot on fuel and regular maintenance costs. And with the growing number of charging stations in Michigan, it's easy to find one near you.
Incentives to Own an EV in Michigan
In its attempts to encourage EV ownership, the IRS offers tax credits of up to $7,500 on purchasing a new EV. Qualifying vehicles should have a battery capacity of not less than 7kWh. The gross weight rating of the car should be at most 14,000 lbs. Moreover, the vehicle should belong to the list of qualifying vehicles published by the IRS.
Besides the federal incentive, Michigan also provides a few to promote electric vehicle ownership.
Under the department of EGLE (Environment, Great Lakes, and Energy), Michigan residents looking to install a DCFC (Direct Current Fast Charger) station, can apply for grants up to 33.3% of the total cost. Alternatively. EGLE offers a grand, which is a direct match of the total utility cost, up to $70,000.
Incentives from Private Entities
Apart from the state and federal government, several private entities in Michigan offer additional incentives to own an EV. Below are some of them:
Consumer Energy: Through the PowerMIDrive program, Consumer Energy offers a $500 rebate to residential customers who install qualified DCFC or level 2 chargers. There's also a monthly $10 rebate for residential customers charging an EV overnight.
Indiana Michigan Power: Customers that install an EV charging station and own an EV are eligible for a $500 rebate when enrolling for TOU (Time-Of-Use).
DTE Energy: DTE Energy also offers a TOU rate for EV owners. Customers who install a level 2 charging station are also eligible for a $500 rebate.
Halland Board of Public Works (HBPW): Customers who purchase a non-ENERGY STAR certified EV charging station (Level 2) are eligible for a $300 rebate, and $325 for those who buy an ENERGY STAR certified charger. It also offers TOU rates for those with EVs.
Lansing Board of Water and Light (BWL): BWL offers a $1000 rebate for all residential customers who install a Level 2 EV charger. It also provides a TOU rate for those who own and lease EVs.
Great Lakes Energy: $500 rebate for customers who install a Level 2 EV charger. Those who lease or purchase an EV are eligible for a $1,000 rebate. There's also a TOU rate available for those who own an EV.
Presque Isle Electric and Gas Co (PIEG): PIEG offers a $600 rebate to customers who install an ENERGY STAR-certified Level 2 EV charger. Customers who purchase a new EV are eligible for a $1,500 rebate, while those who buy a preowned EV can get $750.
Cherryland Electric Cooperative: Residential customers who install a Level 2 EV charger can get a $500 rebate, and those who purchase a preowned or new EV are eligible for a $1,000 rebate. The cooperative also offers a $1,000 rebate to commercial customers who buy a level 2 charging station.
Is It Worth It?
Given the numerous incentives available, there's no doubt that the cost of owning an EV in Michigan is lower than before. Rebates ensure that while you enjoy the convenience of having an EV, your wallet doesn't take too much of a hit. With time, more incentives will be available as electric vehicle ownership becomes more prevalent in Michigan.
We also expect the cost of EVs to continue dropping, making them increasingly affordable. Plus with more charging stations in Michigan, you don't have to worry about running out of juice on the highway.
Closing Thoughts
The EV market in Michigan is rapidly growing. With the numerous incentives and rebates available, owning an EV has never been easier or more affordable. The future of electric vehicles looks bright in Michigan, and you can be sure that there are plenty of opportunities to take advantage of.
Consider investing in an electric vehicle if you're looking for a greener and more cost-effective way to get around town. If you're worried about finding a charging station, rest assured that there are plenty in Michigan. Why wait?
The image featured at the top of this post is ©Sean Pavone/Shutterstock.com.