While many states are making strides in renewable energy and offering incentives for less gas consumption, Louisiana seems to be going the opposite way. This is among the few states offering little to no benefits for electric vehicle owners. Here's the best information about owning an EV in Louisiana.
Louisiana Charging Infrastructure
Without getting into the nitty-gritty, there is supremely basic infrastructure at this time. And there won't be many upgrades any time soon. While the state did receive $73 million for EV infrastructure through President Biden's Infrastructure Investment and Jobs Act (IIJA), this money will be granted over five years. And, because Louisiana doesn't have anything currently in place, most of those funds will likely go to the basics laying the ground for electric charging.
How many charging stations does Louisiana have?
As of right now, Louisiana has only around 500 charging stations. Over half of those stations are located in New Orleans. So if you live outside of the larger cities, you'll need a home charger. You'll also want to be prepared for increased costs.
Types of Charging Stations
If you decide to buy an EV, you'll be happy to know Louisiana has many charging stations, including private and public options. It's crucial to know which one you'll need to use. Let's discuss the different plugs and chargers you'll most likely encounter.
Home charging stations
First, let's discuss how to charge a car at home. Your manufacturer will first specify the charging station you should use in your home. Most chargers are classified as level 1 or level 2 home devices.
Although Level 1 chargers are frequently the least expensive, they charge quite slowly. For instance, a full charge on a Nissan Leaf's 40–62 kWh lithium-ion battery would take about 35 hours. In other words, these are the chargers you want to avoid unless you have to use them.
For people charging their EVs overnight, a level 2 charger is ideal because it can typically fully charge a car while they sleep, usually under 10 hours. However, the price of these chargers is also much higher. Basic options will still cost you about $700, although the prices have decreased in recent years.
The quickest charges are Level 3 chargers, sometimes known as superchargers. Remember that these are the priciest and most energy-intensive of the three charging levels. However, they can also charge an automobile in just 30 minutes.
Free stations
Most free stations are in commercial places like open city parking lots. These charging stations frequently employ level 1 chargers, which are the least expensive and only provide a few miles per hour. However, if you don't want to spend the money to charge your vehicle publicly, these are excellent alternatives. Remember that Louisiana has less than 70 free stations in the whole state, so you won't have many options with this!
Fast chargers
In Louisiana, fast chargers—sometimes referred to as a DC charger are also accessible. The term "direct current" (DC) refers to the kind of power batteries employ. Level 2 charging stations use alternating current, sometimes known as "AC," which is the same as a typical home outlet. Your car features a built-in charger that will convert the AC into DC for the battery when using a fast charger, allowing the battery to charge more quickly.
CHAdeMO plugs
At fast charging stations, the EV connector type least frequently used is CHAdeMO. It can charge your automobile from 20% to 80% in under an hour, exceeding 400kW of charging power.
CHAdeMO connectors convert alternating current into direct current to charge your vehicle's battery. If you decide to power the vehicle with a typical AC home charger, it can also convert to DC power.
CCS plugs
CCS chargers support AC and DC power by using joint communications pins. This is fairly similar to how CHAdeMO plugs work. However, CCS plugs don't need any extra or special connectors. It also has extra DC power lines that can function at higher voltages than other standard connectors. This also makes use of some connections via Type 2 type interface. Many different electric vehicles are now on CCS plugs or can use CCS plugs.
J1772 chargers
The J1772 plug is the most popular charger on this list. It's used by EVs in North America that need Level 2 charging, with the exception of Tesla (which has its own connector). When charging in public and away from the comfort of your home, the connector helps prevent shocks for usage in the rain and other weather conditions.
Where are the charging stations located?
While more than half of the charging stations in Louisiana are in New Orleans, there are a few in the cities of Baton Rouge, Lafayette, Lake Charles, and Shreveport.
Cost of Owning an EV in Louisiana
Owning an EV in Louisiana can be an expensive endeavor (more on that in a bit), but first, let's talk about the types of cars you can buy, their prices, and the cost of charging them.
Hyundai Kona Electric
If you're looking for an SUV with style and durability, look no further than the Hyundai Kona Electric. It has a 64 kWh 356 V lithium polymer battery, and you can charge it at home using a 240-volt outlet. This is similar to what you would use to put in large appliances. An onboard charger with 7.2 kW is included with the Kona Electric. The battery must be charged at Level 2 for 9 hours and 15 minutes (pretty much overnight) to reach 100%. Depending on the charger's capabilities, you can plug into a DC fast charger and charge the battery from 10% to 80% in roughly an hour or less.
The Kona Electric has a driving range of 258 miles when completely charged, comparable to numerous other electric SUVs. It also achieves 134 MPGe in the city, 106 MPGe on the highway, and 120 MPGe when driving both in the city and the highway. With a starting price of $33,550, it's also one of the more affordable electric SUVs.
With home charging costing $.14 in Louisiana and public charging around $.39 per KWH, you'll spend anywhere between $8.96 and $24.96.
Kia Niro EV
The newest Kia Niro can accelerate from 0 to 60 mph in 6.5 seconds and has a 253-mile driving range. Regenerative braking, which recovers energy that would otherwise be lost when you engage the brakes and uses it to top off the battery, is a great feature of the car and can extend that driving range slightly too. Kia offers a generous seven-year, 100,000-mile warranty for your peace of mind. You won't get more from almost any other manufacturer than that besides Toyota.
With peak DC fast charging, the Niro EV can be charged from 10% to 80% of its capacity in around 45 minutes. This is a little better than usual for a little EV. And a brand-new car costs less than $40,000 for the base model.
Home charging costs around $.14 per KWH and is cheaper than public charging, which costs $.40 per KWH. This can run you anywhere from $9.07 when charging at home to $25.92 if charging in public.
Chevrolet Bolt EV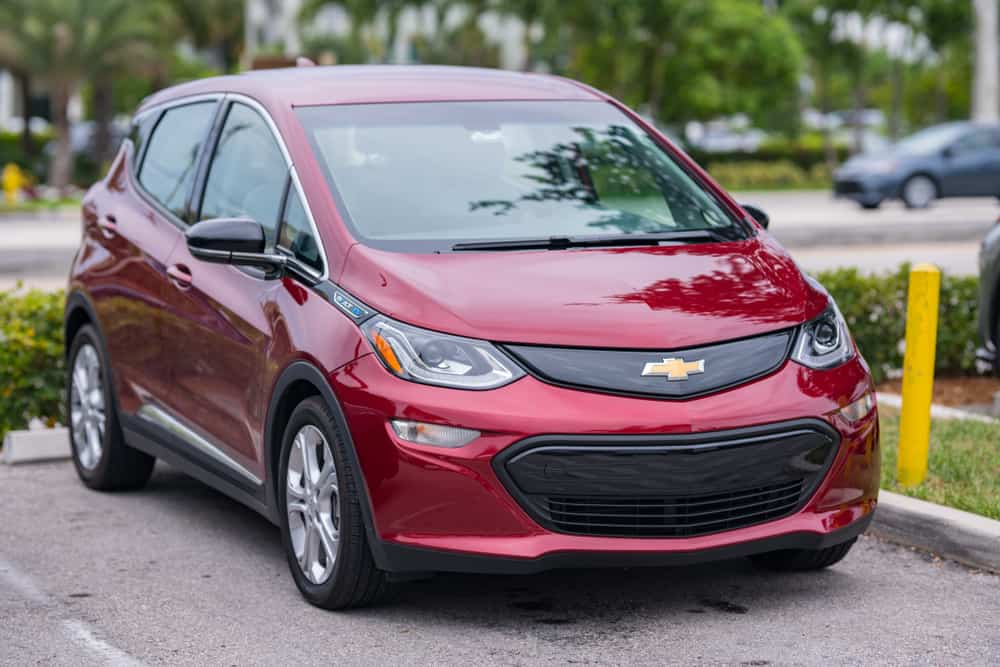 The Chevrolet Bolt EV has a range of 259 miles on a single charge and has a 66.0 kWh lithium-ion battery. You normally need a 110-volt outlet with 3 prongs to charge the Bolt. After being plugged into an electrical outlet, the charging cable's other end with the J1772 connector needs to be placed into the Bolt's charging port.
One of the best parts of this smaller car is that it has two storage options — a 56.9 cubic feet storage area with the back seat folded and a 16.3 cubic feet storage space behind the back seat. This is great for traveling! The starting price of the Chevy Bolt is $33,995, so it's affordable too.
Charging your Bolt at home will cost $.14 per KWH, or about $9.24 for a full charge. Public charging certainly costs more at around $.39 per KWH, or about $25.74.
Louisiana Electric Vehicle Incentives
Unfortunately for Louisiana residents, Louisiana doesn't have any rebates, refunds, or incentives for electric vehicle owners. In fact, you actually have to pay an additional $100 during registration when you have an EV.
However, if you're an Entergy customer and qualify for their rebate, you can receive $250 for purchasing and installing a Level 2 EV charging station. While not the best incentive, at least it's something.
Owning an EV in Louisiana Wrap Up
Owning an EV in Louisiana may not be the smartest investment right now. We hope this opinion will change in 5 years with more funding. But now, you may be better off driving a gas-powered car or hybrid.
The image featured at the top of this post is ©getmahesh, CC BY-SA 2.0 , via Wikimedia Commons.