Iowa is famous for its cornfields and corn production. While this state may not seem easy to own an electric vehicle, you might be pleasantly surprised to know about its charging stations and options. Here's what you need to know about owning an EV in Iowa.
Iowa Charging Infrastructure
Iowa doesn't have much in the way of EV infrastructure. In fact, they've been voted as one of the worst states to own an electric vehicle, but the state seems to be working on its problems. For one, they've implemented a new plan that will go into effect in 2023. And they are adding new charging stations to make public charging easier.
How many charging stations does Iowa have?
Iowa currently has 1203 public charging stations, with many in Des Moines, Cedar Rapids, Iowa City, Davenport, Fort Dodge, and Sioux City.
Types of Charging Stations
Iowa may be a small state, but it has plenty of charging stations, especially in the cities and surrounding areas. Here are the types of charging stations you can access if you're looking to charge your electric vehicle.
Free stations
Idaho has more than 150 free stations across the state. These plugs are considered level 1 chargers. So although they are free, they can take upwards of 12 hours to charge your EV.
CHAdeMO plugs
CHAdeMO plug charging stations provide a car with DC power directly without first converting the power from AC to DC. This was implemented by Toyota, Nissan, and Mitsubishi firms in 2010 and works with many of those cars.
Fast chargers
Like CHAdeMO plugs, these DC chargers charge your electric car faster than level 1 chargers. In fact, they can charge a vehicle in less than 45 minutes.
CCS plugs
CCS charging sockets integrate the AC and DC inlets using shared communications pins. This system configuration enables quicker charging. These plugs are compatible with BMW, GM, Ford, Hyundai, Honda, Mazda, Tesla, and Volkswagen EVs.
J-1772 chargers
It's one of the most common charging connectors for electric vehicles (J Plugs). The J Plug, commonly known as the SAE J1772 connector, is used by all non-Tesla Level 1 and Level 2 charging stations in North America. In other words, except for Tesla cars, many EVs can charge using this plug.
Where are the charging stations located?
Charging stations are available in multiple cities in Iowa, including Ames, Burlington, Carroll, Cedar Rapids, Clinton, Davenport, Des Moines, Dubuque, Fort Dodge, Fort Madison, Iowa City, Marshalltown, Mason City, Newton, Sioux City, and Waterloo.
Cost of Owning an EV in Iowa
Unfortunately for the Hawkeyes, owning an EV comes with a few extra expenses. But that doesn't mean you can't buy an affordable electric vehicle. Below is an estimate of how much it would cost to own an electric car in Iowa.
Chevrolet Bolt EV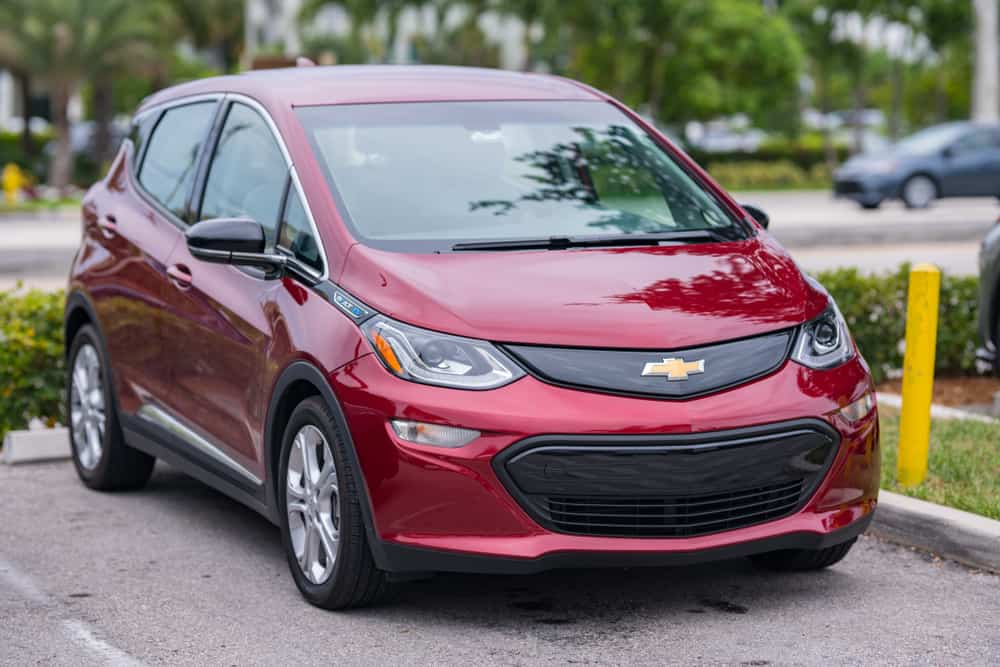 A great cost-effective option on our list is the Chevrolet Bolt EV. You can get the base model for less than $30,000. It's powered by a 66.0 kWh liquid-cooled lithium-ion battery and has a 259-mile range, which is fair for a cheaper EV.
Luckily, Iowa has fairly low electric rates. So, if you choose to charge your Bolt at home, it'll run you around $.13 per KWH. Public charging will be about $.18 per KWH at a public charger. Expect to pay between $8.58 to $11.88 per charge.
Hyundai Ioniq 5
The new Hyundai Ioniq 5 from 2023 is creating a stir. The basic model starts at $41,500 and has an estimated battery range of over 300 miles. It also has two battery options: a 58 kWh or 77.4 kWh Lithium-ion battery with fast-charging capabilities. Ioniq 5 can charge in less than 20 minutes!
It typically costs around $.13 per KWH to charge at home and up to $.20 to charge in public. A full charge will set you back $7.54 to $15.48.
Nissan Leaf
One of the most affordable electric vehicles is the Nissan Leaf. The base models start at just $28,500. The Leaf model has two battery options, with the first being the smaller S model, which has a 40 kWh battery. The SV has a 60 kWh battery, so it's great if you need more than 200 miles of driving range. Both options also have ProPilot Assist, which keeps the car in its lane in traffic.
Charging a Nissan Leaf at home costs around $.13 per KWH. And public charging is around $.20 per KWH. To juice up this EV, you will spend between $5.20 to $12.00.
Ford Mustang Mach-E
If you're a speed freak and dislike the hassle of refueling every morning, you can get the Ford Mustang Mach-E for around $47,000 (base model). It has two battery options, 70 and 91 kWh 404-413 V lithium-ion. You can get upwards of 312 miles of drive time before recharging your car.
Charging your Ford Mustang Mach-E at home will still cost around $.13 per KWH. But public charging is around $.26 per KWH. So it's slightly more expensive, costing between $9.10 to $23.66 for a full charge.
Iowa Electric Vehicle Incentives
Iowa does not have any electric vehicle incentives for residential customers at this time. In fact, they actually charge upwards of $130 to register your vehicle and keep it each year. However, you can still take advantage of federal tax incentives.
Owning an EV in Iowa Wrap Up
Iowa might not be the greatest state to own an electric car in if you're looking for incentives. However, it can be a decent place for those looking to save on gas or want a maintenance-free car.
The image featured at the top of this post is ©Tim Kiser (w:User:Malepheasant), CC BY-SA 2.5 , via Wikimedia Commons.