Indiana gets a bad rep as a "boring" midwest state with bad roads and little to do. But what if we told you that owning an EV in Indiana is fairly easy and cost-effective? Here's everything you should know about owning an EV in Indiana and how it works.
Indiana Charging Infrastructure
Indiana received around $100 million in funding from the National Electric Vehicle Infrastructure (NEVI) program and has since started updating its current charging infrastructure. But even before that, the state had over 1,000 charging stations, with many free or low-cost charging options for Indiana residents.
How many charging stations does Indiana have?
Indiana has almost 1,700 charging stations, with many in bigger cities like Indianapolis and Fort Wayne.
Types of Charging Stations
Private and public charging stations are available in Indiana if you purchase an electric vehicle (EV). Knowing which one you will need for your specific car is essential. Here's everything you need to know about the different charging stations.
Home and private charging stations
Your car's manufacturer will specify the type of charging station to use at home. It will also depend on whether you have an EV or PHEV (use gas or electric). These chargers are either level 1, level 2, or level 3.
Despite being the least expensive chargers, Level 1 chargers charge rather slowly. Some cars can take upwards of 24 or more to charge your battery.
A level 2 charger is a better option for those who charge their automobiles overnight. It can juice up your car in 8 hours or less. But the best charger option, also known as a level 3 charger (or "supercharger") can charge a car within 30 minutes.
Free stations
Public EV charging is not cost-free, although some stations and programs allow you to top off without paying. Because they usually only offer level 1 chargers, you won't get more than a few miles. But if you don't want to spend money on charging on the go or need a couple of miles to get home, they're an easy choice.
Fast chargers
DC chargers, better known as fast chargers, are also available in Indiana. Most cars can utilize these chargers, which convert "AC," or alternating current power, to "direct current" (DC) power. This helps charge your car faster but usually comes with a higher cost.
CHAdeMO chargers
The EV connector type least used at fast charging stations is CHAdeMO. But it's incredibly fast — usually charging cars in as little as 30 minutes.
To charge the vehicle's battery, CHAdeMO connectors transform the alternating current (AC) at the charging station into direct current (DC), similar to fast chargers. However, these plugs only work with the Mitsubishi Outlander and Nissan Leaf.
CCS plugs
CCS charging sockets also integrate AC and DC inlets via shared communications pins. However, unlike CHAdeMO plugs, they don't require a connector. So, they're similar to most fast chargers. Currently, a range of electric vehicles either use or are compatible with CCS plugs.
J1772 chargers
Except for Tesla, all-electric vehicles in North America that require a Level 2 charger utilize the J1772 socket, which also has its connector (unlike other fast chargers).
Where are the charging stations located?
Most charging stations in Indiana are found in Indianapolis, Fort Wayne, Lafayette-West Lafayette, South Bend, Bedford, Bloomington, Evansville, Madison, Terre Haute, and Warsaw.
Cost of Owning an EV in Indiana
In Indiana, owning an EV doesn't have to be costly. Let's look at your EV options in the market and how much they cost.
Rivian R1S
While there are many electric SUVs, the Rivian R1S is among the few with 3rd-row seating and an excellent driving range. R1S costs $80,000, which is $30,000 cheaper than Tesla Model X, yet offers similar style and functionality.
The R1S also has a huge 135.0-kWh battery pack, with a range of 321 miles before needing to charge. That's a big difference between the R1S and the SE Cooper.
Indiana is higher than the national average for home charging costs, charging around $.17 KWH. Public charging is around $.32 per KWH. So, you're still getting a decent deal if you charge your EV at home. On average, you'll pay between $22.95 and $43.20 to charge your car.
Audi e-tron Sportback
If you're looking for a streamlined and smaller SUV, the Audi e-tron Sportback is a fantastic choice. The two-row electric vehicle has five seats and weighs 5819 pounds. The two motors on e-tron Sportback will get you 402 horsepower at each axle, and you can go from 0 to 60 in a little under 5 seconds.
Audi also has a 95.0-kWh lithium-ion battery pack, with a predicted range of 225 miles on a single charge. Not bad for a sporty car. Home charging costs $.17 per KWH. Charging your Audi in public is a bit costly, around $.38 per KWH. So, you're looking at around $16.15 to $36.01 to juice up your Audi.
Chevrolet Bolt EV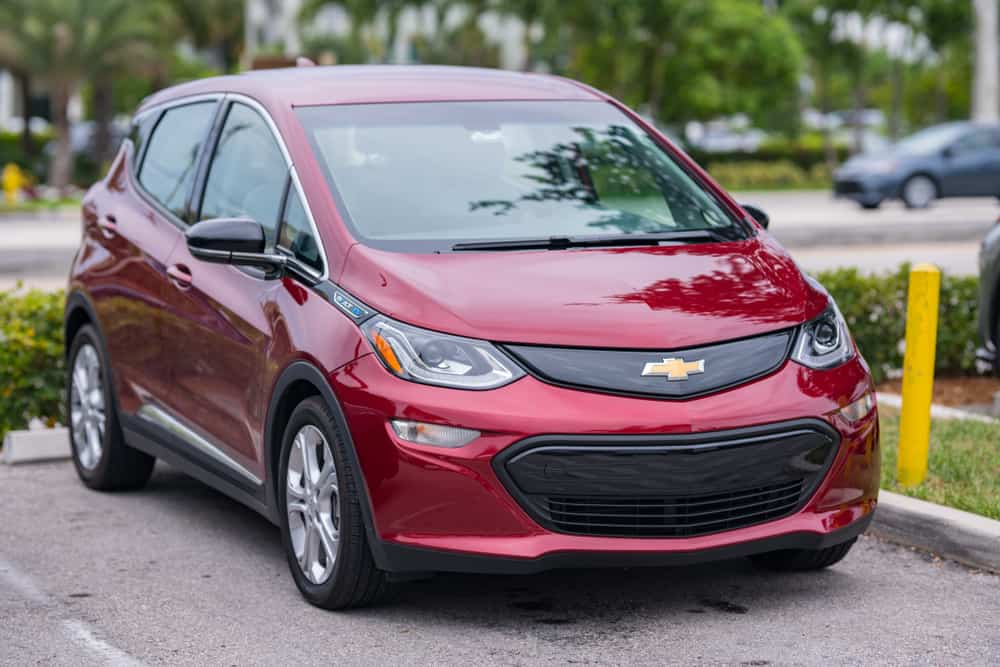 With a 66 kWh lithium-ion battery, the Chevrolet Bolt EV offers 259 miles on a single charge but without the price tag of other EVs. And with a base price of just $27,495, it's also one of the most affordable options. It's perfect for someone who wants to try an EV without investing much money.
You will spend approximately $.17 per KWH, or $11.22, to fully charge your Bolt at home. Public charging is more expensive, costing roughly $0.34 per KWH, or $22.44.
Mini Hardtop Cooper SE
The tiniest car on our list, the Mini Hardtop Cooper SE has a single electric engine with 181 horsepower under the hood. It also only has around 114 miles of driving. What it lacks in power, it makes up for in charging and cost. You can get the Cooper SE for $34,750. The charging time is around 15 minutes.
Home charging the SE Cooper will cost $.17 per KWH, while public charging is about $.24 per KWH. You may spend anywhere between $5.55 and $7.83 to juice up this car.
Indiana Electric Vehicle Incentives
Unfortunately, most of Indiana's incentives are for business or corporate customers, not individual residents. But all hope isn't lost, and you can still get up to $500 back in your first year.
Indiana Michigan Power's customers with certified EVs are eligible for a TOU rate. Customers might be required to set up a metering system to track EV charging separately, saving them charging costs throughout the year. If you install a Level 2 EV charging station port, you can get a $250 rebate or five years' worth of revenue credits to offset the expense of building your station.
You can get a $250 rebate for purchasing any new Level 2 EV charging station if you have Applied Energy Services (AES) instead,
Owning an EV in Indiana Wrap Up
While Indiana isn't perfect and still has lots to do for local EV owners, they're on the right track and offer more than other states. So owning an EV in Indiana isn't such a bad deal, after all.
The image featured at the top of this post is ©Miyin2, CC BY-SA 4.0 , via Wikimedia Commons.