Thinking of owning an EV in Florida? By 2030, one in four vehicles in the United States will be battery-powered. Florida is projected to see a two-fold increase in EVs on the road. Driving an EV in Florida can result in annual fuel savings of up to $400 for drivers.
Florida's vastness and the distance between popular sites make car ownership a necessity for most residents and visitors. Over the years, electric vehicle sales have been on an upward trajectory. Florida, currently the second in the country for EV ownership, is moving toward a more sustainable future and an eco-friendly state.
Electricity utility costs in Florida are 2.5 times cheaper than gasoline. Compared to conventional automobiles with internal combustion engines, EV maintenance is also significantly less expensive. That partly explains the rapid increase in the number of EVs in Florida. In this article, we show you the location of EV charging stations, charging costs, and incentives from Florida's state and utility companies.
Charging Infrastructure in Florida
If you drive an EV or plug-in hybrid, you likely have a charging station at home. However, you will occasionally need to recharge your vehicle away from home. Florida has over 7,477 charging stations, which you can quickly locate via an online app.
According to ChargeHub, Miami has the highest number of EV charging stations numbering 495. Orlando has 435, Tampa 225, Jacksonville 193, and Sarasota 138.
Types of Chargers Available in Florida
If you're interested in owning an EV in Florida, you might want to know your charger options. Let's look at the chargers available across Florida.
Level 1 chargers – They are fantastic due to their lower operating costs. If you charge at home, the only expense will be the electricity you consume. One drawback of Level 1 charging is it takes 24 hours to charge your electric car fully.
Level 2 chargers – The most prevalent type of public chargers are Level 2 chargers. While some Level 2 chargers are free, the average cost is between $8 and $40 per charge or around $0.20 to $0.30 per kWh. The exact price depends on the location and the battery's capacity. For instance, you'll pay approximately $10 for an hour's charge at a level 2 charging station. That means the cost will be high if you charge your EV overnight at a hotel or business center.
Level 3 chargers – Also known as DCFC chargers, this type is similar to level 2 chargers but is economical because they charge your EV much faster. They charge per minute. DCFC chargers typically cost $0.35 per minute or between $10 and $30 per charge.
While recharging your EV, some charging stations impose a parking fee. Most charging stations are pay-per-use, but some places offer monthly subscriptions. So, you can save some cash if you frequent the same facility.
Cost of EV Ownership in Florida
In Florida, recharging your electric vehicle is cheaper than fueling an ICE car. But the cost varies depending on your car's battery size and where you're charging. To better understand the cost, we shall base our calculations on common EVs around the country.
Tesla Model Y
The 2023 Tesla Model Y is a decent, high-end electric SUV. It has a range of up to 330 miles and performance akin to that of a sports car, including a 0-60 sprint in less than 4 seconds in some variants.
The Model Y comes in three variations and has a 75 kWh battery. The Model Y Standard Range costs $11.47 to charge fully, or around $0.047 per mile or $4.70 per hundred miles.
Compared to some standard gas-powered cars, which cost about 13 cents per mile, this is almost 64% less expensive each mile.
Ford F-150
The Ford F-150 models have two electric motors, which produce a horsepower of 452 on the standard-range battery and 580 on the extended-range battery. You can recharge your F-150 Lightning at home using 110- and 220-volt outlets. But you can also charge the truck at public DC fast charging stations. According to Ford, the F-150 can charge from 15% to 80% in 44 minutes.
Charging the 98 kWh Ford lightning's battery in Florida will cost you $56.83 while charging the 131 kWh extended battery costs $58.09.
Ford Mustang Mach-E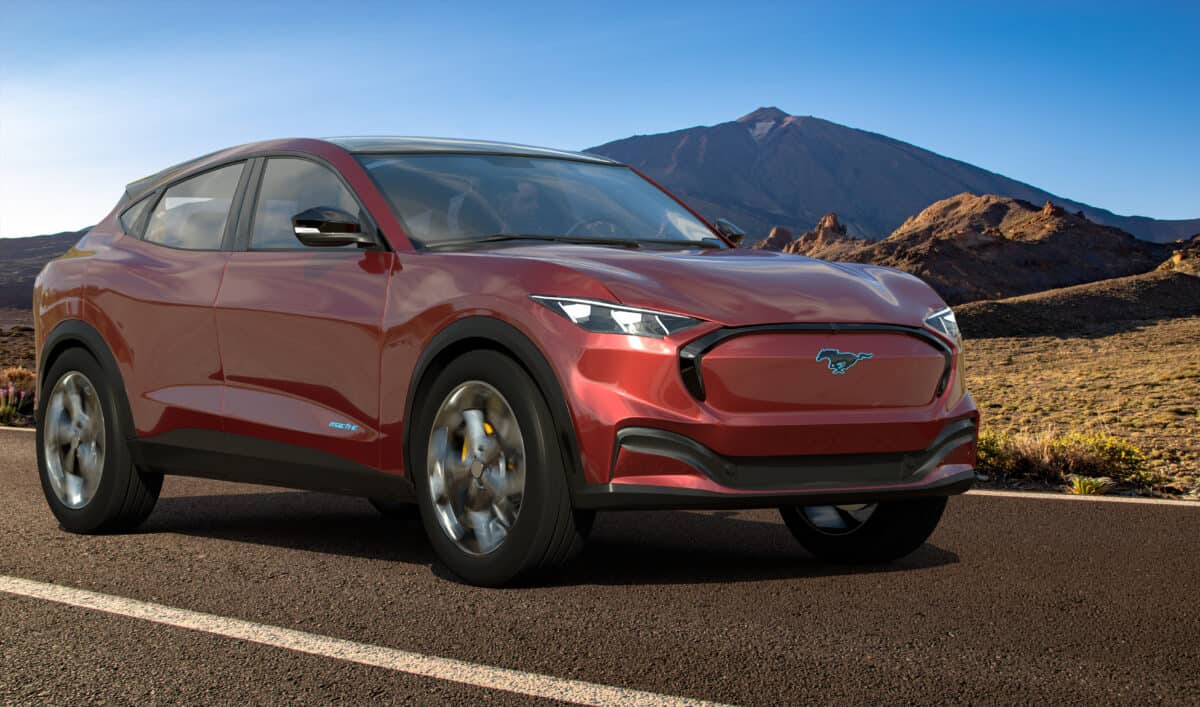 The Ford Mustang Mach-E is Tesla's main competitor. Ford estimates that Mach-E can go for 312 miles without needing a recharge. The cheapest option comes with a 70 kWh battery which can charge in under 40 minutes on a fast DC charger. While the more expensive option has an 88 kWh battery.
To fully charge a Mach-E in Florida, it will cost you anything between $4.85 and 5.54 cents per mile.
Incentives for Owning an EV in Florida
The historic Inflation Reduction Act of August 2022 offers up to $7,500 tax credits if you buy an EV or PHEV. But it's highly dependent on the make and model you intend to purchase.
Besides the tax credits from the federal government, there are state-specific incentives to encourage residents to switch to EVs. Driving an electric vehicle qualifies drivers in Florida for a unique HOV decal (High-Occupancy Vehicle). You can obtain an HOV decal from the Department responsible for Highway Safety and Motor Vehicles in Florida if you drive an EV or hybrid car by following these rules;
Complete an application form.
Take the form and a nominal charge to the tax collector's office or include postage with the fee. The cost is $5 for a single year or $10 for two.
Additionally, you are exempt from smog or emissions testing if you drive an electric vehicle. It's ideal for drivers in West Palm Beach who wish to save time. You can enter the HOV lanes on 1-95 for free if you have an HOV decal.
Depending on the capacity of your battery, Jacksonville offers an additional $500 or $1,000 to buyers of electric vehicles. Also, if you buy a used EV and reside in Orlando, you might qualify for bonuses.
Private Incentives from Utility Companies
Several utility companies in Florida have come up with offers directed to EV owners. Let's sample some companies that have gone out of their way to entice drivers to go for EVs.
Jacksonville Electric Authority (JEA) – Commercial Electrification Rebates
JEA provides commercial customers subsidies for acquiring and leasing electric vehicles and EV charging stations. The only condition is that the procurement and installation of EVs and EV charging infrastructure must happen between 1st October 2019 and 30th September 2025.
EVs rebate ranges between $200 and $100,000 for electric public transport buses. EV charging station rebates include the following;
Heavy-duty truck stop electrification – $1300
Level 1 and 2 EV charging stations – $5,200
Direct current fast charging stations – $30,000
Kissimmee Utility Authority (KUA) – Rebates for EVs and EV Charging Stations
Kissimmee Utility Authority (KUA) also offers rebates of $100 for buying an EV and $100 for installing a home EV charging station. To qualify for the KUA rebate, customers must register the EVs using their addresses and provide proof. A certified electrical contractor must install the EV charging station and adhere to all national, state, and municipal regulations. The number of rebates caps at one per car and one per household for EV charging stations.
Brickell Energy – EV Charging Stations Incentives
The aFLoat Program from Brickell Energy provides two special incentives to encourage the installation of EV charging stations in Florida. Brickell Energy will pay for the hardware, management service, network service plans, and warranties through the aFLoat Host Agreement.
Owners and managers of commercial real estate properties are eligible hosts. Installment fees are the responsibility of the hosts. The hardware for EV charging stations, all services, and warranties are discounted through the aFLoat Rental Plan for public and commercial locations.
Final Thoughts
The future of EVs is bright, and just like the rest of the country, Florida has no option but to follow suit. So far, they are doing well in terms of infrastructure and providing incentives. So, if you're thinking of owning an EV in Florida, now is the best time to join the bandwagon of electric vehicles and enjoy the savings on fuel.