Gone are the days when electric vehicles were a thing of the future—they have now become our present. There are 1,489 charging stations in Connecticut alone, with more to be established in the coming years. The US federal and state governments have initiated multiple programs to promote the purchase of EV vehicles by offering rebates and incentives.
But what does it take to own an EV in Connecticut? Many EV owners say that these vehicles release zero emissions and are cost-effective when calculating the total ownership cost in the long run. EVs also require less maintenance and gasoline expenses. The best part? They are fun to drive!
If you own an EV in Connecticut and need a brief overview of what's waiting for you, this guide will discuss everything you need to know. From charging costs to incentives, we have got you covered. So, let's dive right in!
Connecticut Electrical Car Charging Infrastructure
In 2021, the federal government allocated $53 million to encourage electric vehicles in Connecticut over the next five years. The goal was to reduce air pollution by promoting vehicles with minimal emissions. The funding was mentioned in the bipartisan infrastructure bill worth $1.25 trillion, passed by both Congress chambers.
The matching grant will be 80-20, meaning Connecticut will contribute $10.6 million to the total $63.6 million funding. This program changed the driving scenario in the state, with almost 17,000 registered EVs (as of July 2021) and 1,500 EV charging stations reported in Connecticut.
The state government strives to achieve 500,000 electric cars by 2030. That is why Connecticut's Public Utilities Regulatory Authority (PURA) initiated a 9-year program to promote the infrastructure for electric vehicle charging across the state. It focused on inclusion and equity.
This program applies to commercial and residential customers registered at Eversource and United Illuminating. Under this program, the state offered homeowners $1,000 for electric vehicle charger installation. This means residential customers can have $500 cashback for installing a Level 2 smart charger and up to $500 for upgrading their home wiring to support the electric charging.
Which Cities Have the Highest EV Charging Stations in Connecticut?
Luckily, finding an electric charging station has become easier in Connecticut. You can easily find it in almost every city of the state, as it consists of almost 1,500 stations throughout. But for your ease, here is a breakdown of some cities with the highest number of EV charging stations:
| City | Public Charging Stations | DCFC Stations | Tesla Stations | Free Stations |
| --- | --- | --- | --- | --- |
| Hartford | 469 | 77 | 54 | 57 |
| Bridgeport-Stamford-Norwalk | 430 | 124 | 88 | 73 |
| New Haven-Milford | 317 | 90 | 66 | 47 |
Types of EV Charging in Connecticut
Whether you are thinking of owning an electric vehicle (EV) or a plug-in hybrid electric vehicle (PHEV), you will have to charge the car to keep using it. So, you must know about the most popular charging options available in the state. Depending on the location, there are three types of EV charging in Connecticut.
Here is a brief description of each for your better understanding:
Level 1 Charging
Level 1 Charging Involves plugging your EV into the typical household electrical outlet of 120 volts (AC). This outlet must be on a separate circuit. Level 1 charging is relatively slower, taking around 8 to 20 hours to charge an EV fully. So, you can leave your car overnight if you want to opt for this way of charging.
You can charge all types of EVs with Level 1 charging. They don't require any special tools or equipment. Just plug your vehicle into the outlet at your home, preferably overnight, and take it out for a drive the next day.
Level 2 Charging
Level 2 Charging means plugging the EV into a 240 volts outlet at the home, public station, or place of work. It requires special equipment for different types of vehicles. Level 2 Charging is faster than Level 1, taking only 3 to 6 hours to charge a vehicle fully. You can opt for this type of charging for your commercial EVs.
Installing Level 2 charging equipment usually costs between $500 and $2,000, based on how you have installed it. However, many states in the US, including Connecticut, offer incentives for Level 2 charging equipment installation.
Level 3 Charging/DC Fast Charging/Tesla Supercharger
Level 3 Charging is popular as Tesla Supercharger (Tesla's own stations) and DC Fast Charging. It involves using special equipment to charge the EV with a direct current of 480 volts. It is the fastest way of charging an EV in Connecticut, requiring up to 30 minutes to charge the battery 50-80%.
These stations need more power, so you won't find them in residential homes but on highways or public areas. DC Charging stations make road trips feasible with fast charging. It's recommended to confirm with your EV's manufacturer to find the supported charging method.
What Is Workplace EV Charging?
Workplace EV charging saves employers and employees time, money, and effort, allowing them to focus on their work. With EV stations installed, a company can promote sustainability and an environmentally-friendly approach.
The six essential components of a workplace EV charging program in Connecticut include the following:
Support. Spread the idea of having an EV charging station in your workplace and staff members. Include the management and the senior officials in this plan to make it successful.
Evaluate. Call professionals to evaluate the electrical system at the site. Meanwhile, take the opinions of employees about this plan. They will be hesitant initially, but since EV is the future, they'll agree in the end.
Consider. Consider EV charging station installation cost and see if your company can afford it. Also, determine your company's eligibility for tax credits involved in the process.
Choose. Choose the right type of charging system and discover different options available.
Install. Get the system installed while being wary of the local requirements for siting and signage. If you have a DEEP grant, you'll have minimal requirements for installing an EV charging station.
Establish. Finally, establish the procedures to evaluate employee access, payments and system optimizations, and priority scheduling.
Where To Find Public Charging Stations in Connecticut?
A majority of public EV charging stations are Level 2, and most of them are free. But with dedication, you can also find many Level 3 charging stations in Connecticut. You may struggle to find a Level 1 station in the state, but they're established in Vernon and Deep River.
You can locate a public charging station across the state from the US Department of Energy's (DOE) Alternative Fueling Station's official map. Alternatively, you can use multiple apps for this purpose. The two best include:
ChargeHub. It lists the charging stations based on their levels, location, and current status.
PlugShare. It includes an interactive map showing directions to all public charging stations in the US. The site also provides customer reviews and prices of different EV charging stations.
Cost of Owning Some Popular EVs in Connecticut
No matter what EV model you buy, you can expect lots of incentives to charge it. After all, the Connecticut government is adamant about reducing carbon emissions. So, here is a brief cost breakdown of owning an EV in Connecticut for three famous EV models.
Tesla Model 3
The Tesla Model 3 is one of the highest-selling Tesla products. If you buy and own a Tesla for 5 years, it will cost you more than $67,000. This means you'll have to pay between $13,000 to $15,000 every year to maintain your Tesla Model 3, including the car's original price, repairs, fuel, and depreciation costs.
Regarding the charging costs, it's important to know that the Long Range and Performance Model 3s include an 82 kWh battery. While the former offers 353 miles of range, the latter can drive up to 315 miles. For both variants, you'll likely pay around $7.65 for a full charge in Connecticut.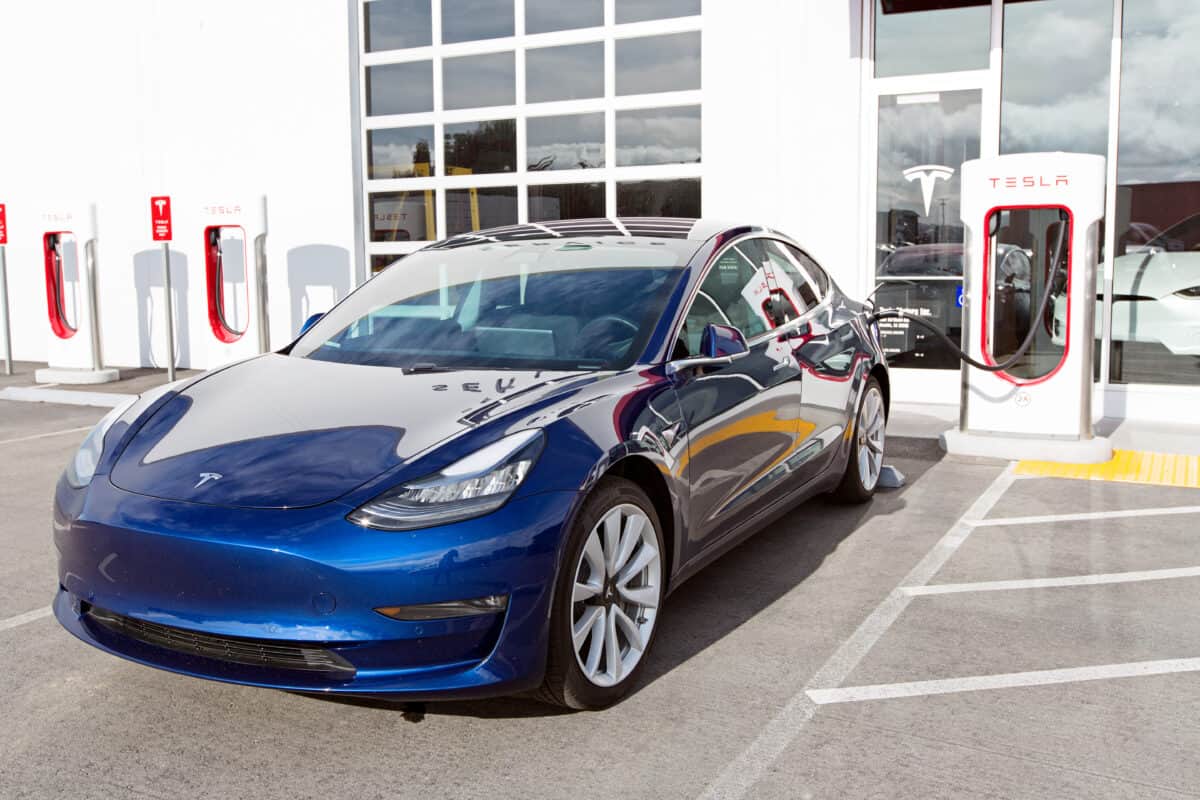 Nissan Leaf (Version S)
The Nissan Leaf Version S costs around $31,600 in Connecticut. But once you claim the tax credit on EVs, its price can reduce to just $24,100. That usually costs less than what most people pay for conventional gasoline cars.
The average cost of electricity in Connecticut is around $0.2370/kWh. So, if you opt for a 40kWh full charge for your Nissan Leaf, you can expect to pay around $9.48. The price can be even higher for 62kWh of full charge, estimated anywhere around $14.69. Compared to the gas prices, you're surely paying way less.
Chevrolet Bolt
According to Edmunds.com, owning a Chevrolet Bolt in the US usually costs the owner around $2,885 on average in maintenance over the span of five years. That's almost half of what a similar-sized Chevrolet SUV running on gas would cost. Gasoline-powered Chevrolets may cost you $4,411 for the same time period. If you've installed charging stations at your home, you can expect to pay around $7 to $8 for your Chevy Bolt with a 60kWh battery. That's pretty cost-effective compared to the gasoline counterparts.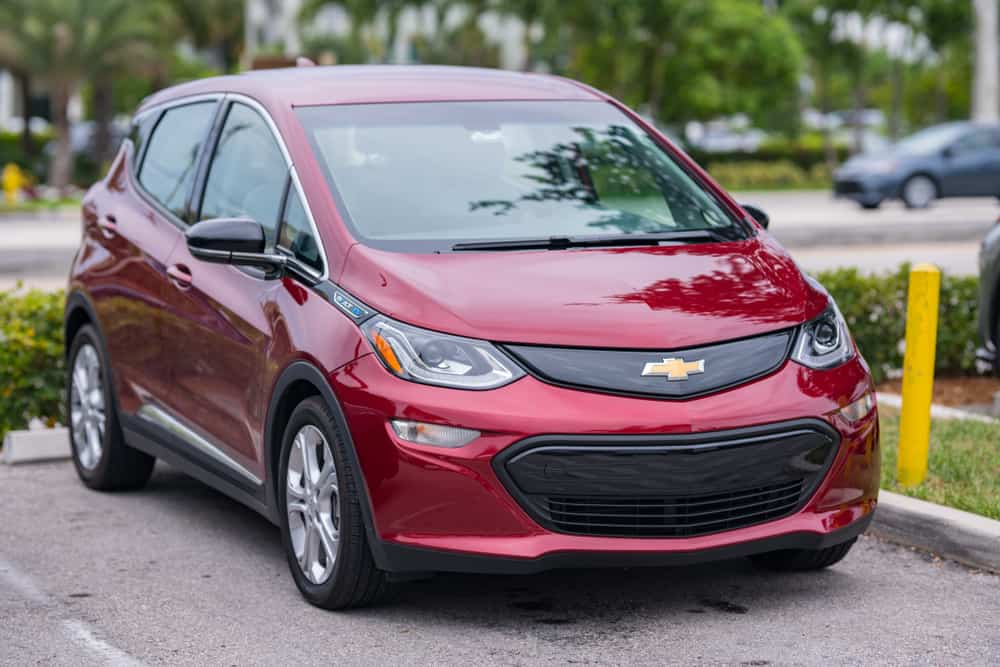 Charging Cost of an EV in Connecticut
Electric vehicles may have a high initial cost, but they're actually more cost-effective than vehicles running on gasoline in the long run. EVs don't require gas or any other fuel to operate. That's a relief, considering increased gas prices in the country. In fact, charging an EV is also relatively cheaper than filling up gas tanks in conventional cars.
So, the question is, "what is the estimated charging cost of an EV in Connecticut?" The answer typically varies depending on what type of charging you opt for for your EV and your state.
For instance, Level 1 charging is rare on public roads, but these stations are mostly free. Yes, there are some exceptions. But even if you're paying for it, you'll have an average hit of $1.50 to $14, depending on your car's charging time.
On the other hand, Level 2 charging stations are the most common, established across Connecticut. If it's your lucky day, you may get your car charged for free, but that's rare. Typically, you'll have to pay at these stations by the amount of electricity you would use.
Suppose you stop by an Electrify America charging station (Level 2). You will be charged almost $0.43/kWh in that case. So, your final bill will be estimated based on how long your EV's battery takes to charge. It will probably be about $10 for an hour of charging.
The DC fast chargers are the third type of charging station, which is not much more expensive than Level 2 charging stations. However, you must first check whether the station charges by minutes or the kWhs. The average cost for DC fast charging across Connecticut is $0.35/kWh, totaling between $10 and $30 per charge.
Remember, you may also have to calculate the additional costs that some stations charge. This includes the service fee and parking charges.
Incentives To Own an EV in Connecticut
Connecticut is focusing on expanding its electrical cars (EVs) infrastructure to promote sustainability and establish an environmentally-friendly culture. The government aims to register almost half a million EVs in Connecticut by 2023. However, achieving this goal would be impossible if the officials didn't offer incentives and rebates to people on EV purchases.
The PURA's nine-year program that encourages people to EV purchase includes special rebates and incentives for residential and commercial customers. Of the total $1000 incentive, homeowners will have $500 as a charger rebate and $500 as funds to update their home's wiring. They can also avail of a $200 credit on their annual electricity bills and $100 for a single payment by shifting to off-peak charging.
Regarding commercial customers, the program offers up to $20,000 rebates to those installing a Level 2 Charging station. Moreover, businesses that opt for DC Fast Charging station installation will get up to $150,000 rebates. In fact, these rebates can reach up to $40,000 for Level 2 Charging and $250,000 for DC Fast Charging stations, only for underserved parties.
The Connecticut Hydrogen and Electric Automobile Purchase Program (CHEAPR) also includes up to $7,500 rebates for those who lease or buy eligible EVs or hybrid vehicles. If you purchased your EV after 2010, you'd also be eligible for $7,500 as a federal tax credit and a 30% tax credit for installing an EV charging station.
Many utility companies like Norwich Public Utilities also offer incentives of a maximum of $1,500 for people purchasing or leasing an EV or hybrid vehicle. The company also gives up to $4,000 rebates to those installing an EV charger.
Summary: Owning an EV in Connecticut
It's easy to own and maintain an EV in Connecticut. All credit goes to the incentives and programs launched by the state and federal governments to promote the leasing and purchasing of electric cars (EVs) and plug-in hybrid electric vehicles (PHEVs).
You can charge your EV for free with Level 1 Charging, at $0.43/kWh with Level 2 Charging, and at $0.35/kWh with Level 3 Charging. The total cost will depend on your EV's charging time. The PURA's nine-year program offers multiple rebates and incentives to residential and commercial customers for installing charging stations at their homes or workplaces and updating the place's electric wiring. The Norwich Public Utilities and CHEAPR also offer incentives for owning and charging an EV in Connecticut.
Breaking EV News
June 8, 2023 — At the start of 2024, General Motors (GM) and Ford EVs will be able to use an adaptor to charge at 12,000 Tesla Superchargers. Both companies will feature Tesla's North American Charging Standard connector starting in 2025.
In an interview, GM's CEO Mary Barra said that this collaboration "…could help move the industry toward a single North American charging standard."
The image featured at the top of this post is ©boscorelli/Shutterstock.com.