With low electricity costs and plenty of solar power, Arizona looks like a great place to own an EV. But is it sustainable, and what is it like? Here's what you need to know about owning an EV in Arizona and whether buying a new electric car is sensible.
Arizona Charging Infrastructure
Luckily for residents, Arizona was one of the first states in the US to receive Federal Highway Administration clearance for its Electric Vehicle Infrastructure Deployment Plan.
The federal government approved the Arizona Department of Transportation in September 2022 for $11.3 million and made the funding available immediately. The amount is just a fraction of the $76.5 million allotted by the recently passed federal Bipartisan Infrastructure Bill for the program in Arizona over the following five years (2022 – 2027).
Residents who want to drive electric vehicles will have more than enough charging options and receive other benefits for owning EVs.
How many charging stations does Arizona have?
Arizona currently has 2,874 charging stations. Most of these are public stations, but there may be thousands more residential chargers. Charging stations are available in Flagstaff, Nogales, Payson, Phoenix (and surrounding area), Lake Havasu City, Prescott, Safford, Show Low, Sierra Vista, Tucson, and Yuma. You can use a site like Plugshare to find exact locations.
Types of Charging Stations
If you're looking to buy an EV, you'll need to know how to charge it properly. Fortunately, Arizona has many public charging stations that can fit various cars and charging needs!
Free stations
Arizona has over 230 free charging stations across the state for its residents. These stations include various charger types and plugs (including superchargers).
Fast chargers
In Arizona, there are nearly 300 fast charging plugs, mostly in the Phoenix area. These charging stations reduce charging time by directly charging an electric car's battery.
CHAdeMO plugs
CHAdeMO is the name of a DC charging protocol for electric cars. If you have an EV made from Mitsubishi, Kia, Nissan, Fuji, or Toyota, this is the charging plug you'll need to use.
CCS plugs
The Combined Charging System, or CCS for short, is a rapid charging plug. In North America, they are classified as CCS1 chargers. These chargers support both AC and DC charging. If you own an electric BMW, Ford, Jaguar, GM, Honda, Hyundai, Mazda, Tesla, or Volkswagen, your vehicle is compatible with this charger.
Superchargers
Superchargers can charge your electric vehicle in an hour or less but are only functional for Tesla automobiles at this time.
J-1772 chargers
The J Plug or SAE J1772 connector is used by all non-Tesla Level 1 and Level 2 charging stations in North America. Every EV manufacturer (except Tesla) can use the J Plug for charging. So whether you have the new Ford F-150 lightning or a Nissan Leaf, you'll be able to use this charger.
Tesla Destination Chargers
As the name suggests, these chargers work with Tesla models and are usually found at hotels, resorts, and restaurants. These destination chargers are free for Tesla drivers to use.
Where are the charging stations located?
You can find a charger station in most major cities and their surrounding areas in Arizona. This includes Flagstaff, Nogales, Payson, Phoenix, Glendale, Lake Havasu City, Sierra Vista, Prescott, Safford, Show Low, Sierra Vista, Tucson, and Yuma. And, with the increase in federal funding, this will expand how many are available.
Cost of Owning an EV in Arizona
Buying an electric car in Arizona is a great way to take advantage of federal and state incentives and save on the slightly higher cost of gas (especially since most cities are drivable only!). Here's how much it would cost to own and charge an electric vehicle in Arizona.
Tesla Model 3
Considering how many Tesla and Tesla-compatible charging stations are in Arizona, it would be crazy to leave out the Tesla Model 3. This is Tesla's lower-cost model, with many used and new models on the market. It can go 0-60 in less than 6 seconds and has 50-82 kWh 350 V lithium-ion that can charge in under 8 hours at a 220V charging station.
You can expect to spend around $43,900 for the base model. Home charging typically costs $.14 per KWH and $.32 per KWH for public charging. You'll spend about $7 to $26.24 to charge your vehicle. Remember that Tesla Model 3 can get 315 miles per charge, making it much cheaper than a gas tank!
Nissan Leaf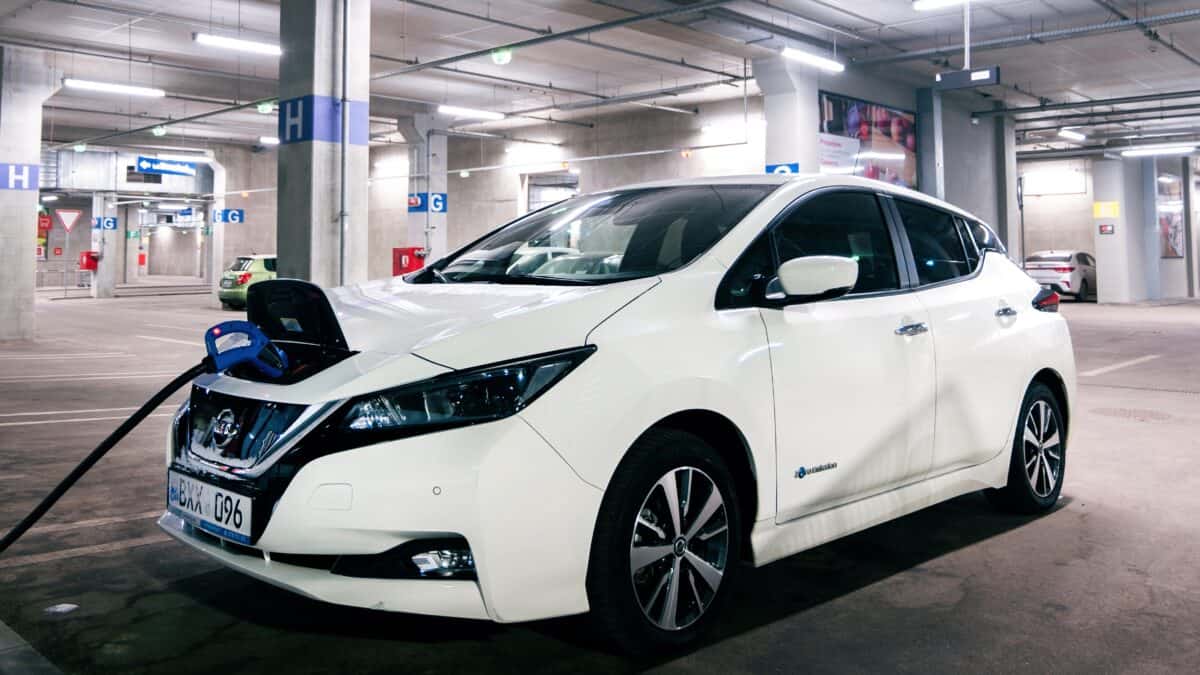 The leaf model has two battery options — S (40 kWh battery) and SV (60 kWh). Starting at under $30,000, this is one of the most affordable EV options. However, the Leaf only offers its longest-range battery, which gets slightly less than 200 miles of driving range. If you need a car that requires less charging, it's not the best choice.
Charging the Nissan Leaf at home costs $.14 per KWH and $.28 per KWH for public charging. You'll spend anywhere from $5.60 to $16.80 to charge your vehicle.
Ford F-150 Lightning
The Ford F-150 Lightning is the only truck on our list, offering up to 320 kilometers on a single charge. Plus, it functions similarly to a traditional diesel truck, offering a 10,000-pound towing capacity and plenty of storage. You have two battery options with the F-150 Lighting — 98 kWh or 131 kWh. And both can be charged with either a 120V or 240V outlet.
It can take up to 12 hours to charge, the longest on our list. And with costs around $.14 per KWH at home or $.45 per KWH in public, it could cost around $13.73 to $58.95 to charge.
Also, you'll want to weigh out the cost of getting the truck. The cheapest option (ie. the base model with the smaller battery) starts at $55,974. And if you want the premium package, you're looking at almost $100k.
Chevrolet Bolt EV
Another affordable option on our list is the Chevrolet Bolt EV, with a starting price of $27,495 for the base model. Its 66.0 kWh liquid-cooled lithium-ion battery has a 259-mile range — not bad for an affordable, easy-to-charge car.
All you need to charge your Bolt at home is a 3-prong, 110-volt household outlet. This can charge the car in as little as 7 hours. You also have a "fast charging" option (although more expensive) that can charge the Bolt in about 4 hours.
If charging at home, charging will cost you around $.13 per KWH and up to $.35 per KWH at a station. Therefore, you should expect to pay between $8.58 and $23.10 to charge.
Arizona Electric Vehicle Incentives
Arizona's National Electric Vehicle Infrastructure (NEVI) Planning committee offers the Reduced Alternative Fuel Vehicle (AFV) License Tax. Instead of paying $5 per $100 in accessed value for tax, an EV owner will only pay $4 per $100. And, electric vehicles registered in Arizona don't have to complete annual emissions testing, which saves even more money.
The Arizona Public Service Company (APS) offers residential customers a $250 rebate to purchase a qualifying Level 2 EV charging station. They can also earn an $85 bill credit every year.
Unfortunately, no rebates or incentives exist for buying a new electric vehicle. But this has a silver lining: you can buy a used EV and save money on new car prices.
Owning an EV in Arizona Wrap Up
Even with the initial cost of a new or gently used electric vehicle, the costs you save from gas and maintenance can save you quite a bit in the long run. And in Arizona, it's easy to own an EV and charge it whenever necessary!