As an Alaskan looking to own an EV, you're probably wondering what a base model costs and whether buying an electric vehicle in the cold state is even worth it. Well, you may be surprised to know that an EV could be a great option! But here's what you need to know.
Alaska Charging Infrastructure
In 2021, the AEA (Alaska Energy Authority) approved the FHWA National Electric Vehicle Infrastructure (NEVI) Formula Program for $7.8 million in the 2022 fiscal year and $11.1 million in the federal fiscal year of 2023. This aid will improve EV infrastructure in Alaska. But what does that mean for electric vehicle owners?
How many charging stations does Alaska have?
Alaska has 119 public charging stations. Of these, 72 are in Anchorage, 37 in Juneau, and 10 in Fairbanks. These include; 3 free stations, 12 fast chargers, 3 CHAdeMO plugs, 3 CCS plugs, 16 superchargers, and 23 J-1772 plugs as the most common options. You can find out more about those stations and if they work with your vehicle on PlugShare.
Types of Charging Stations
Alaska has different types of charging stations. These include:
Free stations
You can charge your car for free with this type. Alaska only has three of these in the whole state.
Fast chargers
These charging stations directly charge an electric car's battery, cutting down on charging time and speeding up the energy transition.
CHAdeMO plugs
A DC charging protocol for electric vehicles is called CHAdeMO. These chargers are compatible with EVs from Mitsubishi, Nissan, Fuji, Kia, and Toyota.
CCS plugs
The rapid charging plug standard in North America (CCS1) and Europe is the Combined Charging System, or CCS for short (CCS2). Because it enables AC and DC charging, the system is known as a mixed charging system. This charger works well with BMW, Ford, Jaguar, General Motors, Honda, Hyundai, Kia, Mazda, Tesla, and Volkswagen cars.
Superchargers
They are similar to what you'd use for your phone and offer "rapid charging," charging EVs in about an hour or less. At the moment, they work with Tesla vehicles only. But in 2024, owners of Ford and General Motors (GM) EVs will be able to use adaptors to charge at 12,000 Tesla Superchargers. And starting in 2025, Ford and GM will will feature Tesla's North American Charging Standard connector in their EVs.
J-1772 chargers
All non-Tesla Level 1 and Level 2 charging stations in North America use the J Plug or SAE J1772 connector. Except for Tesla, all EV manufacturers use the J Plug for charging. So this is one of the most common EV chargers on the market.
Where are the charging stations located?
Currently, chargers are located in only three cities in Alaska. This includes Anchorage, Juneau, and Fairbanks. While Alaska plans to expand these, it will take over five years. So if you don't live in one of these major cities (or near one), having an electric vehicle may not be worth it unless you're willing to pay to add a charger to your home.
Cost of Owning an EV in Alaska
Acquiring an electric car in Alaska can be expensive compared to other states in the U.S. But first, let's take a quick look at the most popular EVs, and then we will examine their electricity costs.
Tesla Model Y
One of the most popular EVs is the Tesla Model Y, for good reason. This SUV has plenty of legroom and can go 0 to 60 MPH in under 4.8 seconds. It has an 81 kWh 350 V lithium-ion battery and offers around 330 miles per charge.
It takes about 8 hours and 15 minutes to charge the Model Y fully. Expect to spend anywhere from $.13 per KWH to charge at home to $.50 per KWH for public charging. Ultimately, you could pay between $9.75 to $28.50 per charge.
The Tesla Model Y will also be one of the most expensive electric vehicles on this list, costing $53,490 for the base price, not including taxes and fees.
Ford F-150 Lightening
A newcomer on the scene, the Ford F-150 Lightening offers electric charging and still has that "truck" feel. It can still tow up to 10,000 pounds. Depending on the trim level, you get 98 kWh or 131 kWh, but both come with an 8-year or 100,000 miles warranty. This means the truck can drive anywhere from 230 to 320 miles per charge.
You can charge the F-150 on a 120V or 240V outlet. You can also use a 150kW+ DC fast charger. The truck can charge in as little as 60 minutes (if using a fast charger) and up to 12 hours (if using a 120V outlet). Charging at home typically costs $.17 per KWH, while in public, $.50 per KWH. Ultimately, you could pay between $16.66 to $65.50 for each charge.
Prices range between $55,974 to almost $97,000 for a fully-loaded and platinum package option. But for those who need a truck for personal or work use, F-150 can save you money in the long run if charging from home!
Chevrolet Bolt EV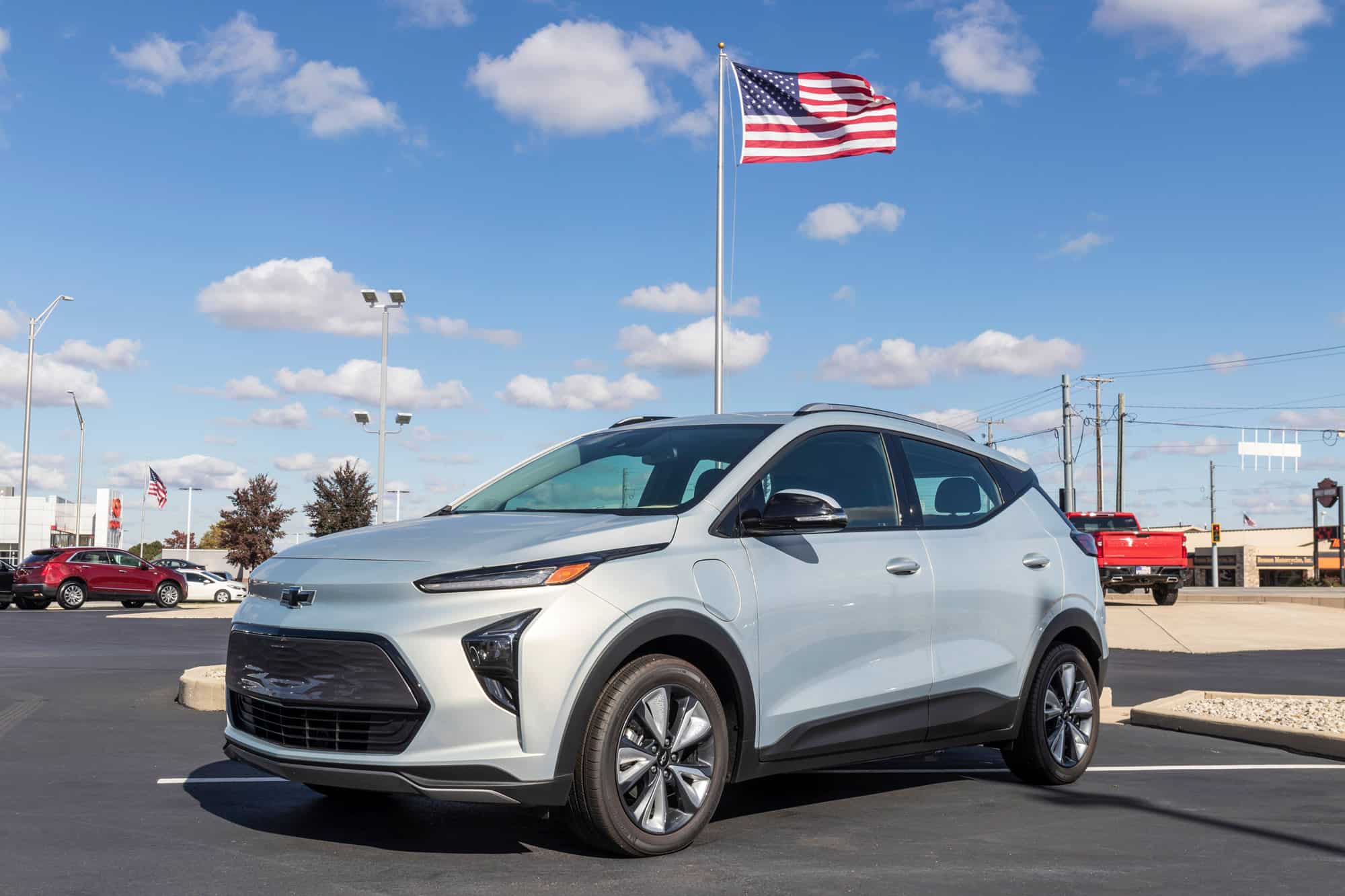 Bolt EV is the least expensive option on this list, starting at just $27,495. It comes with a 66.0 kWh liquid-cooled lithium-ion battery with a range of 259 miles per charge.
You typically need a 3-prong, 110-volt household outlet to charge the Bolt. The J1772 connector on the charging cable's opposite end should be inserted into the Bolt's charging port after being plugged into an electrical outlet. Your Level 1 charger is simple to set up and operate but charges at the slowest rate. You can also use a Level 2 charger.
This will run you about $.13 per KWH if charging from home and upwards of $.39 per KWH at a station. So, you'll likely spend around $8.58 to $25.74 to charge (the lowest cost on this list). If you're looking for cost savings, this is the right car.
Electric Vehicle Incentives
Aside from other federal incentives for EV car owners, Alaska also has its incentives. This includes the Residential Electric Vehicle (EV) Charging Station Credit, which provides eligible residential customers a $200 bill credit per residential EV charging station (up to two per household) and for driving a specific number of miles per year.
Alaska Power and Telephone (AP&T) also offers an EV rebate of $1,000 to residential customers who own either a new or a pre-owned EV, including electric motorcycles. However, they must have a minimum battery size of at least 16 kilowatts.
As you can see, Alaska doesn't currently have as many incentive programs for residential drivers as other states. But you can still take advantage of the existing programs.
Owning an EV in Alaska Wrap Up
If you add up the minimal maintenance associated with EVs, including cost savings from gas, and the opportunity to charge in major cities, owning an EV in Alaska can make sense. Residents of Fairbanks, Anchorage, or Juneau (plus the surrounding areas) are lucky as they can access charging stations. But if you don't, owning an EV in Alaska may not be the best option now.
The image featured at the top of this post is ©Alan Wu, CC BY-SA 2.0 , via Wikimedia Commons.