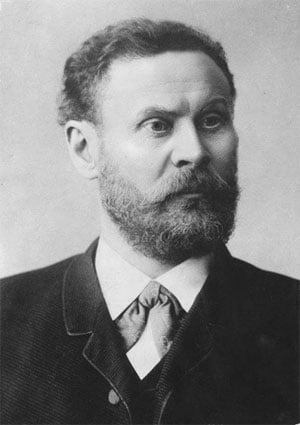 Who was Otto Lilienthal?
No mistake, yet another celebrity should be mentioned as an inventor of calculating device, after Leonardo Da Vinci, Blaise Pascal, Gottfried Leibniz, and other not so illustrious men. This time it's about Karl Wilhelm Otto Lilienthal, the German pioneer of aviation, known as the Glider King
Karl Wilhelm Otto Lilienthal, also known as the "flying man," was a German aviation pioneer who lived from May 23, 1848, until August 10, 1896. He was the first person to fly gliders in a well-documented, repeatable, and effective manner, making the concept of "heavier than air" a reality. Photographs of Lilienthal gliding were published in newspapers and publications, influencing public and scientific opinion concerning the feasibility of flying vehicles.
Quick Facts
Full Name

Karl Wilhelm Otto Lilienthal

Birth

May 23, 1848

Death

August 10, 1896

Net Worth

$1 Million – $5 Million

Awards

patent for "convertible flight apparatus" design

Children

Four Children

Nationality

Prussian, German

Place of Birth

Anklam, Prussia

Fields of Expertise

Institutions

Maschinenfabrik Otto Lilienthal

Contributions

Successful gliding experiments
As a result of Lilienthal's efforts, he came up with the concept of the modern wing. His 1891 flight efforts are regarded as the beginning of the human flight. The "Lilienthal Normalsegelapparat" is considered the first air aircraft in series production, making the Maschinenfabrik Otto Lilienthal the world's first airplane manufacturer. Otto Lilienthal is the "Father of Aviation" or "Father of Flight," depending on who you ask.
Early life
Lilienthal was born in Anklam, Pomerania Province, German kingdom of Prussia, on May 23, 1848. Gustav and Caroline, née Pohle, were his parents. He was confirmed in Anklam's St. Mary's church after baptism in the Evangelical-Lutheran St. Nicholas church. Lilienthal's parents were middle-class and had eight children, but only Otto, Gustav, and Marie survived childhood. Nevertheless, the brothers collaborated on technical, social, and cultural endeavors throughout their careers. With his brother Gustav (1849–1933), Lilienthal went to grammar school and studied bird flight. Lilienthal and his brother were fascinated by the idea of human-crewed flight and built strap-on wings, but they could not fly.
Before becoming a professional design engineer, he spent two years at the regional technical school in Potsdam and trained at the Schwarzkopf Company. He went on to the Royal Technical Academy in Berlin after that.
Career 
In 1867, Lilienthal began severe research on the air force but had to take a break to serve in the Franco-Prussian War. When Otto returned to civilian life, he worked as a staff engineer for many engineering firms and acquired his first patent for a mining machine. After that, he established his own business to manufacture boilers and steam engines.
Otto Lilienthal was a mechanical engineer by trade, who in 1883 established his own mechanical engineering company for boilers and steam engines in Berlin. The patent for calculating device (Patent DE44632, 08.04.1888) was probably driven by the needs of his workshop.
The calculating device of Lilienthal (see the patent drawings upper and below) consists of two rotatable discs and . The upper disc contains a number of windows (openings) with the adjacent multiplicands, which are visible through the window of the cover plate . The lower disc contains the multiplicands situated in such a way that, when a multiplier is visible through one of the holes of the disk , the corresponding product appears just below the window , provided in the upper part of the common cover plane
What Is Otto Lilienthal Known For?
Otto Lilienthal held 25 patents in Germany, the United States, Austria, and the United Kingdom. Unfortunately, only four of them are related to his passion—flying machines (Otto's brother Gustav's inventions but patented under Otto's name). The rest was given away (the first patent was issued in 1875 for calorimotorishe maschine) for games, mining machines, boilers, steam engines, and a calculating gadget, among other things (rechenapparat).
Otto Lilienthal was a mechanical engineer by profession, and in 1883 he founded his mechanical engineering firm in Berlin, specializing in boilers and steam engines. His calculating gadget patent (Patent DE44632, 08.04.1888) was most likely motivated by the necessities of his workshop.
Otto's Calculating Device
Lilienthal's calculating apparatus consists of two spinning discs. The upper disc has several windows (openings) with neighboring multiplicands that may be seen through the cover plate's window. The multiplicands are arranged on the lower disc so that when a multiplier is visible through one of the holes, the corresponding product appears just below the window in the upper section of the standard cover plane.
Otto Lilienthal: Marriage, Divorce, Children, and Personal Life
Net Worth
Otto is one of the wealthiest pilots and one of the most popular. According to Wikipedia, Forbes, and Business Insider, Otto Lilienthal has a net worth of $1.5 million.
Marriage
Lilienthal married Agnes Fischer, the daughter of a deputy, on June 6, 1878. They met through music; she was trained in piano and voice, while Lilienthal was a French horn player with a good tenor voice.
Children
Otto Lilienthal and Agnes Fischer got married and settled in Berlin, where they raised four children: Anna Marie Theresa Lilienthal, Fritz Hans Lilienthal, Frieda Elise Helene Lilienthal, Friedrich Hermann Otto Lilienthal
Otto Lilienthal: Awards and Achievements
Lilienthal Gliding Medal
The Lilienthal Gliding Medal is the world's highest gliding prize, awarded in 1938 by the Fédération Aéronautique Internationale (FAI) in honor of Otto Lilienthal, a German pioneer of human flight.
Otto Lilienthal Published Works and Books
Birdflight as the Basis of Aviation
It's the product of a creative genius whose observation, analysis, inventiveness, and courage established the groundwork for the development of aviation! It was said to be amongst the most important books ever published! It has over 100 fascinating sketches, graphs, and schematics, as well as engineering assessments, and numerous vintage images of Lilienthal flying in the 1890s, as well as a helpful index. Lilienthal realized the superiority of curved wing surfaces after conducting a detailed scientific examination of how birds fly. After it, he devised a flight theory and designed and built several gliders. He flew nearly 2,000 glides between 1891 and 1896, bridging the gap between those who dreamed of flying and those who did.
Otto Lilienthal Quotes
"To invent the airplane is nothing. To build one is something. But to fly is everything."
"I, too, have made it a lifelong task of mine to add a cultural element to my work, which should result in uniting countries and reconciling their people."
"We are getting closer to this goal. When we reach it, I do not know."
"Gradual development of flight should begin with the simplest apparatus and movements, and without time complication of dynamic means."