NVIDIA GeForce RTX 4090 is the top-tier GeForce. The performance, effectiveness, and AI-powered graphics have all been greatly enhanced. The new platform lets you experience virtual worlds with incredible detail, gaming with extreme performance, productivity that's never seen before, and fresh ways to create.
The amazing Ada architecture utilizes ray tracing, which imitates the behavior of light to shine in all its magnificence. You can explore the exceptionally detailed virtual world to a never-before-seen level with the power of the RTX 40 Series and 3rd generation RT Cores.
Best Deal Today
High Efficiency
NVIDIA GeForce RTX 4090
Has 16,384 NVIDIA CUDA Cores
Supports 4K 120Hz HDR, 8K 60Hz HDR
Up to 2x performance and power efficiency
Fourth-Gen Tensor Cores that offer 2x AI performance
Third-Gen RT Cores
AI-Accelerated Performance: NVIDIA DLSS 3
NVIDIA Reflex low-latency platform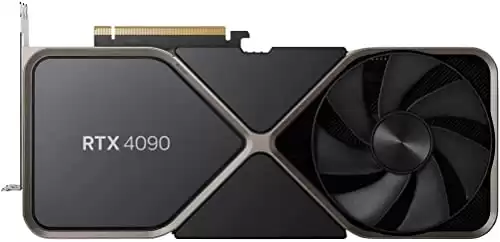 We earn a commission if you make a purchase, at no additional cost to you.
Nvidia RTX 4090: Overview
NVIDIA has released its enthusiast-class graphics card, the GeForce RTX 4090. The card supports DirectX 12 Ultimate and uses a 4nm manufacturing process based on the AD102 graphics processor in its AD102-300-A1 form.
This ensures that the GeForce RTX 4090 will be compatible with all current video games. Future video games will include hardware ray tracing, variable-rate shading, and other features thanks to the DirectX 12 Ultimate capabilities.
Release Date and Price
The NVIDIA GeForce RTX 4090 was released on September 20th, 2022 but became available on October 12th, 2022. The price at the time of its release was $1,599 and production is ongoing.
Some third-party variants cost more than the base pricing since they have added features such as factory overclocks and custom cooling. Early stocks of this sought-after item sold out, but re-stocking is underway.
Different Models
Ada Lovelace, a brand-new GPU architecture, is the foundation for the RTX 40 series, which also uses several graphics processors. The RTX 4080 16GB uses the AD 103 GPU.
Models of the RTX 40 series include:
RTX 4080 12GB (canceled)
RTX 4080 16GB (released November 16th, 2022)
RTX 4090 24GB
Features
With 76,300 million transistors and a die area of 608 mm2, the AD102 graphics processor is a sizable chip. NVIDIA has blocked several shading units of the GeForce RTX 4090 to achieve the product's shader count, in contrast to the entirely unlocked GeForce RTX 4090 Ti, which uses the same GPU with all 18,176 shaders activated.
Other notable features include:
176 ROPs, 512 texture mapping units
16384 shading units
512 tensor cores, which accelerates machine learning applications
128 acceleration cores for raytracing
The GeForce RTX 4090 and 24GB GDDR6X RAM from NVIDIA connect through a 384-bit memory interface
The frequency of the GPU is 2235 MHz, but you can increase it to 2520 MHz, with its memory running at 1313 MHz
The NVIDIA GeForce RTX 4090 has three slots and uses a single 16-pin power connector with a maximum power draw of 450W
1 x HDMI 2.1 and 3x DisplayPort 1.4 are available as display outputs
The PCI-Express 4.0 x 16 interface links the GeForce RTX 4090 to the hardware
The card has a triple-slot cooling system and measures 304 mm x 137 mm x 61 mm
Specifications
Size
304 mm x 137 mm x 61 mm
Weight
2186g
Memory
24GB
Memory Type
GDDR6X
Memory Clock
1313 MHz
21 Gbps effective
Ray Tracing Cores
128
CUDA Cores
16,384
Base Clock
2.23 GHz
Boost Clock
2.52 GHz
Bus Width
384-bit
Tensor Cores
512
Architecture
Ada Lovelace
PSU Connections
1x 8-pin
Nvidia RTX 4090 Review
With its brand-new flagship, the GeForce RTX 4090, Nvidia has taken gaming to a new level. The RTX 30 series was already amazing, from the entry-level models all the way up to the enormous RTX 3090 family. However, the RTX 4090 is unique. The current generation is far more powerful than the previous one, with promises of astounding improvements.
The GeForce RTX 4090, which boasts the 3rd generation RTX architecture, is very fast, offering customers the ultimate experience with a quantum leap in acceleration and AI-powered graphics for games and apps. The new design packs enormous advancements. RTX 4090 has made 4K and Raytracing a norm and offered a GPU never seen before in the gaming world.
Performance
The performance of the RTX 4090 is unrivaled. In some situations, everything points to a performance improvement of up to 70% over the RTX 3090. To keep up, AMD will need to exert some substantial heat. The RTX 4090 is practically a vacuum until the RTX 4080 is released.
The previously unattainable levels of performance now make it possible for you to play fully ray-traced games like Cyberpunk 2077, NVIDIA Racer RTX, and Portal with RTX. How effectively the RTX manages everything is surprising. The memory speed, fan speed, and thermals are all excellent.
Although it consumes a lot of power, it rarely goes beyond 400W on standard settings. The maximum power limit is 450W, as shown on the package. Tools such as MSI afterburner will give you some room for tweaks like increasing core speed, memory speed, and power limit within the limit that your specific card allows.
Even while drawing 420W and making full use of the GPU, temperatures will still peak at about 60 to 65 degrees Celsius when using stock settings. However, the two massive fans and the enormous heat sink do an excellent job of keeping everything cool without making unbearable noise.
Unlike fans of earlier versions of NVIDIA graphic cards that were less noisy but ineffective at cooling, the RTX 4090 has it right. Additionally, the fans will cease spinning while the GPU is inactive because it runs cool enough without them.
Gamers concur that RTX 4090 is a game changer. The new architecture of NVIDIA's RTX 4090 is a huge leap over the RTX 30 series, with unprecedented levels of extraordinary performance and cutting-edge features for gaming enthusiasts and content creators.
Size
The GeForce RTX 4090 is an enormous piece of metal with airflow-improving fins on both sides. It has two big fans on opposite ends and sides of the card. It measures 304 mm x 137 mm x 61 mm. Surprisingly, it doesn't sag. It's quite rigid, considering its size and weight combined.
Encoding
The card has an NV1 and NVENC encoder. The RTX 4090 can finish rendering a 4K60 clip at 40,000 bitrates in less than 2.5 minutes.
It can handle any software with its sufficient 24 GB VRAM.
Nvidia RTX 4090: Pros and Cons
Below are the pros and cons of the Nvidia RTX 4090.
Pros
Incredibly fast
Unique build quality
Efficient cooling
Dual AV1 encoders
24GB of VRAM
Cons
Very expensive
Long, thick GPU won't fit in all CPU cases
The dongle adapter is quite irritating
On earlier PSUs, you need 4 wires to connect
It does not support the latest display outputs
Nvidia RTX 4090: Is It a Buy?
Although the RTX 4090 will set you back a pretty penny, gamers claim it's worth every dollar.
Buy it if…
This is for you if you enjoy speed and top-level gaming. If you're an ardent gaming enthusiast, then RTX 4090 will take you to a whole new world of gaming.
Plus, if you use your PC for long hours, the RTX 4090 has two fans arranged opposite each other for efficient cooling, so heavy users have been well taken care of.
Don't Buy it If…
Average gamers don't need all the power that RTX 4090 packs. If you intend to use the other slots on your PC, its massive size extends to other slots, which might be inconvenient if you intend to use them.
The image featured at the top of this post is ©Ralf Liebhold/Shutterstock.com.