Graphics cards are an essential element of any modern gaming rig. With so many great options in the market, finding the one you need may be challenging. Our goal today is to help end the Nvidia RTX 3060 TI Vs Radeon RX 5700 XT debate once and for all.
We'll review these two amazing and affordable cards from gaming hardware titans. We will also analyze each GPU's performance when playing triple-A titles, paying attention to the specs to help you decide the right one. Let's get started!
Nvidia RTX 3060 Ti Vs Amd Radeon RX 5700 XT: Side-By-Side Comparison
| | | |
| --- | --- | --- |
| | Nvidia RTX 3060 TI | AMD RX 5700 XT |
| GPU | GA104 | Navi 10 XT |
| Architecture | Nvidia Ampere | RDNA |
| Clock Speed | 1410 MHz | 1605 MHz |
| Memory Size | 8 GB GDDR6 | 8 GB GDDR6 |
| TDP | 200 W | 225 W |
| Release Date | 2020 | 2019 |
| Price (average) | $400 | $400 |
Reliable Option
NVIDIA GeForce RTX 3060 Ti Founders Edition
Boosts frame rates with uncompromised image quality using the dedicated AI processing Tensor Cores on GeForce RTX
Low latency
Fast responsiveness
AI acceleration
Backed by the NVIDIA Studio platform of dedicated drivers and exclusive tools
We earn a commission if you make a purchase, at no additional cost to you.
Nvidia RTX 3060 Ti Vs Amd Radeon RX 5700 XT: What's The Difference?
Despite using different proprietary technologies, Nvidia and AMD are top-grade brands. Both cards might look like the perfect choice on paper, but they differ in some ways. Knowing their differences can help you pick the right graphics card for your new gaming rig. Let's look at the RTX 3060 Ti vs RX 5700 XT comparison in detail.
Architecture
While these graphic cards may not be so innovative on the architecture front, they have other boons that help them stay viable gaming options.
Nvidia takes the lead with the Ampere architecture, which improves overall performance as it focuses on saving power, maintaining low temperatures, and a consistent draw of resources. Ampere models are specially designed to improve acceleration, incorporating third-generation tensor cores, multi-instance GPU, and structural sparsity. So, they're as good as it gets for any GPU in this price range.
AMD keeps its proprietary RDNA 1.0 architecture optimized for GPU performance, multi-level cache, and streamlined graphics engine. It supports the faster GDDR6 over the older GDDR5 memory systems, making it one of the best options for high-resolution gaming within a reduced budget.
Game Performance
Benchmarks are the real deal when comparing GPU cards, and every gamer knows that. We believe they need no introduction, so we'll do a quick overview of some stats to help you get a clear picture of these two cards' real-life performance. You can also perform tests using other computer activities, such as video editing and AI processing, but we'll talk more about that later.
For example, with Horizon Zero Dawn (tested at 4K), the results were tilted to the RTX 3060 TI side. You can expect a 20% better performance lead and a 50 FPS average, which is insane for a card that costs $400. The RX 5700 XT only got 41 FPS on average and consumed 12% more power.
This difference in resource consumption translates into a slightly higher temperature for the RX 5700 XT. The actual numbers are 63°C for the RX 5700 XT and 60°C for the RTX 3060 TI. While this might not sound like much, this situation repeats every generation. AMD cards offer more erratic performance, sometimes much better and others much worse than its competition, but always with higher temperatures.
The results of another test using The Witcher 3 showed a similar trend. With an average of 57 FPS, the RTX 3060 TI performed 17.1% better than the RX 5700 XT, which had a 48 FPS average. The power consumption values were almost the same as in the previous comparison.
So, this is clearly a point for the RTX 3060 TI, which performs between 15% and 20% better than the RX 5700 XT.
Graphics Performance
When playing resource-intensive games or video editing, you should pay attention to how a GPU works. At the end of the day, you want a stable performance. As these companies are competitors, they tend to imitate each other. What one implements via software, the other implements via hardware. Here are some examples.
Nvidia uses DLSS technology and tensor cores for the RTX 3060 TI. DLSS is an AI-powered system designed to deliver accurate and high-quality images. On the other hand, AMD chooses to implement similar technologies through software. FidelityFX Super Resolution (FSR) is an upscaling technology that creates clearer images and allows for better graphics, even on older systems.
Additionally, the RX 5700 XT includes Fluid Motion Frame, a technology that imitates Nvidia's DLSS. FMF is designed to help the GPU when computing highly demanding tasks, such as playing games in 4K or rendering high-quality images or videos.
High-Performance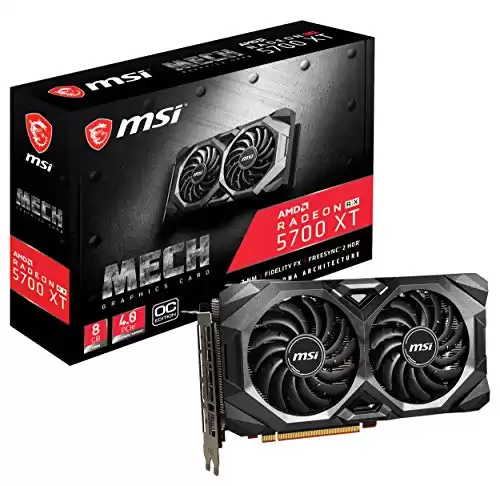 We earn a commission if you make a purchase, at no additional cost to you.
Memory, Clock Speed, and Connectivity
This area is a bit simpler. Both cards go way beyond the needs of the average gamer, achieving great performances in all benchmarks. They include 8GB of GDDR6 memory, 448.0 GB/s of memory bandwidth, and a 256-bit memory bus width. Pretty much tied, right?
They are both within the same price range and came out around the same time. Even being affordable graphics cards, memory capacity won't be an issue that will cause any bottlenecks.
As for clock speed – another important metric – AMD has a slight advantage. This may perform better in some situations, but this will make the GPU less thermally efficient. This can result in overheating and annoying fan noises.
The Nvidia RTX 3060 TI and the AMD Radeon RX 5700 XT offer three standard DisplayPort 1.4a ports, with a bandwidth of up to 32.4Gpbs. It's worth noting that the RX 5700 XT provides a single HDMI 2.0. Instead, the Nvidia RTX includes an HDMI 2.1 port.
Nvidia RTX 3060 Ti Vs Amd Radeon RX 5700 XT: 6 Must-Know Facts
Released in 2019 and 2020, the RTX 3060 Ti and the RX 5700 XT are affordable GPU cards that can run top-notch games.
While both cards aren't suitable for 8K gaming, they can deliver 4K if you're not concerned with maintaining a stable 60+ FPS.
RTX 3060 TI and the RX 5700 XT have comparable stats in most hardware tests, but each works on a unique proprietary architecture.
Both graphics cards cost roughly $400 and are compatible with modern CPUs and rigs.
The RTX 3060 Ti comes with one HDMI 2.1, while the RX 5700 XT only includes an HDMI 2.0 port.
Nvidia's RTX 3060 Ti outperforms AMD's by about 20% in most benchmarks, making it the ideal choice for most gamers.
Nvidia RTX 3060 Ti Vs Amd Radeon RX 5700 XT: Which One Is Better?
The benchmark test leaves no doubt about the superior performance of the RTX 3060 Ti over the RX 5700 XT. In all the categories, the first unit takes the lead and delivers an accurate and stable gaming experience.
AMD's card is less thermally efficient, which might also make it noisier during extended gaming sessions. Also, looking at their characteristics, you can tell that the RTX 3060 TI will perform better on other tasks, such as video editing or machine learning.
Ultimately, the choice is yours, but we strongly recommend the Nvidia RTX 3060 Ti over Amd's RX model. If you still wish to get the Radeon RX 5700 XT, we recommend you go for a model with two or more fans to help dissipate the heat and prevent any problems.
The image featured at the top of this post is ©l2pTink3r/Shutterstock.com.