One of the primary roles of graphics cards is to ensure an output more efficient than what you'd expect from a regular GPU. Modern gaming requires powerful video cards to deliver life-like graphics and, for a long time, NVIDIA has been the go-to choice for best in-graphics performance.
The release of the RTX 2080 in 2018 saw NVIDIA push its technology further, offering an impressive boost to its older specs with better memory speeds and texture fill rates.
Before the release of the RTX 2080, the GTX 1070 reigned supreme and was the industry standard for many gamers and professionals. The card featured a solid combination of admirable performance and price. But because technology changes for the better, NVIDIA always ensures that newer cards feature more advanced technology.
NVIDIA GTX 1070 vs RTX 2080: Overview
Comparing NVIDIA GTX 1070 vs RTX 2080, the GTX 1070 pales in the latter's performance, but it's still a good option. The main difference affecting performance between the two cards lies in their feature specifications.
For instance, while the GTX 1070 uses 8 GB GDDR5 memory with a processor clock speed of 1683 MHz, the RTX 2080 features 8 GB GDDR6 memory with a boost clock speed of 1710 MHz. It's common knowledge that memory speeds significantly impact any GPU's performance. In this case, it's no different; the RTX 2080 outpaces the GTX 1070.
As you continue reading, we'll cover other vital features that further explain the differences between the two cards, including texture fill rates, CUDA cores, memory bandwidth, as well as base and boost clock speed.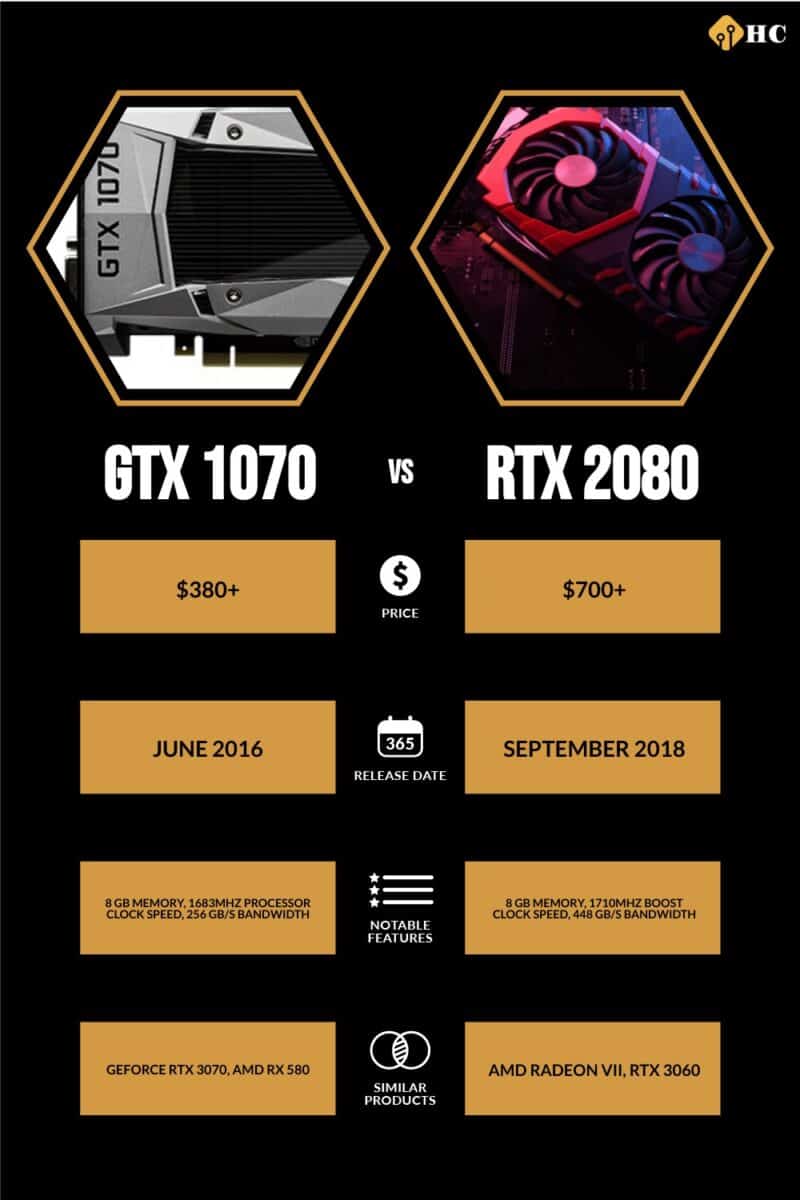 NVIDIA GTX 1070 vs RTX 2080: Side-by-Side Comparison
| | GTX 1070X | RTX 2080 |
| --- | --- | --- |
| Release | June 2016 | September 2018 |
| Architecture | Pascal | Turing |
| Process size | 16 nm | 12 nm |
| GPU Cores | 1,920 | 2,944 |
| TDP | 150W | 250W |
| Base Clock (MHz) | 1,506 | 1,515 |
| Boost Clock (MHz) | 1,683 | 1,800 |
| Memory Speed | 8 GHz | 14 GHz |
| Memory Capacity | 8 GB GDDR5 | 8 GB GDDR6 |
| Memory Bandwidth | 256 GB/s | 448 GB/s |
| Memory Clock | 8 Gbps | 14 GBps |
| Transistors | 13.6 billion | 18.6 billion |
| Launch Price | $379 | $799 |
NVIDIA GTX 1070 vs RTX 2080: What's the Difference?
Answering the question of which graphics card is the better buy isn't a problem with the two. On the one hand, we have a cheaper but still powerful GTX 1070 that offers decent performance for most applications. On the other hand, we have a relatively expensive RTX 2080 with better features, advanced architecture, and high performance out of the box.
The above table illustrates the feature differences between the two graphic cards. In the following sections, we want to elaborate on how these features further impact the performance of the graphic cards.
Architectural Differences
One of the most significant differences lies in the architectural structure of the graphics cards. The GTX 1070 uses the Pascal base design, which also features an improved version of NVIDIA's Maxwell architecture. In contrast, the RTX 2080 boasts the more advanced Turing architecture with RT and Tensor Cores responsible for enhanced ray tracing, as well as AI-powered video and image processing.
Apart from ray tracing and AI-powered capabilities, the Turing architecture in the RTX 2080 comes with a graphics pipeline that can render more sophisticated and detailed images with improved levels of realism.
Our Pick
We earn a commission if you make a purchase, at no additional cost to you.
This card also supports newer graphical capabilities, like Deep Learning Super Sampling (DLSS). This feature lets you use AI to process images and increase their visual fidelity when playing video games or working with other applications.
If you were given a GTX 1070 in 2016, you'd be looking at a good mid-range graphics card and still get a good gaming experience. The Pascal-based architecture was a huge step forward then, and the card can still hold up well today.
But because modern games continually require more advanced capabilities, the GTX 1070 will likely struggle. For instance, the Pascal architecture doesn't support DX12, which is responsible for supporting features like mesh shaders, sampler feedback, and variable rate shading.
The GTX 1070 will work fine if you don't intend to play games requiring more advanced features like DLLs or ray tracing. However, use the RTX 2080 to keep up with modern-day game releases.
Process Size
An often underestimated feature is the process size. Any GPU or CPU enthusiast worth their salt will tell you how the process size affects overall performance. The GTX 1070 comes with a 16 nm process size, whereas the RTX 2080 has a 12 nm process size. You need to know that smaller chips perform better than larger ones for one specific reason—power efficiency.
While the 4 nm size difference may seem too small to have an actual impact, most gamers fail to understand that even the smallest die size can help improve heat dissipation, which is necessary if you want a stabilized working environment.
Therefore, not all GPUs are equal. If you search for more advanced graphics cards like the RTX 4080 or the RX 6950 XT, you'll notice that they have even smaller process sizes at 4 nm and 7 nm, respectively.
Memory, Bandwidth, and Speed
If you haven't been in the GPU space for a while, you're probably confused about the bandwidth and memory speeds. The memory and bandwidth's biggest responsibility is providing enough headroom for applications to run smoothly. In a basic sense, the two prevent the GPU from bottlenecking.
For instance, when playing a video game, a graphics card with more memory and higher bandwidth will load more textures and output without losing excess frame rates. When the frame rate is higher, gamers will have a smoother gaming experience and fewer instances of lag.
Besides that, you also need to consider the memory configuration type of the GPU. The GTX 1070 runs on GDDR5, which is slower than the GDDR6 available on the RTX 2080. Both have a memory capacity of 8 GB.
Looking at the bandwidth, GTX 1070 features 256 GB/s, whereas the RTX 2080 has 448 GB/s. You'd definitely expect the RTX 2080 to offer better performance, and that's exactly what you get.
The 8 GB capacity for both cards is effective, especially if you are playing fairly old games. But for maximum efficiency and performance, you should go for graphic cards with more capacity, like the RTX 4090 available on Amazon.
Speed: Core, Boost, and Overclocking
Other crucial aspects to look into when comparing the two graphics cards are the graphic clock speeds, or what we call core speed, processor clock speed, or boost speed, and the overclocking speed. These clock speeds determine how fast your GPU executes commands, processes data, and renders visuals.
Our Pick
We earn a commission if you make a purchase, at no additional cost to you.
For example, how quickly can the GPU induce lighting effects, 3D models, or textures? Usually, the higher these clock speeds are, the faster it renders the visuals. GTX 1070 has a base clock speed of 1,506 MHz, whereas the RTX 2080 has a base clock speed of 1,515 MHz.
The difference is as significant, but if you compare the boost clock speed, you'll notice a difference of about 113 MHz. While the GTX 1070 has 1,506 MHz, the RTX 2080 has a high of 1,800 MHz.
Now, regarding overclocking, both cards have almost similar capabilities. But because of the differences in their architectural structure, you'll need different cooling systems if you intend to push its clock speeds higher than their standard speeds. If you want to overclock the cards, you may want to invest in higher-quality cooling components, especially for GTX 1070.
TDP and Power Consumption
Most users play games for hours. Therefore, when choosing a graphics card, you want one that is low on consumption and has a lower thermal design power (TDP). The good thing is graphics cards have come a long way, and when looking at GTX 1070 and RTX 2080, the TDPs are relatively low.
However, it's crucial to remember that higher TDPs are synonymous with more powerful graphics in modern-day GPUs. Our two cards definitely don't fall in that category.
The GTX 1070 has a TDP of 150W, whereas the RTX 2080 features a TDP of 250W. You'll save power with the RTX 1070, which means the card will run cooler and much quieter. Also, this isn't only about power consumption but also the cooling system you'll need to purchase. Because the RTX 2080 has higher TDPs, you'll spend more on cooling.
CUDA Cores
The advancements in GPU architecture made CUDA cores a not-so-accurate way of measuring performance. However, the cards we are dealing with here aren't new entrants in the space, so the number of CUDA cores plays a crucial role.
CUDA cores perform the calculations needed to display graphics. In a basic sense, these are the brains behind any functionality of a GPU. Therefore, more CUDA cores mean the graphics card has better performance. Looking at the GTX 1070 and the RTX 2080, the latter has 2,944 CUDA cores, whereas the former has 1,920.
The massive difference translates to better performance favoring the RTX 2080. Therefore, you'll easily perform tasks like video editing, gaming, and running any other resource-intensive applications like one that requires 3D rendering.
Gaming Performance
Expect overall better gaming performance with the RTX 2080. Per data available on UserBenschmark, playing PUBG at 1080P, the GTX 1070 had 109 effective frames per second (EFps) compared to the RTX 2080, which had 151 EFps.
The RTX 2080 had much better Overwatch EFps at 52% more than the GTX 1070, which had 112EFps. Overall, expect an average of about 39% better EFps for the RTX 2080 when looking at other games like GTA V, CSGO, and Fortnight.
Also, the RTX 2080 has a much faster effective speed at about 55% better than the GTX 1070 when rendering 3D models. The average 4K performance for both cards is 62.3 FPS for the RTX 2080 and 40.6 FPS for the GTX 1070. All these are when the GPU is at ultra settings.
Cost and Availability
Eventually, you'll want to buy one of the cards for your GPU. The GTX 1070 is still widely available and at an even lower price. At launch in 2016, you had to part with $379, which wasn't as high, and its founders' edition was about $420.
Today, you can find the founder's edition of the GTX 1070 in several retail stores like Amazon, priced at only $328.68. Other versions can go as low as $149.75.
The RTX 2080 didn't come cheap, considering inflation and other economic factors. In 2018, you had to part ways with $799 if you were to buy one. The price has dropped significantly to $609.99 and, unfortunately, it isn't as readily available as you'd expect, considering it's the newer version.
NVIDIA GTX 1070 vs RTX 2080: 8 Must-Know Facts
The GTX 1070 has 8 GB RAM, a GDDR5 memory type, and 256 Gbps bandwidth, whereas the RTX 2080 uses 8 GB GDDR6 RAM with 448 Gbps bandwidth.
NVIDIA GTX 1070 hit the market in 2016, whereas the RTX 2080 entered the market in 2018.
The boost clock speed of the RTX 2080 is 1,800 and its base speed is 1,515, whereas the base clock speed of the GTX 1070 is 1,506 and it has a boost clock speed of 1,683.
The processor size of the GTX 1070 is 16 nm while that of the RTX 2080 is 12 nm, meaning the latter is more energy efficient.
RTX 2080 has 2,944 GPU cores, whereas the GTX 1070 has 1,920. GPU cores are similar to CUDA cores.
RTX 2080 has faster memory clock speeds at 14 Gbps, whereas the GTX 1070 has only 8 Gbps.
The number of transistors in the GTX 1070 is about 13.6 billion, whereas that number is about 18.6 billion in the RTX 2080.
GTX 1070 has lower thermal design powers at 150W than the RTX 2080's 250W.
NVIDIA GTX 1070 Vs. RTX 2080: Which One Is Better? Which One Should You Use?
The ultimate choice of GPU will depend on your needs and budget. We don't recommend compromising quality features over price, but if you can't afford to spend $609.99 on the RTX 2080, you can settle for the GTX 1070, which will cost you about $330. However, it'll limit you to relatively old games.
The RTX 2080 is quite expensive to some, but to those who want better features and performance, it's a fair price. We highly recommend this GPU for competitive gaming and other resource-intensive applications because it has more power. Other GPUs with even better specs are also available.
8 GB 256-bit GDDR5X
Enables

4K gaming

1x Dual-link DVI-I, 3x DisplayPort (version 1.4), 1x HDMI
Features new Pascal architecture

Buy Now on Amazon

We earn a commission if you make a purchase, at no additional cost to you.

11/30/2023 07:34 am GMT

8 GB GDDR6 video memory

256-bit memory interface

Input: 2x 8pin PCI-E Power Connectors

Buy Now on Amazon

We earn a commission if you make a purchase, at no additional cost to you.

11/29/2023 06:30 pm GMT
The image featured at the top of this post is ©Zoomik/Shutterstock.com.