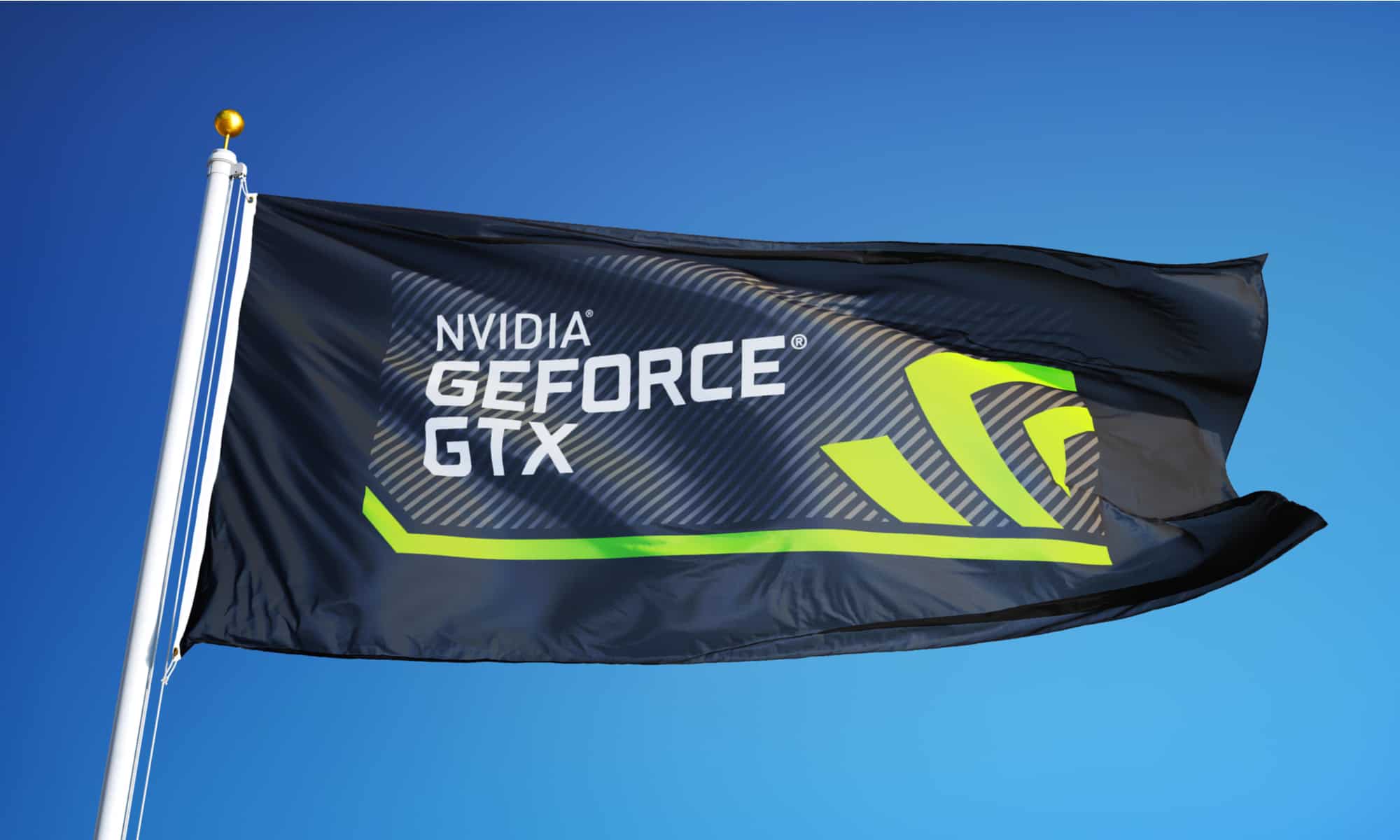 Key Points
Widely referred to as GPU, graphic processing systems are an essential for designing, gaming, video editing, viewing and even business purposes.
There are various graphic cards available, new and old. Although buying a used card might seem unseemly, the quality and output of some of them far exceed expectations.
Here is a comprehensive comparison of NVIDIA GTX 1050 Ti and GTX 970, that you can use to decide which one would serve you better.
The crypto crash may have left a bitter taste in the mouth of thousands of miners, but it's not all doom and gloom. Graphic cards like the NVIDIA GTX 1050 Ti and GTX 970 have started flooding the market as miners try to dispose of their rigs. You can get used cards at reasonable prices. Both graphic cards are generations behind, but they were both excellent GPUs in their time. GTX 1050-Ti vs. 970?
Are these GPUs even still worth picking up in 2022? Can they still play modern Triple-A games today? Should you buy the GTX 1050 Ti or GTX 970? These are questions that I aim to answer in this comparison.
GTX 1050 Ti vs. GTX 970: Side by Side Comparison
| | GTX 1050 Ti | GTX 970 |
| --- | --- | --- |
| Release Date | October 25, 2016 | September 19, 2014 |
| Original MSRP | $139 | $329 |
| Price Today | $120-$200 | $80-$120 |
| Boost/Base Clock Speed | 1.39GHz/1.29GHz | 1.17GHz/1.05GHz |
| VRAM | 4GB | 4GB |
| Memory Interface | GDDR5 | GDDR5 |
| TDP | 75W | 148W |
GTX 1050 Ti vs. GTX 970: What's the Difference?
Specs aside, what makes these two graphics cards different? You can compare GHz and MHz all day, but most people care about real-world results. So we will be using 2 different benchmarks to compare the GTX 1050 Ti and GTX 970.
Gaming
Old-generation graphics cards were typically used for gaming. All these games we will be looking at are tested at 1080p at high quality. When these cards were released, 1440p was not a common thing, so that is why all these games are played at 1080p.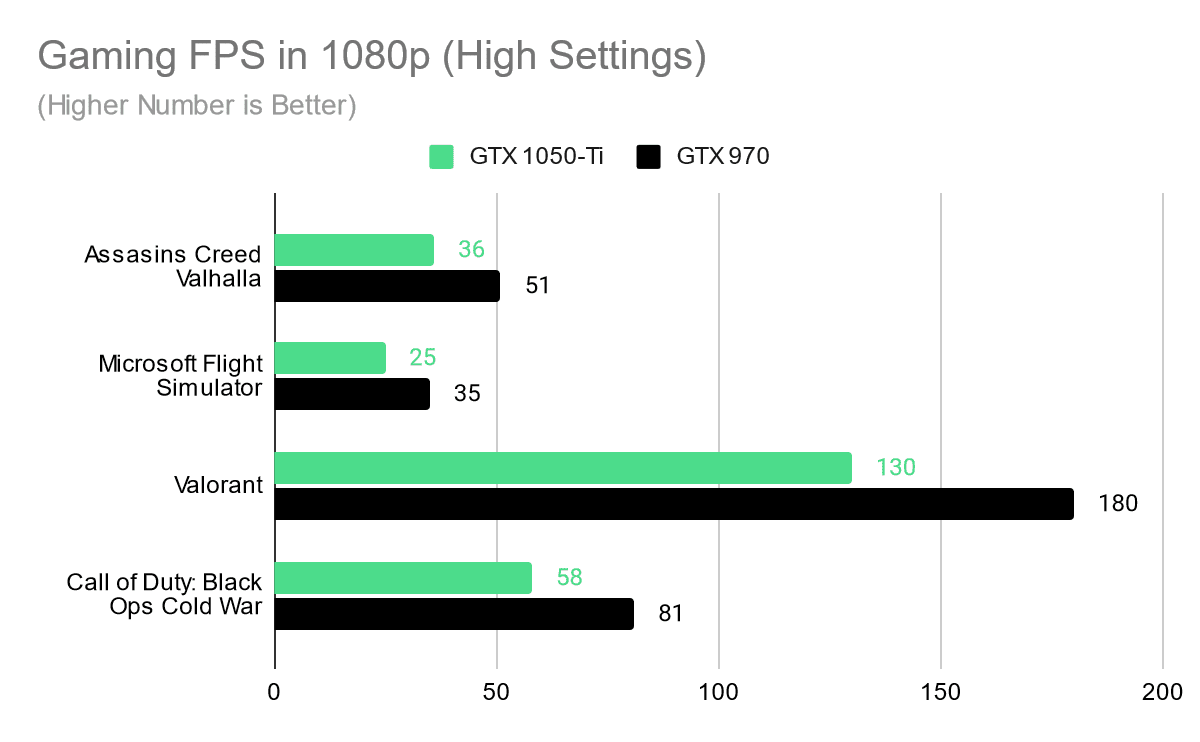 Bigger numbers on the GPU side do not always mean better results. The GTX 970 was released as a premium GPU, whereas the GTX 1050 Ti was released as an entry-level card, making these numbers more sense.
Although you can use these GPUs to play some DirectX-compatible games, you might struggle with high-quality visual games like Microsoft Flight Simulator and Assasins Creed Valhalla. However, this may not be an issue for those playing Valorant or Call of Duty. You can play both games comfortably. The GTX 970 beats the GTX 1050 Ti in every game, which might make it a sneaky budget win.
Can they match up with the 30 or 20-series NVIDIA graphics card? I doubt it as they lack features like Ray Tracing or DLSS (Deep Learning Super Sampling). DLSS will not affect you if you want to play in 1080p. You can still play at higher resolutions without a hit to performance.
GeekBench
In the second test, we used GeekBench 5 to test 11 different scenarios that directly test the processing power of the GPU. GeekBench gave each GPU a score at the end of the tests.
Again the GTX 970 beat out the GTX 1050 Ti in this test. Both scores are respectable for this generation of GPUs but can't hold a candle to modern-day graphics cards. A synthetic stress test for the GPUs is not real. However, it does give us a good idea of how well each card can handle a multi-core test.
Power consumption
Compared with the latest NVIDIA cards, the GTX 960 and GTX 1050 Ti have an incredibly low TDP. For example, the GTX 1050 Ti is rated at just 75W TDP, and most people recommend having just a 250W power supply. That pales in comparison to the GTX 970, which has a massive TDP of148W and a recommended power supply of 300W.
The RTX 3060, which lies on the lower end of the newest 30 series GPUs has a TDP of 170W. So, if you want to save some power for other components in your PC, check out either the GTX 970 or GTX 1050 Ti.
Cooling performance
Both cards have no problems with cooling or thermal throttling, provided they get some fresh air. The GTX 970 typically sits around 28 degrees celsius at idle and does not get above 68 degrees celsius under a gaming load. The GTX 1050-Ti performs to a similar level, topping out around 68 degrees celsius under a heavy load.
A GPU's cooling performance will vary depending on the manufacturer, the type of cooler, and whether it has a casing. The GTX 970 or GTX 1050-Ti can fit in small form cases like other models in the RTX 30 series.
Price
GPU prices have been falling. Depending on the maker and the card's condition, you can get a solid GTX 1050 Ti for around $120-$200.
We earn a commission if you make a purchase, at no additional cost to you.
GTX 1050 Ti vs. GTX 970: 4 Must-Know Facts
GTX 1050 Ti and the GTX 970 have a lower TDP than the latest graphics cards.
New cards are hard to find, but there is a large used market for the GTX 1050 Ti and GTX 970 today.
The GTX 970 was released as a premium performance GPU, whereas the GTX 1050-Ti was released as an entry-level GPU.
Neither card has access to DLLs or Ray Tracing.
GTX 1050 Ti vs. GTX 970: Which is Better?
Going into this review, we had my doubts about the ability of these cards to power the newest games or stand up to current GPUs. Surprisingly, their performance, especially the GTX 970 is remarkable.
The GTX 970 is cheaper and outperforms the 1050 Ti in each performance test. If you can find a GTX 970 for $120, that would be an absolute steal.
Of the two, GTX 1050 Ti is readily available. I can't say the same about the GTX 970. Good luck in your search endeavor. A quick Google Search throws up a multitude on the first page, most of them on Amazon.
Next Up…