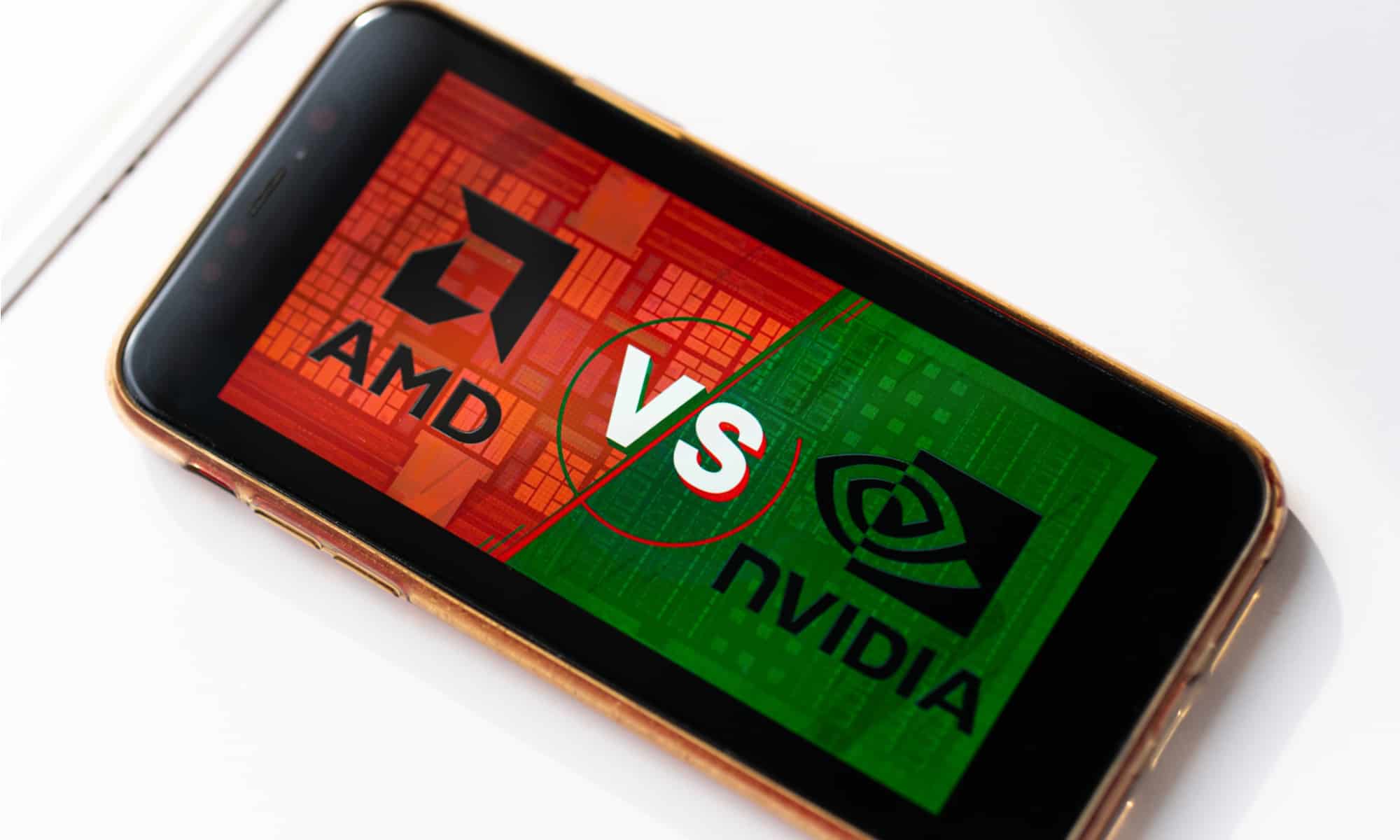 Key Points
The latest generation of cards for both AMD and Nvidia are each excellent performers.
Strictly looking at performance in games and creative programs, the RTX 3000 family wins.
If you are a creative type, definitely look at the Nvidia RTX 3000 lineup, specifically the RTX 3080-Ti. If you are a strict gamer and want the best bang for your buck, the AMD RX 6700 XT is for you.
Nvidia vs AMD has always been a competition for consumers' GPU affection. In 2022, this battle rages. Both brands now have families of cards that can make choosing between the Red and Green brands harder than before. Today, we will look at the price, performance, power usage, and some stand-out features of Nvidia GeForce vs AMD Radeon.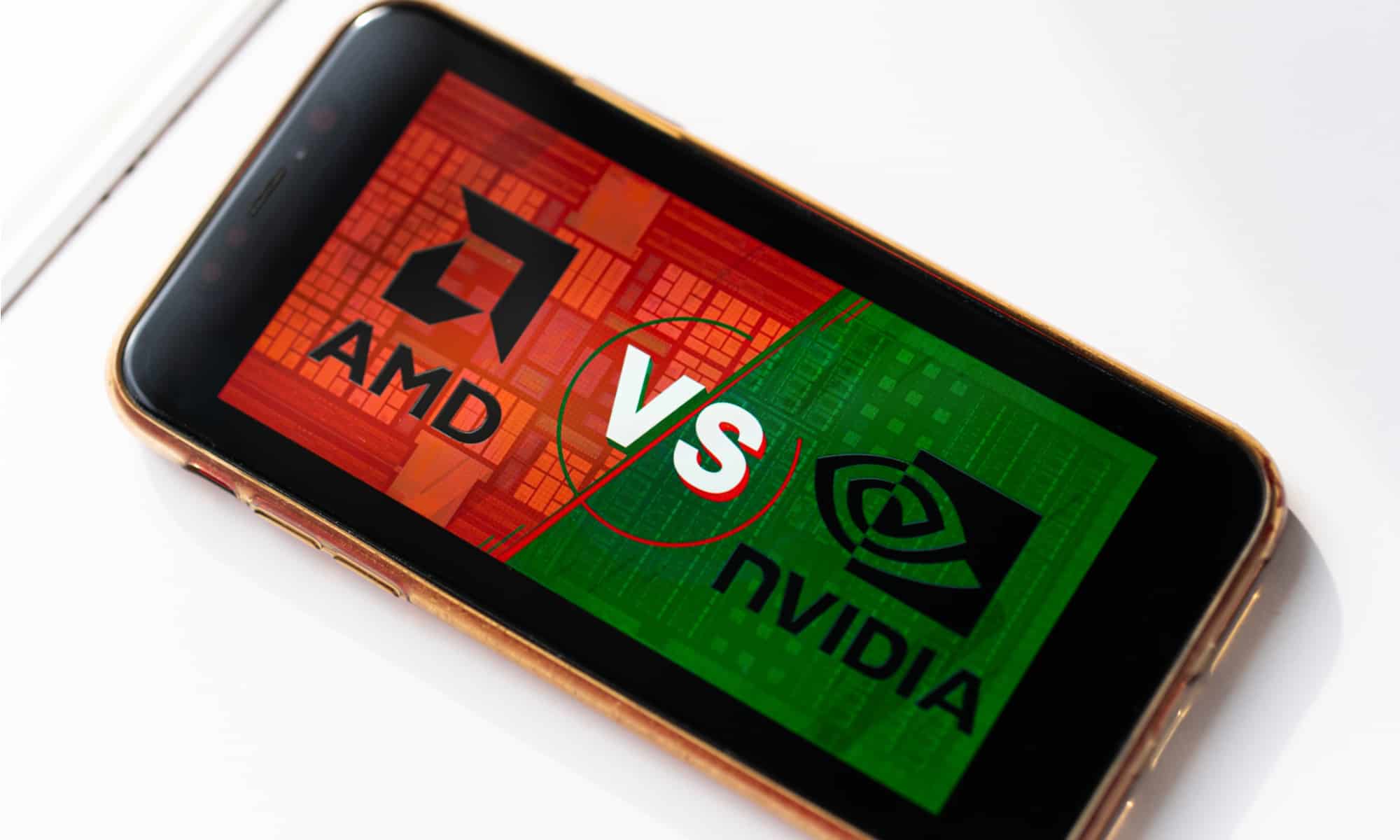 Top of the Top
The latest generation of cards for both AMD and Nvidia are excellent performers in their own right. Nvidia has the RTX 3000 series, which is topped out by the RTX 3090, and AMD has the RX 6000 series, which is topped out by RX 6950 XT. Part of the problem I see with a lot of GPU reviews is that they are always comparing the top-of-the-top for every generation. 
While that is more fun, a lot of people out there will not be buying these cards, especially with the GPU shortage that recently plagued the market. Remember, this is not to discourage you from looking at these top-of-the-top cards, just to remind you that the mid-range options are out there that can give you an excellent price-to-performance options. 
That being said, in the later tables and performance charts, you will see some of the lower cards for both brands, so you can make a fair comparison and not just buy the card with the biggest number. I have been guilty of buying a GPU for a big number before. Now that we have got my housekeeping remarks out of the way, this gets to fun bits. How do these GPUs actually stack against each other 
| Product | Original MSRP | Today's MSRP |
| --- | --- | --- |
| RTX 3050 | $249 | ≈$349 |
| RX 6600 XT  | $379 | ≈ $379 |
| RTX 3070 | $499 | ≈$600 |
| RX 6700 XT  | $475 | ≈$499 |
| RTX 3080-Ti | $1,119 | ≈$1,119 |
| RX 6950 XT | $1,099 | ≈$1,099 |
NVIDIA GeForce vs AMD Radeon: What's the Difference?
Those prices don't mean anything if they don't perform up to their mark. Performance can be tested in multiple ways depending on the main use you intend for the GPU. We will be looking at three tests: real-world gaming tests, 3D render tests, and a simulated 3D test with 3DMark.
Gaming Benchmarks
 I am assuming a good-sized group of you are looking at these for gaming, so we will look at those results first. 
Not surprisingly, the RTX 3080-Ti and the RX 6950 XT are the top two performers when it comes to games at 1440p. But some surprising performance is coming from the RTX 3070 in Far Cry 6 and Borderlands 3, coming within a couple of fps of the 3080-Ti and beating the RX 6950 XT in Borderlands 3.
The RTX 3050 and RX 6600 XT are both effective competitors but do not stand out in these tests compared to the others. DLSS or Deep Learning Super Sampling allows the GPU to boost the gaming performance from 30%-50% without a loss in image quality. DLSS is only on RTX 3000 cards, so for 4k gaming, Nvidia's cards are the winner, hands down. 
3D Rendering
Now to look at the 3D rendering test. This is an excellent test to look at if you are looking at these cards for your next creative workstation. Even if you don't commonly do 3D modeling in your workflow, it is a good benchmark for video editing, photo editing, and graphic design as well. We will be looking at the BMW and Classroom benchmark render in Blender to test out these cards. These tests will be from a render with 300 samples. 
I could not find reliable results for the RX 6950 XT for these benchmarks – it is the newest card on the list, so that is not surprising. This card's results have to be close to the RX 6900 XT though, which is 60 seconds for classroom and 142 seconds for BMW. You might also see in these results that the Nvidia cards beat out every AMD card in its class and sometimes punch above. This is probably due to the Nvidia cards having an architecture that is more optimized for blender and creative programs. For example, Adobe recommends using Nvidia cards across the board for their programs because of how well optimized they are for the Creative Suite.
3DMark's Benchmark
The last performance test we will look at is the 3DMark benchmark. This is the only simulated test of the three, but it's an excellent stress test on GPUs to see. These results don't always mean that the card that comes out on top is the best, however, it does handle the stress of heavy loads the most efficiently. All these results are from 3DMark's leaderboard online. We chose the top result with only one GPU present in the PC. So, none of these results benefit from SLI or Crossfire.
Unfortunately, the top two scores are from the flagships. Bottoming out the list is the RTX 3050, which is fairly far behind the RX 6600 XT, second to the last on the list.
Power and Thermals
Power and power efficiency are a growing concern with how much "oomph" these consumer-level cards are giving nowadays. The RTX 3000 cards are notorious for being power-hungry GPUs and have spikes that can sadly take out a less powerful power supply. AMD, on the other hand, even though they don't blow performance out of the water, they are truly power-sipping level cards up and down the range. 
So, if you are looking for an eco-friendly machine that can be cooled more comfortably in a smaller case, the AMD lineup is a better fit. Not to say the RTX 3000 series cannot fit in a small form factor, but if you want to put a 3080-Ti in an ITX case, don't expect to get the full performance out of it. 
The NVIDIA lineup benefits from DLSS and Ray Tracing capabilities whereas the AMD Radeon lineup does not. 
For a cooler (temperature-wise) set up look towards the AMD cards, they tend to draw less power and run a little bit cooler. 
Creative Applications like Adobe Creative Suite are more optimized for NVIDIA's GPUs.
Be wary of used prices that seem too good to be true on all of these GPUs, unfortunately, people are taking advantage of the shortage in the worst ways possible. 
Strictly looking at performance in games and creative programs, the RTX 3000 family wins handily. Of course, as we have said before, performance is not everything. With PC components being so exciting in the last couple of years, it is hard to declare one true winner for everyone. If you are a creative type, definitely look at the Nvidia RTX 3000 lineup, specifically the RTX 3080-Ti. If you are a strict gamer and want the best bang for your buck, I recommend the AMD RX 6700 XT. 
As a PC enthusiast, I don't think anyone wants the brand wars to end. With both of these newest families being fairly tight competitors, it makes announcing new GPUs even more exciting. For a long time, there wasn't even a question of what brand to buy from, and now we have great options from both brands for different uses and price points. If you got through this and have not decided, know that every GPU discussed will be a terrific option to upgrade your old PC or build an entirely new one!
NEXT UP…