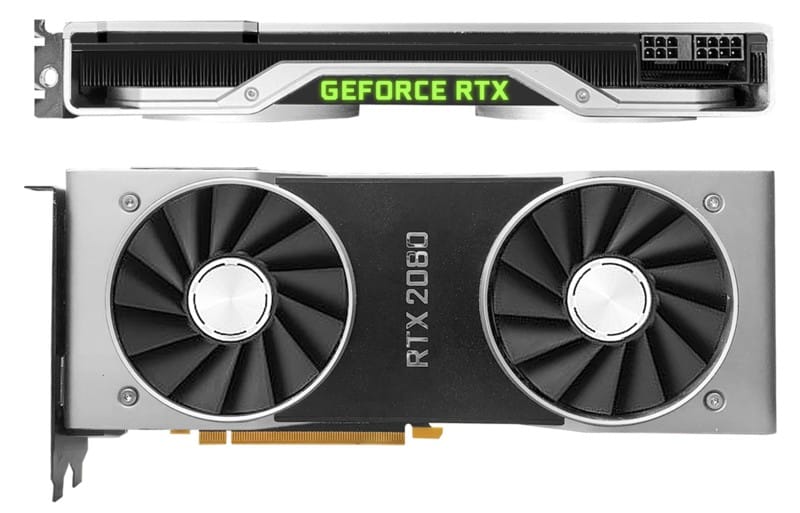 After the crypto crash, affordable NVIDIA RTX 2080s that can give your gaming the extra boost flooded the gaming market. It comes with almost all the horsepower of the newest generation NVIDIA GPUs.
Best Deals Today
Sale
NVIDIA GeForce RTX 2080: Overview
Release date and price
This graphics card was released on September 20, 2018, alongside other GPUs in the 2000 series, like the RTX 2060 and 2070. At that time, it was seen as the "god of GPUs" and the next pioneer in graphics cards.
When it was released, the 2080 card sold for $699. Its the same price as the latest NVIDIA flagship, the RTX 3080. Of course, the prices have fluctuated in the last few years due to GPU shortage and scalping. You can get a used card for $400-$500.
Different Models
RTX 2080 Super
RTX 2080-Ti
 Features
Although Deep Learning Super Sampling (DLSS) is not as optimized on the RTX 2080 as on the RTX 3080, it works pretty well. When using 2080 with DLSS on, you will not notice a difference at 1080p. However, you will be pleasantly surprised at 1440p and 4K.
Specifications
BASE CLOCK SPEED 
1.51 GHz
BOOST CLOCK SPEED
1.71 GHz
ARCHITECTURE
Turing
MEMORY
8 GBs
MEMORY TYPE
GDDR6
TDP
215W
VIDEO OUTPUT
1x HDMI 2.0
3x DisplayPort 1.4a
1x USB Type-CLAUNCH
RTX 2080 Review
Even though the 2080 card is built on the slightly older Turing architecture, it is still quite powerful. How does the performance hold up to its modern counterparts? Let's dive into gaming, specifically 3D rendering and 3DMark's Time Spy benchmarks, to see how it does. Let's see how this GPU compares to the current flagship RTX 3080.
Gaming
RTX 2080 card gives you incredible gaming realism, speed, and power efficiency levels. We tested the four games at 1440p at ultra quality, and here is how it stacks up against RTX 3080.
The RTX 3080 outperforms the RTX 2080, which still puts up quite a respectable performance. All but Microsoft Flight Simulator, which even the RTX 3080 had problems. It's safe to say that 2080 performs at a high level.
3D Rendering Benchmark
For this test, we used Blender's 3D benchmark test. It runs 3 renders and gives each one a score, then averages it out to get an overall score. This is something you'd want to consider looking at a GPU for a creative workstation.
As you can see, the 2080 gaming card falls behind the modern-day flagship but still maintains a respectable score of 2,333. So if you are upgrading from an older generation of GPUs or looking to build your first PC, the 2080 model is still a viable option for a budget workstation.
3DMark Time Spy
This is the only synthetic test in this review. While it doesn't always give real-world results, it's always good to know how the GPU handles a huge load over a long period.
I gathered these results from 3DMark's leaderboards with only one GPU in the system and verified the results.
Again the RTX 3080 blows the 2080 GPU away in this test, which in my opinion, is still a good GPU.
RTX 2080 Pros and Cons
Pros
Affordable price
Excellent performance
Low power draw
Cons
Not as powerful as the modern-day GPUs
Only used ones are available
Would I buy one?
Four years later, RTX 2080 no longer holds the title of "GPU God." The current flagship RTX 3080 has securely taken over that title, especially now that you can actually buy 30 series cards again.
Buy if…
If you are in the market for a budget-friendly card that can support gaming at 1440p, the RTX 2080 is a good choice. It runs a lower TDP than the current generation and is one of the more efficient GPUs in the market.
Don't buy if…
You want a show-stopping performance. GPU and PC technology, in general, have leaped forward in those 4 years. With the RTX 30 series prices settling, the lower price of the RTX 2080 is not as big of a motivation as it was in 2020.
Sale
Last update on 2022-09-22 / Affiliate links / Images from Amazon Product Advertising API