Key Points
The Nokia 1110 is a low-end GSM mobile phone sold by Nokia in 2005.
The Nokia 1110 was capable of MP3 ringtones, which allowed users to play a song as their ringtone instead of just the iconic Nokia ringtone. It also had an alarm clock that talked.
The Nokia 1110 was discontinued in 2007.
Even if you haven't used Nokia 1110, you have undoubtedly seen or heard about it. The iconic phone is the stuff of legends. While a barebones device, it got the job done with no frills.
Nokia 1110: Timeline
Nokia got its start in communications by making military radio equipment in the 1960s. They diversified into computers and other electronic devices. In the 1990s, Nokia shifted almost entirely to telecommunications with the Nokia 1011. Nokia's first mobile phone looked more like a cordless home phone than a mobile one, but it changed the company's trajectory.
In the mid-1990s, Nokia launched the 2000 series, which included more features and a bigger screen. However, they would return to the 1000 series designation in 2003 with the launch of the 1100.
Nokia 1110: Overview
The Nokia 1110 is the successor to the best-selling phone of all time, the Nokia 1100, which was released in 2003. 1110 came out only two years later as an upgraded version, with its 1110i variant released in 2006. It operated on dual-band GSM 850 and 1900. Phone prices varied depending on the carrier but were under $100 as it was sold as a cheaper alternative to their Nokia 1600.
Features
The Nokia 1100 and 1110 featured a 96×65 screen, with 1110 having an upgraded inverse monochrome display. Whereas the 1110i retained the monochrome display from its predecessor.
The Nokia 1110 was capable of MP3 ringtones, which allowed users to play a song as their ringtone instead of just the iconic Nokia ringtone. It also had an alarm clock that talked.
The Nokia 1110's 700mAh battery was enough for an impressive five hours of talk time in its small form factor. It also included three basic games and allowed for texting messaging.
Target Market
Nokia's target market for 1110 was significant as it was an entry-level mobile device. In addition, many customers in the early 2000s were getting their first experience with mobile devices. So, having an easy-to-use and affordable mobile phone was critical for them.
Because 1110 was easy to use and affordable, cell phone companies offered them for free with a two-year contract. In addition, the phone became a favorite choice for the elderly because of its simplicity. This is why prepaid companies like TracFone sold it for many years.
Specifications
Release Date
June 2005
Size
104 mm x 44 mm x 17 mm
Weight
80 g
Screen
96 x 65 px monochrome or inverse monochrome
Battery Model
Nokia BL-5CA
Battery Life
5 hours Talktime
Variants
1110
1110i
Price
<$100
Discontinued
2007
Nokia 1110 Review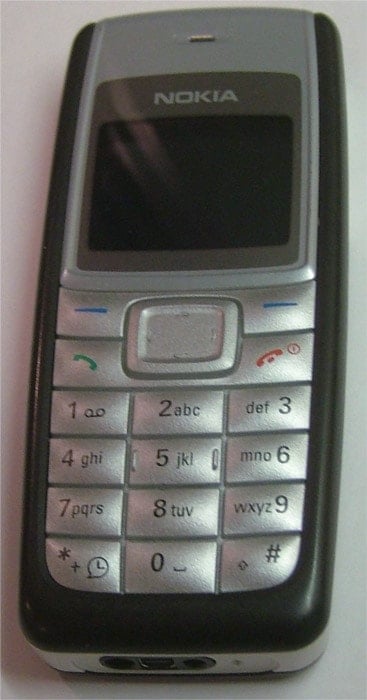 The Nokia 1110 is a pretty lousy device by today's standards. But even for its 2005 release, the device was already pretty dated. Even the Nokia 1100, released in 2003, was already behind its competitors and other Nokia phones.
An equally popular and fondly remembered competitor is Motorola's Razr which came out before the Nokia 1110 in 2003, the same year as 1100. While more expensive, the Razr was a flip phone with an inner and outer color screen and a camera.
Other phones on the market also outshined the Nokia 1110. However, few of them beat the 1110's price and ease of use. 1110 was durable and had removable face plates that could easily be swapped if scuffed or damaged.
One of the more fondly remembered aspects of 1110 is its games. Only three games were on the phone: Snake Xenzia, Dice Games, and Pocket Carrom. But Snake was easily the most beloved with its simple yet addicting gameplay. However, these games were not remarkable as other phones included much better ones.
A key problematic aspect of 1110 was the multitap texting input. Although text messaging had been around for over a decade, cell phone users were acquainting with this form of communication. In addition, newer phones included full keyboards, which were much easier to type on.
Nokia 1110: Pros and Cons
Pros:
Affordable
Easy to Use
lacked premium features
Removable Faceplates
Long Battery Life
Cons:
Nearly Indestructible
Hard to Text
Monochrome Screen
Limited Functionality
Dated Even at Release
Nokia 1110: Legacy
Nokia's 1110 cemented its place in tech history as a landmark device. Yet, oddly enough, it didn't do anything remarkable but what it intended to do perfectly. But it is incredible how such a simple device remains a pop culture symbol of the era, considering all of the advancements and oddities in the mobile world. Other devices made by Nokia, such as the N-Gage, never matched the popularity of the 1100 and 1110 series.
Despite the 1110's shortcomings, the phone remained a popular device for many years. Part of the lasting nostalgia is because they were handed down as the first phones for young teenagers in the late 2000s.
However, they were also popular with the elderly and as backup phones. Many cellphone providers sold them for prepaid plans because they were cheap and easy to set up. This is also true in developing countries where the Nokia 1110 remained popular for many years after its discontinuation.
Although it's fun to look back on older technology such as the Nokia 1110, the Motorola Razr, and even the first iPhone, let's not forget that many of these devices are not as great as we remembered. Nonetheless, they helped pave the way for today's more advanced devices.
Nokia After 1110
People remember Nokia's popularity in the 2000s, but by the 2010s, Apple and Samsung dominated the American phone market. However, smaller companies like Nokia and Motorola continued to fight for their mobile phone market share.
Nokia continued to release similar phones to 1110 for many years and still makes phones today. Many of the phones Nokia made were basic in nature, but some featured flip or slide functionality with full QWERTY keyboards.
Some of Nokia's notable phones were part of Microsoft's push into the smartphone market. Nokia was not the only manufacturer to support the Windows operating system, but it was by far the largest. The Windows-based phone failed spectacularly, but it wasn't the end of Nokia.
While Nokia 1110 or identical phones is no longer on sale, other comparable phones are still on sale in the international markets. That said, Nokia still sells basic, affordable phones that are perfect for those who do not want a smartphone.
Nokia also makes smartphones with pretty impressive specs. Most of their smartphones now operate on a version of Android. Even some of their basic phones, such as flip phones, run on modified versions of the Android operating system. While no longer a major manufacturer in the American phone market Nokia still has its place in the industry.
NEXT UP…
The image featured at the top of this post is ©Michael Vi/Shutterstock.com.