Key Points
The Nissan Leaf is cheaper than the Volvo EX30, making it a better choice for price-conscious consumers.
The Nissan Leaf has an FWD powertrain, while the Volvo EX30 offers RWD and AWD options.
The Volvo EX30 has a slightly better range than the Nissan Leaf, making it suitable for longer trips.
The Volvo EX30 has advanced safety features and driver assistance technologies, giving it an edge over the Nissan Leaf.
Electric vehicles (EVs) have been dubbed the future of transportation for most of the 21st Century. However, the shift to all-electric vehicles only started gaining momentum in the late 2000s and early 2010s. Since then, most vehicle manufacturers have introduced EVs in their lineups.
Like other car manufacturers, Nissan and Volvo have also introduced fully electric models. Nissan introduced the Nissan Leaf in 2010, one of the best-performing EVs in the US and globally. Volvo was late to the party, announcing its first EV, the Volvo XC40 Recharge, in 2019. Since then, Volvo has introduced a few models into its lineup, including the highly anticipated Volvo EX30.
The Nissan Leaf was among the first-ever mass-produced EVs worldwide, while the Volvo EX30 was launched more than a decade after car manufacturers started mass-producing EVs. But how do these EVs stack up against each other? Read on for a detailed comparison of the Nissan Leaf vs. Volvo EX30.
Nissan Leaf vs. Volvo EX30: Side-by-Side Comparison
Nissan Leaf
Volvo EX30
First Introduced
2010
2023 (order books opened)
Type of Vehicle
Hatchback
SUV
Battery Capacity
Nissan Leaf S: 40 kWh
Nissan Leaf SV Plus: 60 kWh
69 kWh
Range
Nissan Leaf S: 149
Nissan Leaf SV Plus: 212 miles
Single Motor Extended Range: up to 275 miles
Twin Motor Performance: up to 265 miles
Powertrain
Front Wheel Drive (FWD)
Rear-Wheel Drive (RWD) or All-Wheel Drive (AWD)
Acceleration (0-60 mph)
6.5 seconds
Single Motor Extended Range: 5.1 seconds
Twin Motor Performance: 3.4 seconds
Power Output
Nissan Leaf S: 147 hp
Nissan Leaf SV Plus: 214 hp
Single Motor Extended Range: 268 hp
Twin Motor Performance: 422 hp
Starting Price
Nissan Leaf S: $28,140
Nissan Leaf SV Plus: $36,190
$34,950
Nissan Leaf vs. Volvo EX30: What's the Difference?
The Nissan Leaf has been in production for more than a decade now. Almost everyone curious about EVs has encountered it. The Nissan Leaf has especially enjoyed a positive reception in the US market for its efficiency and reliability.
Volvo is relatively new to the EV market. However, the car manufacturer has quickly carved a niche by guaranteeing performance, comfort, and safety with all its models. Volvo has remained true to its reputation with the EX30.
Currently the smallest SUV in Volvo's lineup, the EX30 is an eye-pleaser with decent performance and advanced safety features. Let's see how these two EVs stack up against each other.
Price
The Nissan Leaf is one of the best-selling EVs of all time. Nissan prioritized building a car that appealed to the masses. The result was a hatchback that has retailed for less than $30,000 for the base model for over a decade.
This allowed the Nissan Leaf to compete with similar-sized hatchbacks on internal combustion engines (ICE). Today, the Leaf still maintains its price advantage over compact hatchbacks made by other manufacturers.
The Volvo EX30 is yet to enter the market officially. It is currently in production, with Volvo announcing that deliveries will begin in 2024. The EX30 will cost $34,950, with the final cost expected to rise once buyers factor in options. Interested buyers can reserve the Volvo EX30 for a refundable deposit of $500.
The EX30's starting price compares fairly well to other compact and crossover SUVs like the Mazda MX-30 EV and Hyundai Kona Electric. The pricing is deliberate by Volvo to ensure the EX30 will be competitive against both similar-sized EVs and gas-powered cars.
Ultimately, the Nissan Leaf is the better choice for the price-conscious consumer. It is cheaper by at least $6,000 compared to the EX30's base models.
Powertrain
The Nissan Leaf has an FWD powertrain on both trims. FWD powertrains are common in EVs, especially in sedans and hatchbacks. They are relatively easier to design and build than other types of powertrains. This translates to cheaper production costs and competitive pricing.
However, an FWD powertrain offers more than just cost efficiency. It works by channeling power generated by the single electric motor to the front wheels, which pull the vehicle. This improves handling and maneuverability, especially when driving up steep inclines and navigating slippery surfaces.
The Volvo EX30 comes in two drivetrain options. The standard Single Motor Extended Range trim uses an RWD powertrain. The system directs power from the electric motor to the rear wheels, thus propelling the vehicle forward. RWD powertrains are suitable for SUVs like the Volvo EX30 — they balance the car's front-to-back weight ratio.
The Twin Motor Performance trim has an AWD powertrain. Two electric motors work together to distribute power to all the wheels. An AWD powertrain often generates better traction than an RWD one. Traction influences acceleration and driving stability. This explains why the Twin Motor Performance trim has a better 0-60 acceleration (3.4 seconds) than the Single Motor Extended Range trim (5.1 seconds).
Unfortunately, an AWD powertrain adds to a vehicle's weight, which increases energy drain. This explains why the AWD trim has a lower range (265 miles) than the RWD trim (275 miles).
The average buyer does not care whether a car has an FWD, RWD, or AWD powertrain. That means the fitted powertrain does not influence the car they buy. Otherwise, you will likely lean towards the Volvo EX30 if you want an RWD or AWD EV.
Range
Several factors influence the distance an EV covers on a single charge. They include battery capacity, battery type, and powertrain. These influences are evident in the Nissan Leaf and the Volvo EX30.
The Nissan Leaf S has a 40 kWh lithium-ion battery and covers 149 miles on a single charge. The SV Plus trim has a larger 60 kWh lithium-ion battery and covers 212 miles on a full charge. The difference in battery capacity explains the higher range in the SV Plus.
Both trims offer reasonable and serviceable ranges. However, the ranges are best suited for short commutes, especially if you only charge your EV at home.
Let's talk about the Volvo EX30's range. Both trims have the same battery capacity (69 kWh). The fitted powertrain influences the expected range. The Single Motor Extended Range (RWD powertrain) gives you 275 miles on a full charge. Conversely, the Twin-Motor Performance trim (AWD powertrain) gives you up to 265 miles.
The Volvo EX30 edges out the Nissan Leaf when comparing their ranges. Go for it if you want an EV that can cover a 250-mile round trip on a single charge.
Charging
First up is the Nissan Leaf. Charging this EV at home requires a 240V AC charger. It takes roughly eight hours to charge the base model to 100%. The SV Plus has a bigger battery capacity and thus requires up to 11 hours for a full charge.
Alternatively, you can install a DC fast charger. A 50 kW DC charger boosts the Leaf S to 80% in 40 minutes. It takes slightly longer (60 minutes) to boost the SV Plus to 80% using the same charger. Using a 100 kW DC charger on your SV Plus will get you to 80% in 45 minutes.
The Volvo EX30 has similarly impressive charging times. Using an 11 kW AC charger takes about eight hours to boost your EX30 to 100%. That means you can plug it in before bedtime and wake up to a fully charged car. Alternatively, you can use a 175 kW DC fast charger to boost the battery from 10 to 80% in 27 minutes.
The Volvo EX30 is the outright winner when comparing charging times. You will enjoy shorter charging times when using an AC charger. The EX30's fast charging option is even more convenient, considering it takes less than 30 minutes to boost to 80%.
Safety Features and Driver Assistance Technologies
EVs have some of the most advanced driver assistance technologies and safety features we see in vehicles today. That explains why safety remains a huge selling point for EV manufacturers. The Nissan Leaf and the Volvo EX30 boast several advanced safety systems. Let's look at how each EV performs.
Nissan Leaf
The Nissan Leaf has an anti-lock braking system (ABS) that regulates tire movement during braking. This reduces braking distance and improves vehicle stability during emergency braking.
Nissan also fitted the Leaf with a forward collision warning system and an automatic emergency braking system. These systems reduce accidents with oncoming traffic and avoid pedestrian accidents.
Leaf drivers will also appreciate the Intelligent Lane Intervention (LI) feature. It triggers a display alert and warning chime when it detects unintentional lane departure. However, this only works when the lane markings are detectable.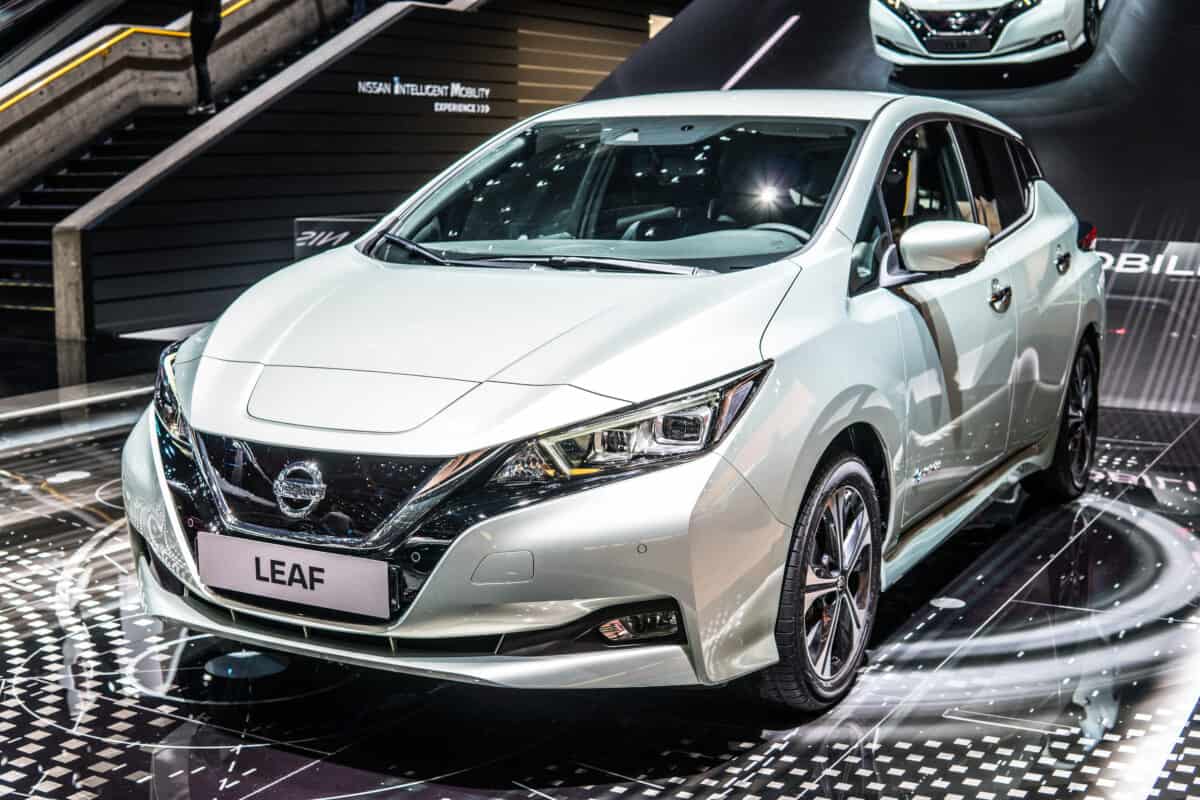 We cannot fail to mention the Nissan Leaf's collision safety features. Besides the standard airbags, the Leaf has supplemental airbags mounted on the driver and front passenger seats.
These airbags provide additional protection against side impact during accidents. Nissan also fitted the Leaf with an energy-absorbing steering column. It is designed to reduce impact on the driver during a head-on collision.
The SV Plus trim has the Nissan ProPILOT Assist package. It allows drivers to remain at the center of the lane, avoiding lane departure. You can also preset your Nissan Leaf to maintain a specific distance from the car in front of you. The ProPILOT Assist decelerates your car to maintain the preset distance.
Finally, EV enthusiasts with young kids will appreciate the Leaf's LATCH System. It allows you to fasten your baby's safety seat without using the seat belt.
The Nissan Leaf has more than a dozen safety features. Read more details about the car's safety and driver assistance features in the 2024 Nissan Leaf owner's manual. Download it here.
Volvo EX30
The Volvo EX30 has a comprehensive safety package. It has several cameras providing a 360° bird-eye view of the car and its surroundings. You can get a 180- or 360-degree view of the car on the 12.3-inch center display. When reversing or parking, you can isolate specific cameras to focus on the front, rear, or sides.
The EX30 boasts one of the most advanced collision avoidance systems. Top of the list is a door-opening alert system that warns drivers of approaching cyclists, vehicles, and pedestrians before opening a door. Volvo hopes this system will boost road safety and reduce drivers' insurance liabilities.
Volvo also fitted the EX30 with an intersection auto brake feature. It triggers this safety feature when another car cuts you at an intersection, hence preventing collisions.
Sometimes, we are the ones who make the wrong maneuvers or cut off other drivers. Volvo addresses this issue by fitting the EX30 with a cross-traffic alert system. This safety feature is not meant for intersections but is helpful when backing out of a parking spot. Your EX30 will brake automatically to avoid colliding with oncoming cars.
We cannot leave out the Park Pilot Assist, one of the best driver assistance technologies we have seen in electric SUVs. The technology can autonomously steer, brake, and accelerate the EX30 to fit into tight parking spots.
Choosing the outright winner in this category is difficult as both EVs have advanced systems. However, the EX30 wins by a slight margin because of its user-friendly driver assistance technologies.
Tax Credit Eligibility
The U.S. Treasury Department has introduced new regulations targeting the federal EV tax credits. Some EVs remain eligible for the full $7,500 tax credit, others for half the amount, whereas others are now ineligible.
Unfortunately, the 2024 Nissan Leaf is ineligible for the tax credit program. However, Nissan Leaf models assembled in North America between 2021 and 2023 and placed in service between January 1, 2023, and April 17, 2023, remain eligible.
The Volvo EX30 will be ineligible for the tax credit program. Volvo claims the car will be made in China — the tax credits are limited to vehicles assembled in North America.
You can confirm other EVs' eligibility for tax credits here.
Nissan Leaf vs. Volvo EX30: 5 Must-Know Facts
The Volvo EX30 will retail at $34,950. You can reserve a unit by paying a refundable $500 fee.
The Volvo EX30 will be compatible with 5G networks. EX30 owners can schedule over-the-air software updates.
Nissan sold over 500,000 Leaf units between 2010 and 2020. At least 148,000 of these units were sold in the US.
The Nissan Leaf S trim has a $28,140 starting price, while the SV Plus trim goes for $36,190.
The 2024 Nissan Leaf and Volvo EX30 are ineligible for federal tax credits as of April 2023.
Nissan Leaf vs. Volvo EX30: Which One Is Better? Which One Should You Use?
The Volvo EX30 is the clear favorite in this match-up. Besides its eye-pleasing design, the EX30 offers a better range than the Nissan Leaf. The extended range will appeal to you if you go on long trips regularly. You can cover up to 275 miles without needing a recharge.
Another reason to get the Volvo EX30 is if car technology fascinates you. The EX30's driver assistance technologies are very user-friendly. You will enjoy convenient parking thanks to the EX30's Park Pilot Assist.
However, it is not all bad news for the Nissan Leaf. The Leaf is at least $6,000 cheaper than the Volvo EX30. It is also readily available in car retail stores today, unlike the EX30, which will only be available starting in 2024.
Ultimately, buy the Nissan Leaf if you want an entry-level EV. Alternatively, go for the Volvo EX30 if you want an affordable electric SUV.
The image featured at the top of this post is ©Mike Mareen/Shutterstock.com.