Before we compare the Nissan Leaf vs. Sony Afeela, what do you look for in a car? Better yet, what do you look for in an electric car? Are you after an EV that's been tried and tested, with enough presence on the market for a long enough period of time to make you feel as though you're making a practical and economical decision?
Or do you have a bigger budget, and are you more energized by whatever EV appears to be driving the most innovation in renewable energy and transportation? 
These are the main dividing lines between the Nissan Leaf and the emerging EV brain-child of Sony and Honda: practicality and staying power on the one hand, and technology-laden innovation on the other. 
While the Sony Afeela hasn't officially launched yet, we can make some speculations about it based on the prototype we saw at CES 2023. Today's article will be a comparison of this soon-to-be EV, as well as the widely-adored Nissan Leaf. Let's get into it!
Nissan Leaf vs. Sony Afeela EV: Side-by-Side Comparison
Nissan Leaf
Sony Afeela
Battery
40 kWh lithium battery w/149 miles range (base); 60 kWh lithium battery w/212 miles range (premium)
Unknown
Performance
147 horsepower and 236 pound-feet of torque (base);214 horsepower and 250 pound-feet of torque (premium)
Unknown
Safety
Brake assist, lane monitoring, and lane departure assist
Brake assist, equipped with w/45 cameras inside and out to monitor blind spots and lane departure
Design
Hatchback
Sedan
Interior
Seats 5 comfortably; vinyl seats
Seats 5 comfortably; leather seats
Autonomous Driving
ProPILOT Assist (limited highway driving assistance)
Plans to offer up to level 3 autonomous driving
Technology
Equipped with touch screen for in-car entertainment; smartphone compatible 
Interactive media bar on the exterior; panoramic infotainment screen and two additional screens in back; state-of-the-art surround sound
Price
$28,000 (base); 
$36,000 (premium)
Est. $45,000
Nissan Leaf vs. Sony Afeela EV: What's the Difference?
After more than a decade of existing on the market as a low-cost, commuter-friendly EV, the Nissan Leaf is on its way out, though it remains lauded for the efficiencies it helped to promote in the EV space. The Afeela, however, is so brand-new that it doesn't even have a proper name yet (Afeela is actually the name of the larger joint vehicle venture between Sony and Honda). 
Even so, the Afeela EV is already making waves for its promise to deliver a "smart" car that's more than just an eco-friendly way of getting around — it's a mobile multimedia experience. 
If you're a really budget-conscious consumer, odds are the Nissan Leaf is the best choice for you. The Leaf's longevity on the market might bring some peace of mind as well. That said, the Afeela does appear to have some really intriguing specs — and let's keep in mind that, although it's a new concept, the project is spearheaded by two mature and respected companies.
The Afeela's sleek sedan design is also certainly more of an eye-pleaser than the Leaf's basic appearance. With that being the case, you may decide you want to save up some more money and put off a new purchase until the Afeela's eventual release, which will be sometime in 2026, according to Car and Driver.
Let's consider how these two EVs stack up against each other across different categories: performance, look and comfort, technology, and pricing. 
Performance
Let's be clear, if performance is a primary motivator for you, you'll only be mildly impressed with what the Nissan Leaf offers. If you opt for the basic trim, the latest model will get you up to about 150 miles on a single charge.
The souped-up version gets you a little farther: up to 212 miles. And unless you can find a quick charging station, it takes quite a long time for the Leaf to charge — up to 11 hours, in fact, if you have the higher-end 60 kWh battery and you're charging at home.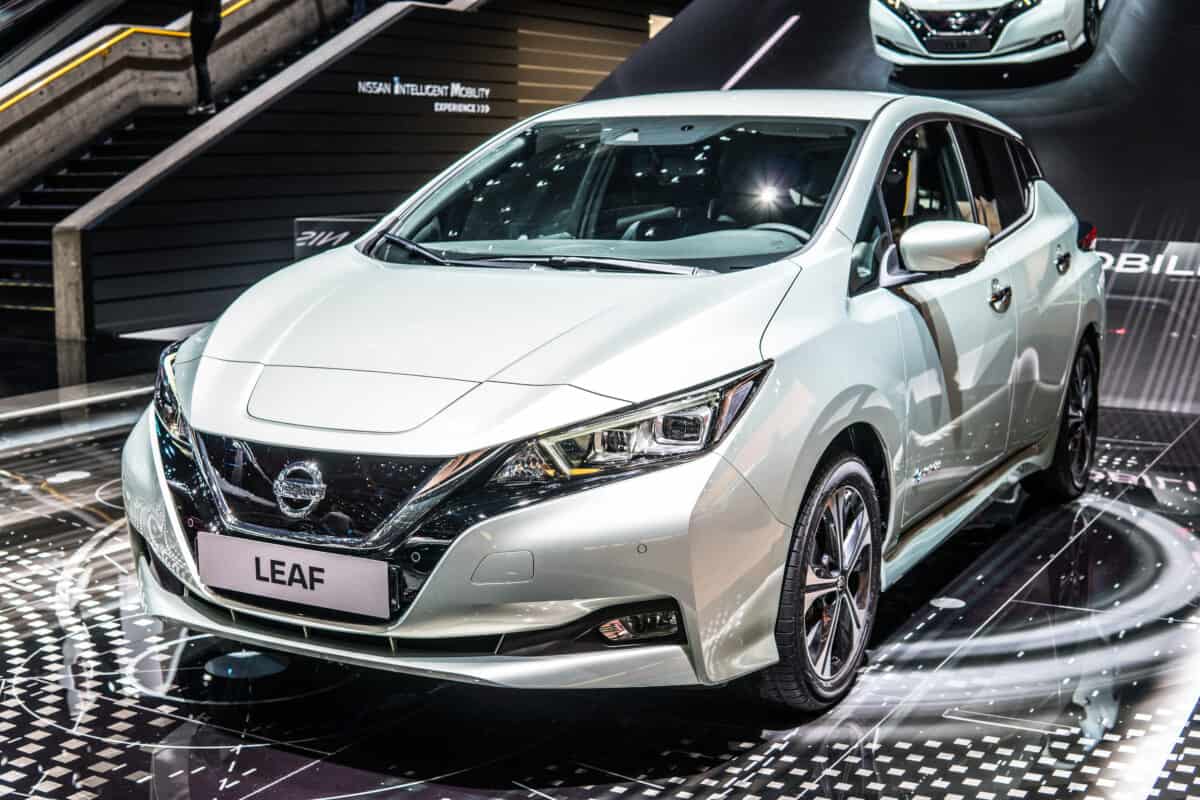 As far as how the Leaf drives when you're actually charged up and ready to hit the road, you'll be surprised to find that this EV accelerates quite nicely and handles well, owing to its 147 horsepower and responsive steering. Leaving aside the charging limitations, the Leaf performs halfway decently. 
It's difficult to make much of a judgment about Afeela's performance, as there's only a prototype version available currently. We can surmise, though, that the Afeela aims to compete with high-performing EVs like Tesla when it comes to factors like range, charge, acceleration, and steering.
If that's the case, then the Afeela's performance would certainly end up being in a higher class than anything the Leaf has achieved. We'll have to wait to know for sure, though. 
Safety
The 2023 Nissan Leaf comes equipped with all the safety features you'd expect in any new car — whether powered by gas or electricity. You'll get brake assist, traction control, blind spot monitoring, lane departure warnings, and lane assists. 
The Sony Afeela appears to go above and beyond what consumers consider standard for safety features these days. It'll come equipped with 45 cameras inside and outside the vehicle in order to take external monitoring and lane assistance to an advanced level.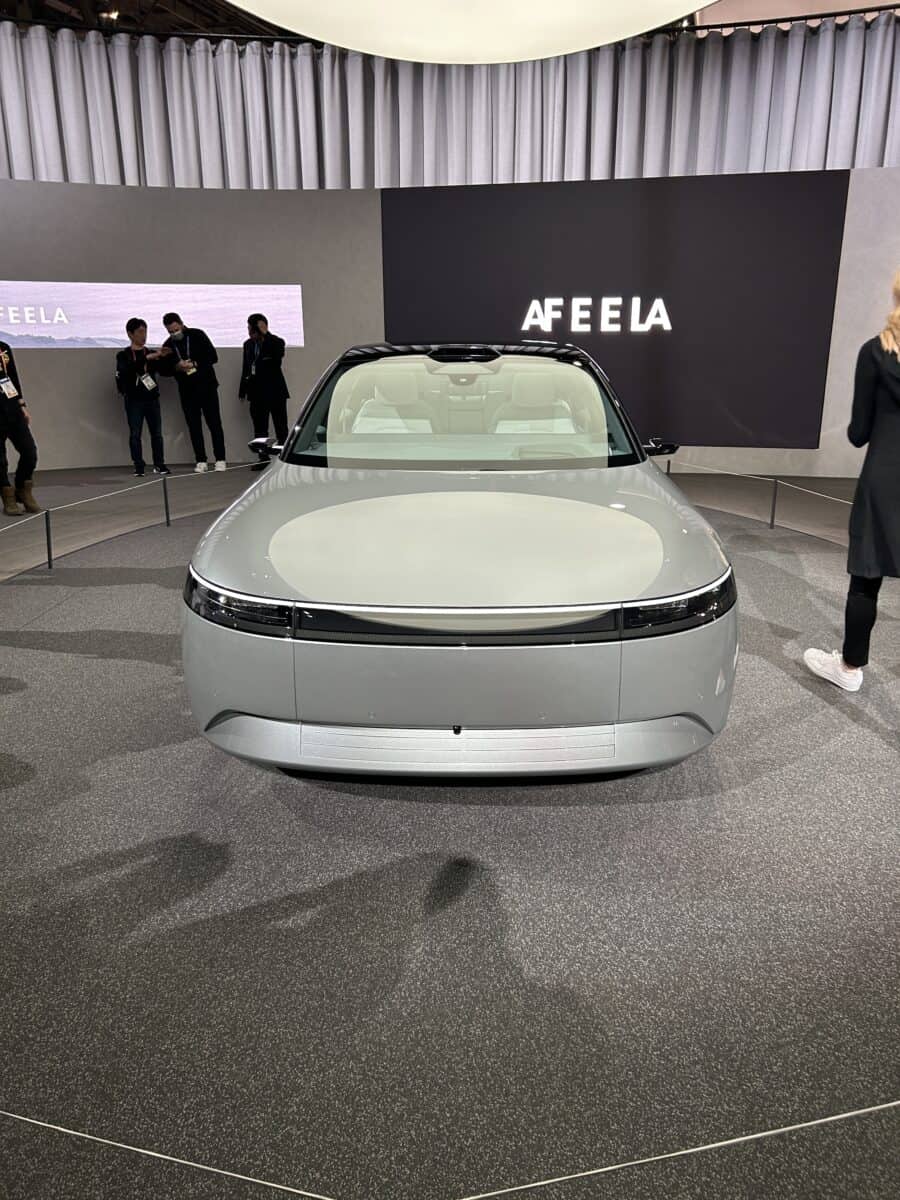 Sony is especially boastful about what they promise to deliver in terms of autonomous driving: they plan to develop level 3 autonomous driving so that, in certain conditions, the driver can take their hands off the wheel entirely.
Well, we know that texting while driving is a serious safety problem, so at least this way, something will be paying attention to the road — even if the driver isn't!   
In terms of safety features, the Nissan Leaf is perfectly acceptable. The Afeela prototype, however, is all that and more. If you stay up nights fantasizing about self-driving cars, maybe wait for the Afeela to hit the market. 
Design and Comfort
Gone are the days when aesthetics didn't really matter when it came to an EV. Though beauty and comfort are certainly not everything in a car, it doesn't hurt to be proud of your ride, and it literally doesn't hurt to have a spacious and ergonomic cabin. 
The 2023 Nissan Leaf is a smooth, sporty hatchback with an updated grille, bumper, and headlights. It's probably not attractive enough to really turn heads on the road, but it's also not a boxy embarrassment that pedestrians and other drivers will notice and cackle at.
As for the interior, the vinyl seating and hard-plastic surfaces are to be expected in a car at this price point, but it still looks fairly sharp. More importantly, it's a decently spacious cabin and lauded by critics for its comfort — especially in the front seats.
Unlike the Leaf, Afeela's EV concept is a true head-turner. A sleek, sexy sci-fi sedan, the exterior is a smooth, seamless design. Everything appears perfectly rounded out, with no lights, bumpers, or fenders jutting out of the surface with the dramatic flare you see in other showy cars. No, the Afeela's design is showy in a subtle, future-forward way. 
Inside the Afeela, you find a continuation of these smooth themes. The leather seats — front and back — appear welcoming, and the cabin all around looks plenty spacious for a sedan.
Most eye-catching of all, though, are the intriguing U-shaped steering wheel and the dashboard. This is less a traditional driver's dashboard and more a panoramic screen with all kinds of media and information about your car. The aesthetics all appear geared towards drawing the viewer's attention to the Afeela's next-gen technology. 
Technology
So, let's talk about tech, as that's an important arena in which EVs aim to compete with their fossil-fuel counterparts these days. 
Technology is one glaring area in which the Nissan Leaf is lacking. This isn't to say that the Leaf doesn't possess any "smart" capabilities. There's the aforementioned brake assist and lane/blind spot monitoring.
There are also audiovisual entertainment features and, most significantly, smartphone integration, which allows you to control the in-car entertainment with your mobile device. Everything functions as expected and makes for a more engaging ride but, in today's market, the tech is starting to show its age — even in the 2023 model. 
Not surprisingly, given that the Afeela has Sony behind it, its technology integrations are the main ways in which this EV differentiates itself from competitors. Everything about the tech screams next generation. The company went as far as to state that its EV will redefine the relationship between people and mobility. 
As you approach the vehicle, the media bar comes to life and communicates with you by sharing information. You open the car door with your phone; upon entering the cabin, you're greeted with a panoramic screen in the front, more screens in the back, and state-of-the-art audio all around. 
Pricing
The Nissan Leaf has been, and remains, the cheapest EV on the market, with its basic option priced at around $28,000 and the SV PLUS trim coming in at $36,000. Not to mention you have the option to get slightly older, used models for even less. 
We don't know for sure how much the Afeela will cost yet, but you can bet it's going to be more expensive than the thrifty Leaf. Car and Driver estimates that the Afeela EV will start at $45,000. While not unimaginably expensive, that's obviously a heftier price tag than more economical EVs like the Leaf.
Somewhat amusingly, the company has reportedly stated that it expects that most consumers will finance the Afeela's higher cost by leasing it for a staggering ten years. Do with that info what you will. 
Nissan Leaf vs. Sony Afeela EV: 5 Must-Know Facts
At as low as $28,000 for a brand-new model, the Nissan Leaf is priced as cheap as they come on the EV market, whereas the Afeela will easily set consumers back more than $40,000. 
While the Leaf offers economy, it appears to compromise on other critical features like range, charging time, and technical specs. 
The Afeela is more expensive, but many consumers will find the exciting next-gen tech features — which include state-of-the-art audio and entertainment, as well as autonomous driving features — well worth the cost. 
While the Leaf presents itself as a no-frills — though not ugly — hatchback, the Afeela's sleek design is far more pleasing to the eye. 
The Afeela has yet to be released and is only in the prototype stage right now. Therefore, we have limited knowledge about its final price and critical performance features like horsepower, range, and charge time. 
Nissan Leaf vs. Sony Afeela EV: Which One Is Better? Which One Should You Choose?
If you're technologically inclined, the Afeela would be your choice over the Nissan Leaf any day of the week. However, let's say you're especially budget-conscious, and let's also assume that along with your thrifty attitude comes a tendency towards simplicity and practicality. If you're that kind of person, the Nissan Leaf might be a great fit for you.
Another factor is that we have only seen the prototype of the Afeela. Sony hasn't released their new EV to the public yet, and we expect it won't be available until 2025.
So, if you want to get an EV sooner rather than later, you're better off with the Nissan Leaf. If you don't mind stacking your chips for the future, though, the Sony Afeela promises a wealth of new and innovative tech that might be worth the wait.