5 Must-Know Facts about the Nissan Leaf and Chevy Bolt
The latest models of the Bolt and Leaf have almost the same dimensions.
Both vehicles have a hatchback configuration and seat five people maximum.
The Chevrolet Bolt's base model has a 259-mile range, while the base Leaf's range is 149 miles.
The Leaf has more cargo space (approximately 6 to 7 cubic feet).
The Leaf still qualifies for a tax credit in late 2022, while the Bolt won't again until 2023.
Some city drivers don't need a long-range, full-size electric vehicle (EV), and are better served by a compact hatchback able to squeeze into tight spaces handily. The Nissan Leaf and the Chevrolet Bolt are two EVs designed to match exactly this role of convenient, affordable, urban runabout.
The designs are such close competitors, there's only 80 pounds of difference in their curb weight (3,509 pounds for the Leaf versus 3,589 pounds for the Bolt). Both seat five people and both have a wheelbase under 9 feet – the 102 inches for the Bolt and the 106 inches for the Leaf, Edmunds notes.
Dimensions aside, these two pint-sized EV competitors also have some significant differences. Range and cargo space show sharp divergences between the pair. There are also smaller variations, such as a few inches more or less legroom and headroom, which could make a difference to some potential owners. Here's a look at how these compact vehicles compare.
Nissan Leaf vs. Chevy Bolt: Side-by-Side Comparison
| | | |
| --- | --- | --- |
| | Nissan Leaf | Chevy Bolt |
| Date of Release | 2010 | 2016 |
| Manufacturer | Nissan | General Motors |
| Range | 149 miles to 212 miles | 259 miles |
| Top Speed | 89 mph | 90.1 mph |
| 0-60 | 7.4 seconds | 6.5 seconds |
| Charging Speed | 80% in 40 to 60 minutes | 80% in 60 minutes |
| MSRP | $27,800 | $26,595 |
| Cargo Space | 63 cubic feet | 57 cubic feet |
| Horsepower | 147 to 214 | 200 |
| Torque | 236 to 250 pound-feet | 266 pound-feet |
| Number of Seats | 5 | 5 |
Nissan Leaf vs. Chevy Bolt: What's the Difference?
Both the Nissan Leaf and the Chevrolet Bolt have rolled out their 2023 models. The company's engineers emphasized certain features while designing these small EVs, so here's how they stack up in detail.
Range and Charging
As a key element most EV drivers look for, range is important, even for compact urban hatchbacks. The Chevrolet Bolt is the clear winner in this arena, boasting a full-charge range of 259 miles by EPA estimates. Chevy built it to match the range of some full-size EVs, with the Ford F-150 Lightning's base trim, for example, offering just 240 miles of range. The Bolt's base 1LT model is equipped standard with a battery offering this range, and the same goes for the 2LT premium trim.
In contrast, the Nissan Leaf base model, the Leaf S, offers a 149-mile range out of the showroom. To achieve 212 miles of EPA-estimated range per charge, it's necessary to upgrade to the more expensive Leaf 5V Plus. Even this enhanced model has almost 15% less range than the Chevy Bolt.
The Nissan Leaf can charge at Level 1, 2, or 3 chargers. A Level 3 DC fast charger brings it 80% in 40 minutes for the base trim, or one hour for the SV Plus trim, with its larger battery. Level 2, 240-volt chargers recharge it in eight to 12 hours, while a Level 1 household current plug-in requires 60 hours for a full charge.
The Chevy Bolt is supported by a network of roughly 40,000 Level 2 chargers in the EVgo charging network. The EV gains 100 miles of range from half an hour plugged into a Level 3 DC fast charger, U.S. News reports. A Level 2 charger gives a full charge in 8 hours, and a Level 1 charger is no faster than the Leaf's similar recharge.
Performance and Driving
Neither the Bolt nor the Leaf is a sports car, but both benefit from the strong acceleration electric motors can provide. The Chevy Bolt is the peppier of the two, jumping from a standstill to 60 mph in 6.5 seconds. Its Nissan rival is slightly more sluggish because of lower horsepower, with a 0-60 mph time of 7.4 seconds, according to U.S. News. Both cars have smooth, responsive handling, as might be expected from nimble, compact city EVs.
Engineers built both vehicles as front-wheel drive (FWD) only. The Nissan Leaf S base trim develops 147 horsepower and 236 pound-feet of torque. The higher-end Leaf SV Plus boosts these metrics to 214 horsepower and 250 pound-feet. The Bolt has one powertrain that's used in both trim levels, generating 200 horsepower and 266 pound-feet of torque. This higher power accounts for its more vigorous acceleration.
Because of its exact battery placement, the Nissan Leaf is marginally more stable than the Bolt. Both of these small EVs feature regenerative braking that enables one-pedal driving in some circumstances. In some EVs, regenerative braking doesn't work well in practice. But in this case, multiple reviewers report the regenerative braking of both the Leaf and the Bolt is fully functional.
Cargo Space
The Nissan Leaf outshines the Chevy Bolt when it comes to cargo capacity. With rear seats up, the Leaf's cargo capacity under its hatchback lift gate is 23.6 cubic feet. The trunk room is almost 7 cubic feet more than the Bolt's 17 cubic feet, with rear seating rows raised. With the seats folded flat, the Bolt offers 57 cubic feet, but the Leaf still outdoes it at 63 cubic feet.
Both vehicles' rear seats feature a 60/40 split, enabling fine-tuning of the ratio between passengers and cargo. Dropping the 40% portion of the bench allows putting long, narrow items into the vehicle, while providing room for two rear-seat passengers. Lowering the 60% portion instead accommodates one rear-seat occupant, plus a major cargo space expansion.
Technology and Convenience
Despite being budget EVs, both the Nissan and Chevrolet hatchbacks include several advanced driver assistance features. The Leaf comes standard with pedestrian detection, automatic braking, blind spot monitoring and warnings, and adaptive cruise control. Optionally, buyers can choose to upgrade it to have a semi-autonomous driving mode.
The Bolt's technology lineup is almost a clone of the Leaf's. It, too, sports pedestrian detection, forward collision warning, and automatic braking. Its designers added lane-keeping elements such as a lane departure warning and lane-keeping assist. Options include adaptive cruise control as well. Purchasers can also choose to have a 360° view camera installed in their vehicle, as Car and Driver points out.
Interiors of both vehicles feature cloth seats as standard. The Bolt 2LT trim adds leather details to the seats. Both compact hatchbacks have heated mirrors to ensure good visibility in cold weather. The Leaf also has heated front seats as an option. The Nissan Leaf offers about an inch more legroom in the front seats, while the rear seat in the Chevy Bolt has three inches of extra legroom.
Price
Chevrolet slashed the 2023 Bolt's price from 2022 and 2021 model years, with a starting MSRP of $26,595 for the 1LT model. The more elite 2LT model starts at $29,795. Car and Driver says the price cuts aim at keeping the Bolt affordable after GM lost its EV tax credits at the 200,000 sales mark.
Meanwhile, the Nissan Leaf carries a starting MSRP of $27,800 for its basic S trim. This price is in the same ballpark as the Bolt and makes the Leaf one of today's most affordable EV models. The Leaf SV Plus model, however, is pricier than either Bolt trim, costing $35,800 base.
Inflation Reduction Act Tax Credits
Both the 2022 Nissan Leaf and the 2023 Nissan Leaf meet the requirements for receiving an up to $7,500 tax credit under the new Inflation Reduction Act rules, Electrek reports. The Leaf is assembled in the U.S., meeting Clean Vehicle Credit requirements. CarBuzz says Nissan is also proactively seeking ways to stay in compliance in the future.
Its battery supplier, LG Energy Solutions from South Korea, plans to build factories in the U.S. as well. While there might be some occasional legal hiccups, the Leaf appears likely to remain eligible for the tax credit.
Used Chevy Bolts will qualify for a tax credit under the new Inflation Reduction Act rules for used EVs; however, new Bolts won't meet Clean Vehicle Credit eligibility until January 1, 2023, when the 200,000 sales cap on qualifying companies is removed. After that date, both 2022 and 2023 Bolt models should be among the few qualifying EVs remaining.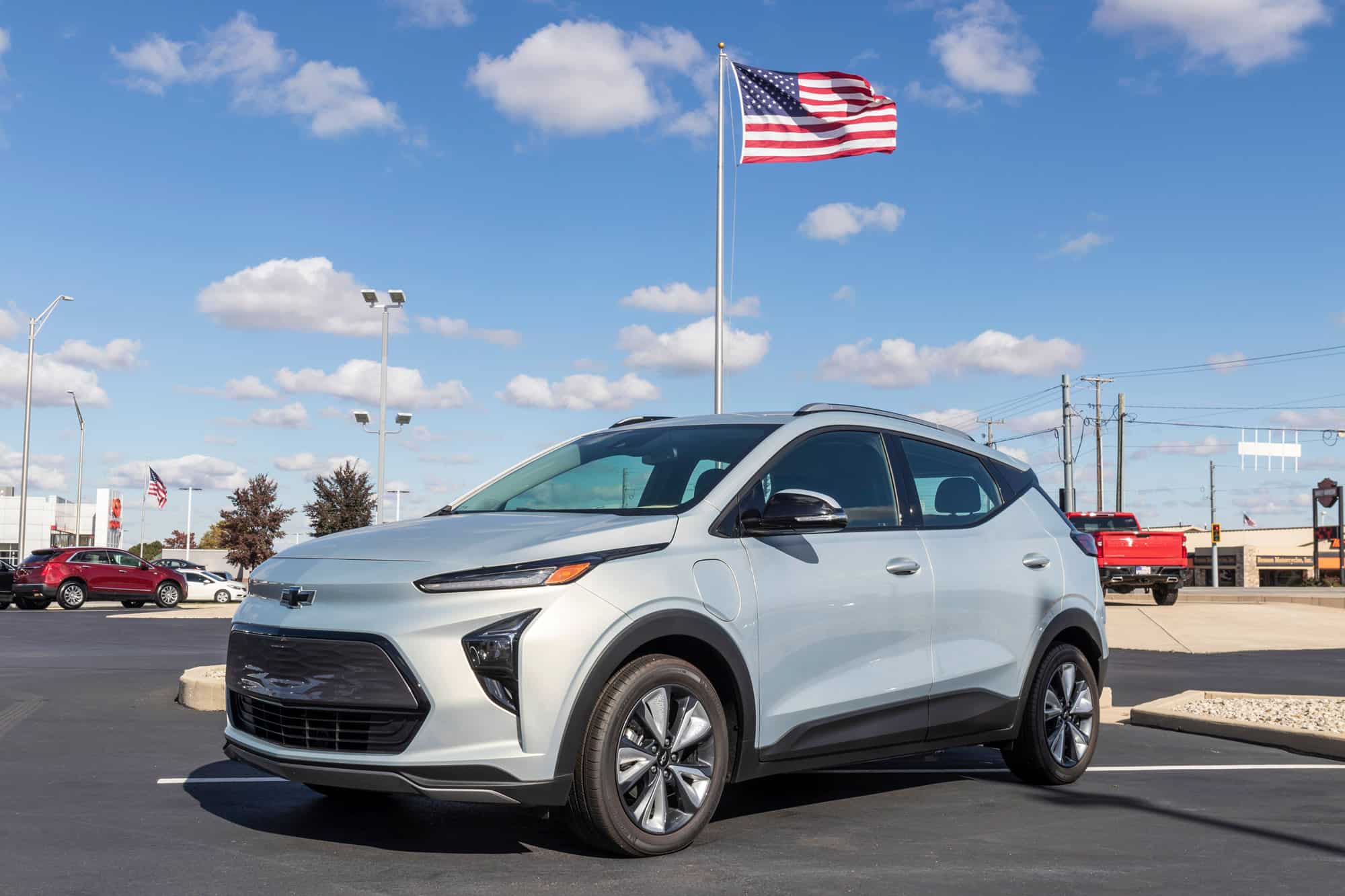 Nissan Leaf Pros and Cons
| | |
| --- | --- |
| Pros | Cons |
| Handy compact size | Short range in base trim |
| More cargo space | Slower acceleration |
| More front row legroom | |
| Affordable | |
| Regenerative braking | |
| Smoother ride | |
Chevy Bolt Pros and Cons
| | |
| --- | --- |
| Pros | Cons |
| Handy compact size | Less cargo space |
| Long range on a single charge | Rides rough on bumpy roads |
| Snappy acceleration | |
| More rear seat legroom | |
| Affordable | |
| Regenerative braking | |
Nissan Leaf vs. Chevy Bolt: Which Is Better?
The Nissan Leaf and the Chevy Bolt are obviously very similar in their design, features, and even dimensions. In many regards, it's impossible to say one is better than the other because their engineering is practically identical.
The Leaf boasts a temporary price advantage because it still qualifies for a tax credit, while the Bolt doesn't. The Bolt will also get the new Clean Vehicle Credit, though, once Chevrolet's over-200,000 EV sales no longer disqualify its vehicles. Chevrolet's reduction in the Bolt's price removes one of the significant advantages the Leaf had in earlier model years.
Turning to features and performance, the Bolt offers much longer range and somewhat faster charging, even in its base model. The Nissan Leaf's advantage is more cargo space.
The Leaf is somewhat more comfortable on rough pavement, but the Bolt is also smooth on undamaged streets and roads. The Bolt is arguably slightly better since most EV drivers value range strongly, but both are quality, functional, compact EVs.
Next Up…
The image featured at the top of this post is ©quiggyt4/Shutterstock.com.