For five years now, the Nintendo Switch has dominated the handheld video game market. But in the last few years, things have taken a drastic turn, with new competitors trying to chip away at Nintendo's market share. The Razer Edge is the latest entrant in the increasingly competitive video game market. It shares many similarities with the switch but also stands alone as a unique device.
The Nintendo Switch broke the mold of what a video game console was by blending both home and handheld consoles seamlessly together. The main downside is that you are limited in the types of games you can play. This is where the competition really matters because devices like the Razer Edge or Steam Deck allow you to play games from a multitude of different stores and services.
Nintendo Switch vs Razer Edge: Side-by-Side Comparison
| | Nintendo Switch (Classic) | Edge |
| --- | --- | --- |
| Price | $299 | $399 |
| Dock | Included | Not Announced |
| Screen | 6.2″ 720p | 6.8″ 1080p AMOLED |
| Media Type | Cartridges, Digital Download | Streaming, Digital Download |
| Internet Connectivity | WiFi, Bluetooth | WiFi, Bluetooth, 5G (Optional) |
| Controllers | Detachable Joycons | Detachable Controllers |
Nintendo Switch vs Razer Edge: What's the Difference?
The main difference you need to know about the Nintendo Switch and Razer Edge is that they play vastly different games. The Nintendo Switch is designed only to play games from either the Nintendo Store or physical Switch cartridges. In contrast, the Razer Edge can play a myriad of different games found in various stores.
Nintendo Switch: Overview
The Nintendo Switch was released back in 2017 and truly changed the way people thought about gaming. It was a successor to the Nintendo 3DS, which was an immensely popular handheld, as well as a successor to the Wii U, which did not fare as well. The Switch is a culmination of years of Nintendo's efforts to make gaming accessible to everyone.
Best Console
Nintendo Switch
3 Play Styles: TV Mode, Tabletop Mode, Handheld Mode
6.2-inch, multi-touch capacitive touchscreen
4.5-9 plus hours of battery life
Up to 8 consoles can be connected for local wireless multiplayer
Model number: HAC-001(-01)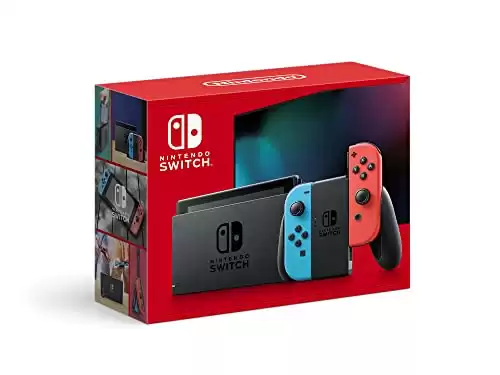 We earn a commission if you make a purchase, at no additional cost to you.
The original Nintendo Switch model is still available today, but there are also a few new variations as well. The first iteration had the base console that looked like a table along with two controllers known as Joycons that latched onto the sides. The controllers can also be used independently or snapped onto a base that combines the controllers into one.
The next console Nintendo released was the Switch Lite. This was a smaller version of the Nintendo Switch and did not allow users to connect it to a TV. It also does not have removable joy cons, so it cannot be used with games that required motion controllers. The most recent version is the Switch OLED, which simply features a slightly larger OLED display than the original.
Razer Edge: Overview
Moving onto the Razer Edge, it more closely resembles newer handheld consoles, like the Steam Deck. You may be familiar with Razer as the company makes laptops and other gaming accessories and devices. However, they did try to get into the handheld market about a decade ago with the launch of a tablet that is similar in concept to what they have available today.
Although their previous attempt was largely considered a failure, it was likely because it was ahead of its time. Back then, mobile technology was not at the point of being able to play the level of console games that people expected.
You may also be familiar with Razer from their line of mobile controllers that are designed to work with Android and Apple iPhones to play a wide range of games. There isn't a ton of information yet on the Razer Edge, as it was recently unveiled at CES 2023.
However, we do know that it features an AMOLED display. The controls are also similar to the Nintendo Switch, and they are removable. However, they are a bit bulky compared to the Switch because they use Razer's controllers, which are similar to the ones designed for mobile phones.
Pricing
The traditional Nintendo Switch console costs that come with a docking station, and Joycons costs $299. The Switch Lite, however, only cost $199, but it cannot be docked, nor are the controllers removable. Finally, the Switch OLED is the most expensive at $349, and it too comes with a docking station and removal Joycons.
Moving on to the Razer Edge, there's currently only one model available. It costs $399 and includes 128 GB of internal storage that can be upgraded with MicroSD. But where the Edge and Switch greatly differ is that there will soon be a 5G edge. There's not yet an official price for this 5G model. However, it will only be available with the Verizon service, and there may even be an introductory offer with a contract.
Operating Systems
Most people don't consider operating systems when they think about getting a video game console. However, it's getting increasingly more important to think about the operating system and the games available on the platform.
For many years, video game systems barely showed a user interface. However, online multiplayer mode and the need to access online stores have made operating systems integral.
The Switch runs on a proprietary operating system developed by Nintendo. This means that it's limited to running only content approved by Nintendo. In comparison, the Razer Edge runs on an Android-based operating system. This means that it has access to a larger amount of content from multiple stores and companies.
Game Compatibility
So, you're probably wondering what games you can play on the consoles. The Switch can play many popular titles, such as those from the Mario and Zelda franchises, as well as other classics available in the Nintendo store. The console also excepts cartridges that are slightly larger than an SD card. You can purchase these cartridges at most major retailers like Walmart and Target.
The Razer Edge is entirely different since it does not rely on cartridges or any form of physical media. Instead, games can be accessed from services and stores such as Nvidia or even Google Play. But one of the best abilities of the Razer Edge is that you can play Xbox games through cloud streaming or even with Gamepass Cloud Gaming.
What Makes a Portable Console
With devices like the Nintendo Switch, Razer Edge, and Steam Deck blurring the lines between home and portable consoles, It can be very confusing to figure out what actually defines a portable console. In the older days, it was obvious that a console was portable if it had a screen and batteries. But devices like the Logitech G Cloud fit that description and aren't always portable.
The problem is that games today rely heavily on an internet connection. Even the Nintendo Switch has games that require the internet to play. But Razer is actually fixing that problem by coming out with a 5G Edge. If you plan to play on the go, just be sure to check the games before buying them to ensure that you won't need the internet at all times.
Nintendo Switch vs Razer Edge: 5 Must-Know Facts
The Nintendo Switch can only play special cartridges or games from the Nintendo Store.
Razer Edge is a new console that hasn't had a lot of time to accumulate reviews.
Both consoles have touchscreens and motion sensors.
The Razer Edge is designed to stream games or download them from the internet and does not have specific cartridges.
The Razer Edge does not have a dock yet, but it may get one in the future.
Nintendo Switch vs Razer Edge: Which One Is Better? Which One Should You Use?
The Nintendo Switch is a tried and true console that casual and hardcore gamers alike enjoy playing. However, picking the one that is right for you will likely come down to the games you like to play.
The Switch has a fantastic library of platformers and first-party titles that anyone can enjoy. But it is very limited by power and its library of games.
The Razer Edge, on the other hand, can access enormous libraries of games from multiple generations and consoles. Its ability to stream games also makes it a great companion to an Xbox console.
However, you won't be able to access the library of hit Nintendo titles, but this may not be a major concern for you. It is also worth noting that the Razer Edge doesn't come with a dock; at least, one has not been announced yet.
Nintendo Switch and Razer Edge in the News
In recent news, Nintendo announced a handful of new games for the Switch in 2023. A few games to be added to the already extensive library on the handheld device include a new Donkey Kong game, Trine 5: A Clockwork Conspiracy, and the long awaited Pikmin 4.
Positive critiques from users have put the Razer Edge on the map and in 2023, the Razer Edge was nominated for a CES award in the Computer Peripherals and Accessories category. Verizon subscribers will be happy to hear Verizon is offering an exclusive bundle that contains a Razer Edge, a copy of Call of Duty: Vanguard, and a 12 month subscription to XBOX's library of games. Make sure to double check with Verizon when you're taking advantage of this deal.
Looking Forward
Both the Nintendo Switch and the Razer Edge have big upgrades planned for the upcoming years. The Razer Edge plans to release new accessories including fun new additions like a carrying case, dock, and new controllers. Meanwhile, the Nintendo Switch plans to expand it's already large library with new highly anticipated games like Pokémon Scarlet and Violet, a new Mario+ game, and Bayonetta 3 – just to name a few!
The image featured at the top of this post is ©Mr. Weird/Shutterstock.com.