Key Points
Nerf Rival blasters use High-Impact Rounds, while Nerf Mega blasters use Mega Darts that are twice the size of Elite Darts.
Nerf Rival blasters have a firing speed of up to 100 feet per second, while Nerf Mega blasters have a firing range of 75-85 FPS.
The Nerf Rival series has a larger selection of blasters still in production compared to the Nerf Mega series.
Nerf has consistently been a source of fun and safe combat excitement. The brand continually captivates children, teens, and adult Nerfers alike with its innovative and improved series. In this comparison article, two popular series in Nerf's history, the Nerf Rival and the Nerf Mega, go head-to-head to determine which one is superior and why. Continue reading to discover our final verdict. Let's jump right in!
Nerf Rival vs. Nerf Mega: Side-by-Side Comparison
| Specs | Nerf Rival | Nerf Mega |
| --- | --- | --- |
| What It Is | Regular-sized blasters resembling futuristic firearms with spherical rounds | Oversized blasters with bigger darts |
| Primary Use | Competitive team-based gameplay | Casual Nerf Wars or target practice |
| Release Date | August 1st, 2015 | August 1st, 2013 |
| Average Price Range | $9.99 – $110.99 | $14.99 – $39.99 |
| Target Audience | Nerfers 14+ years of age | Ages 8 and up |
| Ammunition | High-Impact Rounds in the form of foam balls | Mega Darts, which are double the size of Elite Darts |
| Fire rate | 100 FPS | 75-85 FPS |
| Clip Capacity | Up to 100 balls | Up to 24 darts |
Best Overall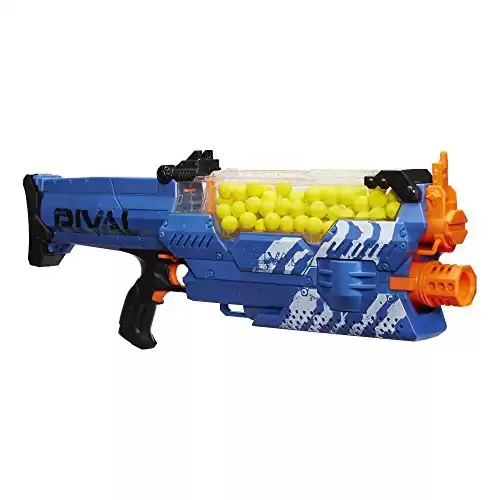 We earn a commission if you make a purchase, at no additional cost to you.
Nerf Rival vs. Nerf Mega: What's the Difference?
Design
To begin with, Nerf Rival offers the choice of either red or blue blasters to foster team play. In 2022, this color scheme changed to a universal light blue and yellow design. Conversely, the Nerf Mega series consists solely of red and orange blasters.
Nerf Mega blasters are larger to accommodate the size of the Mega Dart. Although Mega blasters are recommended for ages eight and up, some of these blasters may be somewhat cumbersome and heavy for Nerfers with smaller builds. So size should be considered when selecting a Mega blaster.
The Nerf Rival blasters, designed for adults and teens aged 14 and up, feature more standard-sized dimensions and grips. This is largely due to safety considerations given their higher firing rate. Another intriguing feature of the Rival series is that all blasters are named after Greek gods, goddesses, or Titans.
Ammunition and Capacity
The Mega Darts are typically twice the size of the common Elite Darts and were developed to achieve longer ranges with more stability. The most common are the N-Strike Mega darts with bright red bodies and orange tips. Mega Darts are also designed to whistle through the air. The AccuStrike Mega Darts released in 2018 brought enhanced accuracy to the shots.
Consequently, the dart capacity of the blasters had to be revised. The maximum capacity of the Mega series is 24 darts, as demonstrated in the Mega Mastodon blaster. With the average dart capacity being 5-6 darts, increasing the loading capacity would be impractical given the size of the blaster. The larger the dart, the larger the blaster…
In contrast, Rival's High-Impact Rounds are small yellow soft foam balls providing both accuracy and speed to the gameplay. These smaller rounds allow for larger clip capacities, with the maximum in the series being 100 rounds as seen in the Nemesis MXVII-10K. The average round capacity is around 20 High-Impact Rounds.
Performance
The Nerf Rival series has been a hit. To this day, Rival blasters remain a top choice for many Nerfers. The blasters are accurate, fast, and extremely fun to use, particularly in close-quarters battles where they shine.
These blasters can reach a firing speed of up to 100 feet per second (FPS), significantly exceeding the Nerf standard of 70-75 FPS. The shots are fast and can sting a bit if they hit bare skin at close range. This power level is why the series is designed for teens and adults aged 14 and above.
While the Mega series wasn't as significant an improvement as intended, the blasters' design is appealing and delivers an enjoyable experience. They perform well compared to other Nerf series' standards, and when combined with the AccuStrike Mega Dart, the added accuracy makes the Mega series an excellent choice. The Nerf Mega series' fire range averages between 75 and 85 FPS, which is still impressive.
Availability
Given that these series were launched in 2013 and 2015, not all the models from their lineups are still available. Both have discontinued their 2017 and older blasters. In the Nerf Mega series, only 4 blasters remain in production: the Tri-Break, MotorStryke, Megalodon, and the CycloShock. The discontinued models may be available through second-hand websites or stores.
Fourteen blasters in the Rival series are still being produced. These include the Helios XVIII-700, Kronos XVIII-500, Perses MXIX-5000, Pathfinder XXII-1200, and the Roundhouse XX-1500, among others. The famed Nemesis MXVII-10K has been discontinued, but limited stock may still be found in certain retail outlets. Some second-hand stores or websites might also carry these older models.
Best for Kids
We earn a commission if you make a purchase, at no additional cost to you.
Nerf Rival vs. Nerf Mega: 6 Must-Know Facts
Nerf Mega blasters are larger than typical Nerf blasters, including those in the Nerf Rival series.
Although the Rival series blasters are not as large, the grips and dimensions of Nerf Rival's blasters may still be uncomfortable for smaller teens.
The ammunition for Nerf Mega is larger-than-normal darts, while Nerf Rival uses smaller foam balls.
The Nerf Rival series offers fewer reloads due to its 100-round clip capacity compared to the 24 darts of most Nerf Mega blasters.
The Nerf Rival series, with its two different color designs and high-performance blasters, promotes more strategic, team-based gameplay, while the Nerf Mega is designed for more casual Nerf Wars or target practice.
The Nerf Rival series is designed for Nerfers aged 14 and over, but the Nerf Mega series is recommended for ages 8 and up.
Nerf Rival vs. Nerf Mega: Which One Should You Use?
Both the Rival blasters and the Mega blasters have their fans and their detractors. The decision largely depends on the intended use. However, we must emphasize that for users under 14, the size and skill level should be assessed before choosing either series. The Rival Blasters, as mentioned, are technically more advanced and more intense, as they are designed for teens 14 and older in terms of use and size. While the Mega series is recommended for ages eight and up, their oversized nature may make them uncomfortable and impractical for smaller children. From a safety perspective, the Mega series is somewhat safer due to its lower FPS.
However, if these aren't a concern, then we would recommend a Rival blaster. It's true that the Mega blasters perform well, are less expensive, and make an attractive addition to any collection. Yet, the Rival series has the upper hand with superior speed and accuracy, plus a larger clip capacity. Additionally, there's a greater selection of blasters that are still in production. The Nerf Rival series offers everything the Mega series does, but with added benefits that enhance competitive play. This makes the Nerf Rival series the superior choice.
An impressive 100-round capacity hopper
Includes 100 high-impact rounds
Fully motorized
Requires 6 D batteries (not included)
For ages 14 and up

Buy Now

We earn a commission if you make a purchase, at no additional cost to you.

11/26/2023 07:01 am GMT

The first motorized Nerf Mega blaster
24-dart rotating drum
Includes 24 Mega Whistler darts plus shoulder strap
Fires darts up to 100 feet

Buy Now

We earn a commission if you make a purchase, at no additional cost to you.

11/25/2023 07:05 pm GMT
The image featured at the top of this post is ©ZikG/Shutterstock.com.