NanoCell and ULED TVs are two types of television developed by LG and Hisense, respectively.
The former is LG's proprietary technology that integrates nanoparticles into the screen panel to remove impurities and achieve better color filtering. Rather than technology, ULED is a marketing term created by Hisense, describing a variety of features implemented to enhance image quality.
Both systems have the same purpose, but in a battle between NanoCell and ULED TVs, which one wins? Let's find out which TV technology reigns supreme!
NanoCell vs. ULED TVs: Side-by-Side Comparison
| | NanoCell TVs | ULED TVs |
| --- | --- | --- |
| Launch | 2019 | 2015 |
| Brand | LG | Hisense |
| Screen Type | LED | LCD |
| Screen Thickness | Approx. 2.7" | Approx. 3.3" |
| Brightness Level | Approx. 350 nits | Up to 1,500 nits |
| Color Accuracy | True-to-life | True-to-life |
| Resolution | 4K and 8K | 4K |
| Refresh Rate | Up to 120Hz | Up to 120Hz |
| Screen Sizes | 43" to 86" | 50" to 85" |
| Energy Efficiency | More efficient | Less efficient |
| Price Range | Medium-high | Mid-range |
NanoCell vs. ULED TVs: What's the Difference?
The main difference between NanoCell and ULED is that the former is a technology proprietary to LG, whereas the latter is a marketing term invented by Hisense. Both television types aim to deliver crystal clear images and true-to-life colors, with various degrees of success.
Let's break down their differences to give you the full picture.
Image Quality
LG's NanoCell TVs integrate particles with a diameter of one nanometer into the TV paneling to remove impurities and achieve better color definition. However, even if the actual purpose of these nanoparticles is to deliver purer, more true-to-life colors, they also deliver better viewing from the sides thanks to the way they reflect light. The wider viewing angle makes NanoCell TVs perfect for large households where all members can enjoy great image quality, no matter where they sit in relation to the TV.
Hisense's ULED TVs –– at least the latest models –– use quantum dot technology similar to Samsung's QLED. This technology also places a layer of nanoparticles in front of the LCD to improve color definition, but a difference in particle size and the number of active centers determine what color each particle will reflect.
Another similarity to Samsung is the type of panels Hisense uses in its televisions. ULED TVs feature VA panels that are widely recognized for their purer black and better detail in shadows. Unfortunately, these panels have narrower viewing angles compared to the IPS panels seen in NanoCell televisions.
While both TV types deliver high-quality images when your vision is perpendicular to the screen, NanoCell allows users to enjoy quality images from all angles.
Bright Colors
LG Nano 8 Series 75SM8670PUA TV, 75" 4K UHD Smart LED NanoCell, 2019 model
Your purchase includes One LG Nano 8 Series 75SM8670PUA TV, 75" 4K UHD Smart LED NanoCell, 2019 model, one Magic Control with batteries, One power cable, and User Manual
TV Dimensions: Without Stand – 66.3" W x 38.3" H x 2.6" D. With Stand – 66.3" W x 41.1" H x 14.6" D
Audio: 2.2 Channel Speaker System and Dolby Atmos compatibility
Images, action and color are brought to new life to instantly enhance picture quality through LG's best 4K processor, empowered by AI at its core.VESA Mounting (W x H):600 x 400
Connectivity: HDMI Input (HDCP 2.2) – 4 (2 rear, 2 side). HDMI Audio Return Channel (ARC) – ARC (HDMI 2). USB Ports (v 2.0) – 3 (1 rear, 2 side). RF Connection Input (Antenna/Cable) – 1 (rear)
We earn a commission if you make a purchase, at no additional cost to you.
Great Color Accuracy
Hisense 50-Inch Class H8 Quantum Series Android 4K ULED Smart TV with Voice Remote (50H8G, 2020 Model)
Unlock the power of over a billion colors perfectly expressed with Hisense H8G Quantum Series ULED Smart TVs, which combine incredible, ultra-bright 4K detail with Android TV for quick access to entertainment and apps.
Transform your home into an entertainment powerhouse with Dolby Vision HDR10 plus, HDR10, and HLG picture and Dolby Atmos sound technologies, creating a truly cinematic experience featuring astonishing images with enhanced color and incredibly immersive audio.
Offers 240 motion rate and quantum dot color. Full array local dimming zones deliver a superior HDR experience with up to 700-nits peak brightness across up to 32 local dimming zones, while game mode significantly improves input lag for optimized gaming.
Control the TV via the easy-to-use voice-enabled remote, through the built-In Google Assistant, or through an Alexa-enabled device (sold separately) — Open or search for apps, control the volume and inputs, or search for your favorite TV shows and movies.
We earn a commission if you make a purchase, at no additional cost to you.
Color Accuracy
The main difference between NanoCell and ULED TVs is color accuracy. Both television types promise true-to-life colors, and they deliver for the most part. However, the fact that quantum dot ULED is similar to QLED gives it the upper hand in this aspect.
In fact, quantum dot technology allows ULED TVs to turn each pixel on and off. As a result, the television can deliver a true black color and a higher contrast, which translates into better detail in shadows and more true-to-life colors.
While NanoCell televisions feature full-array backlight and local dimming (the same as ULED), they don't have the ability to switch each pixel on and off independently. Sure, the TV can control the light by zones, but all pixels in that specific area are turned off or dimmed. One may sometimes observe some blooming or halo effects and some blur on fast movements. An exception to this is the QNED TVs that combine quantum dot and NanoCell technologies. These televisions deliver a higher definition and better color accuracy than ULED TVs.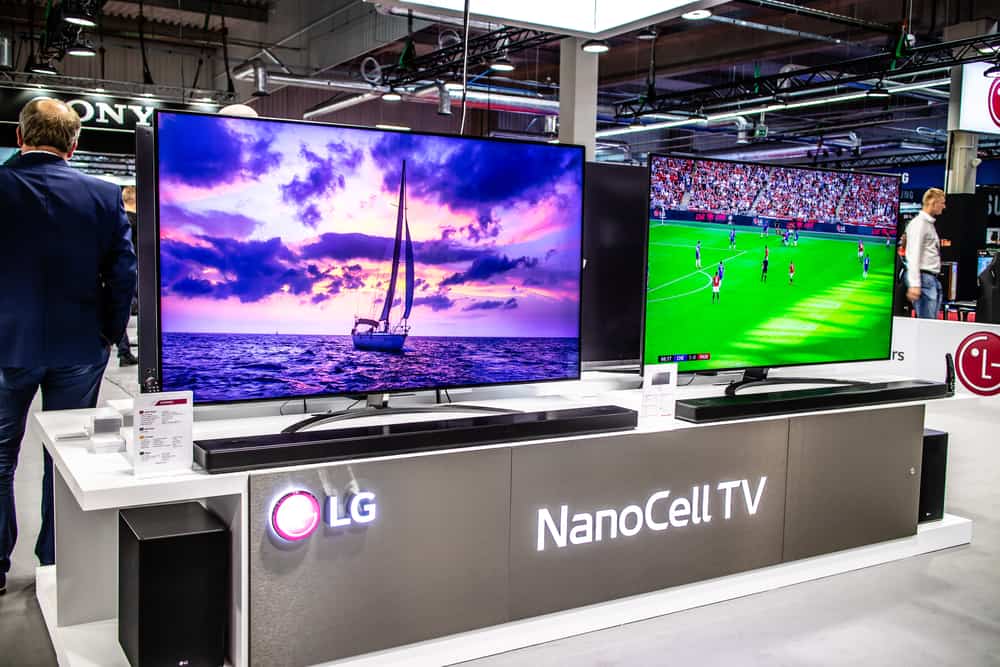 Resolution
A difference between NanoCell and ULED TVs is the resolution you can choose. All Hisense ULED televisions have a resolution of 4K UHD. NanoCell TVs can have the same 4K resolution, but LG also launched NanoCell TV models with a resolution of 8K UHD.
As you can imagine, the 8K resolution delivers a far sharper picture –– these televisions have over 30 million pixels, after all. But, just because they deliver sharper images doesn't mean that you have to run out and buy one.
Not only is an 8K NanoCell TV twice the price of a 4K one, but to take full advantage of it, you need actual 8K content. Currently, most streaming services don't offer native 8K content, meaning that you'll have a badass TV and be forced to watch 4K or sub-4K videos on streaming platforms such as Apple TV or Netflix so you might be better off with a 4K TV at the moment.
8K Greatness
LG NanoCell 99 Series 75" Alexa built-in 8k Smart TV (7680x4320), 120Hz Refresh Rate, AI-Powered 8K Ultra HD, Dolby Cinema, Dolby Vision (75NANO99UNA, 2020)
REAL 8K NANOCELL DISPLAY: Real 8K LED is here. LG's 8K NanoCell TVs meet the industry definition for 8K resolution. It's 4 times the resolution of 4K, complete with the natural, lifelike color of Nano Color, precise color at wide angles with Nano Accuracy, and deeper black and contrast of precisely balanced lighting.
FULL ARRAY DIMMING PRO: Your movies, sports and games are lit and balanced with near perfection. Full Array Local Dimming Pro executes our most precise level of backlighting control for deeper black and enhanced contrast from edge to edge.
WEBOS AND THINQ AI: Entertainment access made easy. Hover over an app for personalized entertainment recommendations, easily find what you're looking for, and access Disney Plus, the Apple TV app, Netflix, Hulu, Sling, Prime Video and more. A huge library of content awaits.
Our most advanced 8K processordoes it for you with 8K 4-step noise reduction, AI Picture Pro, AI Sound Pro and AI 8K Upscaling.Our most advanced 8K processor does it for you with 8K 4-step noise reduction, AI Picture Pro, AI Sound Pro and AI 8K Upscaling.
SPECTACULAR GAMEPLAY: LG NanoCell TV gives you a gaming advantage. AI-powered picture quality transports you to the moment. Gaming features and the latest tech give you an edge with less lag, high refresh rates, and incredibly responsive gameplay.
We earn a commission if you make a purchase, at no additional cost to you.
Screen Sizes
One thing that makes NanoCell TVs more appealing is the variety of screen sizes you can choose from. LG proposes variants of its NanoCell televisions in sizes ranging from 43 to 86 inches for 4K resolution. The 8K variants come in sizes from 65 to 86 inches. This makes it easy to find the perfect TV for your space, no matter how big or small your room is.
Hisense doesn't offer the same versatility. These TVs come in sizes from 55 to 85 inches and are a better choice for larger spaces. If you need a small TV for a bedroom or the kids' room, NanoCell might be your only option, unless you want to consider other brands or technologies.
Power Consumption
Another battle that NanoCell wins is that of power efficiency. LG doesn't provide specific numbers, but tests made by sellers show that these TVs draw between 100 and 200 watts when in use and around 0.5 watts on standby. Hisense ULED televisions have the same standby usage but require around 400 watts when in use. That's at least double compared to LG, and while they are still energy efficient by today's standards, you'll see the difference in the electricity bill.
Maintenance
TVs don't require maintenance other than a regular cleaning, but there's a difference in the cleaning frequency between NanoCell and ULED models. As explained, in NanoCell TVs, the screen is coated with nanoparticles. These particles not only improve color accuracy but also remove some of the dust that sets on the panel. Hence, you won't have to clean the display as often as you would a ULED screen. You'll have to clean the other parts of the TV more frequently, though.
Price
While technologies can vary, NanoCell TVs are typically more expensive than ULED TVs. In broad lines, most Hisense ULED televisions address a mid-range market, whereas LG's NanoCell televisions cater to a higher-end market.
NanoCell vs. ULED TVs: 7 Must-Know Facts
NanoCell is a technology proprietary to LG. ULED is a marketing term invented by Hisense, and that defines a wide range of technologies. Not all technologies falling under the ULED term are proprietary to Hisense, though.
All NanoCell TVs integrate nanoparticles that improve color accuracy and image definition, but only some ULED TVs have quantum dot technology.
Quantum dot ULED televisions deliver greater color accuracy and sharper images than NanoCell TVs. That's because each pixel can be turned on and off independently, preventing blooming or halo effects.
While some ULED TVs deliver purer black and more true-to-life colors, NanoCell TVs feature a wider viewing angle.
NanoCell TVs come in 4K and 8K resolutions and in screen sizes from 43 to 86 inches. ULED TVs come in 4K resolution only and screen sizes between 55 and 85 inches.
ULED TVs are more affordable upfront but consume more energy than NanoCell.
You can save on NanoCell TVs by choosing a 4K option, given that 8K TVs can hardly be enjoyed at full potential at the moment.
NanoCell vs. ULED TVs: Which One is Better for You?
Choosing between NanoCell and ULED TVs comes down to your preferences and budget. The latter option is ideal for large families in wide spaces. These televisions have a more expansive viewing angle, allowing more people to enjoy clear images even when not sitting directly in front of the screen. However, these TVs are more expensive than ULED.
Beyond costs, NanoCell TVs also have poorer color accuracy compared to quantum dot ULED. On the contrary, quantum dot ULED TVs deliver pure black color and true-to-life hues, improving image quality when watching the TV in a dark room. However, this is only true for ULED televisions with quantum dot technology. Regular ULEDs have a lower image quality compared to NanoCell, but they are also a lot cheaper.
If you need a small TV, NanoCell is your only option. However, basic NanoCell models and smaller sizes can be cheaper than Hisense's flagship ULED televisions.
NanoCell and ULED TVs: Technology Updates
Recently, both NanoCell and ULED TVs have witnessed notable technological advancements. Here are a few illustrative examples:
NanoCell TVs:
Enhanced Quantum Dot Color: LG's NanoCell TVs now feature an upgraded Quantum Dot Color technology, renowned for its heightened color accuracy and brightness improvements.
Advanced AI Processing: LG has unveiled the new Alpha 9 Gen 5 AI Processor for NanoCell TVs, significantly enhancing the upscaling of lower resolution content to 4K and HDR.
ULED TVs:
Innovative Mini LED Backlight: Samsung introduces an innovative Mini LED backlight technology for ULED TVs, promising superior contrast and black levels in comparison to traditional LED backlights.
Cutting-edge Upscaling: Samsung's new Neo Quantum Processor 8K for ULED TVs is designed to excel in upscaling lower resolution content to 8K and HDR, ushering in a heightened visual experience.
NanoCell and ULED TVs: What's Next
Potential future technology updates for NanoCell and ULED TVs:
MicroLED Advancements: MicroLED technology is emerging as a display innovation with superior picture quality compared to NanoCell and ULED TVs. Utilizing minute LEDs to construct images, MicroLED TVs offer enhanced contrast, brightness, and color accuracy.
Embrace of 8K Resolution: The impending shift to 8K resolution represents the next significant TV standard. With four times the detail of 4K, 8K resolution promises to elevate visual realism.
Evolution to HDR 20+: HDR 20+ is poised to revolutionize HDR technology, delivering improved brightness and contrast beyond the capabilities of HDR 10.
Enhanced Viewing Angles: While NanoCell and ULED TVs offer commendable viewing angles, future developments may lead to even more immersive viewing experiences through enhanced technologies.
Swifter Response Times: The future may bring even faster response times to NanoCell and ULED TVs, offering heightened responsiveness that particularly benefits gamers.
These anticipated updates underscore the continuous quest for innovation in both NanoCell and ULED TV technologies, aiming to deliver superior visual quality, performance, and user experience.
The image featured at the top of this post is ©Grzegorz Czapski/Shutterstock.com.