Key Points
The Mustang Mach-E offers powerful performance with up to 480 horsepower and impressive torque, while the Volvo EX30 provides sufficient power for day-to-day driving.
The Mustang Mach-E has a range of 224 to 312 miles, depending on the trim and battery pack selected, while the Volvo EX30 offers around 275 miles of range.
The Mustang Mach-E starts at around $42,000, while the Volvo EX30 is priced at $34,900, making it a more affordable option.
The Mustang Mach-E is eligible for a federal tax rebate of $7,500, while the Volvo EX30 is not eligible for any tax credits.
Which EV is the winner in the Mustang Mach-E vs. Volvo EX30 debate? Electric SUVs are currently a hot commodity on the market, and it seems like any manufacturer worth its salt has one running.
The Mustang Mach-E has been a popular choice for having muscle car performance in a family-friendly package. Ford's electric SUV has been one of a handful of EVs that has excellent range, good safety, and is entirely usable with the federal tax rebate.
Volvo's EX30 is new to the market but promises some very interesting features. Volvo has been the one to beat when it comes to packing fantastic safety features in an all-electric powertrain. So, which of these EVs is the best to get? Read on to find out.
Mustang Mach-E vs. Volvo EX30: Side-by-Side Comparison
| | Ford Mustang Mach-E | Volvo EX30 |
| --- | --- | --- |
| Horsepower | 266 hp to 480 hp, depending on the trim level | 268 hp to 422 hp, depending on the trim |
| Torque | 266 lb-ft to 428 lb-ft | 253 lb-ft to 400 lb-ft |
| Seating | 5 | 5 |
| Smartphone Support | Apple CarPlay, Android Auto | Apple CarPlay, Android Auto |
| Charger Port | J1772 | J1772 |
| Battery Capacity | 70 to 91 kWh | 69 kWh |
| Range | 224 to 312 miles, depending on the trim and battery pack selected | Up to 275 miles |
| MSRP | Prices start at $45,000, the highest trim level goes to around $67,000 | Starts at $34,950, highest trim level retails for $48,000 |
Volvo looks to be taking aim directly at Ford with the release of EX30. Both EVs are shockingly similar in some noticeable ways.
Mustang Mach-E vs. Volvo EX30: What's the Difference?
With the broader specs out of the way, it is time to take a deeper dive into how both of these EVs actually function. Volvo's EX30 is due for release later this year, so test vehicles are already making their way to testers and critics alike.
Performance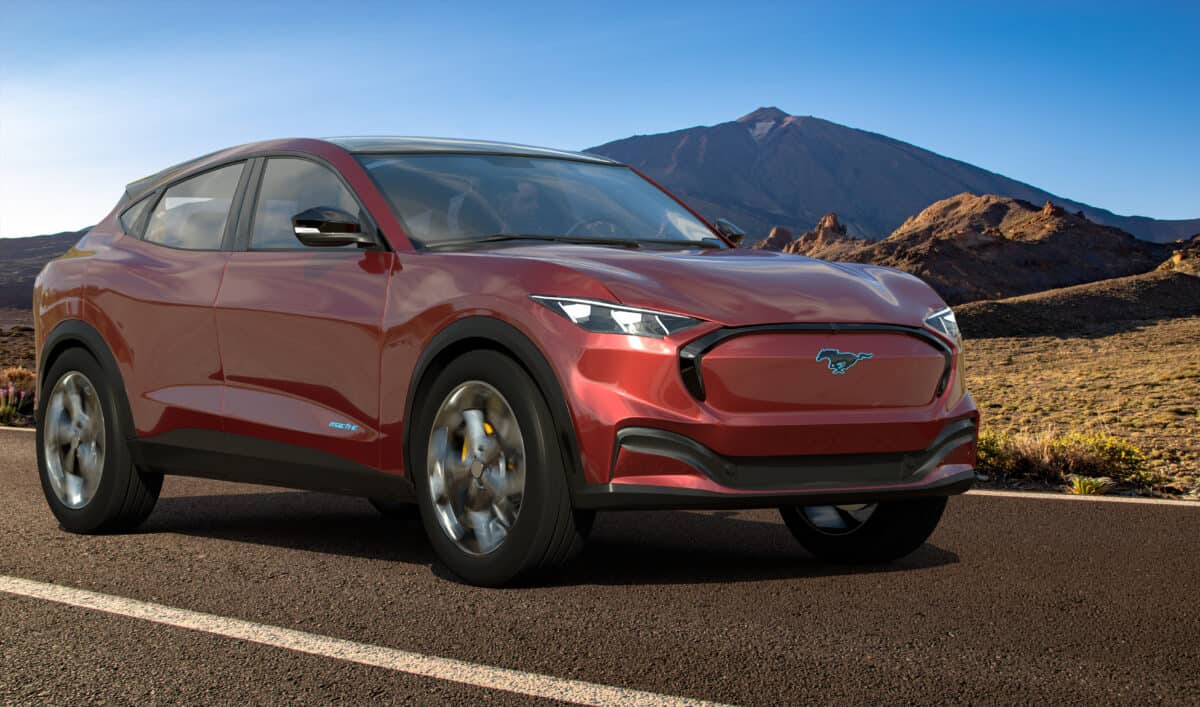 The Mustang Mach-E carries Ford's American muscle car heritage to the fore. Depending on the trim level selected, you get ample power. It seems an odd choice to have a fully electric SUV carrying on the Mustang namesake, but it doesn't disappoint by any means.
The higher-end trims of the Mustang Mach-E, like the GT Performance, easily hit over 400 horsepower. You're also getting impressive torque. The drivetrains do change depending on the trim you select. The most basic models come with rear-wheel drive configurations with the higher-end offering all-wheel drive.
The Volvo EX30 is very similar to the Mustang Mach-E in terms of overall performance. The low-end of power is roughly equivalent, with the basic EX30 trim level having slightly more horsepower. The top-level trim selections for the EX30 don't quite hit the same performance metrics.
That said, the EX30 is plenty for day-to-day driving as well as those longer highway commutes.
Range
Ford's EV structuring means you have basic batteries and extended batteries. The low end of the overall range of the Mustang Mach-E is around 224 miles, which is on the lower end for today's market. The high-capacity battery pack brings that number to 312 miles. This is still less than the comparable Model Y.
The EX30 has a standard battery capacity no matter which option or trim package you select. Volvo estimates the vehicle itself should net around 275 miles of range under nominal conditions. This is perfectly adequate for lengthier commutes, but it would be great to see more range.
That said, kudos have to go to Volvo for having a standard battery capacity that isn't tied to the various trim options available.
Pricing
The Mustang Mach-E has a starting price of around $42,000 to $43,000 for the most basic model. This is great pricing, as you get something with Model Y performance for a few thousand less.
It can scale up quite significantly, however. The high-performance variants of the Mustang Mach-E readily retail for over $60,000.
The Volvo EX30 is priced much cheaper than the Mustang Mach-E, starting at $34,900. You're getting roughly equivalent performance, storage capacity, and more overall range. As such, this is a bargain. You're getting top performance out of an electric SUV for under $40,000.
Tax Credit Eligibility
Ford still has tax credits left for its EV line, so you can easily save $7,500 when purchasing one new. As it is domestically manufactured, the used EV credit is also applicable if purchasing a second-hand vehicle. The federal tax rebate program is applicable only to domestically produced vehicles, so Ford fits the bill.
The Volvo EX30 isn't domestically produced, sadly. As such, the tax credits available for purchasing a new or used EV aren't applicable. While it would be nice to see more vehicles qualifying for these rebates, the EX30 is at least low-cost enough that you won't sweat the price too much.
Hopefully, the federal tax rebate program will expand to cover more EVs, but for now, you'll have to purchase domestically to get some extra savings.
Safety and Driver-Assistive Technology
The Mustang Mach-E has fairly great safety ratings, at least going by crash testing conducted by the NHTSA and the IIHS. In addition to good crash ratings, it comes with a full suite of driver-assistive technologies to round out the package.
You've got access to automated emergency braking, front collision detection, and blind spot monitoring. Ford has also packed adaptive cruise control and an autonomous driving mode into the vehicle.
Volvo has been synonymous with safety for a number of years. The EX30 is no exception to this standard and carries Volvo's penchant for crafting reliable and safe vehicles. Crash test ratings haven't been released by the NHTSA and IIHS just yet, but previous models like the XC40 Recharge scored well.
Volvo also has an impressive suite of driver-assistive technology built into the EX30. You get automated emergency braking for starters. You also have pedestrian and cyclist detection. Volvo has also implemented lane-keep and lane-departure systems.
This is capped off with an adaptive cruise control mode with lane centering. It might not have autonomous driving features, but there is plenty to like about the EX30.
Mustang Mach-E vs. Volvo EX30: 6 Must-Know Facts
The Mustang Mach-E has a variety of additions you can choose from, like an extended battery pack.
Ford's Mustang Mach-E has a stellar warranty, with eight years of coverage for electrical components.
The Mustang Mach-E has 35 cubic feet of storage in its rear trunk.
The Volvo EX30 is Volvo's lowest-cost EV to date.
The EX30 has a stellar warranty with included scheduled maintenance.
Volvo's latest EV features a soundbar across the length of the dash as part of the sound system.
Mustang Mach-E vs. Volvo EX30: Which One Is Better? Which One Should You Choose?
So, which of these EVs comes out on top? While the Mustang Mach-E is a stellar choice for a number of reasons, it is just a little behind the times when compared to the EX30. To get the most out of the Mustang Mach-E you'll have to spend extra to extend the range.
The EX30 doesn't have these concerns, as the included battery pack is sufficient for the vehicle no matter the trim selection. So, if you don't mind waiting just a little bit longer, the EX30 is the choice to make.
The image featured at the top of this post is ©Herranderssvensson, CC BY-SA 3.0, via Wikimedia Commons.