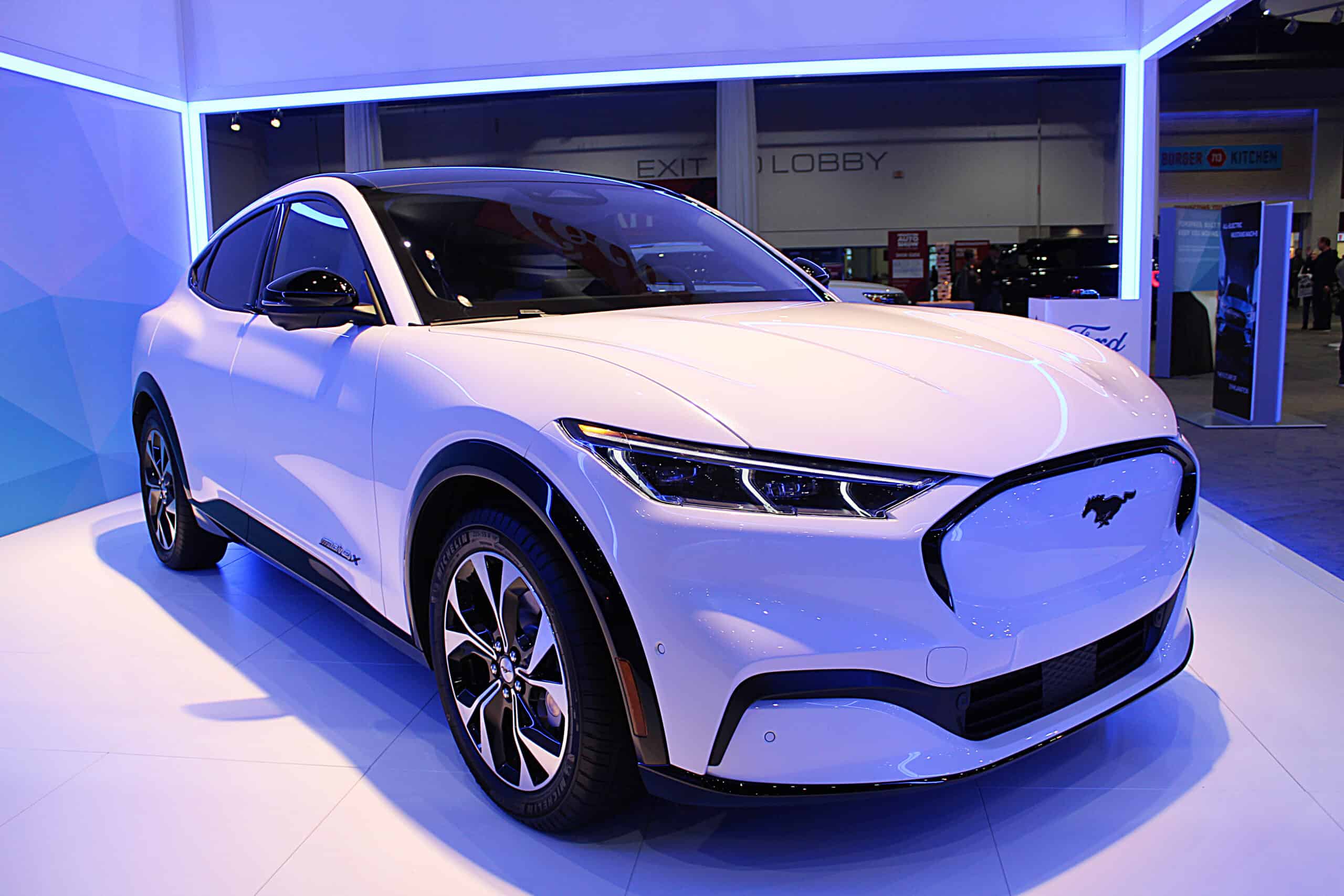 Key Points
Both Mustang Mach E and Nissan Leaf are geared towards eco-friendly driving.
A Mach E with a standard battery takes 38 minutes to charge from 10% to 80%, whereas a Leaf takes 40 to 60 minutes to charge from 0% to 100% with fast charging.
GT, the fastest Mach E, takes 3.8 seconds to accelerate from 0-60 mph, while the Nissan Leaf takes SV Plus takes 6.8 seconds
The Mustang Mach California Route 1 covers the most miles on a single charge, with a range of 312 miles, 100 miles more than the Leaf SV Plus.
The electric vehicle market is growing by the day. With the likes of Tesla and others leading the pack, there's no doubt that EVs are here to stay. But for those who want to experience the EV lifestyle but don't necessarily have the budget for a high-end Tesla, plenty of options exist.
Ford and Nissan's releases of the Mustang Mach E and Nissan Leaf, respectively, have seen two entry-level cars burst onto the EV scene. First, we had the Leaf, an all-rounder that packs plenty of punch, with its first release in 2010 and other releases in progressive years. Then in 2020, Ford announced the Mustang Mach E, spicing this segment with serious muscle. But like all great rivalries, the question remains: Which is best?
Before we go any further, the 2023 Mustang Mach-E lineup comprises four models and trims. The entry-level Mustang Mach-E Select, the mid-range Premium, the sporty California Route 1, and the top-of-the-line GT. As for the 2023 Nissan Leaf, you get two models: the Leaf S and the Leaf SV Plus.
Ford is famous for its loud, powerful machines, and the Mach-E is no exception. Nissan has long been a pioneer in the EV industry, and the Leaf is no slouch either. But when it comes to performance, it's clear that Ford has the upper hand. Here's a full breakdown of the Mach-E and Leaf's specs.
Mustang Mach E vs Nissan Leaf: Side By Side Comparison
Specs
Mustang Mach E
Nissan Leaf
Range
Select: 247 miles 
Premium: 310 miles
California Route 1: 312 miles 
GT: 270 miles
S: 149 miles
SV Plus: 212 miles
Horsepower
Select: 266 hp
Premium: 266hp
California Route 1: 346 hp
GT:480hp
S: 147 hp
SV Plus: 214hp
Battery
Select: 70kWh
Premium: 70kWh
California Route 1: 91kWh
GT: 91kWh
S: 40 kWh
SV Plus: 60 kWh 
Weight
Select: 4,498 pounds
Premium: 4,498 pounds
California Route 1: 4,647 pounds
GT: 4,962 pounds
S: 3,509 pounds
SV Plus: 3,901 pounds
Starting MSRP price 
Select: $45,995
Premium: $50,995
California Route 1: $57,995
GT: $63,995
S: $28,040
SV Plus: $36,040
Drive Type 
Select: RWD or eAWD
Premium: RWD or eAWD
California Route 1: eAWD
GT: eAWD
S: FWD
SV Plus: FWD
Torque 
Select: 317 lb.-ft.†
Premium: 317 lb.-ft.
California Route 1: 428 lb.-ft.
GT: 428 lb.-ft
S: 236 lb-ft
SV Plus: 250 lb-ft
0-60
Select: 5.8 seconds
Premium: 6.1 seconds
California Route 1: 4.8 seconds GT: 3.8 seconds 
S: 7.4 Seconds 
SV Plus: 6.8 Seconds
Mustang Mach E vs Nissan Leaf: What's the Difference?
You've probably made up your mind about the Mustang, but this article is far from the last word. The Mustang Mach E and Nissan Leaf have distinct differences, so let's look at what sets them apart.
Range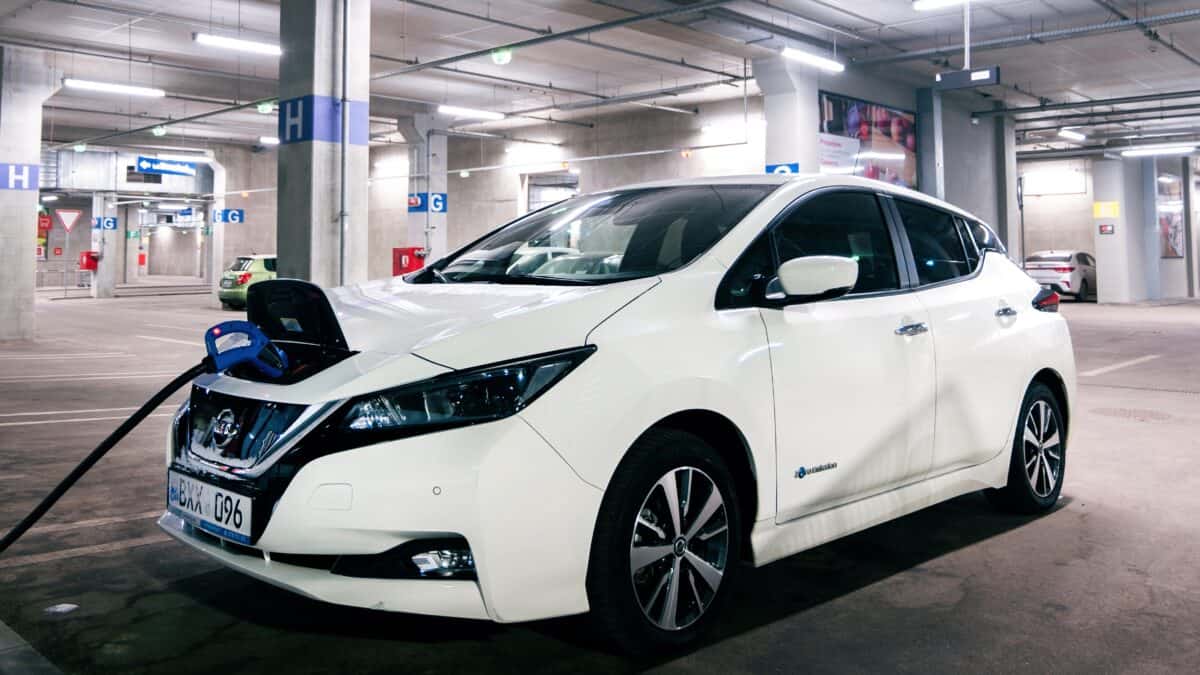 Of the four Mach-E models, the entry-level Select has a quoted range of 240 miles. The mid-range Premium and sporty California Route 1 offer 310 and 312 miles, respectively. While you'd expect the top-of-the-line GT to have the greatest range, 270 miles is all you get. But that's because it's a performance-oriented model, so the sacrifice of range makes sense.
The Nissan Leaf S and SV Plus have quoted ranges of 149 miles and 212 miles, respectively. In a world where Tesla trucks boast ranges of over 500 miles, these figures pale in comparison. That's understandable, given the Leaf's budget-friendly price tag and comprehensive packages.
Affecting your range is the choice of battery. With the Mustang Mach E, you can opt for a standard 70 kWh or extended-range 91 kWh battery. Meanwhile, the Nissan Leaf has 40 kWh and 60 kWh options for its S and SV Plus models.
However, EV batteries tend to degrade over time, so you can't expect to get the full range from either vehicle. Always take range estimates with a grain of salt. Still, the Mustang Mach E's larger battery sizes give it an edge.
Performance
An EV can look great and all that, but at the end of the day, rubber has to meet the road. This is where Mustang Mach E reigns supreme. The range-topping GT model can sprint from 0-60 mph in just 3.8 seconds and offers a whopping 480 hp and 428 lb-ft of torque. That's more than twice the power from the Nissan Leaf SV Plus' 214hp and 250 lb-ft of torque.
GT has four selectable drive modes to maximize performance, plus MagneRide adaptive suspension for improved handling. Its dual motor eAWD system and advanced traction control help the Mach E achieve cornering speeds that make it feel more like a sports car than an EV.
Offering almost similar output is California Route 1, with its 346 hp and 428 lb-ft of torque. Select and Premium models are still powerful and responsive, but they can't match the GT's performance.
The Nissan Leaf S and SV Plus lack the get-up-and-go of the Mach E, but they're still reasonably nippy. Expect to hit 60 mph in around 7.4 seconds with the S and 6.8 seconds with the SV Plus. Horsepower and torque figures peak at 147 hp and 236 lb-ft for the S and 214 hp and 250 lb-ft for the SV Plus.
Handling
Select and Premium Mach E models have standard RWD with the option of AWD. RWD gives you a more enjoyable driving experience, while AWD helps you tackle tough terrain and provides improved handling in low-traction environments. On the other hand, California Route 1 and GT models come equipped with eAWD as standard.
The Nissan Leaf S and SV Plus feature single-speed gearboxes with standard front-wheel drive. EV batteries are heavy, so you can expect a lot of body roll when cornering. The Leaf's steering and suspension are commendable, with independent strut suspension in the front and torsion beam suspension at the rear.
The Mustang Mach E is a nimble vehicle that can easily tackle sharp corners. Its low center of gravity helps keep the car glued to the road, and the suspension is tuned for performance driving. The drive modes help you adjust the vehicle to your driving style, allowing you to tweak the steering and suspension settings according to the road conditions.
Safety and Security
Any modern car worth its salt should have a suite of safety and security features. The Mustang Mach E and Nissan Leaf both have a range of standard driver-assist technologies, such as lane-keeping assistance, blind spot monitoring, adaptive cruise control, and emergency braking.
Mach E features all the standard safety features plus a few extras, like SOS post-crash alert, driver monitoring systems, and AdvanceTrac, Ford's own advanced stability control system. This model also comes with all the standard security systems, like E-latch, MyKey, and SecuriCode keyless entry.
Nissan Leaf also has all the standard safety and security features. However, it lacks advanced features like Ford's AdvanceTrac system and driver monitoring. Perhaps the slide-away brake pedal feature and energy-absorbing steering column set the Leaf apart from the Mach E in terms of safety. Still, both vehicles are well-equipped to keep you out of harm's way.
Comfort and Convenience
You don't have to sacrifice comfort and convenience when driving an electric car. The Mustang Mach E has many luxurious features, like the BlueCruise hands-free driving system. Another impressive feature is the Ford Co-Pilot360, which includes a full suite of driver assistance technologies, such as Pre-Collision Assist and Lane Centering.
Mach E is comfortable to drive thanks to its soft vinyl-wrapped steering wheel and heated, ventilated, and ergonomic seats. The 15.5-inch LCD touchscreen infotainment system also adds to the convenience. And if music is your thing, the Mach E comes with a six-speaker audio system.
The Leaf isn't as luxurious as the Mach E, but it still has exciting features that make it a comfortable ride. The car has automatic temperature control, power windows, and a 7.0-inch touchscreen infotainment system powered by NissanConnect. Its heated steering wheel and front and back seats provide a cozy experience in cold weather.
Pricing
Mustang Mach E is available in four trims: Select, Premium, California Route 1, and GT. Prices start at $45,995 for the base Select and go up to $63,995 for the fully loaded GT. The Premium trim costs $50,995, and the California Route 1 trim is priced at $57,995.
The Nissan Leaf S starts at $28,040, and the SV Plus trim costs $36,040. Both vehicles offer build-to-order customization options, so you can expect the final price to vary. For instance, you can add the exterior number protector on the Mustang Mach E Select for an additional $90.
Value for money is subjective, but the Mustang Mach E offers more features than the Nissan Leaf for a few thousand dollars more. Nevertheless, the Nissan Leaf is excellent if you want to experience electric motoring without breaking the bank.
Mustang Mach E vs Nissan Leaf: 6 Must-Know Facts
The Mach E features advanced driver assistance systems and Ford's AdvanceTrac stability control system, while the Leaf only has the standard safety and security features.
The Mach E has powerful motors with outputs of up to 480 horsepower and 428 lb-ft of torque for its GT model, while the Leaf is stuck at 214 horsepower and 250 lb-ft of torque for its SV Plus model.
Mach E has an impressive 312 miles range for its California Route 1 model, and the Leaf can only manage a maximum range of 212 miles for its SV Plus model.
The Mach E has a shorter 0-60 mph time of 3.8 seconds for its GT model, while the Leaf has a longer 0-60 mph time of 6.8 seconds for its SV Plus model.
The Mach E is much larger than the Leaf, with a longer wheelbase, shorter front and rear overhangs, and higher ground clearance, while the Leaf is much smaller and less muscular-looking.
The Ford Co-Pilot360 suite of safety and driver assistance features comes standard with the Mach E, while the Leaf only has a few basic safety and security features.
Mustang Mach E vs Nissan Leaf: Which One Is Better?
Ultimately, the decision to pick Mustang Mach E or Nissan Leaf rests with you. While the answer will largely depend on your budget and your needs, it's clear that the Mustang Mach E offers more power, range, and safety features than the Leaf.
If money is not an issue and you want something luxurious and sporty, then the Mustang Mach E is the way to go. We'd recommend the GT if you want the full-blown experience and the Select if you're on a tighter budget. The California Route 1 trim offers a good balance of luxury and convenience, but the price tag might be too much for some.
On the other hand, the Nissan Leaf is an excellent option for budget-conscious buyers who want an all-electric vehicle without breaking the bank. It's not as luxurious as the Mach E, but it still has plenty of features to make your ride comfortable and enjoyable. This car is ideal if you need an EV for daily commutes and short trips.
No matter which car you pick, you can be sure that the Mustang Mach E and the Nissan Leaf offer excellent value and a great way to experience electric motoring. At this point, and with the information above, choosing Mustang Mach E vs Nissan Leaf should be easier.