As the price of new smartphones continues to rise, more consumers look towards older devices for a discount. Two that are often compared are the Moto Z3 vs. Moto G7. While they have similar specifications, these smartphones are geared toward two different audiences. They are also considerably cheaper now than when they were first introduced, making them an enticing choice for budget-conscious consumers.
Moto Z3 vs. Moto G7: Side-by-Side Comparison
| | Moto Z3 | Moto G7 |
| --- | --- | --- |
| Manufacturer | Motorola | Motorola |
| Release Date | August 2018 | February 2019 |
| Display | 6 inches | 6.2 inches |
| Resolution | 2,160 x 1,080 | 2,270 x 1080 |
| Processor | Snapdragon 835 | Snapdragon 632 |
| Memory | 4 GB | 4 GB |
| Storage | 64 GB | 64 GB |
| Front Camera | 8 MP | 8 MP |
| Rear Camera | Dual 12 MP | Dual 12 MP, 5 MP |
| Battery Size | 3,000 mAh | 3,000 mAh |
| Dimensions | 156.5mm x 76.5mm x 6.8mm | 157mm x 75.3mm x 8mm |
| Weight | 5.5 ounces | 6 ounces |
Moto Z3 vs. Moto G7: What's the Difference?
From a distance, the Moto Z3 and Moto G7 look remarkably similar aside from the camera notch. They also have comparable specifications in several key areas but have completely different features.
The Moto Z3 is the follow-up to the Z2 Force and allows you to customize the device through MotoMods. Alternatively, the 7th generation of the Moto G7 is designed to be affordable, although there are four variants to choose from.
The Displays
Moto Z3 Play - Unlocked - 32 GB - Deep Indigo (US Warranty) - Verizon, AT&T, T-Mobile, Sprint
6" Full HD+ Super AMOLED display with a Max Vision 18: 9 aspect ratio, 4 GB of RAM and 32 GB of internal storage with option to add up to 2 TB of micros expandable memory, and Android 8. 1
Qualcomm Snapdragon 636 1. 8 GHz octal-core processor, 850 MHz Adreno 509 GPU, and fast 4G LTE speed; Body: 6000 series polished aluminum frame
12 MP + 5 MP dual rear cameras for studio-quality portraits and 8 MP wide angle front-facing camera with screen flash
All-day battery + TurboPower charging: 3, 000 mAh battery, hours of power after minutes of charging with TurboPower charging
Use Moto Mods to turn your phone into a movie projector, boom box, battery powerhouse, and more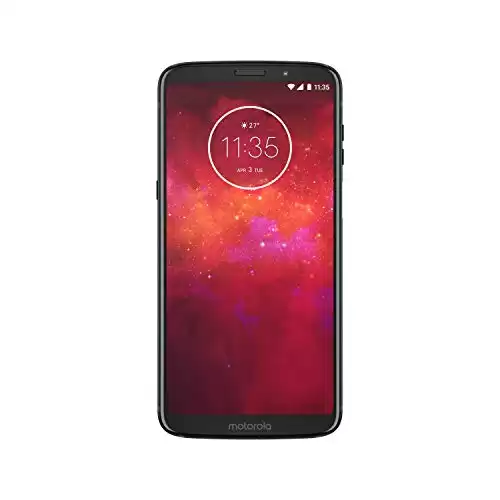 We earn a commission if you make a purchase, at no additional cost to you.
The Motorola Z3 smartphone has a 6-inch Super AMOLED display with a resolution of 2,160 x 1,080. Those pixels are protected by scratch-resistant Corning Gorilla Glass 3, and it has relatively slim bezels with a screen-to-body ratio of 77.92%. The pixel density on the display is 402 PPI, which is on par with the Moto G at 403 PPI.
Motorola used a slightly larger panel on the Moto G7. It has a 6.2-inch display with a resolution of 2,270 x 1,080. The tech behind the screen is different from the newer model. It has an IPS LCD display along with a better screen-to-body ratio of 82.58%. The Moto G7 is also protected by Gorilla Glass 3 but has a different camera notch.
You'll get a larger display with more pixels per inch on the Moto G7, but the Z3 provides more depth and contrast. This area is a toss-up given the difference in size and resolution is minimal between the two smartphones.
Performance
Snapdragon 632 was announced in 2018, despite the fact that its numbering is lower than the Snapdragon 835. That can cause some confusion for users new to the smartphone world, but the Moto G7 has a newer processor.
Both are octa-core chips with an Adreno GPU and will get the job done. They are underpowered by today's standards, however. The base models also come with 64 GB of storage space and 4 GB of RAM out of the box. The Moto Z3 also has a variant with 6 GB of RAM and 128 GB of internal storage space.
The Moto G7 has an edge over the newer smartphone, but both have the advantage of a microSD slot. That's something you can't find on most new flagship smartphones, and fewer ones in the budget-friendly class.
Cameras
We've seen some impressive camera systems roll out on smartphones in recent years including the iPhone 14's camera array. While neither the Moto G7 nor Z3 has sensors in that class, there is a distinct difference in what you'll find on the back of each smartphone.
On the back of the Moto Z3 is a 12 MP sensor with PDAF and laser autofocus. It's accompanied by a 12 MP monochrome sensor and a dual-LED flash. The rear cameras can take video at 1080p resolution at a full 60 fps or 4K at 30 fps. The front-facing camera is 8 MP and can also capture FHD videos like the rear sensors.
The Moto G7 also has a dual camera array with a 12 MP main camera. The second camera is only 5 MP but is used for depth sensing, and it's not monochrome. Video capabilities are the same, except the G7 has a gyro-EIS for image stabilization. The rear cameras also have HDR, just like the front-facing camera. It's the same size sensor found on the Z3 and shoots 1080p as well.
If you're looking for a smartphone that shoots high-end video at the best frame rates or can capture pictures in low light – look elsewhere. The cameras on these smartphones aren't in the "flagship" class but perform admirably in daily use.
Features
Moto G7 Play 32GB Android Smartphone GSM Unlocked for AT&T / T-Mobile and all GSM carriers - Deep Indigo (Blue) (Renewed)
Max Vision display Immerse yourself with ultra-wide views on a 5. 7" HD+ display with a 19: 9 aspect ratio.
Fast-focusing camera. Never miss a moment with a 13 MP rear camera and 8 MP front camera with a built-in flash.
40-hour battery. Play all day with a 3000 mAh battery that goes for hours and hours on a single charge.
Fingerprint reader. Do not bother remembering a passcode. Just touch the fingerprint reader to wake up and unlock your phone instantly.
Moto Experiences. Our exclusive software makes your phone easier to use, including gestures like chopping down twice to turn on a flashlight.
We earn a commission if you make a purchase, at no additional cost to you.
Many of the features tied to Android phones are based on the hardware or operating system. Both of these handsets run Android and are manufactured by Motorola, so the general experience remains the same.
One feature on the newer G7 you won't find on the Z3 is a 3.5mm headphone jack. You won't have to rely on wireless earbuds or USB-C headphones on this phone as you will on the Moto Z3.
You can unlock the phone with your face or fingerprint and it has solid audio thanks to Dolby and a variety of presets. Connectivity options for the G7 include dual-band Wi-Fi, USB-C 2.0, and Bluetooth 4.2.
The Motor Z3 has the same Wi-Fi option, but with newer Bluetooth 5.0 and a USB-C 3.0 port that has a magnetic connector. The fingerprint scanner is mounted on the side, although that's not the main draw. The biggest feature on the Z3 is called Moto Mods. These are accessories that snap onto the rear of the Moto Z and enable some unique features.
Want to boost the audio on your Moto Z3? You can do that with the right module or increase the runtime of your handset. This power pack adds 2,220 mAh of additional power to your device, but there are modules for gaming and photography as well.
Moto Z3 vs. Moto G7: What's the Same?
The Moto G7 and Moto Z3 have a similar design language. The camera modules and logos are in the same places, although the G7 has slightly thinner bezels with a teardrop for the front-facing camera. It's a little cleaner overall, whereas the Moto Z3 has a unique back panel designed to work with Moto Modules.
Size and weight are comparable, so both are easy to use with one hand, and they're lightweight. They also have 3,000 mAh batteries that are non-removable and microSD card slots. That means the battery life is a toss-up, unless you're using a Moto Mod to extend the power on the Z3.
The sensors are the same on the Moto G7 and Z3 and both run Android. Neither is waterproof like newer smartphones from Samsung or Apple. The Moto G7 has an IP54 rating, but we couldn't find an ingress protection rating for the Moto Z3.
Moto Z3 vs. Moto G7: 4 Must-Know Facts
Motorola launched the first Moto G smartphone in 2013.
All Moto Modules are hot-swappable on the Moto Z3.
There are three variants of the Moto G7, including the Power, Plus, and Play.
The Moto Z briefly replaced the Moto X series in Motorola's smartphone lineup.
Moto Z3 vs. Moto G7: Which One Is Better?
Do you want a smartphone you can "upgrade" to a degree or just something affordable with a solid set of features? That's the first question you should ask yourself when choosing between the Moto Z3 vs. Moto G7. If you're partial to the unique Moto Z3, you'll also need to consider the price of any modules you plan to buy.
Both of these smartphones are considered dated by today's standards, but still serviceable even after the updates have stopped. The Moto G7 is more affordable despite being newer.
It's harder to find brand new, however, compared to the Moto Z which you can find new and unused. That's something to keep in mind if you aren't keen on refurbished smartphones.
The Moto Z3 is a unique handset if you find the modules useful, but the Moto G7 is the better value given the age and price of these smartphones.