Key Points
Tesla had a 78% EV market share in 2018, leading to increased demand for zero-emission cars and prompting other manufacturers to enter the market.
The United States' EV market size was valued at $24.03 billion in 2020 and is projected to reach $161.60 billion by 2028.
The most popular EVs in the United States include the Tesla Model Y, Tesla Model 3, Ford Mustang Mach-E, Tesla Model S, Chevy Bolt, and Tesla Model X.
The US government has implemented measures such as increasing the number of charging stations and offering tax credits to promote the popularity of EVs.
EVs are seen as a solution to rising gasoline prices and a way to address global warming, leading to a growing market share for electric cars.
When Tesla announced its ambition to manufacture electric cars, many people, including other car manufacturers, thought the company was delusional. It seemed unrealistic, especially in an automotive industry dominated by gas-powered vehicles.
However, it seems Tesla had traveled into the future and saw the marketing potential of EVs because, by 2018, their cars had taken the market by storm, with the company commanding a 78% EV market share.
What started as a notion became a reality. The demand for zero-emission cars has since increased multiple-fold, prompting manufacturers like Ford and GM Motors to also attack the market with futuristic EV models.
The ultimate winner in this EV battle is the United States because, by 2020, the country's EV market size was valued at a whopping $24.03 billion.
What's more, EV manufacturing companies aren't slowing down, and financial experts project that the EV market volume in the United States may reach $161.60 billion by 2028. Long story short, EVs are here to stay.
So, if you're considering ditching your gas-powered car and joining the EV world, here are the six most popular EVs in the United States.
Total Electric Vehicles Sold in the United States
As evidenced by the 1,454,400 cars registered in 2021, the United States is one of the most favorable countries to own an EV in. However, that hasn't always been the case because, by 2016, the US had only 280,300 registered EVs.
We can see the massive improvements the government has made to make the country a conducive place to drive and own electric cars in. One of the government's solutions to make the US a good hub for electric cars is to increase the number of charging stations, which currently sits at 58,123.
Moreover, you may qualify for a tax credit of up to $7,500 if you purchase an EV, which is another government strategy to popularize EVs. Nevertheless, the US government has to come up with new measures to boost EV popularity because it's still incomparable to the gas-powered car market.
Market Share of Electric Vehicles in the United States
Like other global nations, the market share of EVs has been rising gradually; the US is no exception. In 2016, the market share of EVs was at an all-time low of 0.1%, which is reasonable, as EVs were unpopular. Only 280,300 electric cars had been registered as of that year.
However, many Americans have accepted the idea of zero-emission cars, with the electric car market share rising to 0.5%. Unfortunately, these numbers aren't what we expected because the 0.4% increase is still fairly low.
The 6 Most Popular Electric Vehicles in the United States
Owning an EV in the United States is easy, as the charging costs are low, and you have many cars to choose from. But which ones are the most popular? Keep reading to find out.
1. Tesla Model Y (Long Range AWD)
The Tesla Model Y, one of the original Tesla models, tops the list of the most popular EVs in the United States. A car designed for the daily commute, this EV has a long-range battery that gives you a 330-mile driving range.
What's more, being a dual-motor all-wheel drive car, it conquers rain, snow, mud, and other obstacles. This is thanks to its 19 or 20-inch wheels, which have good traction. Moreover, you will never be late to work driving the Model Y at its 135mph maximum speed. The car also accelerates from 0 to 60mph in 4.8 seconds.
The Model Y's interior was built around consumers' interests. For example, this EV features a 15-inch touchscreen display that controls the vehicle's entertainment while showing an accurate navigation map.
Also, you don't have to leave your family members when going for long summer drives because this EV accommodates seven passengers. And with a panoramic roof glass, you will have unobstructed views throughout the journey. Tesla also packed this EV with 360-degree cameras and Tesla Vision, which adds to the car's safety.
2. Tesla Model 3 (Long Range AWD)
The Tesla Model 3 became popular due to its unlimited performance and fair pricing. Designed for minimalist drivers, this 4,034 lb. car features 18- or 19-inch dual-motor AWD wheels that aren't afraid of snow and rain.
Moreover, you can stretch it up to 333 miles when taking long drives and add an extra 147 miles by charging the car for 15 minutes at an EV charging station.
Speaking of long drives, this 5-seater boasts a 15-inch touchscreen packed with real-time navigation software that adapts to real-time traffic conditions. It also has in-car games, so your children will remain entertained throughout the journey.
And with 14 speakers, a subwoofer, and dual amplifiers, your music playlist will come alive, giving you the best road trip entertainment experience. Moreover, aside from the comfortable heated seats and adequate legroom, you can control the car's airflow thanks to its climate control feature.
The Model 3 gives you a glimpse of the future, as seen from its auto lane change, auto summon, and auto park technologies. Car safety is also not an issue; the car comes fitted with the Tesla Vision and 360-degree cameras.
3. Ford Mustang Mach-E (Select with Standard Range Battery)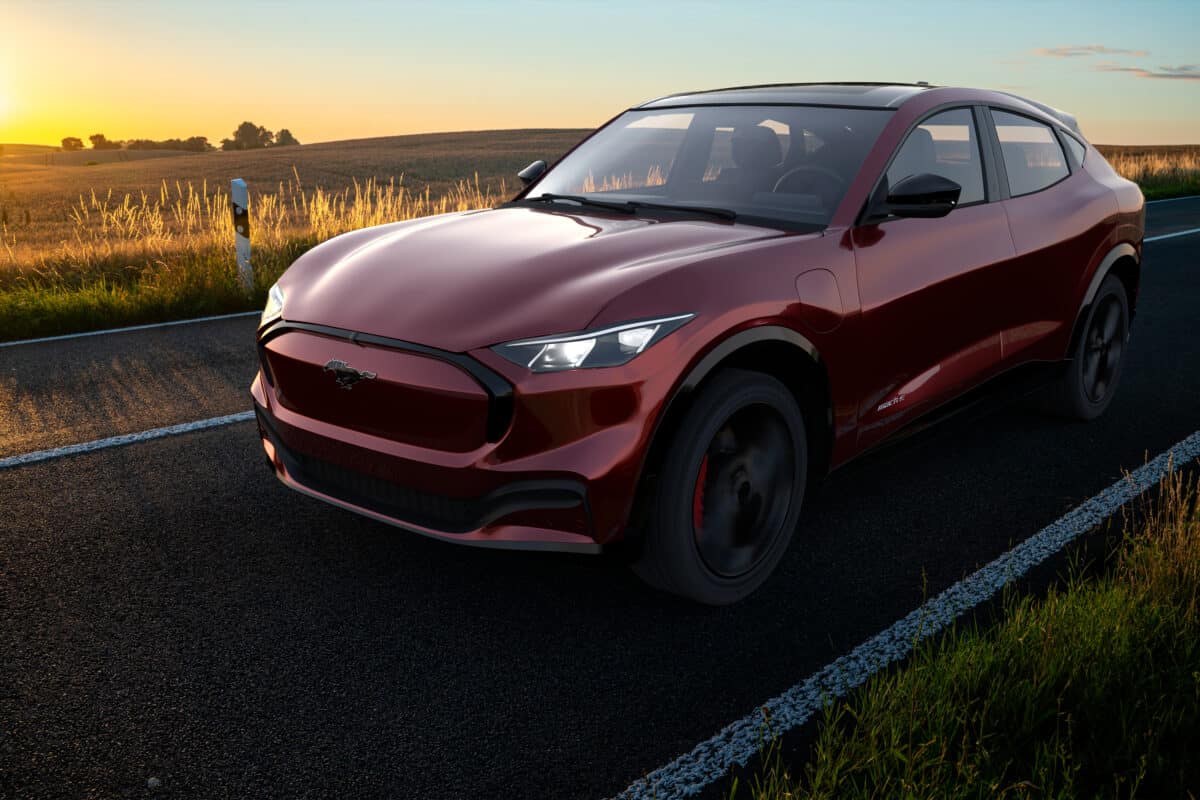 Ford, the muscle car builder, quickly embraced the EV industry, bringing a new era to the racing horse logo company with their Ford Mustang Mach-E. A car ready for the world, it boasts high gloss painted wheels that sum up its overall sporty vibe.
But the Mach-E's flash functionality LED headlamps ensure you are the center of attraction when driving at night. Day drives are also pretty smooth. This 5-seater also gives you 0 to 60 mph thrills in 6.3 seconds. And with a 72 kWh battery, you can squeeze the car to 250 miles without visiting a charging station.
In addition, there's a 15.5-inch touchscreen display, and you can personalize your drives with the car's voice recognition feature or use your smartphone as a car key. Adding to the vehicle's specs is a spacious interior packed with six speakers for a home-like entertainment experience.
You also get cool summer views, thanks to the car's panoramic glass roof that helps warm the vehicle during winter. The Ford BlueCruise technology allows you to enjoy roughly 130,000 miles of hands-free driving. And with the integration of automatic emergency braking and adaptive cruise control technology, you can be assured of confident drives.
4. Tesla Model S
Next on our list is the Tesla Model S, dubbed the king of the EV space due to its elegant look and unparalleled 405-mile-driving range. Boasting an aerodynamic design that gives the car a 0.208cd drag coefficient, the Model S punches through the air at 149 mph.
Moreover, the Model S's 19- or 21-inch wheels keep this 4,560-pound car planted on the ground when cruising at high speeds; they are built for relentless performance and endurance. You can also adrenalize your rides from 0 to 60 mph in 3.1 seconds.
Where this car shines the most is its mind-blowing interior. It features a massive 17-inch touchscreen display with 2200 x 1300 resolution — perfect for gaming.
Your children won't miss their gaming console when taking long family drives, as the Model S's touchscreen display has sufficient processing power for console-grade games.
Moreover, Tesla packed this car with 22 speakers and 960-watt audio to give you a lifelike sound experience. But what makes the Model S unique is its yoke steering wheel that allows you to live out your batmobile fantasies.
In addition, this EV provides unimaginable convenience. For instance, you can fold the back seats and place your bike there.
The Model S also has Autopilot, Auto Lane Change, Summon, and Autopark features, all of which elevate your driving experience. These features make the Model S one of the most popular EVs in the United States.
5. Chevy Bolt
Coming onto the market with a $26,500 starting price, it's not hard to figure out why the Chevy Bolt is one of the most popular EVs in the United States. Design-wise, this electric car has an ultra-modern exterior finish, featuring sleek wheels and a sporty front that depicts its first-glance allure.
Moreover, the Chevy Bolt is a performance horse, producing 200 hp, allowing you to speed from 0 to 60 mph in 6.5 seconds. You can also go on long drives because this EV has a driving range of 259 miles.
But what impresses most Americans is Chevrolet's resolve to cover standard installation fees of Level 2 chargers for all eligible customers to help them switch from gas-powered vehicles.
Looking at the Chevy Bolt's interior, it's not difficult to see why people are drawn to this all-around performer. It has a 10.2-inch touchscreen that controls the car's infotainment system, and it's packed with other advanced features, like Apple CarPlay and Alexa. 
Let's talk about safety, which is the car's main gist. The Chevy Bolt is heavily packed with multiple safety technologies, like automatic emergency braking, forward collision alert, following distance indicator, and front pedestrian braking.
Besides the car's low buying price, its compatibility with Level 1 and 2 chargers also adds to its popularity in the United States.
6. Tesla Model X
Another Tesla makes it on our list, which is unsurprising, considering Tesla's sheer influence in the American EV market. Designed for family travels, with two falcon wing doors that we rarely see in most vehicles, the Model X boasts an iconic look.
It's also built for speed thanks to an aerodynamic exterior design that gives you a maximum speed of 155 mph. Moreover, this enthusiastic performer will work for you and generate 670 hp, allowing you to speed from 0 to 60 mph in 3.8 seconds.
Running on a long-range battery, you can stretch this EV to 348 miles on a single charge, which is impressive. But the one thing that makes the Model X particularly popular in the US is the car's ability to recharge 175 miles in 15 minutes using a Supercharger. This is one of Tesla's marketing strategies.
Safety isn't an issue with the Model X because it has an automatic braking system, 360-degree cameras, and innovative Tesla Vision technology. Tesla also equipped this car with other advanced features, like Autopilot, Auto Lane Change, and Autopark technology, adding to the car's value.
Final Thoughts
Most people are turning to EVs due to the gradual increase in gasoline prices. Moreover, these zero-emission cars may be one of the solutions to our current global warming problem, which is why the United States is encouraging its citizens to buy them.
Besides offering tax credits to EV buyers, the government is also keen on increasing the number of charging stations. Though some states are behind others in terms of EV infrastructure, expect them to catch up because the number of registered EVs will increase in the future.
Also, more car manufacturers are building EV manufacturing plants, so expect an upsurge of different EV models. Overall, electric cars are the future of the automotive industry, so anticipate a rise in the market share of these cars.
Summary Table
| Rank | Electric Vehicle |
| --- | --- |
| #1 | Tesla Model Y (Long Range AWD) |
| #2 | Tesla Model 3 (Long Range AWD) |
| #3 | Ford Mustang Mach-E (Select with Standard Range Battery) |
| #4 | Tesla Model S |
| #5 | Chevy Bolt |
| #6 | Tesla Model X |
The image featured at the top of this post is ©ventdusud/Shutterstock.com.