Key Points
Texas has seen a significant increase in the number of registered electric vehicles (EVs), with 80,900 EVs registered as of 2021.
The state has made efforts to create a favorable environment for EV owners, including increasing the number of charging stations to 2,000 and offering a $2,500 rebate for each registered EV.
The most popular EVs in Texas include the Tesla Model S, Nissan Leaf, Tesla Model 3, Tesla Model Y, Chevrolet Bolt, and Tesla Model X.
When Elon Musk dipped his toe in the EV business, many assumed he was delusional, especially with gas-powered companies dominating the automotive industry. Fortunately, it was a brilliant move because other vehicle companies are now, years later, manufacturing electric cars.
Moreover, different US states are buying into the idea of zero-emission cars, mainly due to their environmental benefits. Even though Texas isn't one of the states with the highest number of registered EVs, they have outperformed most states in creating a conducive environment for EV owners.
Most importantly, Texas has increased the number of EV charging stations over the years, so owning an electric vehicle in the Lone Star State is cheap. Furthermore, Tesla has a Gigafactory in Texas, further explaining the increased popularity of EVs in the state.
Don't hesitate to buy an EV in Texas. But do you know the most popular EVs in Texas? Keep reading to find out!
Total Electric Vehicles Sold in Texas
Texas is among the best states to own an EV in, as evidenced by the 80,900 electric cars registered as of 2021. The state hasn't always been a friendly place to own an EV because, by 2016, they had only registered 11,900 EVs. This depicts the massive improvement the state has made to make Texas a favorable place for electric vehicles over the years.
One of the state's main strategies to popularize EVs in Texas is increasing the number of charging stations, which currently stands at 2,000. Moreover, besides the US federal tax credit on electric cars, Texas offers a $2,500 rebate for each registered EV, immensely encouraging many people to purchase zero-emission vehicles.
Nevertheless, Texas must build more charging stations, especially with the demand for EVs increasing yearly.
Market Share of Electric Vehicles in Texas
Like other states, the market share of electric vehicles has been growing steadily; Texas is no exception. In 2016, the market share of EVs in Texas was at an all-time low of 0.1%, which is reasonable, as the state only registered 11,900 EVs. However, Texas has become a profitable state to market EVs, with its market share of EVs increasing to 0.3% as of 2021.
The 6 Most Popular Electric Vehicles in Texas
Owning an EV in Texas is cheap, as it costs $0.3 per kWh for public charging. But which are the most popular EVs in Texas? Keep reading to find out.
Tesla Model S
The Tesla Model S tops our list of the most popular EVs in Texas. Built for speed and endurance, this EV has a drag coefficient of .208 cd, accelerating to 60mph in 3.1 seconds. It also has a maximum speed of 149mph. Moreover, it boasts 19- to 21-inch wheels that add to its sporty allure.
The EV's interior depicts what we expect in the future, which is one of Tesla's main selling points and why it's popular in Texas. With a 17-inch 2200 x 1300 resolution touchscreen display and a 960-watt sound system, you get the best cinematic experience that can only be matched by your living room's home theater system.
Furthermore, Tesla packed this car with a yoke steering, which further complements the car's sporty appeal. The Model S is also very safe thanks to its automatic emergency braking, Tesla vision cameras, and multiple cameras installed around the car.
But the gist is this car's battery capacity. The Model S has an expansive battery that generates 670hp and has a driving range of 405 miles. Additionally, charging the battery for 15 minutes using a Tesla charger gives you an extra 200 miles, which is convenient for road trips.
Nissan Leaf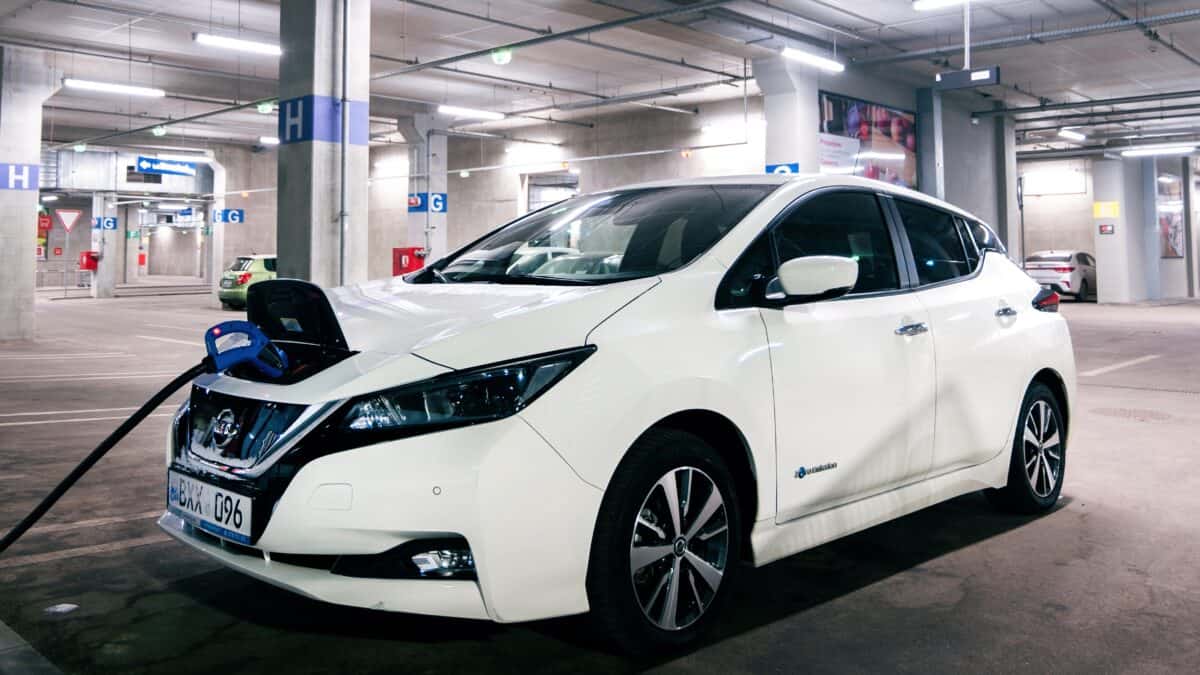 Next on our list is the Nissan Leaf, one of the most popular EVs in Texas. Design-wise, you can easily tell that Nissan built this EV for speed thanks to its aerodynamic rear spoiler. Adding to the car's innovative design are halogen headlights and intelligent auto headlights, which give it a sporty vibe.
Running on a 40kWh battery, it's surprising this $28,040 vehicle can stretch for 212 miles on a single charge. It also comes with a 6.6kW onboard charger for fast charging your EV on the go. Moreover, don't underestimate the vehicle's size; it has enough muscle to produce 147hp and 236lb-ft.
Nissan equipped the Leaf with advanced safety features like driver assistance technology, which boasts multiple technologies, like blind spot warning, automatic braking, and lane departure warning.
Furthermore, you get room for five, and with the addition of heated seats and steering wheel, you can comfortably drive it during winter, mainly due to its temperature control system.
Also, the Nissan Leaf puts you in charge of the car, mainly due to its 8-inch touchscreen display that controls the car's entertainment and infotainment. Overall, the car's affordability and low maintenance have cemented the Leaf's popularity among EV owners in Texas.
Tesla Model 3
The Tesla Model 3 makes it to our list for its safety-first design and extended driving range. With curvy corners, the Model 3 is designed to attract, but where it shines the most design-wise is its 20-inch uber-turbine AWD wheels that can conquer different weather elements. Moreover, you can stretch this EV for 333 miles even when driving at its top speed of 162mph.
In addition, the Model 3's interior is built around the driver's needs thanks to the spacious cabin and comfortable heated seats. But the car's entertainment system, which boasts a 15-inch touchscreen display and 14 speakers, makes it stand out; you can enjoy long trips with your family.
Moreover, the car has eyes around it thanks to Tesla Vision and 360 degrees visibility, so you will have perfect vision when driving. It also has additional technology, like Autopilot, Summon, Auto Lane Change, and Autopark, which add to its popularity in Texas.
Tesla Model Y
The Tesla Model Y is among the most popular EVs in Texas for its massive cargo space of 76 cu ft. Design-wise, Tesla ensured this car was safe thanks to its impact protection feature on the front and the rigid structure at the top.
Moreover, this car has a low center of gravity, which ensures smooth rides when driving at a maximum speed of 135mph for standard and Long Range AWD models.
In addition, this electric car can handle different weather elements, like snow and mud, mainly because Tesla packed it with 20-inch AWD wheels. Also, the Model Y has a good battery pack that packs enough juice to stretch it to 330 miles on a single charge.
Furthermore, this EV's battery pack can charge up to 162 miles in 15 minutes, which is impressive. The Model Y's interior is built to provide the comfort you need, as seen from the leather seats that Tesla paired with a 15-inch touchscreen display.
Moreover, during summer trips with your family, you will enjoy this EV's panoramic roof. Lastly, Tesla fitted the Model Y with multiple safety features, like Tesla Vision for Auto-Pilot HD spatial positioning and long-range visibility.
Chevrolet Bolt
Next, we have the Chevrolet Bolt, a popular choice in Texas, for its affordable price tag; it costs $26,700. With a minimalist design, this EV has an ultramodern exterior, evident from its rims and headlights, which further complements the car's look.
Moreover, thanks to its 200hp and 266 lb.-ft of power, it's an energetic performer, which allows it to accelerate in 6.5 seconds. Looking at the Chevrolet Bolt's interior, it's not hard to figure out why many Texans love it.
This EV is loaded with space, but the gist is the car's seats and a 10.2-inch touchscreen display that controls its infotainment system. Furthermore, connectivity isn't an issue with this Chevrolet Bolt; it is compatible with Alexa and Apple CarPlay.
Now, let's talk about road safety when driving the Chevrolet Bolt. You can confidently drive this EV knowing it has multiple safety features, such as automatic emergency braking, front pedestrian braking, lane departure warning, collision alert, and following distance indicator.
Besides this car's 259 miles driving range, it's compatible with Level 1 and Level 2 chargers, which also contributes to its popularity in Texas.
Tesla Model X
Lastly, we have the Tesla Model X. Unsurprisingly, almost all Tesla models are on our list, as the company has a factory in Texas. With a cutting-edge aerodynamic design, Tesla designed this car for efficiency. For example, it has a 0.24 Cd drag efficiency.
Moreover, this car's design allows it to punch through the air at a maximum speed of 155mph while accelerating from 0 to 60mph in 3.8 seconds. Also, the Model X's battery has enough power to tow up to 5,000 pounds and produce 670hp.
The Tesla Model X's interior gives you a glimpse of the future thanks to the Yoke steering wheel we used to see in movies. Moreover, the Model X has a 17-inch touchscreen display that Tesla paired with 22 speakers to ensure you have the best entertainment system for long trips.
Speaking of long expeditions, this electric car has a driving range of 348 miles, so you can trust the Model X can get you to your preferred destination without worrying about the charge. Furthermore, you can recharge the car up to 175 miles in 15 minutes, which is an added bonus.
Adding to the Model X's specs are multiple advanced features, like self-driving capabilities, advanced parking, car summon, and auto lane changing. All in all, the Model X is one of the best EVs on the market, which is why many Texans love it.
Final Thoughts
With the rising cost of gasoline, many people are turning to electric cars. Besides these EVs' low maintenance costs, they don't negatively impact the environment, which is one of the primary reasons many states encourage people to buy them.
Texas is part of the EV revolution, with the state offering several incentives besides the ones provided by the federal government. Moreover, they have erected multiple charging stations across the state over the years, which has massively contributed to the increased EV market share in the state.
The Texas government also allowed companies like Tesla to launch an EV manufacturing factory in the state, further contributing to the increasing popularity of EVs in Texas. Overall, as EV manufacturing companies continue to produce affordable electric cars, expect the number of registered EVs in Texas to rise.
The image featured at the top of this post is ©Sean Pavone/Shutterstock.com.