South Carolina is slowly emerging as a promising market for electric vehicles (EVs). Despite lagging behind some neighboring states, the convergence of established companies embracing electrification and the entry of new EV players into the market has set the stage for notable expansion in the EV sector.
So, what is actually fueling this slow but sure EV rise in the beautiful "Palmetto State?" Well, there are quite a number of reasons. For starters, EVs are perceived as cheaper to run nowadays, thanks to the skyrocketing cost of gasoline.
And with more charging stations popping up, it's a breeze to keep your EV charged and ready to hit the open road. There are also a number of federal government incentives available for EV buyers in South Carolina.
For instance, EV buyers in South Carolina may be eligible for a federal tax credit worth up to $7,500. These incentives can help offset the cost of purchasing an EV.
Most important, however, is the fact that most people are becoming more aware of the environmental benefits of EVs. They produce zero emissions, which helps to improve air quality and reduce greenhouse gas emissions.
Total Electric Vehicles Sold in South Carolina
While South Carolina is currently ranked as the 10th least-friendly EV state, the state is working to attract more EV buyers. Today, there are over 25,000 electric vehicles registered in South Carolina according to the Alternative Fuels Data Center. Currently, there are at least 1,070 total EV charging ports, which is an increase from the 1,054 total EV charging ports in 2022.
This increase is not quite enough to significantly change the fact that South Carolina had one EV charger for every 5,012 residents last year, but the continued investment by the state and private entities in expanding the charging infrastructure indicates a promising future for EV owners.
Market Share of Electric Vehicles in South Carolina
Just like in other states, the market share of electric vehicles vis-à-vis traditional gas-powered cars has been growing steadily in recent years in South Carolina. In 2016, there were only about 2,000 registered electric vehicles (all-electric and plug-in hybrids) in the state. By 2021, that number had increased to more than 12,000.
The EV light-duty market share grew from 4.4% in 2021 to an even higher percentage in 2022. With EV sales now at over 25,000 and growing, this is a significant increase and shows that more and more people are ready to make the switch. So, what are the most popular electric vehicles in South Carolina? Here's a look at the top six.
The 6 Most Popular Electric Vehicles (EVs) in South Carolina
The six EV models we're about to discuss account for a good chunk of all EVs registered in South Carolina. So, if you're thinking about buying an electric vehicle, these are definitely the ones to consider.
#1: Tesla Model 3
First announced in 2016, the Tesla Model 3 is easily the most popular EV in South Carolina, and for good reason. It's one of Tesla's most affordable cars and has been a huge success, with over 1.2 million units sold worldwide as of 2022. The Model 3 is a midsize 4-door fastback sedan that promises performance and delivers it in spades.
The Model 3 can accelerate from 0 to 60 mph in as little as 5.1 seconds, making it a thrilling ride for those who enjoy a sporty driving experience. The rear-wheel drive model has a range of up to 358 miles, while the all-wheel drive model has a range of up to 330 miles.
Such a remarkable range allows drivers to travel inter-state without worrying about frequent charging stops, offering a driving experience that's both eco-friendly and exhilarating.
Inside the cabin, the Model 3 offers a minimalist yet sophisticated design, with a large touchscreen infotainment system that provides easy access to various vehicle controls and settings. The cutting-edge autopilot system enhances the driving experience by offering semi-autonomous capabilities, making long road trips more comfortable and enjoyable.
Thanks to its impressive blend of performance, technology, and affordability, the Tesla Model 3 continues to endear itself to EV enthusiasts in South Carolina and beyond. It will undoubtedly remain a benchmark for other EVs and a top choice for those looking to make the switch to electric vehicles.
#2: Tesla Model S
The Model S is a top-rated electric vehicle that has set the bar high for other EVs in its class since its debut. This groundbreaking EV sports a sleek design, cutting-edge technology, and impressive performance, setting a high standard for other electric cars.
The Model S starts at $89,130 and has consistently ranked best in class in every category for electric sedans. Most notable of its features is its industry-leading electric powertrain, which has redefined the basic architecture of a sedan.
This innovative design allows for a spacious interior, providing ample room for passengers and cargo. Moreover, the Model S offers an impressive range of up to 405 miles, making it a practical choice for long-distance travel.
Tesla's commitment to innovation is evident in the Model S's advanced autopilot and infotainment systems, which provide a unique and enjoyable driving experience. The Model S also features falcon-wing doors, adding a touch of luxury and convenience to the vehicle.
Despite being one of the oldest vehicle designs on the market, the Model S continues to captivate drivers with its performance and technological advancements. Tesla Motors' commitment to fast charging and readily available charging infrastructure has also contributed to the Model S's popularity in the state as well.
With speed, nimbleness, and stylishness, the popular Model S certainly bears a feature-packed resume that will appeal to anyone seeking an eco-friendly EV ride in South Carolina without compromising on luxury and performance.
#3: Nissan Leaf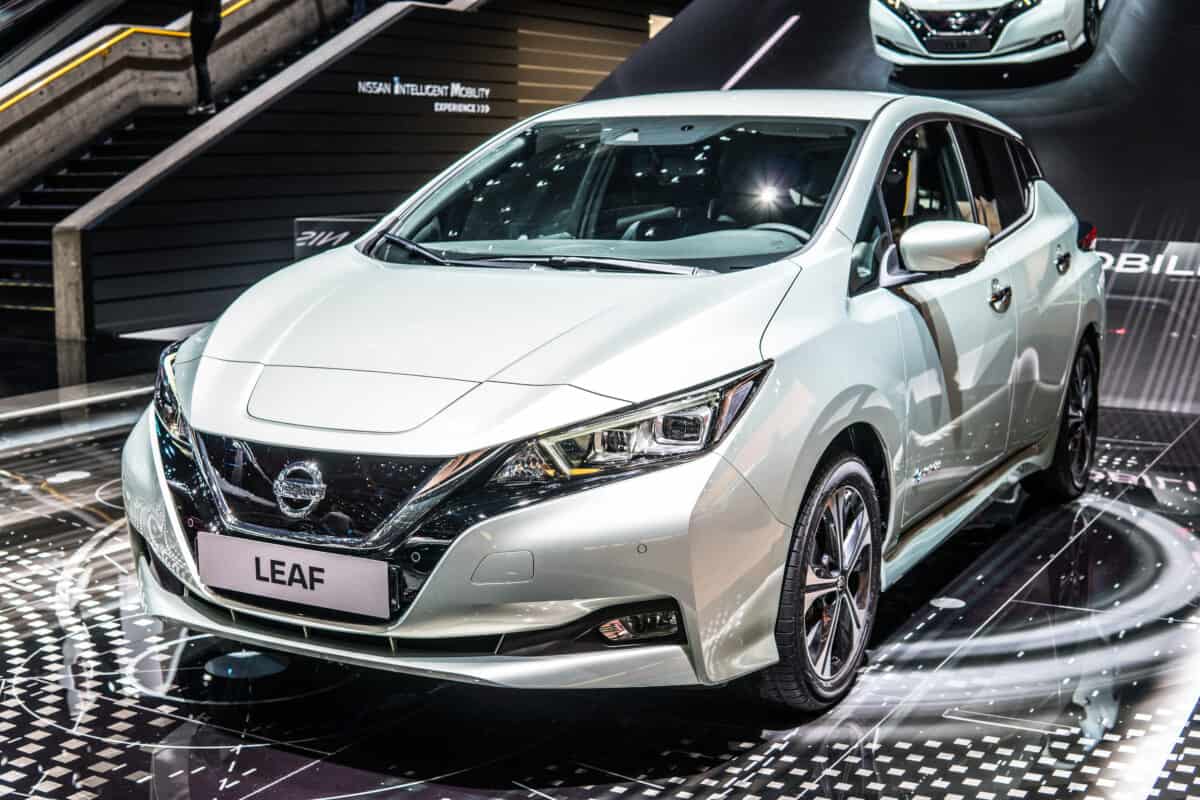 The Nissan Leaf offers an affordable and practical option for those looking to make the switch from gas-powered vehicles. This compact car offers a range of up to 212 miles on a single charge, making it a reliable choice for daily commutes and short trips.
The Leaf comes in two trim levels, with the most popular style being the S, which starts at $27,800 and features an electric engine. Drivers can expect a smooth and quiet ride, thanks to the Leaf's electric powertrain, which enables snappy acceleration, with the 2023 model hitting 60 mph in just 5.5 seconds.
The Leaf is also a stylish and well-appointed car. The cabin is spacious, with comfortable seating for up to five passengers. The Leaf also comes equipped with handy extra features, like driver assist and e-Pedal, which allows for one-pedal driving, making it a breeze to navigate through traffic.
The Leaf SV Plus trim offers an increased range, addressing the shorter-than-average range of the base model, for those willing to spend a bit more. With its sleek design, user-friendly features, and affordable price point, the Nissan Leaf is an excellent choice for South Carolinians looking to embrace the EV lifestyle.
#4: Tesla Model Y
The Tesla Model Y is one of the most recent innovations, first coming out in 2020. Since then, it has gone on to garner rave reviews, and for good reason. This midsize SUV delivers an impressive range of up to 326 miles on a single charge, making it perfect for long commutes.
It also provides lightning-fast acceleration, going from 0 to 60 mph in just 4.3 seconds. The Model Y comes in two variants: Long Range and Performance. The Long Range version is the one that will give you the 326-mile range, while the Performance version delivers a range of up to 303 miles.
Both versions are equipped with all-wheel drive and offer a spacious interior with up to 68 cubic feet of cargo space. The Model Y also features Tesla's advanced Autopilot technology, which can help drivers stay safe on the road by automatically steering, accelerating, and braking.
The vehicle also comes with a large touchscreen display that provides access to a variety of features, including navigation, entertainment, and climate control.
The Tesla Model Y is a top-of-the-line electric vehicle that offers impressive performance, advanced technology, and a spacious interior. It's no wonder why it's such a popular choice for EV enthusiasts in South Carolina and beyond.
#5: Hyundai Kona Electric
The Hyundai Kona Electric is a top choice for most people in South Carolina seeking an affordable and stylish electric vehicle. With a starting price of $33,550, this subcompact SUV offers an impressive range of 260 miles on a charge.
The Kona Electric has been recognized with multiple awards, including the 2023 Hispanic Motor Press City Car of the Year and a Kelley Blue Book Best Buy Award. Drivers can expect sporty handling and responsive acceleration from the Kona Electric, as well as regenerative braking and remote charge scheduling.
The interior is spacious, with comfortable seating and a host of advanced safety features. The Kona Electric also offers a Harman Kardon premium audio system, Smart Cruise Control with Stop & Go, a heated steering wheel, and leather-trimmed seats.
In addition to its performance and features, the Kona Electric is easy to maintain, with no need for oil changes and zero tailpipe emissions. Charging is a breeze, as you can charge the vehicle from 10% to 100% in about 9 hours and 15 minutes using a Level II 240V home charger.
#6: Chevrolet Bolt EV
The Chevrolet Bolt EV is a 4-door hatchback electric car that was first introduced in 2016. It has an EPA-estimated range of 259 miles on a single charge, which makes it one of the longest-range electric cars on the market.
You can also fast-charged a Bolt EV at public charging stations, which can add up to 90 miles of range in just 30 minutes. A single electric motor that produces 200 horsepower and 266 lb-ft of torque powers the EV. It can accelerate from 0 to 60 mph in 6.5 seconds, which is pretty quick for an electric car.
The interior of the Bolt EV is spacious and comfortable. The front seats are supportive and there's plenty of legroom and headroom for both front and rear passengers. The cargo area is also quite large, with 16.6 cubic feet of space behind the rear seats and 57 cubic feet with the seats folded down.
The Bolt EV comes standard with a variety of features, including a 10.2-inch touchscreen infotainment system, a rearview camera, and a suite of advanced safety features such as forward collision warning, lane departure warning, and automatic emergency braking.
The Chevrolet Bolt EV is undoubtedly a popular choice for anyone looking for an affordable, long-range, and practical electric car in South Carolina and elsewhere.
Final Thoughts
Electric vehicles anywhere offer a number of advantages over traditional gasoline-powered vehicles, including lower operating costs, reduced emissions, and improved performance.
With a combination of cost savings, government support, and a growing environmental consciousness, South Carolina is set to be a part of the EV revolution. As Palmetto State continues to foster an environment conducive to EV adoption, its reputation as an EV-friendly destination is only poised for growth.
Notably, as EV prices continue to decline and the availability of charging stations increases, we can reasonably expect to see even more of them on South Carolina roads in the years to come.
The image featured at the top of this post is ©f11photo/Shutterstock.com.